Sandpoint's season ends with defeat to Moscow in loser-out game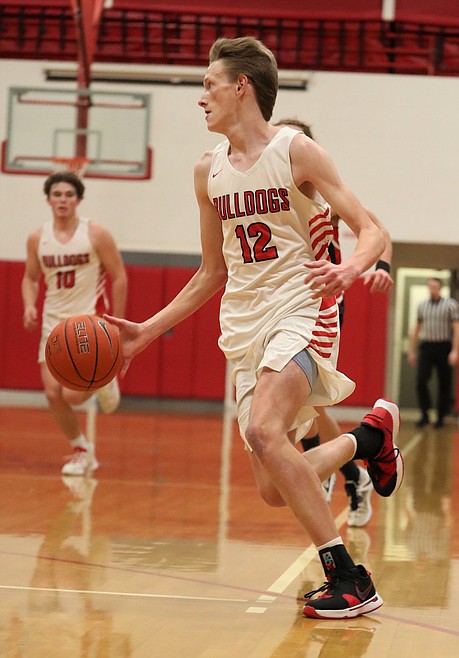 Senior Stone Lee drives toward the basket during a home against Moscow on Jan. 8 at Les Rogers Court.
(File photo by DYLAN GREENE)
by
DYLAN GREENE
Sports Editor
|
February 22, 2021 11:59 PM
MOSCOW — Moscow outscored Sandpoint boys basketball 20-5 in the fourth quarter of Monday's 4A Region 1 loser-out game to run away with a 59-45 win over the Bulldogs.
The Bears advanced to the best-of-3 regional championship series against Lakeland with the victory, while the Bulldogs saw their season come to a close.
SHS led 40-39 entering the fourth quarter. But Moscow's seniors stepped up and hit some huge shots down the stretch and the Bulldogs just couldn't find a way to respond, interim head coach Mike Roos said.
"Turnovers got to us tonight and we just couldn't hit those shots," he said. "We're a young team and we haven't played with a lead a lot."
Despite the loss, Roos felt his team left it all on the court and played with tremendous effort.
"The boys showed up tonight," he said. "I thought everyone on the court gave it their all, you can't ask for much more than that."
Sandpoint fell into a 15-6 hole after the first quarter, but clawed back by outscoring the Bears 34-24 across the second and third quarters.
It was the Bulldogs third loss to the Bears this season.
Once again, Roos said his team put together stretches where they looked like they could go toe-to-toe with anyone. But the Bulldogs weren't able to hold that level of play throughout the entire game.
"I think this whole year has been a whole year of inconsistency," Roos said.
Randy Lane led the team with 11 points, Parker Pettit poured in 10, Ethan Butler had eight, Colin Roos scored seven and Arie VanDenBerg added six.
Sandpoint ends the season on a 10-game losing streak and finishes with a 4-16 record.
Roos took over as the head coach when Wade Engelson resigned just a day before a home game with Moscow on Jan. 8.
Roos said it was challenging taking over the team midway through the season, but it was worth it because of how well the kids dealt with the adversity.
"I don't know a coach that would want to take over a program midseason, but I was happy to do it," he said. "They are a great group of kids that show up every day and give their all. I'm glad I got to coach them this year."
The Bulldogs started four sophomores for most of the season and the team will only lose two seniors — Darren Bailey and Stone Lee.
The future for Sandpoint basketball has the potential to be really bright, Roos said, and the young squad learned a lot about what it takes to be successful this winter.
"They've been playing against teams loaded with seniors," Roos said. "When you're doing that, you're preparing yourself for what's down the road."
Sandpoint 6 16 18 5 — 45
Moscow 15 14 10 20 — 59
SANDPOINT — Roos 7, Pettit 10, Frank 0, R. Lee 0, Eldridge 1, VanDenBerg 6, Bailey 0, S. Lee 2, Lane 11, Butler 8.
MOSCOW — Brown 3, Simpson 2, Abendoth 8, Kees 11, Reheder 4, Isakson 0, Larson 0, Colter 0, Kitchel 10, Skinner 21.
---