Spartans one win away from state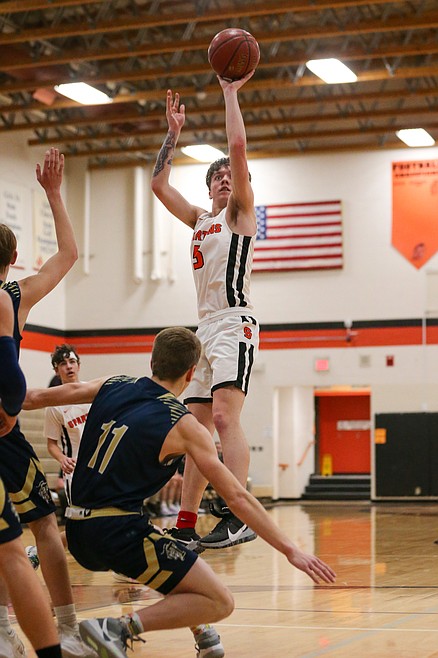 Junior Trentyn Kreager pulls up for a jumper over the Timberlake defense during the first half of Monday's game.
(Photo courtesy of JASON DUCHOW PHOTOGRAPHY)
Jordan Nortz attempts a 3-pointer on Monday.
(Photo courtesy of JASON DUCHOW PHOTOGRAPHY)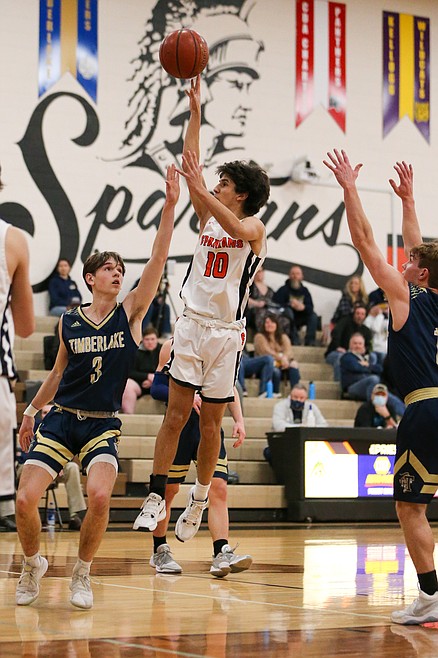 Sophomore Teigan Marinello pulls up for a floater on Monday.
(Photo courtesy of JASON DUCHOW PHOTOGRAPHY)
Previous
Next
by
DYLAN GREENE
Sports Editor
|
February 22, 2021 11:39 PM
PRIEST RIVER — A 14-0 run that started in the third quarter and ended midway through the fourth allowed Priest River to soar to a 56-43 win over Timberlake in the first round of the 3A District 1 tournament on Monday night.
With the victory, the Spartans (13-8) advance to the district title game and will host No. 2 Kellogg at 6 p.m. Tuesday. The winner will earn a berth to state while the loser will host the winner of Timberlake and Bonners Ferry at 6 p.m. Wednesday. The victor of that game would move on to a state play-in game on Saturday in Grangeville.
To take down No. 4 Timberlake, the Spartans made a key adjustment — they switched to a zone defense.
In the two regular season matchups with the Tigers, Priest River played man. In the first game, the Spartans walked into Spirit Lake and squeaked out a 73-71 win over Timberlake. In the second last Wednesday at PRLHS, the upstart Tigers claimed a 66-55 win.
"Our man-to-man defense against these guys both times we played them was just not there because they've got good guards," Priest River head coach Kevin Wylie said.
So on Sunday night, Wylie installed a zone defense to slow down Timberlake's dribble-drive offense. Wylie started drawing up the zone defense on a whiteboard during last Wednesday's game against the Tigers and after one day of walking through it in practice, the Spartans utilized it Monday to stifle the Tigers.
"We had to go to a zone defense and we went to a couple different zone defenses, and that seemed to be key," he said. "Honestly we're not a zone team. I don't like zone, but sometimes you got to make those adjustments and you got to do what it takes to win the game."
That defensive adjustment really started to pay dividends in the closing minutes of the third quarter when Priest River trailed 36-33. In the final minute of the quarter, Trentyn Kreager hit back-to-back baskets to give the Spartans a 39-36 advantage. From there the Spartans cruised and held the Tigers scoreless for nearly six minutes to take a 47-36 lead with 4:43 left in the game.
During that 14-0 run, Priest River kept going right at the Tigers and attacking the paint, and they were relentless on the offensive glass.
"We weren't really in a rhythm to knock down our 3's like we normally are," Wylie said, "so with Blake [Barrett] and Trentyn [Kreager] we know their physicality and their post presence is a big key and in that third quarter we just told them, 'We're pretty close to getting them in foul trouble and getting them in the bonus, so keep pounding the ball inside and that is what's going to win this game.'"
Timberlake head coach Mike Menti said his team just couldn't buy a shot during that Priest River run.
"We got a little cold offensively which means your defense has to pick up and that didn't happen," he said, "and [Priest River] shot well ... Kudos to them. Their boys came to play today, that's why they're league champs."
The Spartans also showcased their ability to close quarters against the Tigers. In the final seconds of the first quarter, Travis Mathews found Dylan Nortz for an easy lay-in to give the team a three-point advantage.
In the final 1:06 of the second quarter, Jordan Nortz hit back-to-back 3-pointers and blocked a 3-pointer by the Tigers as time expired to help the Spartans take a 27-22 lead into the locker room.
Wylie said those late-quarter surges are a result of hustle and intensity by his team on both ends of the court.
"When you're collectively flying around and you get those stops, you relax a little bit more on the offensive end," he said.
Kreager led the team with 17 points and six rebounds. Over the past few weeks, Kreager has been battling back from some injuries and slowly finding his way offensively. Well, he found something in the second half against the Tigers with 13 points and Wylie said it was exciting to watch him take over.
"I think it was huge for him to get going," Wylie said. "For a guy struggling to get in a rhythm and get a shot outside, you need to pound the ball inside and see the ball go through the hoop, and that's where you're going to get more comfortable ... it could be a huge confidence booster for him."
Jordan Nortz hit four 3-pointers and finished with 16 points and 10 rebounds. Barrett added 10 points and 10 rebounds.
Zach Yetter had a team-high 12 points for Timberlake, Taylor Menti scored 11 and Hunter Higgins added 10 points, five rebounds and three assists.
Wylie said his team knows what's on the line Tuesday and he is confident they can get the job done. Although, he said he probably won't get much sleep knowing that his team is just one win away from getting back to state for the first time since 2011.
"Stressful, not gonna lie," Wylie said about Tuesday's game, "... But it's a good stress rather than years past, and it's nice to have guys that are locked in, ready to go and hungry."
Timberlake 12 10 14 7 — 43
Priest River 15 12 12 17 — 56
TIMBERLAKE — Olivieri 8, Riley 0, Tay. Menti 11, Paslay 2, Yetter 12, Millsap 0, Antone 0, Higgins 10, Tan. Menti 0, Swensen 0.
PRIEST RIVER — Mathews 6, Butler 3, J. Nortz 16, Kreager 17, Marinello 2, Barrett 10, D. Nortz 2, Thompson 0.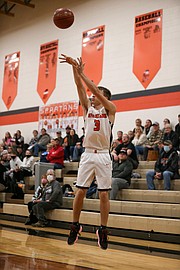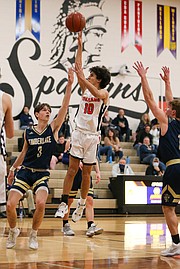 ---