Spartans stick with it, get back to state for first time since 2011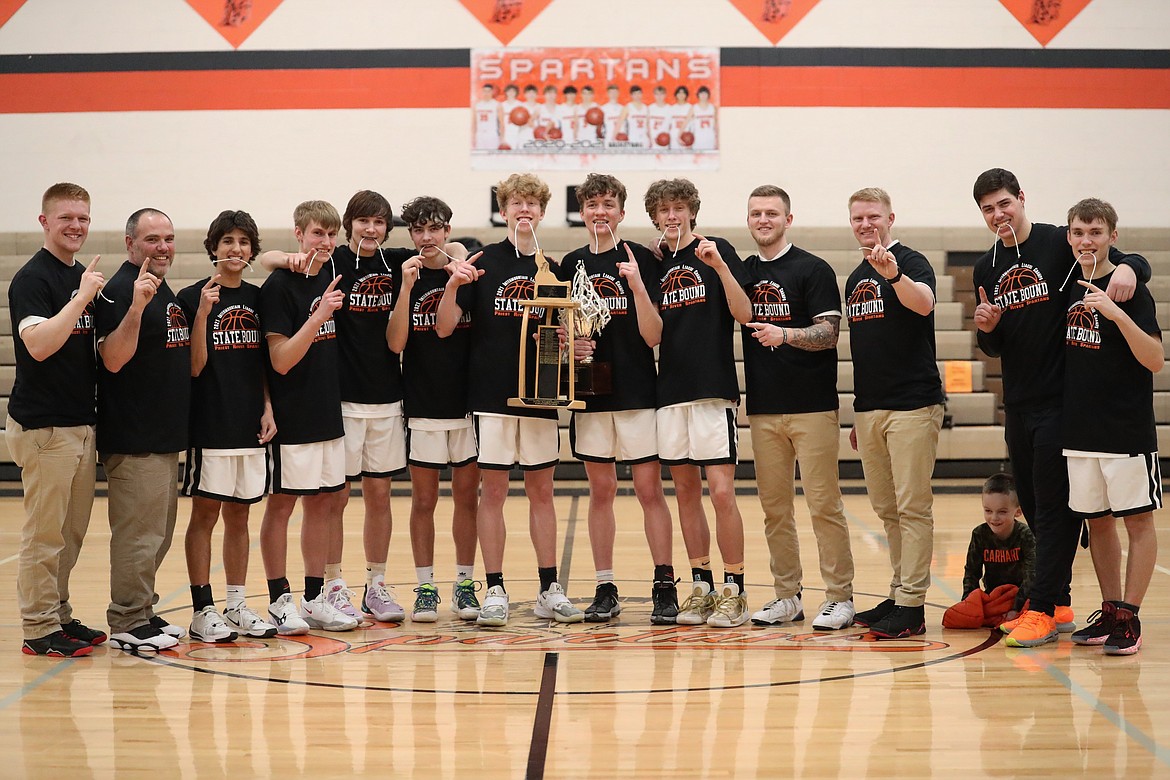 The Priest River boys basketball team celebrates Tuesday night after cutting down the nets and claiming their first 3A District 1 title since 2011 with a 59-52 win over Kellogg. Read a full recap of the game on Page A7.
(Photo by DYLAN GREENE)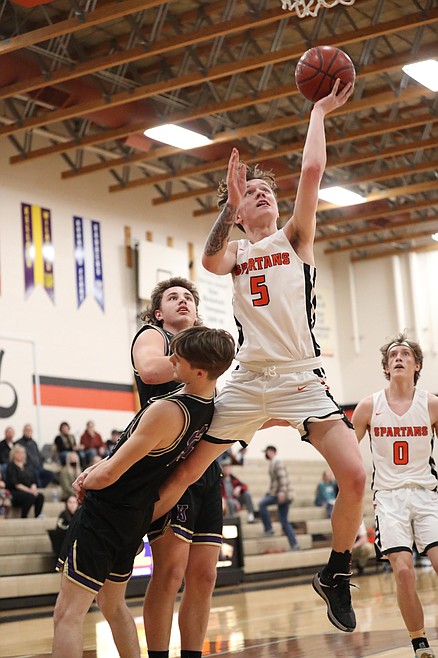 Trentyn Kreager fights through contact and converts a layup on Tuesday.
(Photo by DYLAN GREENE)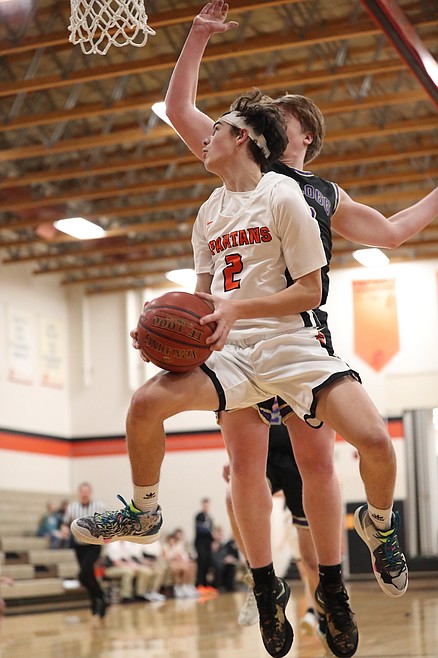 Sophomore Luke Butler attempts a reverse layup on Tuesday.
(Photo by DYLAN GREENE)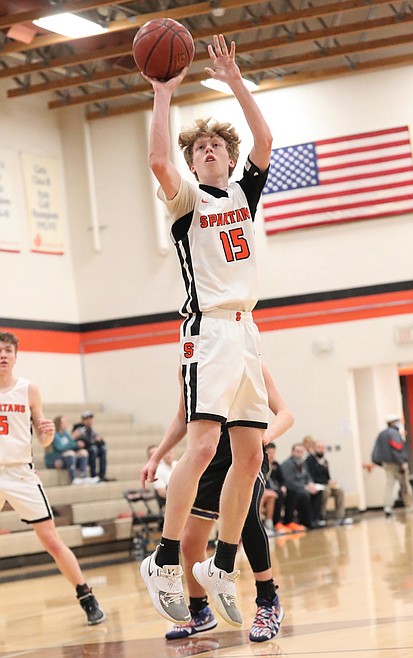 Junior Blake Barrett elevates for a jumper during the district title game on Feb. 23.
(Photo by DYLAN GREENE)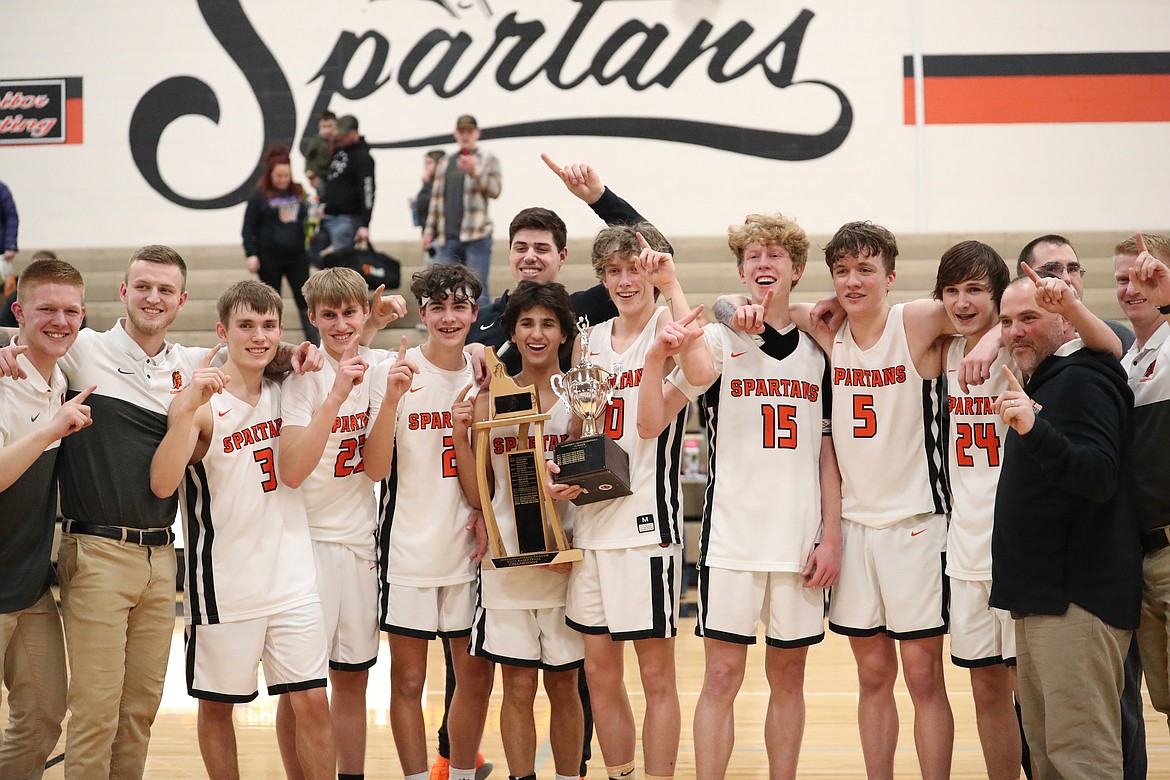 The team poses for a photo immediately after taking down Kellogg on Tuesday.
(Photo by DYLAN GREENE)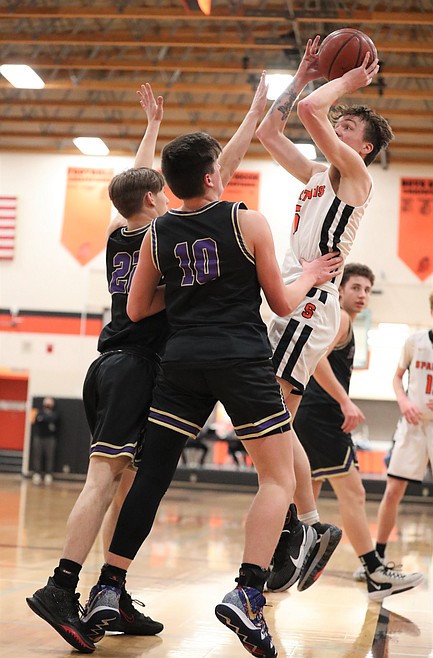 Trentyn Kreager rises up over the Kellogg defense to attempt a shot on Tuesday.
(Photo by DYLAN GREENE)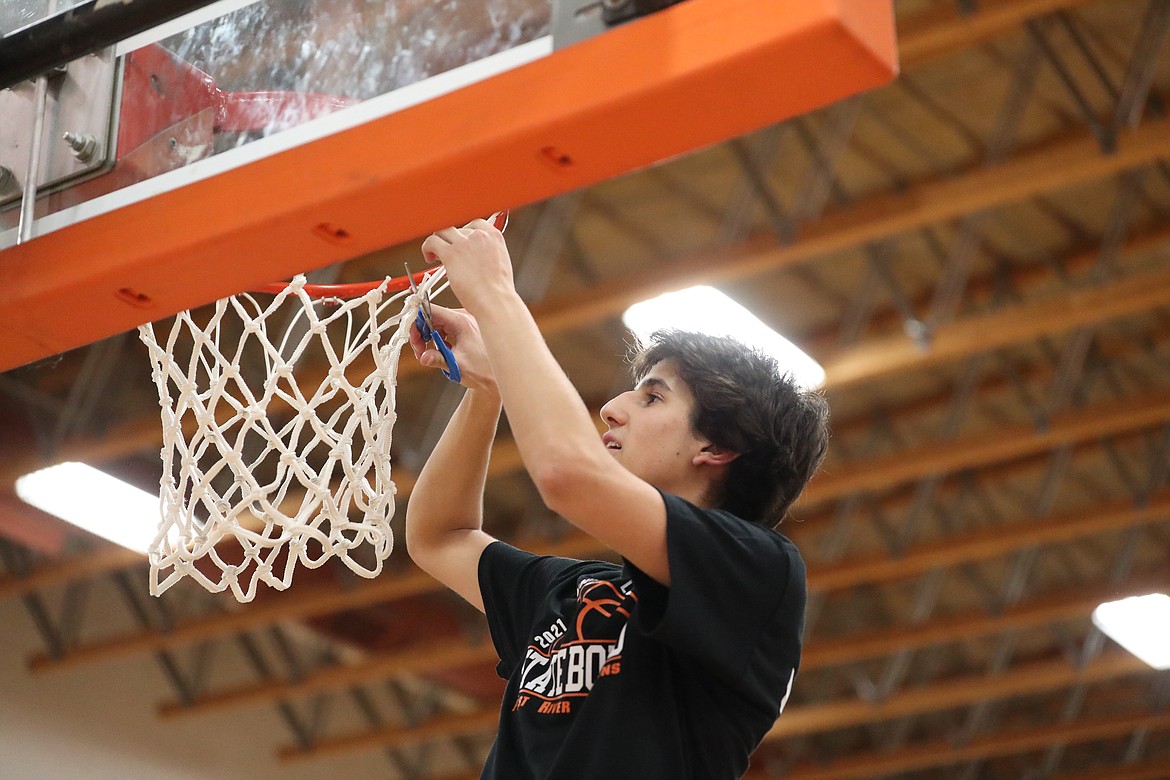 Sophomore Teigan Marinello cuts down the net following Tuesday's win.
(Photo by DYLAN GREENE)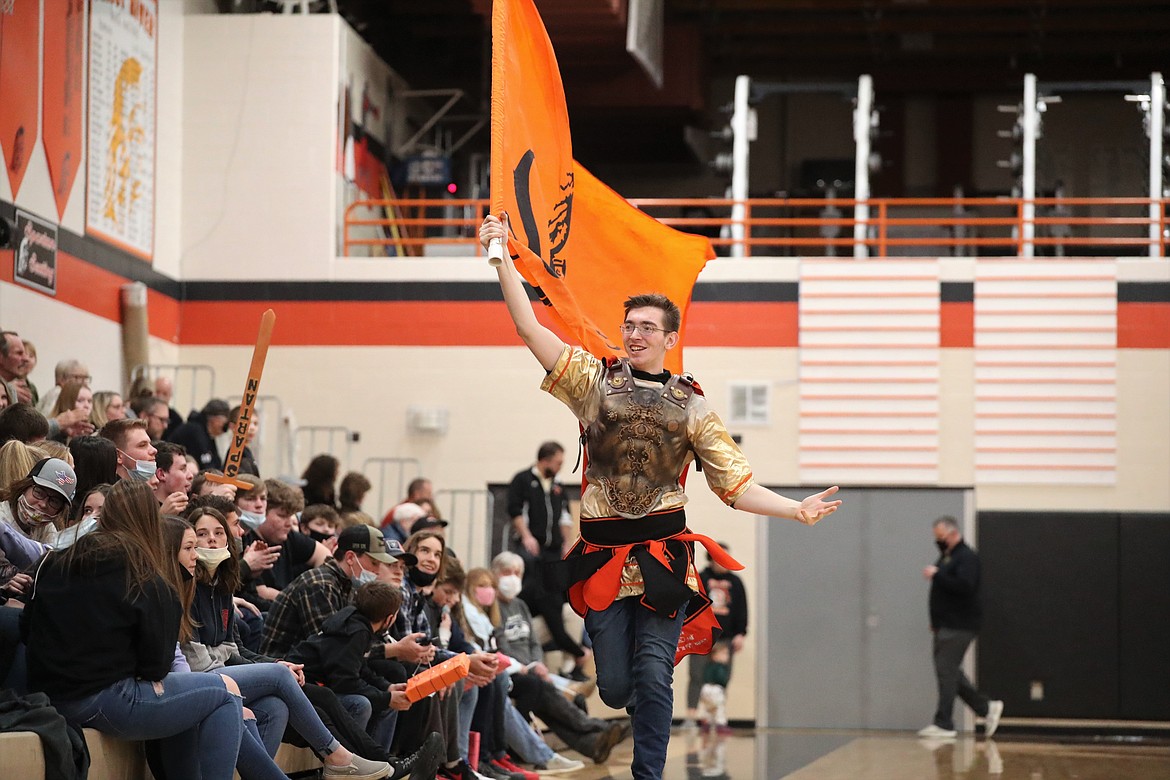 A student dressed in Spartan attire attempts to fire up the crowd on Tuesday.
(Photo by DYLAN GREENE)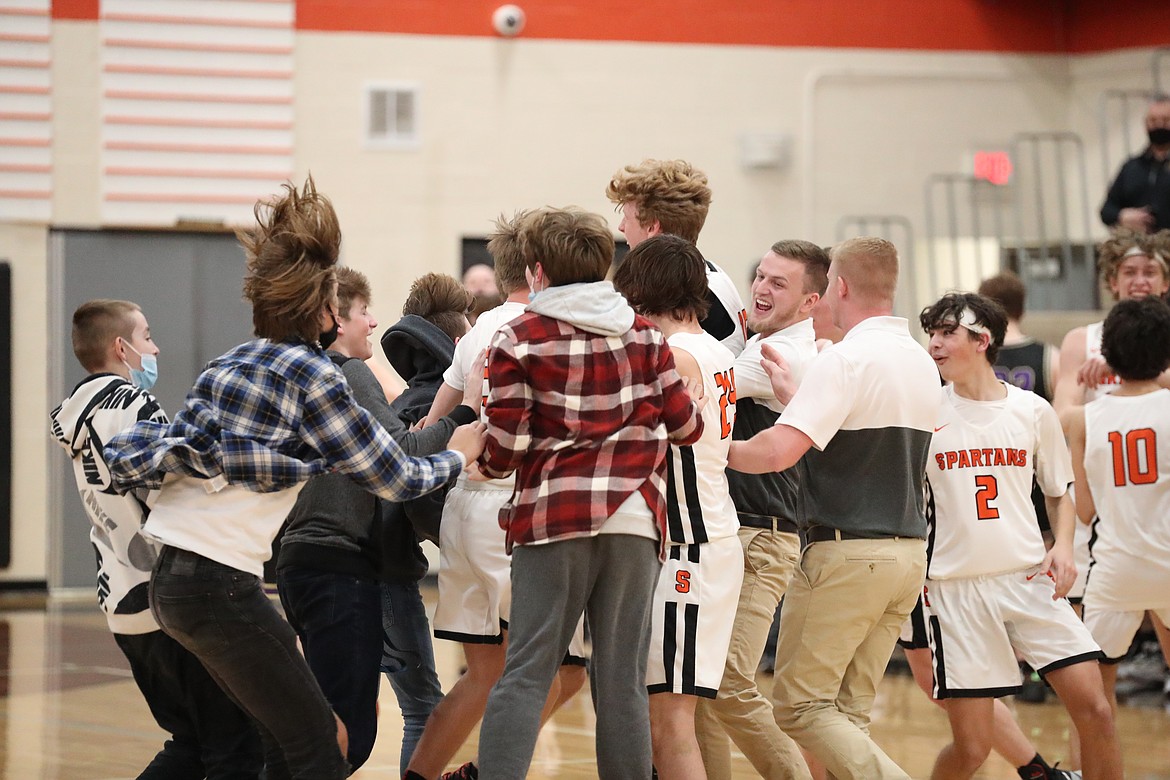 A group of students storm the court to celebrate with the team following Tuesday's win.
(Photo by DYLAN GREENE)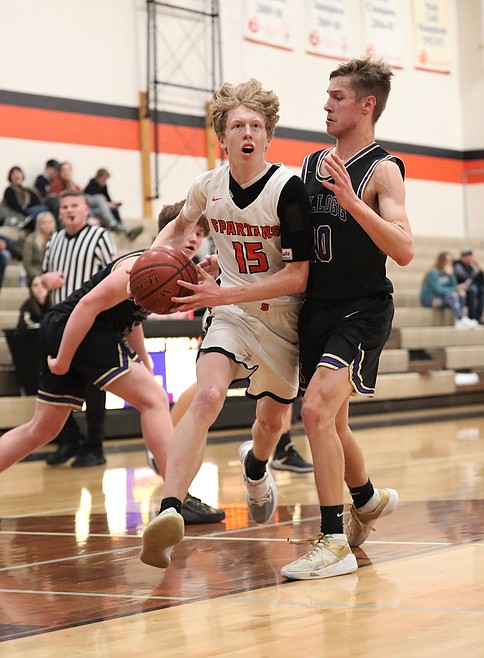 Blake Barrett drives toward the basket on Tuesday.
(Photo by DYLAN GREENE)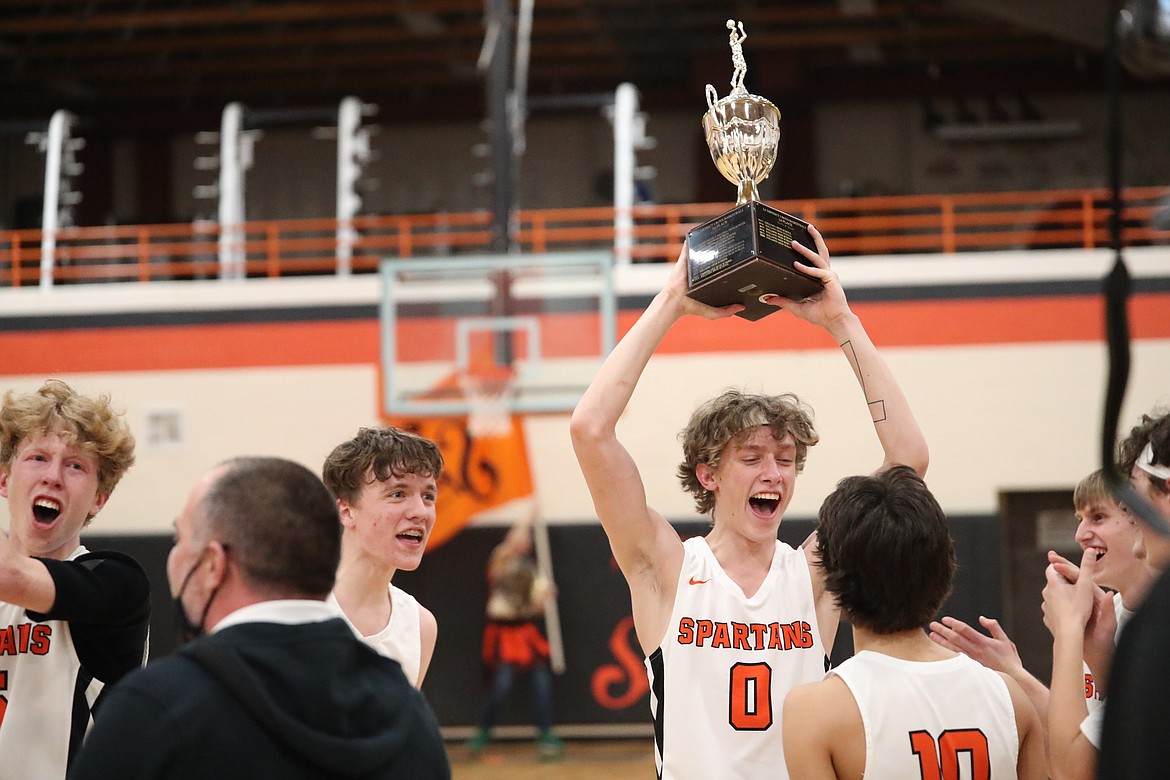 Junior Travis Mathews (middle) holds up the 3A District 1 trophy following Tuesday's win.
(Photo by DYLAN GREENE)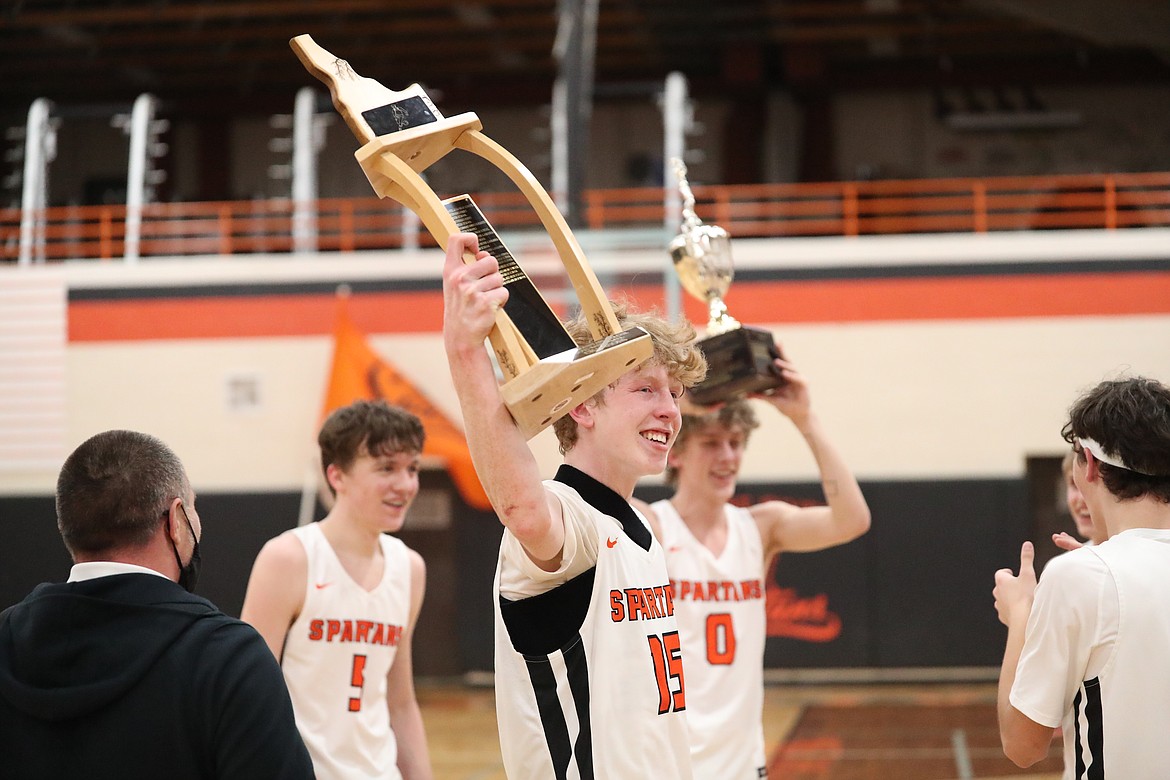 Junior Blake Barrett holds up the league trophy following Tuesday's win.
(Photo by DYLAN GREENE)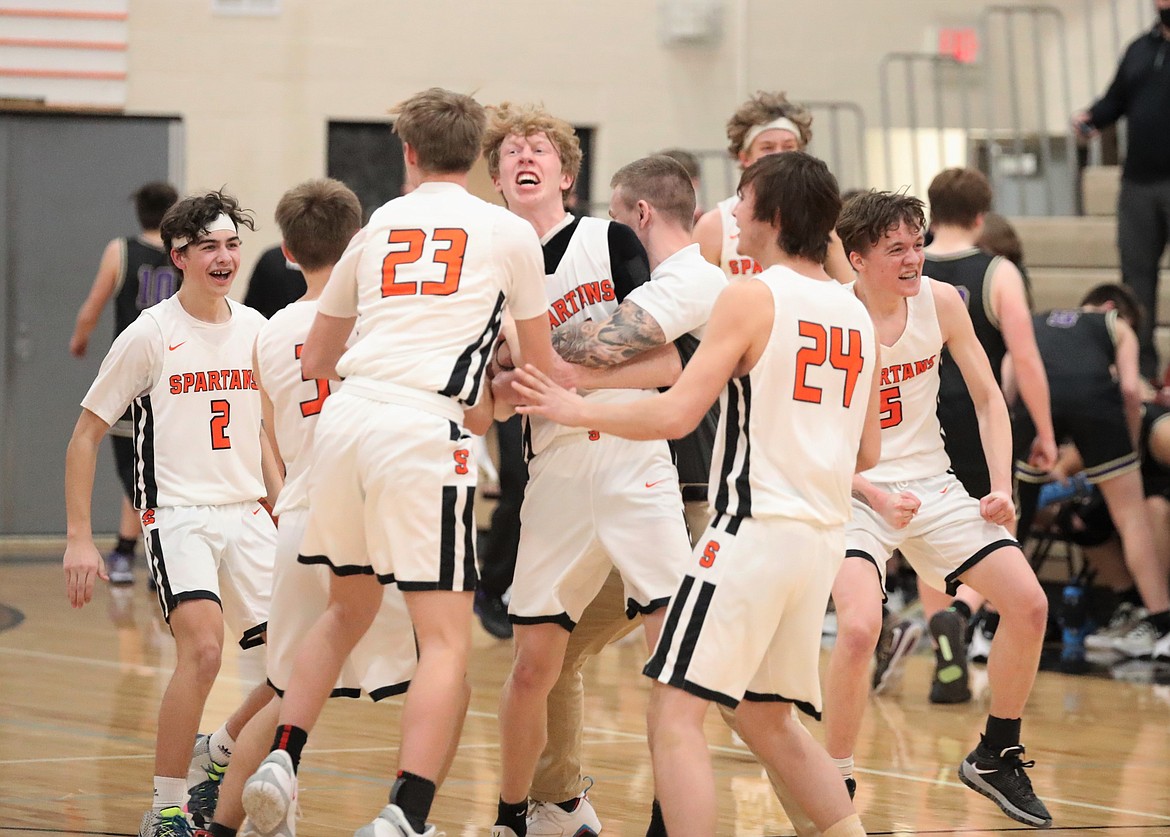 The Priest River boys basketball team storms the court following the 3A District 1 title game victory over Kellogg on Feb. 23 at PRLHS.
(Photo by DYLAN GREENE)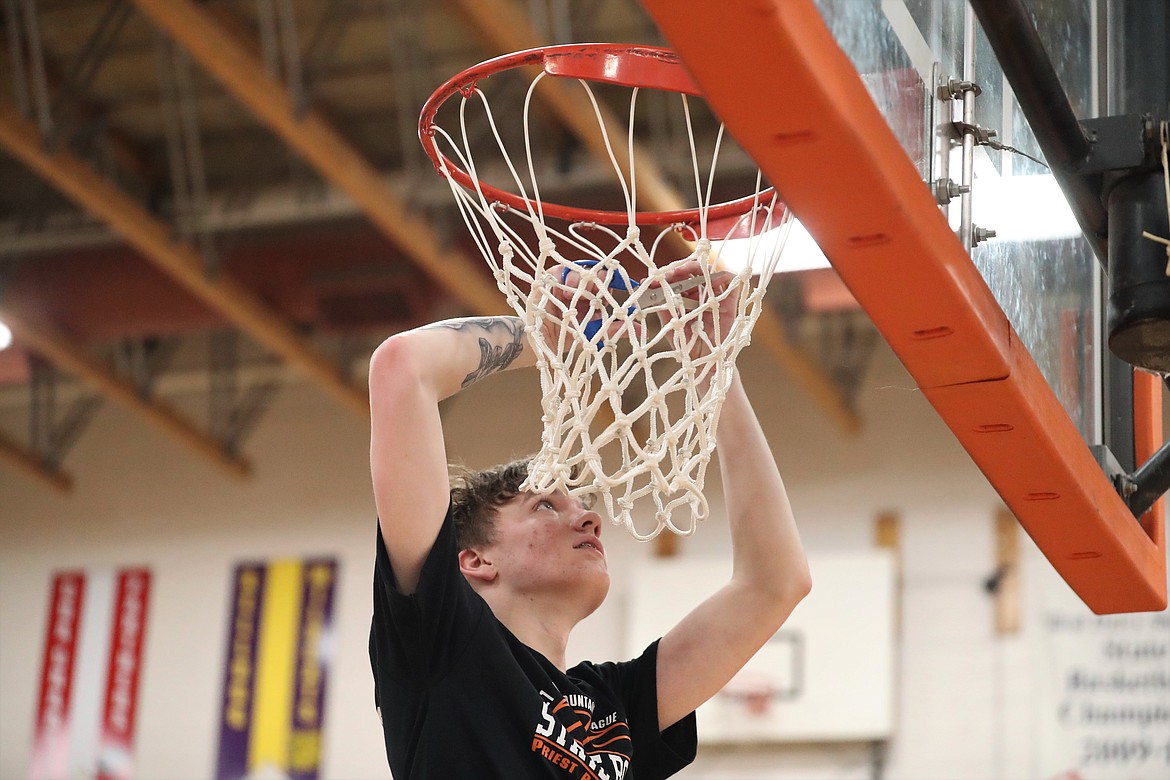 Junior Trentyn Kreager cuts down the nets following Tuesday's district title game against Kellogg.
(Photo by DYLAN GREENE)
Previous
Next
by
DYLAN GREENE
Sports Editor
|
February 23, 2021 11:42 PM
PRIEST RIVER — When Kevin Wylie took over the Priest River boys basketball program six years ago, a trip to state wasn't even close to being in the cards for the Spartans.
Wylie had to build the program from the ground up and make connections with kids in the community to foster a brighter future for the team. But after several losing seasons, all the late nights and time spent in the gym paid off for Wylie and the Spartans on Tuesday night.
Priest River took down the seven-time defending district champion Kellogg Wildcats 59-52 to capture their first 3A District 1 title since 2011 and punch their ticket to the state tournament next week in Nampa.
It was a moment years in the making, but Wylie said his team put in the work during the offseason to make this dream a reality.
"I can't even express how it feels," the head coach said after the game. "... I always wanted to build this program up and make it successful, that was always my goal and it took some years to do it, but I'm just so proud of the guys. They've been working so hard to get here."
Last year, the Spartans went 8-15 and the year before that they finished with a 2-18 record. Junior Trentyn Kreager was on both those teams and remembers how difficult those seasons were. He said going through those tough times makes this victory taste even sweeter.
"It feels amazing," he said. "I've been on this team since freshman year and it was a rough freshman and a rough sophomore year, and this year with the right group and the right teammates we worked hard for it."
After the win, the team pulled out a ladder and started climbing up the steps to cut down the netting on one of the baskets. It was a new experience for the Spartans, so assistant head coach Mark Schultz stood beside the ladder the whole time and guided the team through the process of cutting off one strand at a time.
Wylie said watching the kids celebrate this district title is something he'll always remember.
"It's unbelievable, we're on cloud nine," he said. "The last five years I've watched us struggle and try to get to this point and I knew it would pay off. I knew if we stuck with it and kept working on the program and just kept a positive influence on the kids, eventually we would start to get kids to buy in and that's the best feeling is watching kids just buy into something and just change the culture."
For the second straight game in the district tournament, the Spartans relied on a 1-3-1 zone defense against the Wildcats that they just learned how to run on Sunday, and it worked.
"We went 90 percent zone the last two games and it paid off," Wylie said. "The zone allows us to flow a little bit more and not be susceptible to man-on-man coverage and dribble-drive penetration."
After trailing 14-9 at the end of the first quarter, Priest River buckled down defensively and held the Wildcats to just six points in the second quarter. That allowed the Spartans to pick up the pace offensively and end the first half on a 10-0 run.
Priest River took a 26-20 lead into halftime and they never let go of it. Kellogg got within four points countless times in the second half and even three with 6:37 left in the fourth quarter, but they never got any closer and that's due in large part to the play of Kreager.
Each time the Wildcats tried to start a run and build some momentum, Kreager was there to shut it down with a big bucket.
Kreager finished with 28 points and 10 rebounds. Despite the clutch performance, Kreager gave credit to his teammates for helping him shine.
"That's just my team," he said. "We had good ball movement and everything, so I have to give them props."
In Monday's district opening win against Timberlake, Kreager found a rhythm in the second half with 13 points, and he carried that momentum into Tuesday's title game with the Wildcats.

"That was huge," he said about the Timberlake game. "That game definitely gave everyone confidence because we lost to Timberlake the previous time we played ... and that showed us what we could do."
Kreager has battled through injuries and adversity all season and Wylie knew he had a performance like this in him.
"That's just Trentyn," Wylie said. "When I coached him as a junior high kid, I knew this kid was going to be special. He's got confidence through the roof ... and he loves the game. A lot of people don't know the hours that kid spends in the gym. I'm just so proud of the way he fought tonight."
The Spartans were also able to get some of Kellogg's key players like Logan Jerome and Kolby Luna in foul trouble in the second and third quarters. And Priest River took advantage by relentlessly attacking the paint.
Getting those two players and Riply Luna in foul trouble was part of the game plan for the Spartans and Wylie was proud of his players for trusting it and executing it.
"We knew what they were capable of and we knew if they went out of the game you have a much better chance of winning," Wylie said, "so our guys really bought into the game plan for the last two games. We knew we weren't going to win by shooting outside every game ... and so what I'm most proud about is watching our guys the last two nights pound the ball inside, attack the rim and get to the foul line."
Blake Barrett added 14 points, six rebounds and three assists for Priest River, and Travis Mathews and Teigan Marinello each scored five.
Kolby Luna led Kellogg with 16 points and 11 rebounds, Riply Luna had 15 points, five rebounds, five steals and four assists and Tanner Groves had eight points.
The Spartans (14-8) will now wait to see who they will face in the opening round of the 3A state tournament on Thursday, March 4 at Columbia High School.
Kellogg 14 6 16 16 — 52
Priest River 9 17 16 17 — 59
KELLOGG — Miller 0, R. Luna 15, K. Luna 16, McLean 0, Groves 8, Frohlich 6, Walker 0, Jerome 7.
PRIEST RIVER — Mathews 5, Butler 0, J. Nortz 4, Kreager 28, Marinello 5, Barrett 14, D. Nortz 3, Thompson 0.
---