Friends find fine fishing on Fernan
by
BILL BULEY
Hagadone News Network
|
February 23, 2021 1:00 AM
COEUR d'ALENE — The window for ice fishing on Fernan Lake opened long enough for Bill Hendrickson and Pat Brady to venture out Tuesday for the first time.
"I just caught a trout," Hendrickson said as he walked back to the chairs they had set around the holes they cut in the ice, some 100 yards from shore.
It was 16 to 18 inches, he said, the first of what they hoped would be many. Perch, crappie and bass were also swimming below the surface, just waiting to be reeled in.
"It's kind of like a mystery," Hendrickson said. "You never know what you're going to pull out of the ice."
Even if the fish aren't biting, ice fishing is always a good day for the anglers as they enjoyed the peace, quiet and beauty that comes with being far from others going about their daily routines in Coeur d'Alene and surrounding towns.
"There ain't much other people," Brady said with a laugh. "You gotta find some way to fish."
"It's fun. We just love fishing," Hendrickson said. That's all we do."
The men moved every so often, to keep warm in the 27-degree conditions, with snow falling, too. Bundled up to fend off the cold, they brought with them coffee, smokes, conversation and patience.
Hendrickson stood up, grabbed the auger, walked about 15 yards away, and quickly drilled a hole through the ice they estimated was a solid 5-inches thick.
Perfectly safe, both men agreed.
"There are some guys playing hockey out there a couple days ago," he said.
"I could drive an ATV on it," Brady said.
Still, they were cautious.
"We try not to go out too far," he said. 'There a big current right here. That can be kind of scary."
"It creates some thin spots," Brady added.
When asked exactly where this current was, Hendrickson motioned and looked toward the center of the lake.
"It's out a ways," he said.
"It is out there," Brady added. "Probably a good quarter mile. Out toward the center it's frozen up, probably 2 inches way out in the middle."
But they dismissed any worries the ice might not hold. The lake had been freezing over since Thursday when the temperature began dropping toward single digits at night.
"If I'm out there, anybody can be out there," Brady said.
Hendrickson fell through the ice on Fernan Lake last year, but much closer to shore, in water that was up to his chest. He was able to pull himself out of the freezing water and crawl to safety.
"It was a good wake-up call," he said, then adding "ice picks are good to have."
Hendrickson said there are years he's been on the ice in the spring.
"You can hear it melting," he said
"When it starts cracking, it gets a little hairy," Brady said. "Especially as a bigger fellow, man, let me tell you, it's not my favorite deal."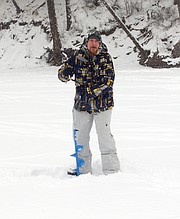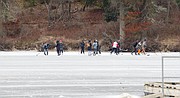 ---