Sandpoint wrestling looks to end adversity-filled season on a high note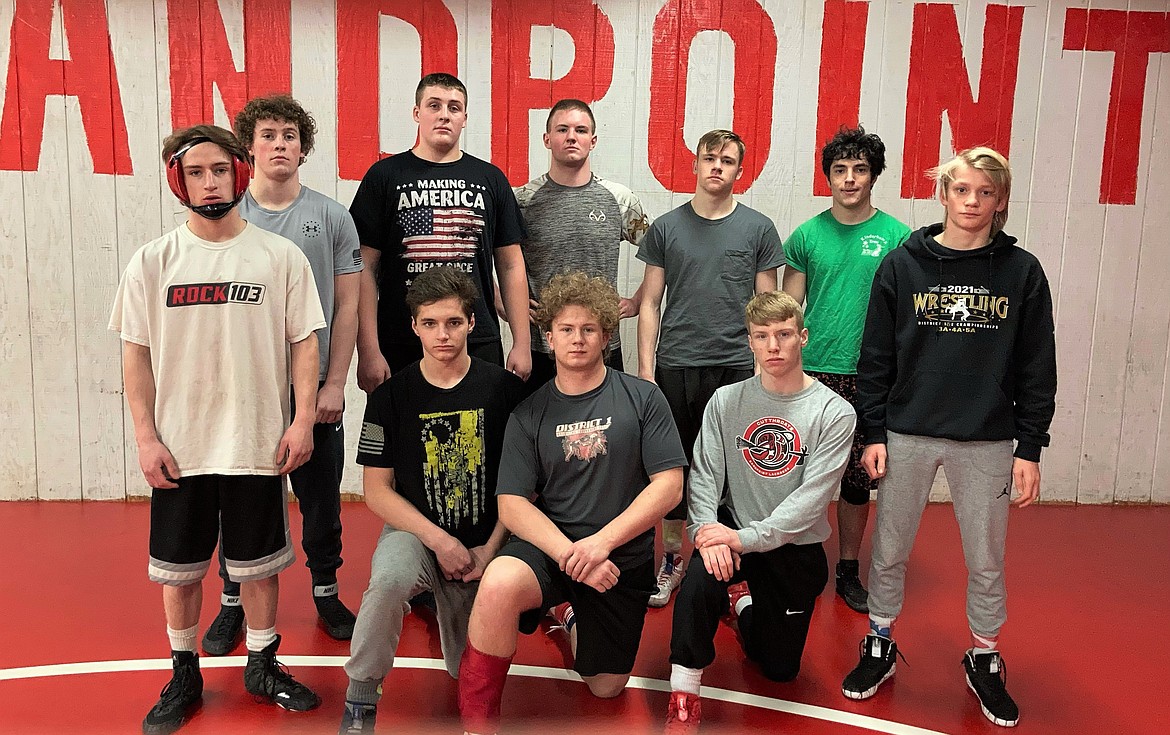 Pictured are the 10 Sandpoint wrestlers who will compete in the 4A state championships on Friday in Nampa. Front row (from left): Tanner Dickson, Darrian Resso, Blake Sherrill, Shane Sherrill and Forest Ambridge. Back row (from left): Owen Wimmer, Carson Laybourne, Matt Thurlow, Trevan Adam and Sam Becker.
(Photo courtesy of JAKE STARK)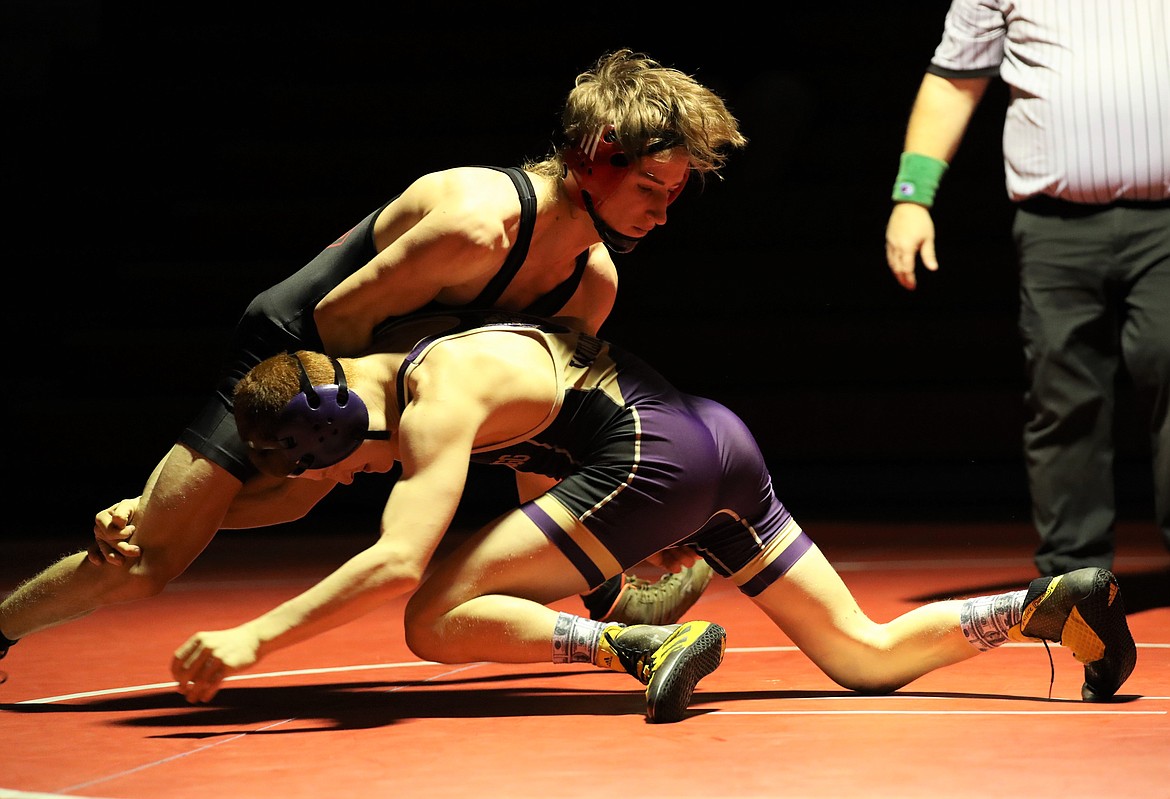 Sandpoint's Tanner Dickson (left) takes on Kellogg's Raymond Heely in a 120-pound match on Jan. 6 at Les Rogers Court.
(File photo by DYLAN GREENE)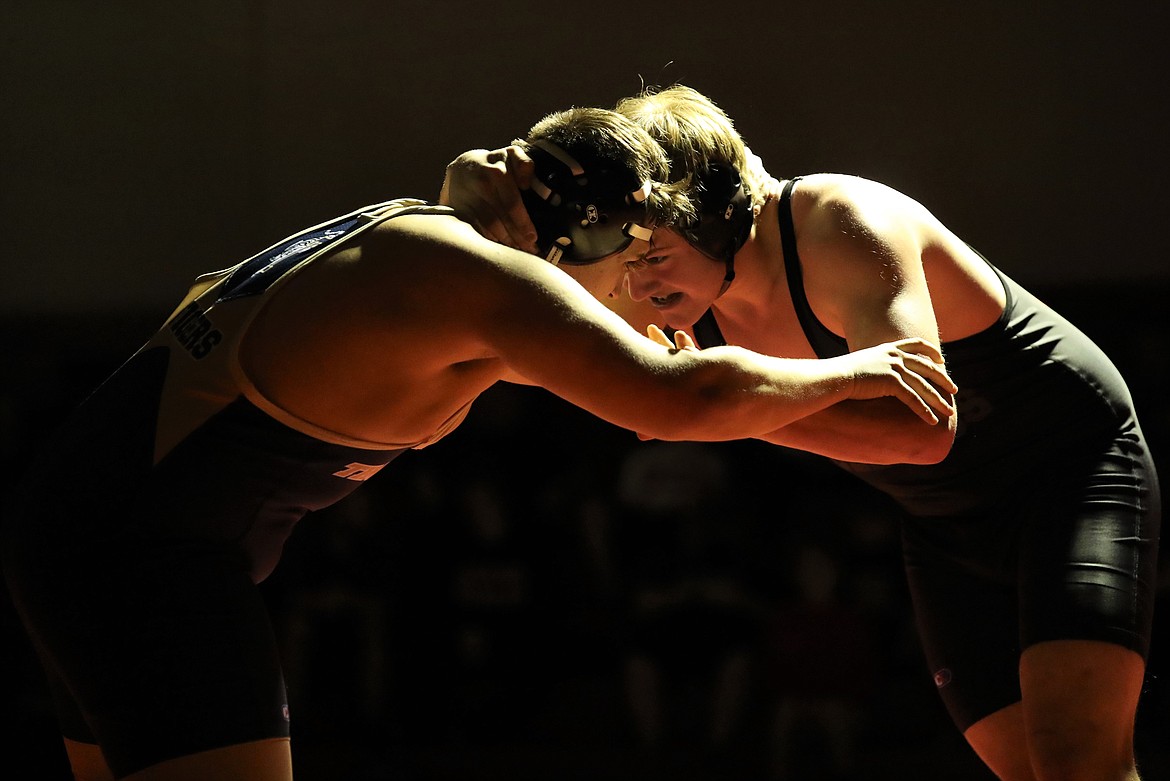 Sandpoint's Matt Thurlow (right) battles Timberlake's Trevor Cady in a 220-pound bout on Dec. 16 at Les Rogers Court. Thurlow placed third at the Lakeland JV Tournament on Saturday.
(File photo by DYLAN GREENE)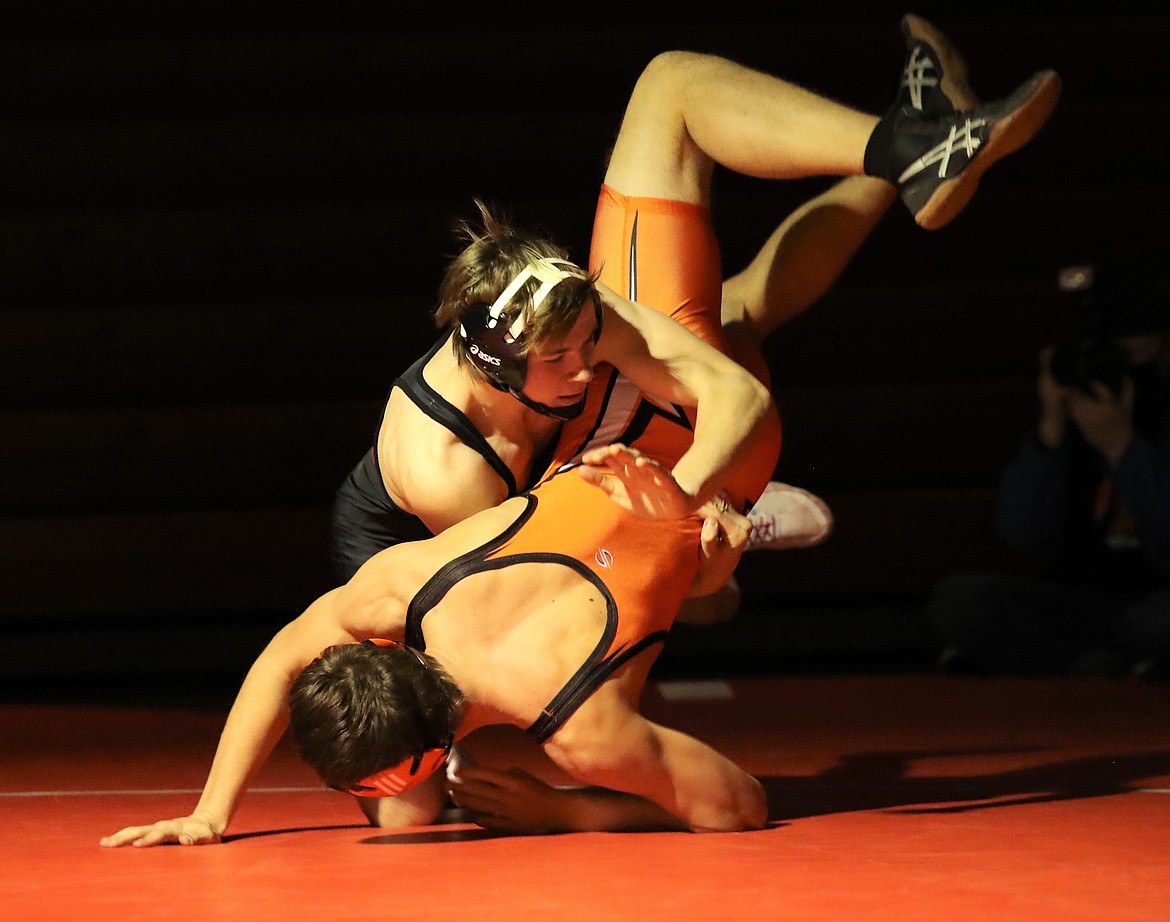 Senior Trevan Adam (top) takes down Priest River's Keegan Poirier in a 152-pound match on Dec. 4 at Les Rogers Court.
(File photo by DYLAN GREENE)
Previous
Next
by
DYLAN GREENE
Sports Editor
|
February 25, 2021 7:14 PM
NAMPA — This year's 4A state wrestling tournament will look and feel quite a bit different than years past.
Due to the COVID-19 pandemic, the state championships have been condensed from two days into one. It's a challenge no one was expecting to have at the beginning of the season. But for the Sandpoint wrestling team, obstacles have become par for the course.
The Bulldogs have had to quarantine twice this winter and even had to pull out after day one of the North Idaho Rumble due to COVID-19 concerns.
Canceled tournaments have become so frequent this season that it doesn't even phase the team anymore. The adversity is just part of the journey when trying to wrestle through a pandemic. And a condensed state tournament, just add it to the list.
"I think we're ready for it," head coach Jake Stark said. "It's more of a mental challenge than a physical one from here on out. If you can mentally stay in every match, you're going to be fine, and those are usually the guys that can go further in the tournaments because they keep their heads in a good spot. If they lose, they can have thick skin, shake it off and be ready to wrestle some more."
Ten Sandpoint wrestlers will take the mat at the Ford Idaho Center on Friday to compete in the 4A state championships — Forrest Ambridge (113), Tanner Dickson (120), Shane Sherrill (132), Darrian Resso (145), Trevan Adam (152), Sam Becker (160), Blake Sherrill (182), Owen Wimmer (182), Matt Thurlow (220) and Carson Laybourne (285).
Ambridge and Dickson claimed spots to state by winning district titles in their respective weight classes, while the rest of the Bulldogs earned at-large berths to state.
Given everything the team has gone through this season, Stark said sending 10 wrestlers to Nampa is certainly a major accomplishment.
"It feels good after fighting through all the adversity," he said. "We have put up with a lot and to get that many guys to go, it's exciting."
And the Bulldogs aren't taking this opportunity for granted either. Stark said he knows plenty of coaches in Washington and Oregon that are still waiting to see if they'll be able to have a season this year.
"I feel really fortunate that we get to have a state tournament," he said. "At least we get to compete."
For freshman Shane Sherrill, and Resso, Wimmer and Laybourne, who are all sophomores, this is their first time competing at state. Stark said he is looking forward to watching that group get their feet wet. He wants them to soak it all in, because Stark knows they'll be back.
"Sometimes if you're new, it's just such a big new environment you're just like, 'Whoa,'" he said, "you're almost starstruck, and I think most of our guys can get past that, but there's still guys that are young."
Despite being new to the bright lights at state, Stark has high hopes for Shane and Resso. He believes both have a chance to place.
Shane got a taste of state last year as an eighth grader when he traveled down to watch his older brother, Blake, compete. Stark said that trip gave Shane a sneak peek into the competition, and he doesn't anticipate the freshman being overwhelmed by the moment.
"He knows exactly what to expect and what to do," Stark said. "He's a fierce competitor and he has this drive inside of him that he's not going to lose."
Resso enters state with plenty of momentum. After falling to Lakeland's Riley Siegford in the district semis, Resso rallied to win three straight matches and place second.
Resso has battled injuries throughout the season and Stark has continuously praised his toughness. Stark said he has that it factor.
"To his credit, he's been stepping it up every single time," he said. "He's got what it takes, I've seen it in his eyes since sixth grade."
Blake Sherrill, Ambridge, Adam and Thurlow are all taking the mat at state for the second straight season, while Dickson, a senior, returns after missing out on the tourney last winter.
Throughout his career, Dickson has had several chances to grab district titles, but last week he finally broke through with a 39-second pin of Moscow's Sam Young.
Dickson said he let out a sigh of relief once he locked up his state berth and learned he wouldn't have to rely on an at-large bid.
"It was a lot nicer than waiting for that moment," he said.
In 2019, Dickson went 1-2 at state and he said that experience really opened his eyes to the level of competition the tournament presents.
"You really have to bring the match to those guys because they're hungry and they are going to bring it to you," he said.
Stark said a top-six finish is within reach for Dickson.
"I think he's finally put it all together," he said. "He's got a tough weight bracket because 120 is always tough … but he has what it takes."
Becker is the other Bulldog who is new to state. The senior will finally get a chance to take the stage in Nampa and Stark can't wait to see what he'll do.
"He's just a laid back kid that doesn't really get rattled a whole lot," Stark said. "When we ask him to step it up, he's going to step it up."
Stark believes all four of his seniors — Dickson, Adam, Becker and Thurlow — can place at state. Stark said he has been paying closer attention to that group and helping them out in any way he can because he wants to make their final push a memorable one.
"I just told them this is your last shot, your last chance to leave your mark," he said.
For Adam, his state tourney run at 138 pounds last year came to an unfortunate end. He lost his opening match and was disqualified in his second bout. It was a quick ending, and one that he is hoping to erase from his memory on Friday.
Adam enters the tournament as the No. 15 seed, a position he is quite familiar with. He was a 15 seed last year as well, and he would really like to upset No. 2 Milton Hernandez from Minico. But win or lose in his opening match, Adam could have a chance to face Lakeland's Blaise Wright in the second round. Adam lost to Wright in the second place match at districts, and he said he would love to end his career with a little bit of revenge.
"I want him second round bad, just so I can put an end to that," he said.
Adam wasn't satisfied by that third-place result at districts and he's been itching to get back on the mat since.
Adam has had the day of the state tournament circled on his calendar since last season ended, and the team captain is glad he gets to write his own ending.
"It's just good to have the opportunity to try and place," he said. "It's all in my hands now."
Thurlow had a 1-2 mark at state in 2020. He lost his opening match last winter, but won his next and looked to be building momentum toward placing at state. Unfortunately, he ran into teammate Tag Benefield and fell 10-4.

This time around, Thurlow is looking to go a lot deeper in the tournament, and Stark said he can tell the senior is determined to make that a reality.
State being condensed into one day will certainly make that harder. Some wrestlers at state will be faced with the daunting task of competing in six or seven bouts in one day, but Thurlow believes the Bulldogs are up for the challenge.
"I think our team will handle the one day tournament pretty well, but it will break a lot of people," he said. "The sophomores and juniors that are coming with us, they're definitely going to get a harder view of state than I ever got ... I hope the best for my boys, but we'll see what happens."
Dickson is taking the new format in stride.
"You just got to play with the hand you got," he said.
Stark said this year's state tourney will truly be survival of the fittest, but his team has faced similar scenarios at other tournaments all season.
"We've kind of been preparing for it all year long," he said. "We're in pretty good shape even though we've taken some time off."
Stark is hoping his squad wrestles with the same intensity they displayed at districts.
"We really rose to the occasion and stepped it up," he said about districts. "Now, all the pressure is off. It's just time to go down there, do your best, have fun, wrestle the best you've ever wrestled this year and end on a good note."
Thurlow, Adam and Dickson just want to be able to look back and be proud of the effort they gave in their final matches as Bulldogs.
Thurlow said earning a spot at state as a senior means the world to him.
"I've worked relentlessly for four years … and it's a big highlight of my life," he said.
The impact the Sandpoint wrestling team has had on Thurlow on-and-off the mat will never be forgotten, he said, and the sport will always be a part of who he is.
"This sport has reshaped how I think, reshaped me as a whole person and definitely given me the grit I need to succeed as a human being," he said. "I probably wouldn't have been as hard a worker if I hadn't come up to the wrestling room my freshman year, and I might not actually still be in high school, so it definitely saved me."
Stark expects all his wrestlers to leave everything they have on the mat at the state, and he said this group has already proven they can overcome anything in their way.
"I'm super proud of these guys," he said. "These guys have rolled with the punches, went through the ups and downs, stayed positive and come back hungry. Every time we throw a challenge out there, they respond to it."
First round bouts at state start at 8 a.m. PST Friday and placing matches are scheduled to begin at 3 p.m. PST. You can watch the tournament live on the NFHS Network.
FIRST ROUND MATCHES
113 — No. 6 Forrest Ambridge vs. No. 11 Tyson Tatton (Twin Falls).
120 — No. 7 Tanner Dickson vs. No. 10 Brody Ottley (Minico).
132 — No. 6 Shane Sherrill vs. No. 11 James Burr (Minico).
145 — No. 8 Darrian Resso vs. No. 9 Camren Firth (Jerome).
152 — No. 15 Trevan Adam vs. No. 2 Milton Hernandez (Minico).
160 — No. 8 Sam Becker vs. No. 9 Caleb Somers (Canyon Ridge).
182 — No. 12 Owen Wimmer vs. No. 5 Nathan Parsons (Jerome), No. 15 Blake Sherrill vs. No. 2 Adrian Martinez (Columbia).
220 — No. 11 Matt Thurlow vs. No. 6 Demetri Smith (Mountain Home).
285 — No. 11 Carson Laybourne vs. No. 6 Baylee Carney (Twin Falls).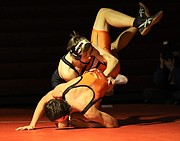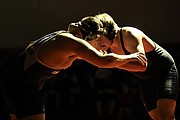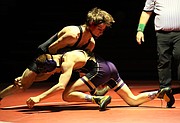 ---