COVID-19 positivity rate declines in PHD, state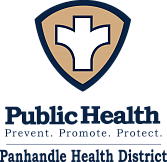 |
January 2, 2021 1:00 AM
The Panhandle Health District reported 197 new coronavirus cases on Thursday, bringing its total for the year to 16,465.
There have been 166 deaths in PHD attributed to COVID-19, with 149 of those age 70 or older. Fifteen were in the 60-69 age group, and two were in the 50-59 age bracket, the PHD reported. There have been no deaths of anyone younger than 50 attributed to the virus in the PHD.
There are 11,832 closed COVID-19 cases in the PHD, leaving 4,633 active cases, which is about 0.85% of the PHD's population. The death rate in the PHD, based on 166 deaths, is 0.06%.
The positivity rate of coronavirus cases in the PHD, based on 5,249 PCR tests for the week ending Dec. 19, was 20.8%. That's down from a high of 22.6% for the week ending Dec. 5 based on 6,316 PCR tests, according to the state's website.
The state's positivity rate for the week ending Dec. 19, based on 34,995 PCR tests, was 12.5%. That's down from 19% for the week ending Dec. 5 based on 43,307 PCR tests.
Meanwhile, as of Wednesday, Idaho has received 56,225 doses of COVID-19 vaccine, according to the Idaho Department of Health and Welfare.
All those doses have been distributed throughout Idaho to enrolled health care providers, including hospitals, local public health districts, and other health care providers, the press release said.
Currently, enrolled health care providers are performing initial vaccinations to health care workers and to long-term care facilities staff and residents. Another 1,950 doses of COVID-19 are scheduled to be delivered to Idaho providers today.
"We are happy to report the vaccination of our health care workers and residents of long-term care facilities is proceeding well," said Administrator Elke Shaw-Tulloch, Division of Public Health.
She said they will be sharing more information as it is available. "The situation evolves rapidly, but Idaho's goal remains to make sure all Idahoans who want the vaccine will be able to get it when they become eligible," Shaw-Tulloch said.
---