Fouls cost Lady Cats in loss to Mullan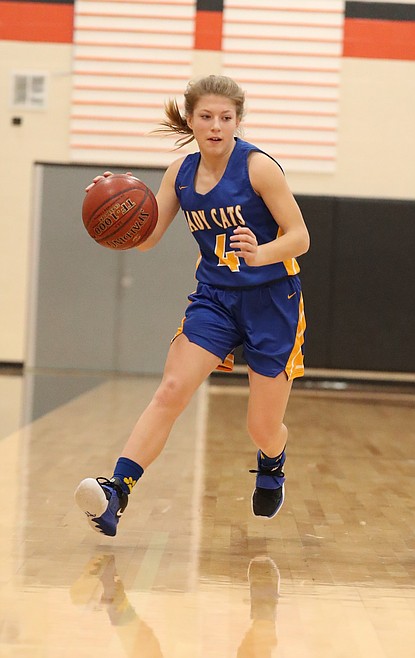 Freshman Eloise Shelton turns the corner on a screen set by one of her teammates during a game against Priest River on Dec. 18.
(File photo by DYLAN GREENE)
by
DYLAN GREENE
Sports Editor
|
January 5, 2021 11:57 PM
CLARK FORK — Foul trouble came back to bite Clark Fork girls basketball in a 46-39 loss to Mullan on Tuesday.
Four players fouled out for the Lady Cats and Clark Fork finished the game with just four players on the court.
Clark Fork held the Tigers to 13 points in the first half, but Mullan scored 33 in the second half to storm past the Lady Cats.
Clark Fork also lost 30-23 at Mullan on Dec. 10.
Despite the loss, head coach Jordan Adams saw a lot of improvement from her team.
"Our girls did amazing tonight," she said. "This is the most excited I've been all season. Everyone came to play."
Mullan scored 21 of its points from the free-throw line and Talowa Fallingwater had 24 points and 15 rebounds for the Tigers.
Emily Myers finished with 8 points, seven rebounds and seven steals and Katelyn Matteson had 8 points, five rebounds and four steals. Paige Valliere tallied 7 points and Eloise Shelton added 6 points and four rebounds.
Clark Fork (2-6, 0-2 NSL) travels to Lakeside at 6 p.m. Thursday.
Mullan 6 7 17 16 — 46
Clark Fork 4 13 11 11 — 39
MULLAN — Haig 2, Nelson 7, Blankenship 0, Stahle 0, Fallingwater 24, Charvez 0, Frazier 5, Dykes 8.
CLARK FORK — Matteson 8, Valliere 7, Myers 8, Shelton 6, Reuter 5, Hoffman 0, Mace 0, Fournier 5.
---