Priest River sails past Royals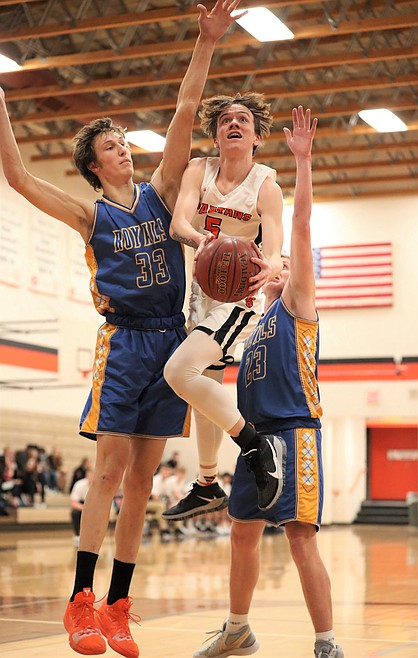 Junior Trentyn Kreager (right) fights through contact and the outstretched arm of 7-footer Malachi Bullington to convert a layup during Monday's game.
(Photo by DYLAN GREENE)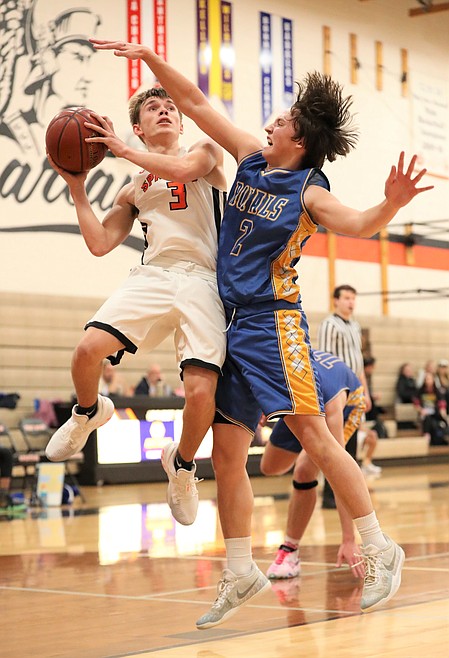 Junior Jordan Nortz attempts to hit a contested shot over a North Idaho Christian defender on Monday.
(Photo by DYLAN GREENE)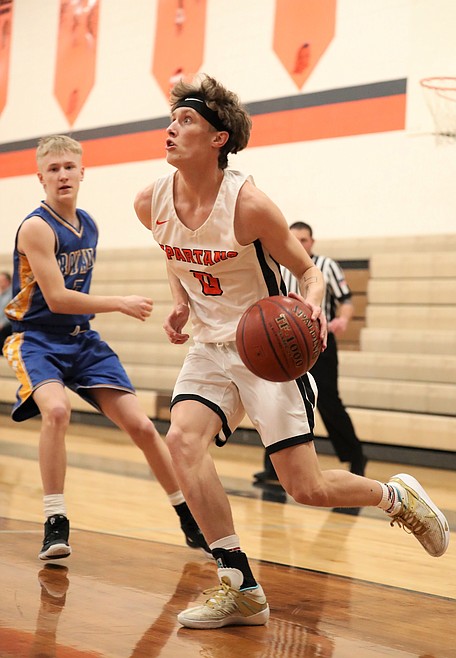 Junior Travis Mathews drives toward the basket during Monday's game.
(Photo by DYLAN GREENE)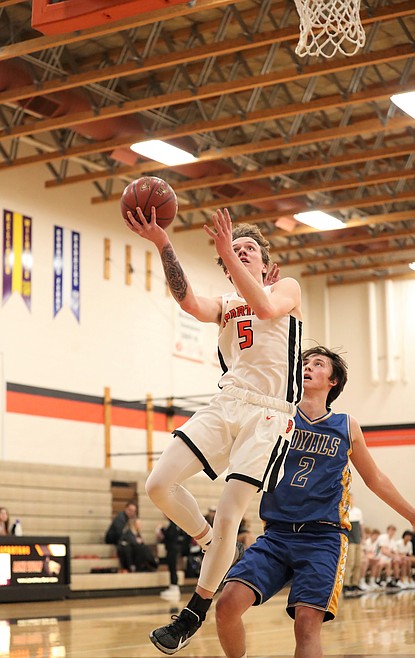 Trentyn Kreager takes off to convert a layup on Monday.
(Photo by DYLAN GREENE)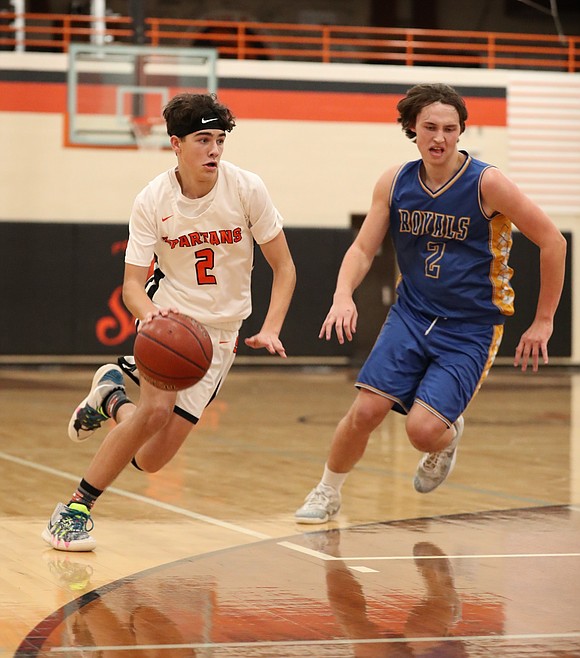 Sophomore Luke Butler drives toward the basket on Monday.
(Photo by DYLAN GREENE)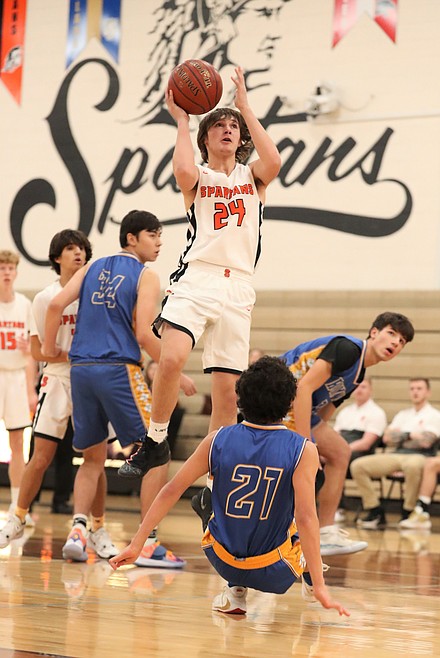 Junior Nadin Thompson pulls up for a jumper during the fourth quarter of Monday's game.
(Photo by DYLAN GREENE)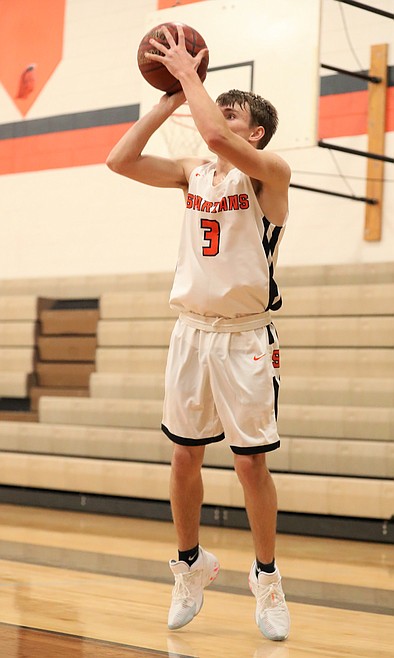 Jordan Nortz pulls up for a 3-pointer on Monday.
(Photo by DYLAN GREENE)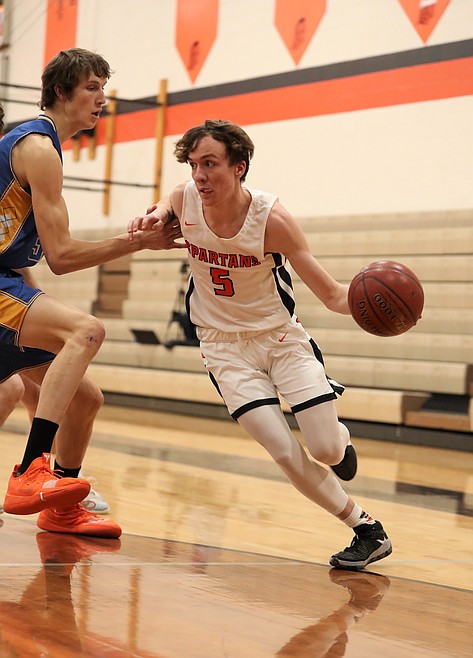 Trentyn Kreager bends the corner and drives baseline on Monday.
(Photo by DYLAN GREENE)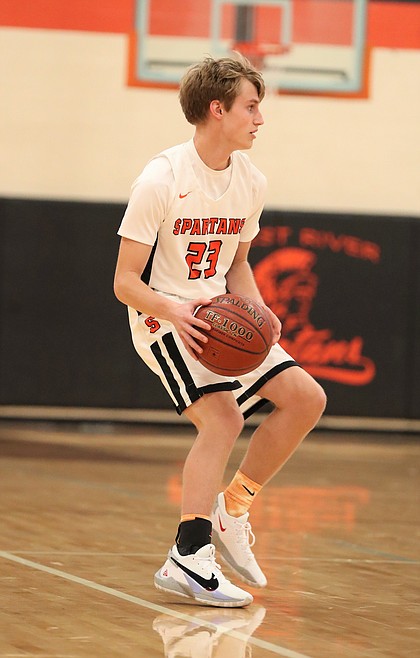 Freshman Dylan Nortz looks for an open teammate on Monday.
(Photo by DYLAN GREENE)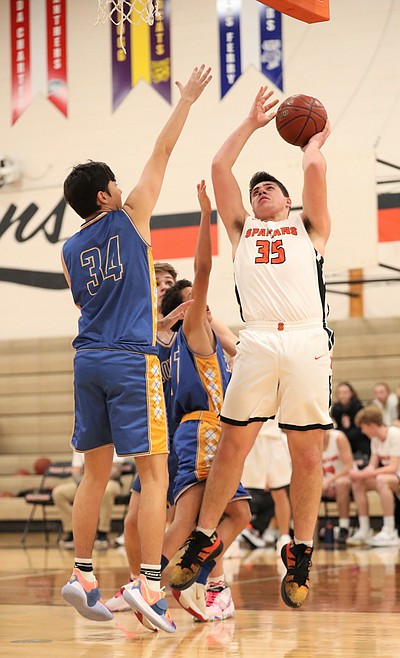 Sophomore Jace Yount attempts a shot during the second half of Monday's game.
(Photo by DYLAN GREENE)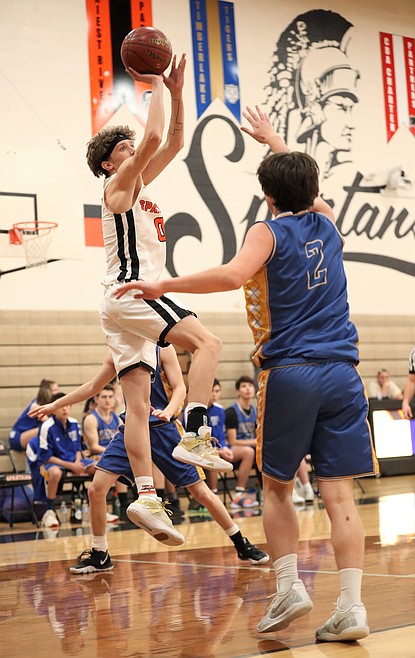 Travis Mathews attempts to hit a fadeaway shot on Monday.
(Photo by DYLAN GREENE)
Previous
Next
by
DYLAN GREENE
Sports Editor
|
January 5, 2021 2:37 PM
PRIEST RIVER — Priest River boys basketball continued to roll through its schedule on Monday, dismantling North Idaho Christian 55-24.
The Royals stayed within striking distance after one quarter of action, but the Spartans had a frenzy of steals in the second to runaway with a comfortable victory.
Priest River outscored North Idaho Christian 23-6 in the second quarter and forced 20 turnovers in the first half.
Head coach Kevin Wylie has been preaching defense all season and his team continued to show their dominance on that end of the court against the Royals.
"I thought we played really well," he said. "Again our defense was top notch."
And the Spartan defense had to be on point in order to contend with Malachi Bullington. In the last matchup between these two teams on Dec. 19, the 7-footer scored 27 points.
Priest River made sure that didn't happen again on Monday. The Spartans double-teamed Bullington all game and made it difficult for his teammates to find him down low. The Royals kept trying to feed him the ball, but the Spartans swarmed and turned most of the passes to Bullington into turnovers.
"It's tough to defend that guy," Wylie said. "... We knew if they got him on the block and got him in any kind of pick-and-roll situation, he was going to have a good chance of scoring, and so we really tried to take him away from the offense."
Priest River held Bullington to 12 points, 14 rebounds and two blocks.
Offensively, the Spartans had a balanced attack. Trentyn Kreager led the way with 17 points and five steals. Blake Barrett hit four 3-pointers to finish with 12 points and Jordan Nortz had 8 points and seven steals. Travis Mathews stuffed the stat sheet with 8 points, seven assists, five rebounds and three steals.
The Spartans didn't have their best night shooting, but Wylie said his team is so unselfish and they picked each other up throughout the game.
"Fortunately for us, we have multiple weapons that give us opportunities when one guy is not hitting," he said. "This team is so deep and that really bails us out of a lot of situations."
With a running clock implemented in the fourth quarter, Wylie was able to get his younger bench players on the court and he saw some great things.
"I'm super impressed with how far along they've come over the last couple of weeks," he said.
Priest River (6-1) will get over a week off before they see the court again. The Spartans host the Post Falls JV team at 7 p.m. on Thursday, Jan. 14.
That game will kick-off a grueling couple of weeks for the Spartans. The team will play eight games in 16 days.
Wylie said his team is prepared for that challenge.
"We just keep getting stronger," he said, "and honestly that's what I'm most excited about is every day they come into practice and they are willing to learn new things, and add to what we can do."
North Idaho Christian 5 6 10 3 — 24
Priest River 12 23 16 4 — 55
NIC — Pilgrim 0, McKee 3, Obrien 0, Alliano 3, Mitchell 0, Bryan 0, Johnson 4, Grassi 2, Bullington 12, Sakae 0.
PRIEST RIVER — Mathews 8, Butler 2, J. Nortz 8, Kreager 17, Marinello 1, Berns 0, Barrett 12, D. Nortz 3, Nadin Thompson 0, Yount 4.
---