Spartans shut down Royals in second half to secure third win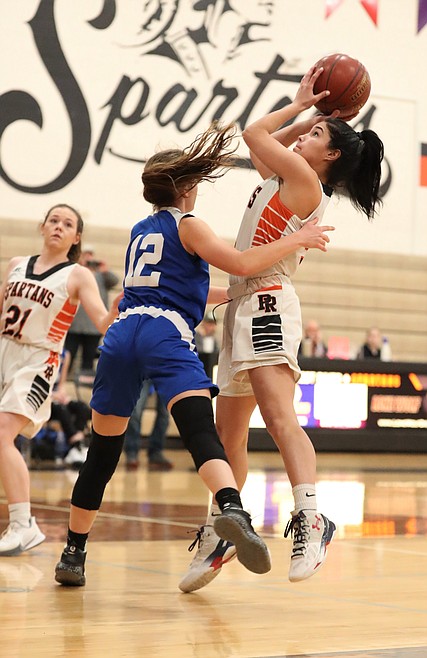 Sophomore Lilly Freitas pulls up for a shot during Monday's game against North Idaho Christian.
(Photo by DYLAN GREENE)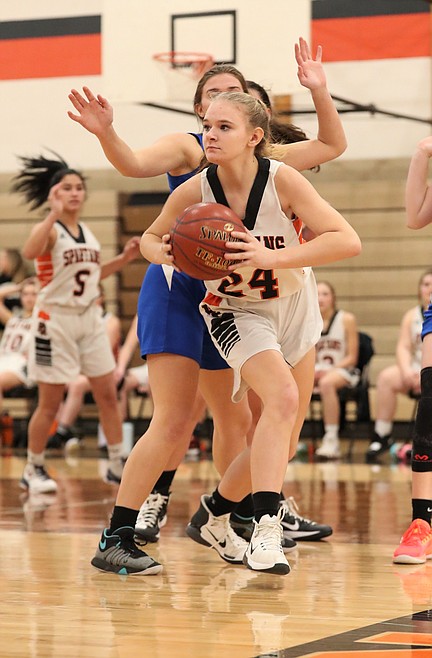 Freshman Helena White brings down a rebound and looks to find a teammate during Monday's game.
(Photo by DYLAN GREENE)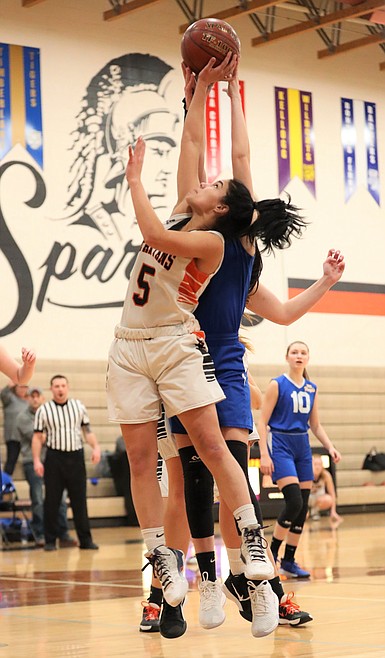 Sophomore Lilly Freitas fights for a rebound with a North Idaho Christian defender on Monday.
(Photo by DYLAN GREENE)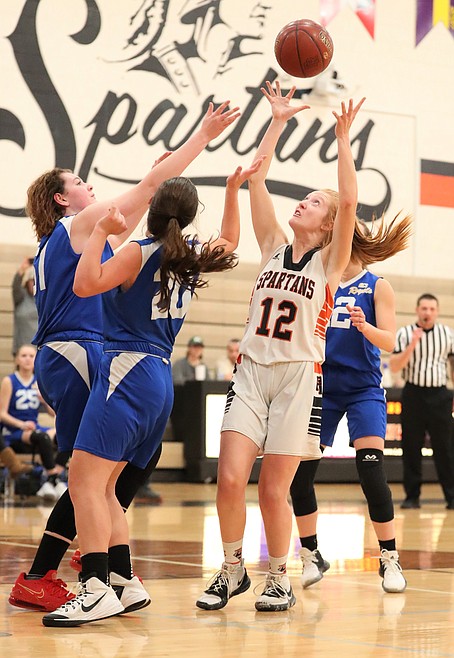 Senior Makia Fitzmorris battles for a rebound on Monday.
(Photo by DYLAN GREENE)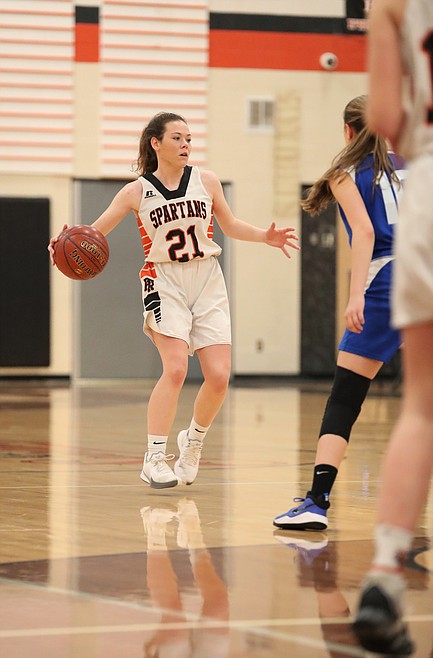 Senior Hannah Palfrey brings the ball up the court on Monday night.
(Photo by DYLAN GREENE)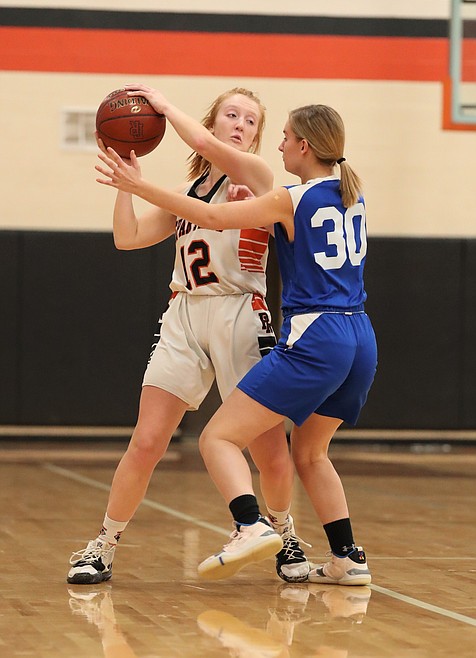 Makia Fitzmorris tries to find an open teammate on Monday night.
(Photo by DYLAN GREENE)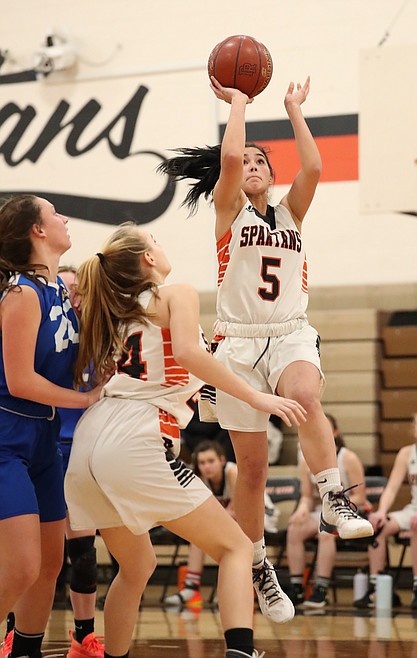 Lilly Freitas pulls up for a jumper during the second half of Monday's game.
(Photo by DYLAN GREENE)
Previous
Next
by
DYLAN GREENE
Sports Editor
|
January 5, 2021 11:41 AM
PRIEST RIVER — Spartan girls basketball got revenge on Monday night.
After falling to North Idaho Christian 52-31 in the Spartan Christmas Tournament championship game on Dec. 19, Priest River flipped the script on the Royals and ran away with a 39-33 victory.
But in the second quarter, it looked like North Idaho Christian was building toward its second straight win over the Spartans. The Royals outscored Priest River 16-9 in the period to take a 25-20 halftime lead.
To counter the North Idaho Christian attack, head coach Gary Stewart went to a pack-line defense in the third quarter.
"I changed it up in the second half a little bit, and said, 'Let's help each other a little more on the ball. If your man doesn't have the ball try to stop that person from dribble penetration,'" he said.
The adjustment worked and allowed the Spartans to hold North Idaho Christian scoreless for nearly the entire third quarter.
Sophomore Lilly Freitas scored 8 of Priest River's 10 points in the frame. She found a soft spot in the North Idaho Christian defense and knocked down a couple jumpers.
"There was an opening in the zone," Stewart said. "That's what we've been telling the girls whichever wing can get it into the middle of the key, and she did. Lilly's got a nice little 10-15 foot jump shot, plus she did so well getting those steals and getting a couple lay-ins. I think that really sparked us."
The Spartans took a 30-27 lead into the final quarter and fended off the Royals to secure their third win of the season.
Priest River held NIC to just 8 points in the second half.
Freitas finished with 14 points, six rebounds and five steals. Hannah Palfrey tallied 12 points and three assists.
After being held to just 5 points in the Spartans last two games, Makia Fitzmorris got back on track with 11 points, eight rebounds, three assists and two blocks.
"This was the first time I had her playing outside at the wing," Stewart said about Fitzmorris. "Usually, I have her stuck in the post, but I think what we found out tonight is I need to move her around. Wherever she can help us, whether it's passing or playing post or taking care of the ball outside."
Allyson Barton added 2 points and seven rebounds.
Stewart was happy to start the new year with a win, but he said the Spartans need to be more consistent.
Priest River (3-7) opens Intermountain League play 7 p.m. Thursday at Bonners Ferry.
North Idaho Christian 9 16 2 6 — 33
Priest River 11 9 10 9 — 39
NIC — Kelly 11, Garn 1, Pilgrim 4, Gwin 3, H. Malinauskas 0, Nelson 4, K. Malinauskas 2, Overturf 8.
PRIEST RIVER — Rantala 0, Freitas 14, Pound 0, Fitzmorris 11, Palfrey 12, Kingery 0, White 0, Barton 2, Shockey 0.
---