Shorthanded Bulldogs fall to Kellogg in return from quarantine
Freshman Shane Sherrill (top) battles Kellogg's Jayce Garcia in a 132-pound bout on Wednesday at Les Rogers Court. Sherrill won the match by pin in 2:37.
(Photo by DYLAN GREENE)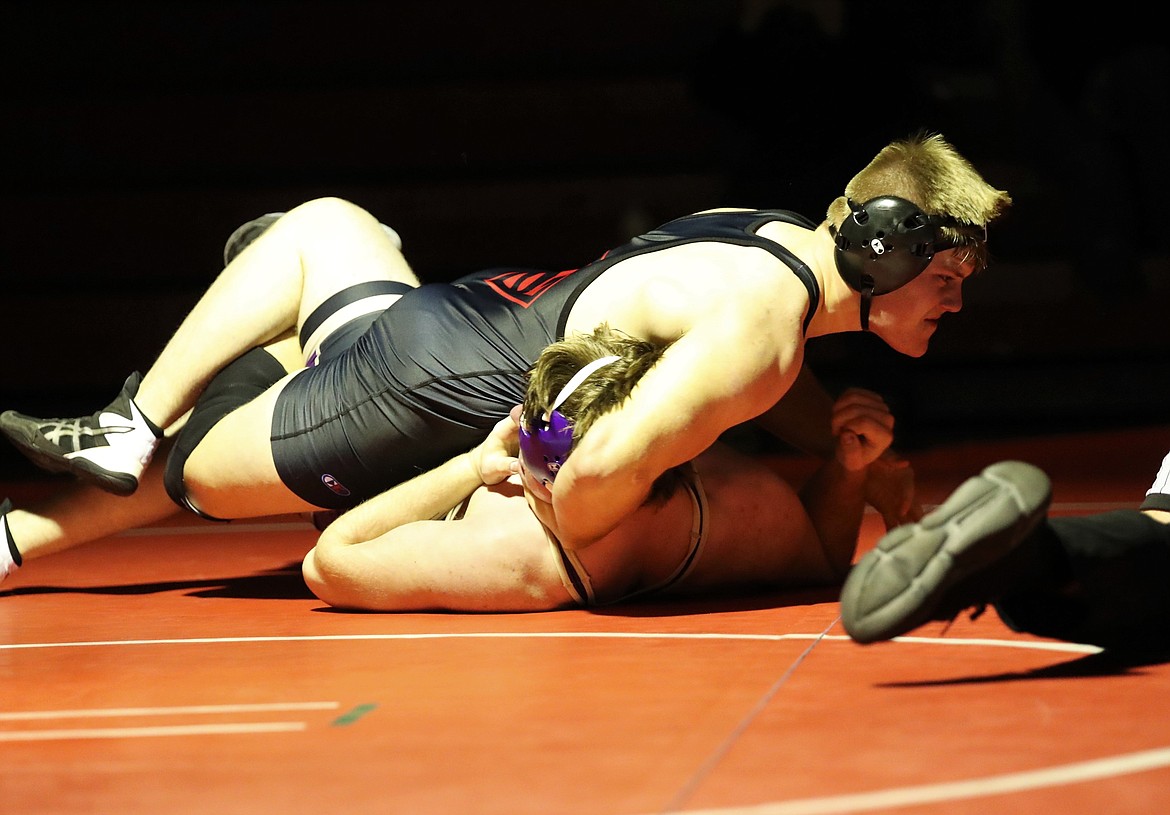 Tag Benefield (top) pins Kellogg's Carson Hudson in a 220-pound bout on Wednesday at Les Rogers Court.
(Photo by DYLAN GREENE)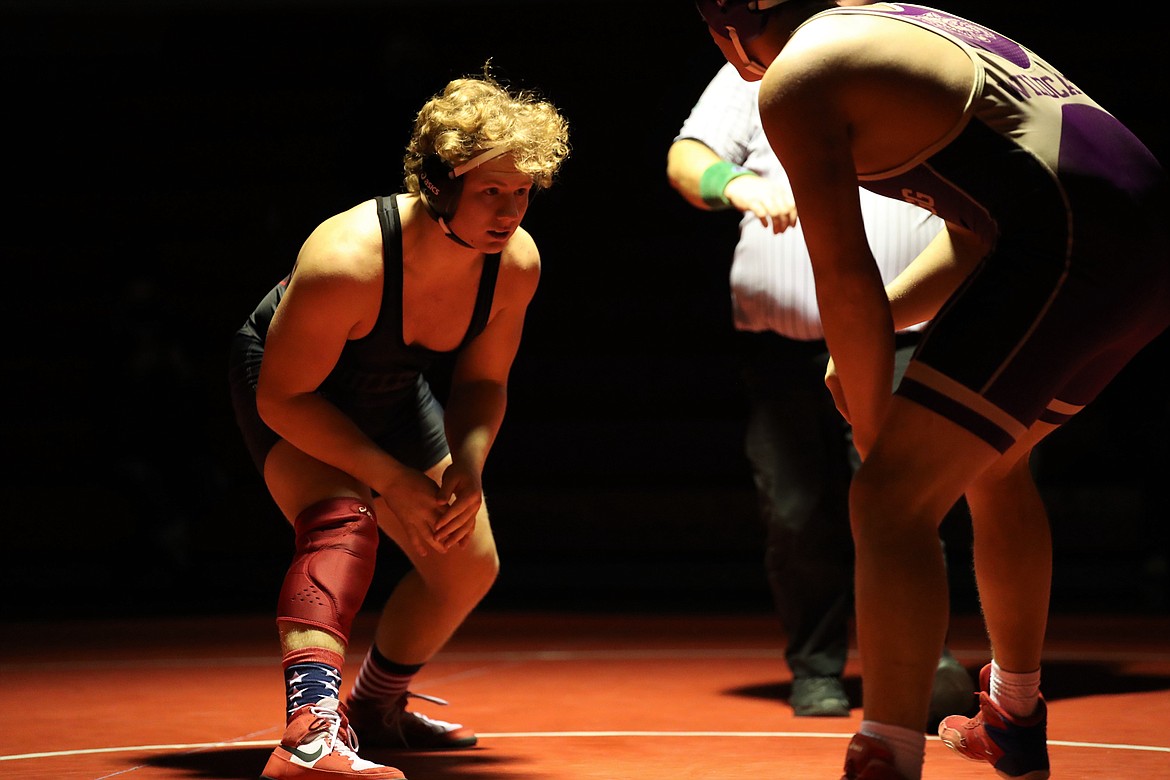 Sandpoint's Blake Sherrill (left) battles Kellogg's Blaine Goodner in a 182-pound bout. Sherrill won the match by pin in 3:01.
(Photo by DYLAN GREENE)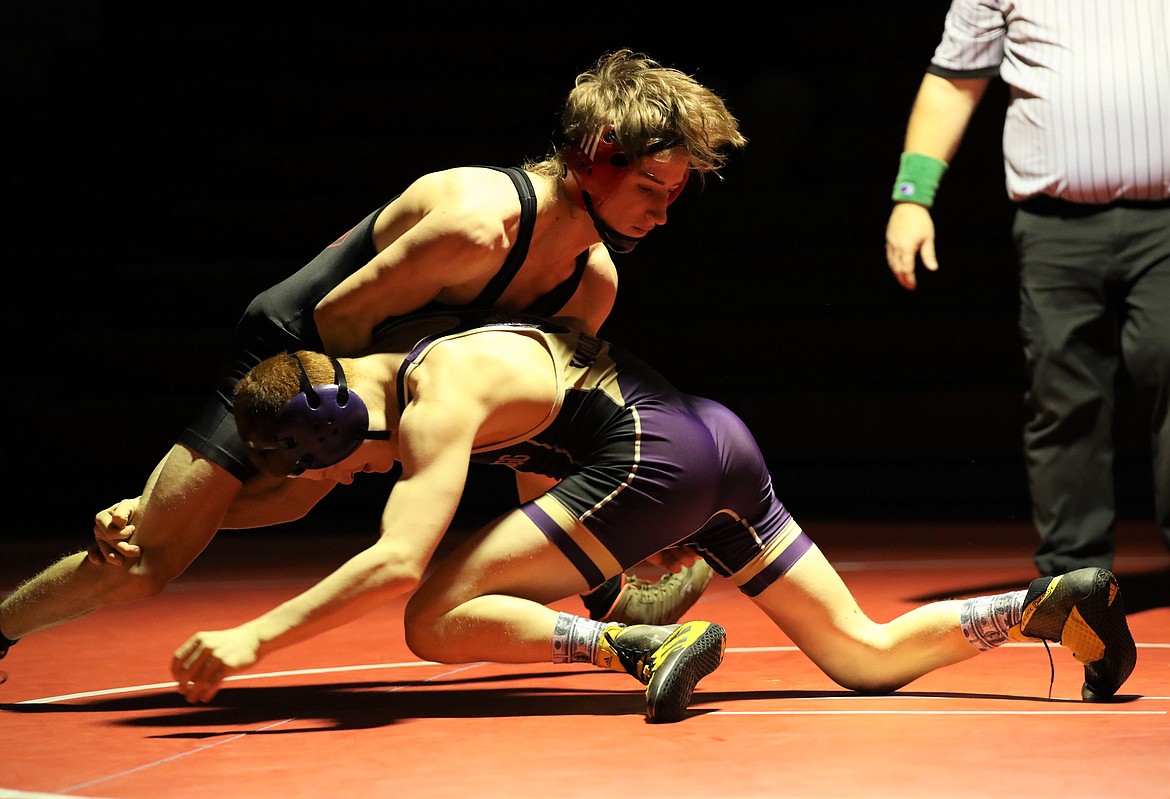 Sandpoint's Tanner Dickson (left) gains control of Kellogg's Raymond Heely during a 120-pound match on Wednesday.
(Photo by DYLAN GREENE)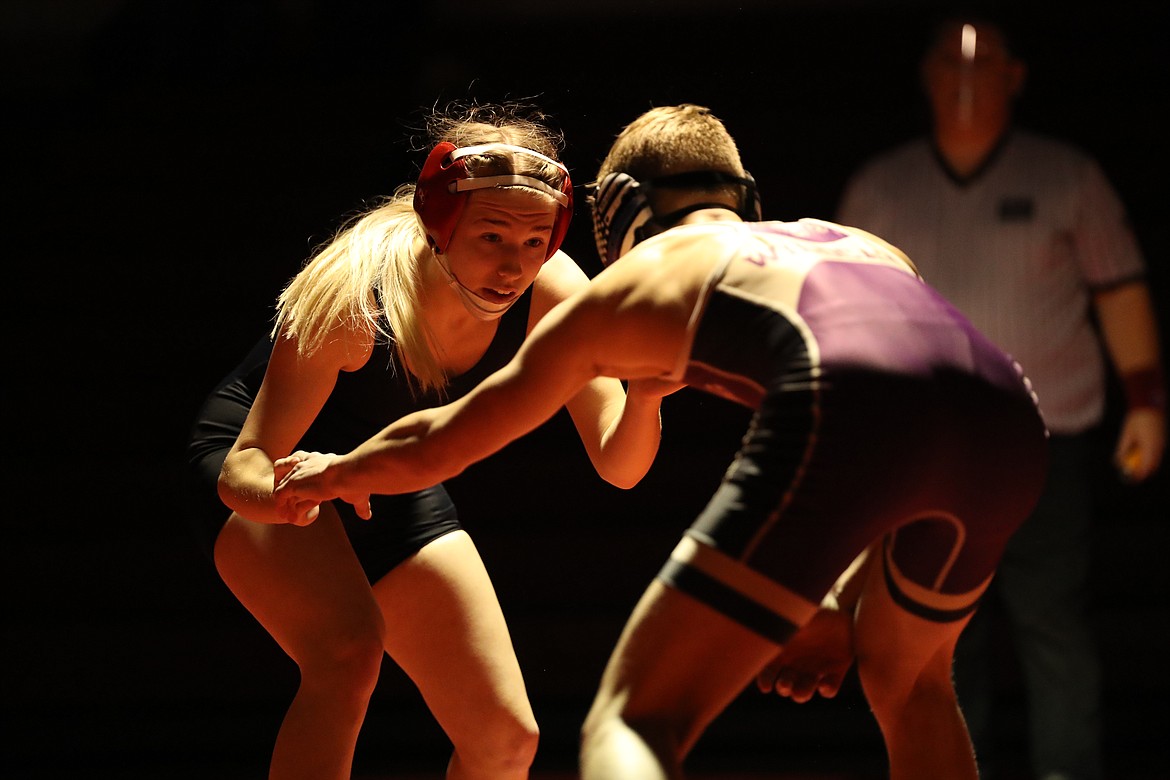 Senior KJ Johansen looks to make a move against Kellogg's Jaeger Hall on Wednesday.
(Photo by DYLAN GREENE)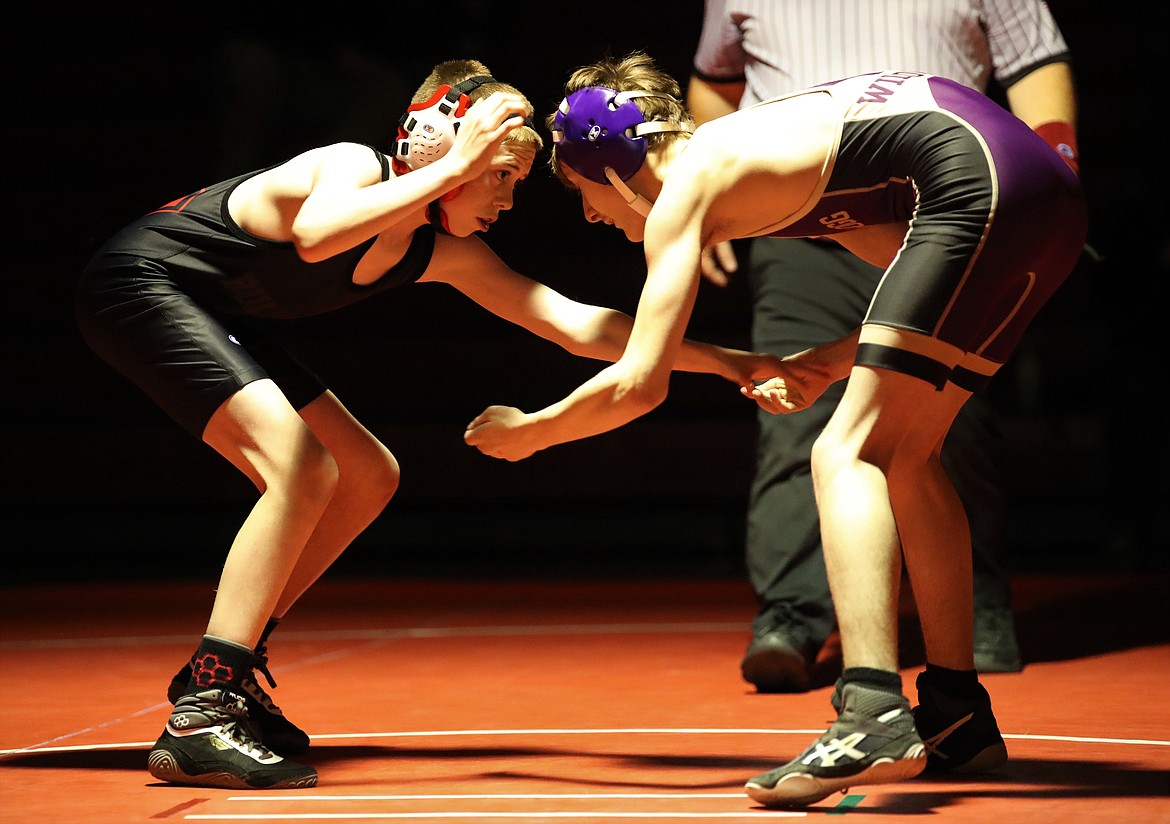 Sandpoint's Andrew Duke (left) faces off with Kellogg's Chase Morden during a 98-pound match on Wednesday.
(Photo by DYLAN GREENE)
Previous
Next
by
DYLAN GREENE
Sports Editor
|
January 6, 2021 10:03 PM
SANDPOINT — After a tumultuous holiday break, the Sandpoint varsity wrestling team finally returned to action on Wednesday night.
Just before the George Wild Invitational on Dec. 19, the Bulldogs went into a 10-day quarantine due to positive COVID-19 cases within the program.
The team returned to practice on Monday, Dec. 28, but still over half the team was unavailable, head coach Jake Stark said.
Practices have been like a revolving door and Stark said it has been difficult to manage all the uncertainty.
"It's hard to get practice partners and get rhythm going," he said.
Going into the dual with Kellogg, the varsity team hadn't taken the mat in three weeks and the rust showed.
Kellogg won 10 matches by pin to secure a 61-30 victory over the Bulldogs.
"I felt like it was too long in between matches," Stark said. "We didn't get in a lot of practice over Christmas break like we usually do. That's usually when we can catch people, get in shape and hone our technique, and we just didn't have that time. We underestimated Kellogg for sure. They're a good solid team and we overlooked those guys and we shouldn't have ... They brought the fight to us tonight."
The Wildcats claimed the first five matches by pin to grab a commanding 30-0. Then freshman Shane Sherrill stepped to the mat at 132 pounds and ended that streak with a dominant performance. He pinned Kellogg's Jayce Garcia in 2:37.
"Shane Sherrill really stepped it up," Stark said. "We were kind of in a big slump right there and he kind of sparked up the team and got everybody going."
Trevan Adam (152) and Sam Becker (160) both accepted victories by forfeit for the Bulldogs.
Shane's older brother, Blake Sherrill, picked up another win for Sandpoint at 182 pounds, pinning Kellogg's Blaine Goodner in 3:01.
Tag Benefield secured the final victory of the night. The senior pinned his opponent 25 seconds into the second period at 220 pounds.
The Bulldogs were without Raphael Eldridge and Darrian Resso, and Stark said Isaac Webb is still working his way back into the varsity lineup.
"We need some more matches to get back to where we were," Stark said, "because we started the season on a good note and we're kind of just in the middle right now. We need to get back to where we were and then go past that."
Under new Stage 2 guidelines from Gov. Brad Little, more fans were able to enter Les Rogers Court on Wednesday and watch the dual.
Stark said he was glad to see more parents in the stands.
"I'm super happy that they got to come and watch their kids," he said. "Your family support is huge in your life when you are in high school and they need those guys here rooting them on."
The Bulldogs will not compete in the Rollie Lane Wrestling Invitational this Friday and Saturday due to COVID-19 concerns, Stark said.
Stark has had rumblings that the St. Maries Tournament is back on this Saturday. If that's the case, that's where the Bulldogs will be.
"If it's on, we're going to go because we got an open weekend," he said.
Regardless, the Bulldogs will head to Rathdrum at 6 p.m. Tuesday to face bitter-rival Lakeland..
Results (Sandpoint athletes in bold)
Kellogg 61. Sandpoint 30.
98 — Chase Morden p. Andrew Duke, 1:27. 106 — Kolter Wood p. Jacob Albany, 3:59. 113 — Dakota Eixenberger p. Forest Ambridge, 3:13. 120 — Raymond Heely p. Tanner Dickson, 3:45. 126 — Jaeger Hall p. KJ Johansen, 0:34. 132 — Shane Sherrill p. Jayce Garcia, 2:37. 138 — Daeton Bauer p. Wyatt Marker, 0:42. 145 — Ramsey Rainio p. Jordan Birkhimer, 1:27. 152 — Trevan Adam accepted forfeit. 160 — Sam Becker accepted forfeit. 170 — Kayden Zimmerman p. Kai McKinnon, 1:03. 182 — Blake Sherrill p. Blaine Goodner, 3:01. 195 — Brodie Hoffman p. Austin Smith, 2:18. 220 — Tag Benefield p. Carson Hudson, 2:25. 285 — Robbie Bublitz p. Carson Laybourne, 1:11.
---