Engelson resigns, Mike Roos named interim boys basketball coach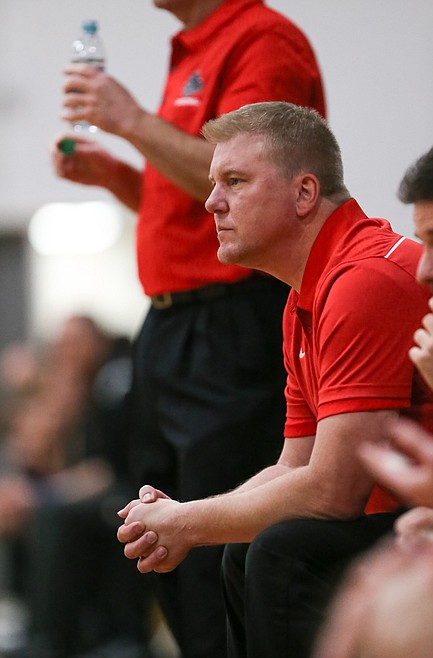 Mike Roos has been named the interim head coach for the Sandpoint boys basketball team.
(Photo courtesy of JASON DUCHOW PHOTOGRAPHY)
by
DYLAN GREENE
Sports Editor
|
January 7, 2021 4:55 PM
SANDPOINT — Wade Engelson resigned as the Sandpoint High School boys basketball head coach on Thursday morning.
Assistant coach Mike Roos has been named the interim head coach and the team is moving forward with Friday's home game with Moscow.
Sandpoint Athletic Director Kris Knowles was unable to share any further details due to confidentiality reasons, but he thanked Engelson for his commitment to the program over the last few years.
"I absolutely thank coach Engelson for his effort, his passion, his dedication and his honesty toward Sandpoint basketball, and toward this school and community," he said. "Coach Engelson is a very, very good human being and very good person and I wish him luck and all the best."
Engelson took over as the head coach in 2018. In the 2018-19 season, the Bulldogs finished with a 7-12 record and last year the team went 10-12.
This winter, Sandpoint is 2-3 and most recently lost to St. Maries 57-26 on Saturday.
Roos, a 1993 SHS grad, grew up in Sandpoint and one of his sons, Colin, is a sophomore on this year's team. Knowles said Roos has been helping out with the program since 2015.
"I'm very much hoping that this group of young men can rally around coach Roos and make some positives out of a very hard and sad situation," Knowles said.
Sandpoint hosts Moscow 7 p.m. Friday at Les Rogers Court.
---