Bulldogs fall to Bears in first game with Roos at the helm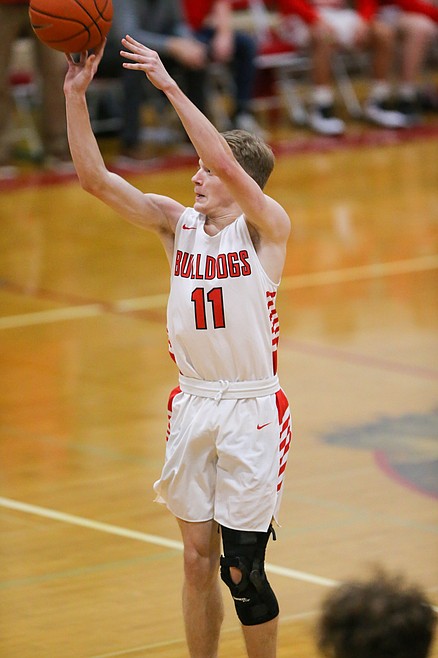 Senior guard Darren Bailey pulls up for a 3-pointer during the first half of Friday's game.
(Photo courtesy of JASON DUCHOW PHOTOGRAPHY)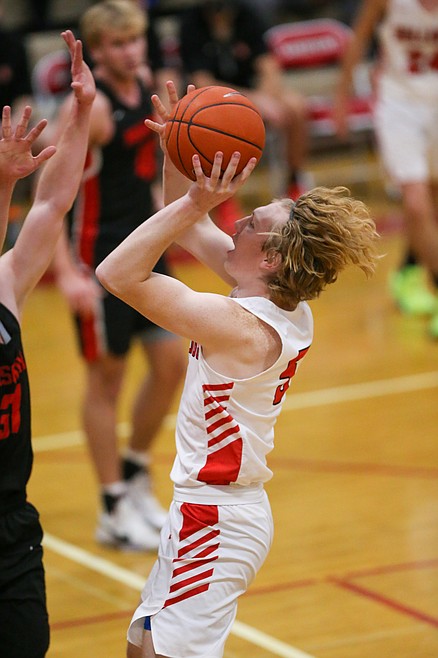 Junior Jacob Eldridge pulls up for a jumper during the first half of Friday's game.
(Photo courtesy of JASON DUCHOW PHOTOGRAPHY)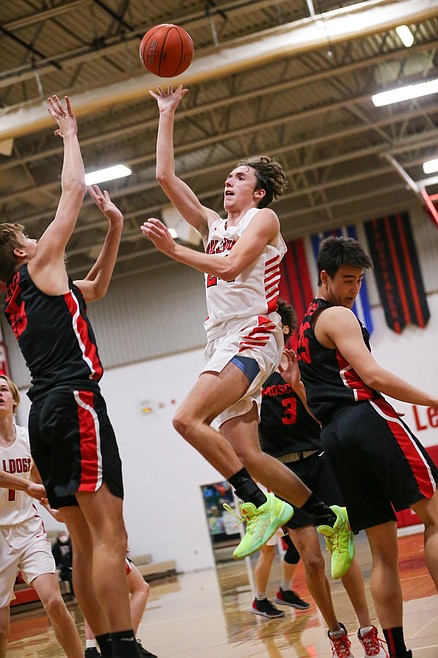 Sophomore Randy Lane drives to the basket and attempts a layup during the second half of Friday's game.
(Photo courtesy of JASON DUCHOW PHOTOGRAPHY)
Previous
Next
by
DYLAN GREENE
Sports Editor
|
January 8, 2021 11:45 PM
SANDPOINT — The Bulldogs couldn't recover from a slow start in a 80-63 loss to 4A Inland Empire League rival Moscow on Friday night.
It was Sandpoint's first game without Wade Engelson, who resigned as the SHS boys basketball coach on Thursday morning.
Mike Roos made his debut as the interim head coach against the Bears. It wasn't the result he was hoping for, but he said the kids did a great job adjusting to the new dribble-drive offense he is installing on the fly.
"The kids played extremely hard and that's what I asked them to do," he said. "We're going to run this new offense and run it until it rolls and they learn it."
Roos said it was tough to take over the program on Thursday and have a game the next day, but he enjoyed taking on the job.
"I've known a lot of these kids and I've coached them for a long time, so it's easy to step into a situation when you know the kids," he said. "... It's a big task, it's not an easy one, and there's a lot of stuff rolling, but it is what it is and I stepped in for the kids."
Sandpoint struggled to find the bottom of the net early against Moscow, but not senior guard Darren Bailey. He knocked down two 3-pointers in the opening quarter and SHS trailed 12-8 after one.
The Bears went on a 12-2 to open the second quarter and carried a 37-27 lead into halftime.
Early in the third quarter, the Bulldogs started to dig into the Moscow lead. But the Bears responded with a 10-0 run and a trio of 3-pointers to take a comfy 22-point advantage into the fourth quarter.
The Bulldogs have run a full-court press all season, but they went away from that for most of the night Friday.
Moscow finished with nine 3-pointers in the game. Roos said the Bulldogs need to do a better job closing out on shooters.
"We scored 63 points so that's plenty to win, but defensively it's just guarding the perimeter," he said. "We had trouble guarding the penetration, they were a little quicker. We didn't do some of our normal defenses because we're doing a dribble-drive offense, so some of that you can't run a 1-3-1 all game ... There was probably five 3-pointers that really changed the game for us."
Bailey had a huge night for the Bulldogs, scoring 22 points and hitting four 3-pointers. Roos said it was nice to see Bailey shine.
"I told all the kids going in, you got to play hard and you're going to have to play through contact, and he did," Roos said. "For him to come out in his senior year and have a night like this is great. This is his last chance to find some success and he did tonight, and he'll continue it."
Randy Lane finished with 9 points and Colin Roos had 7 points, six rebounds and three steals. Elijah Larson tallied 7 points and Stone Lee added 5.
Five players scored in double-figures for Moscow.
Sandpoint (2-4, 0-2 IEL) heads to Lake City at 7 p.m. Tuesday.
Moscow 12 25 31 12 — 80
Sandpoint 8 19 19 17 — 63
MOSCOW — Brown 2, Simpson 14, Abendroth 16, Kees 3, Render 11, Isakson 2, Colter 10, Hong 0, Kitchel 13, Skinner 6.
SANDPOINT — Roos 7, Pettit 4, Frank 2, R. Lee 4, Eldridge 0, VanDenBerg 3, Bailey 22, S. Lee 5, Larson 7, Lane 9.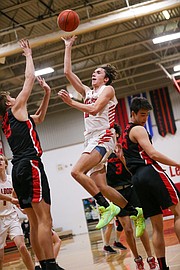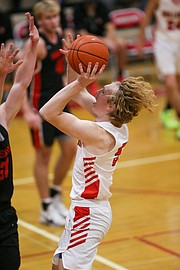 ---