Bulldogs silence Bears, notch third straight win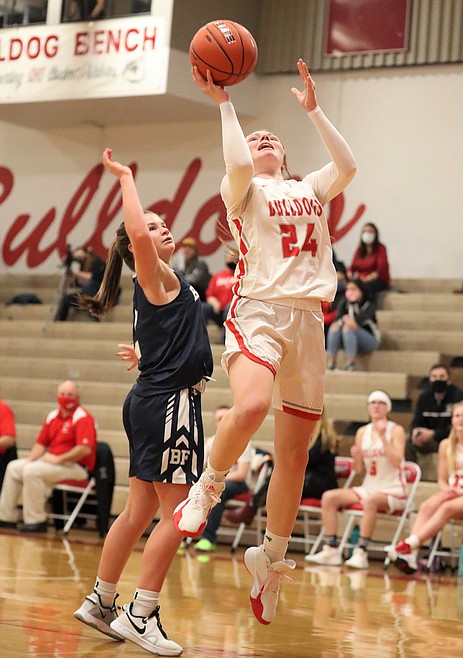 Senior Kaylee Banks attacks the basket during Tuesday's game against Bonners Ferry at Les Rogers Court. She scored 20 points in Friday's game at Moscow.
(Photo by DYLAN GREENE)
by
DYLAN GREENE
Sports Editor
|
January 9, 2021 12:04 AM
MOSCOW — Sandpoint girls basketball survived the long bus ride to Moscow and brought back their third straight win.
Senior captains Hattie Larson, Kaylee Banks and Bella Phillips combined for 37 points in a 41-29 victory over the Bears on Friday night.
"They did a great job as far as getting us points when we needed to get them," head coach Will Love said.
Kaylee Banks led the way with a game-high 20 points. Love said Banks did a great job getting to her spots and took advantage of what the defense gave her.
The Bulldogs stormed out of the gates thanks to their defense and grabbed a 16-2 first-quarter lead. But the Bears didn't shy away and closed within 7 points at the half.
"Moscow to their credit did a good job starting to play under control and we struggled to shoot the entire game," Love said.
Sandpoint stepped up in the fourth quarter and outscored Moscow 12-6 to secure its second Inland Empire League win of the season. The Bulldogs hit nine of 21 attempts from the free-throw line.
"We left a lot of points out there, but the girls battled through that," Love said. "I'm really proud of the effort to get our first 4A win of the season."
Larson finished with 11 points and Phillips added 6.
Sandpoint (5-4, 2-2 IEL) will turn right around and host Coeur d'Alene, the third-ranked team in 5A, at 3 p.m. Saturday at Les Rogers Court. To combat the short rest, Love said the Bulldogs will focus on what they do best — defense.
"It's like a state tournament, so we kind of got to approach it that way," he said. "It's going to be tough, but it's a good test for us to see where we're at."
Sandpoint 16 6 7 12 — 41
Moscow 2 13 8 6 — 29
SANDPOINT — Gammon 0, Driggs 1, Reinink 0, Lyons 0, Tomco 0, Cessna 0, Phillips 6, Kar. Banks 3, Larson 11, Platte 0, Kay. Banks 20.
MOSCOW — Cnott 1, Lassen 5, Heynes 3, Gray 6, Nauman 3, Watson 5, Berg 0, Baur 0, Anderson 6.
---