Mask mandate, election top November's news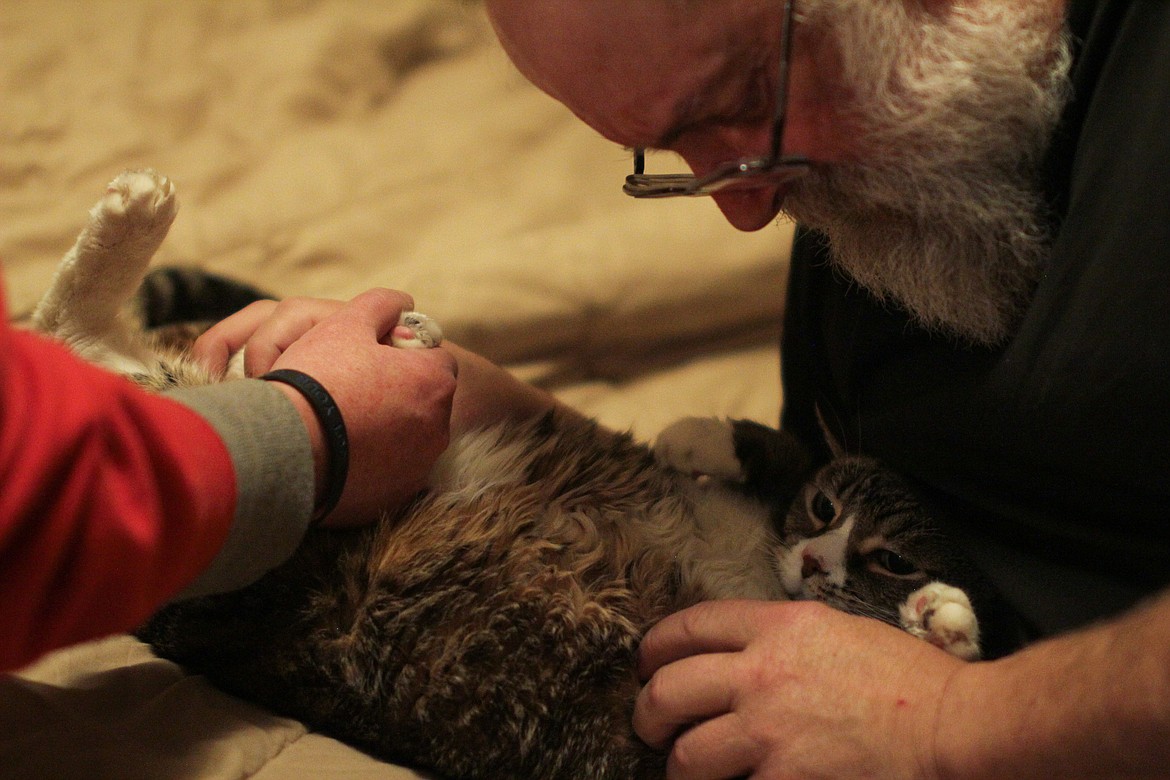 Doug Penrod holds Trouble the cat while Kendra Dodge examines him.
Photo by RACHEL SUN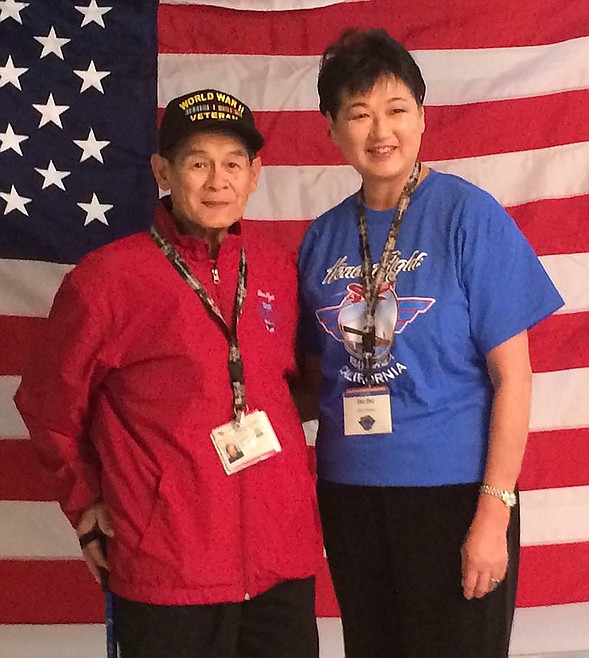 For his 92nd birthday in 2017, Delia (Dee Dee) Freney of Sandpoint, took her father, World War II and Korean War veteran George Dong, also of Sandpoint, on the Honor Flight to Washington, D.C., where he was able to visit the World War II Memorial.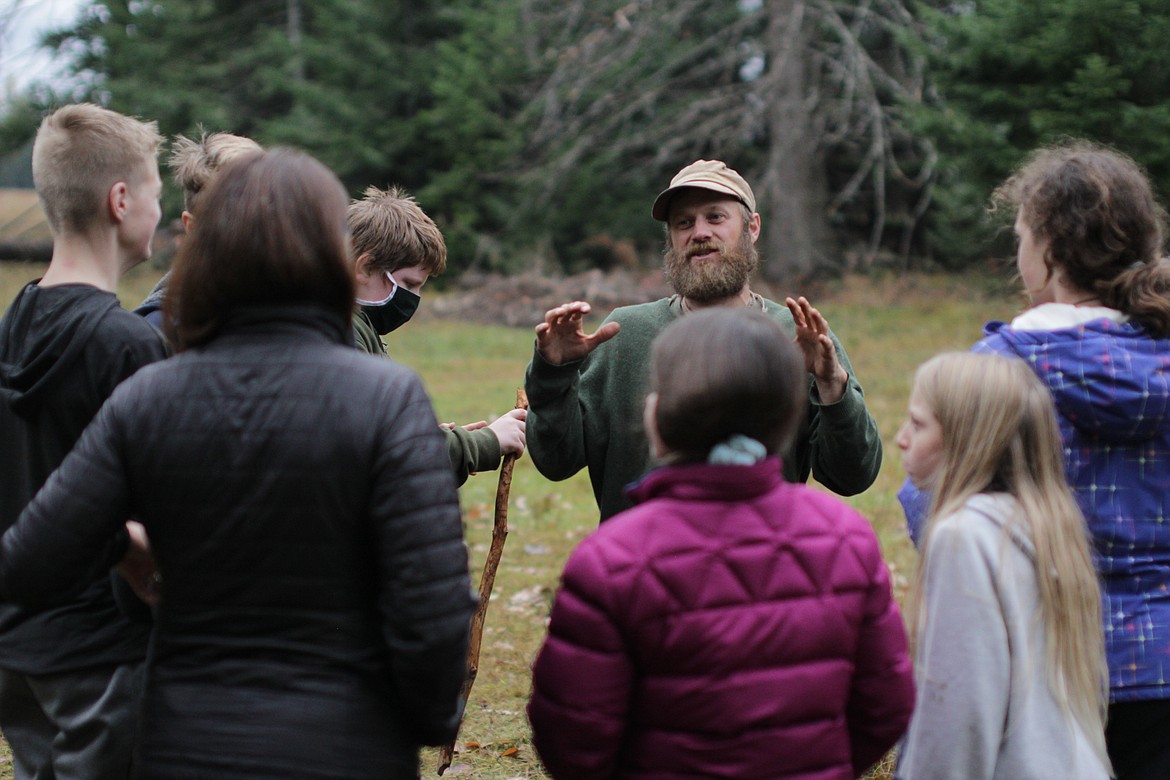 Dave Kretzschmar talks to students at Pine Street Woods Wednesday afternoon.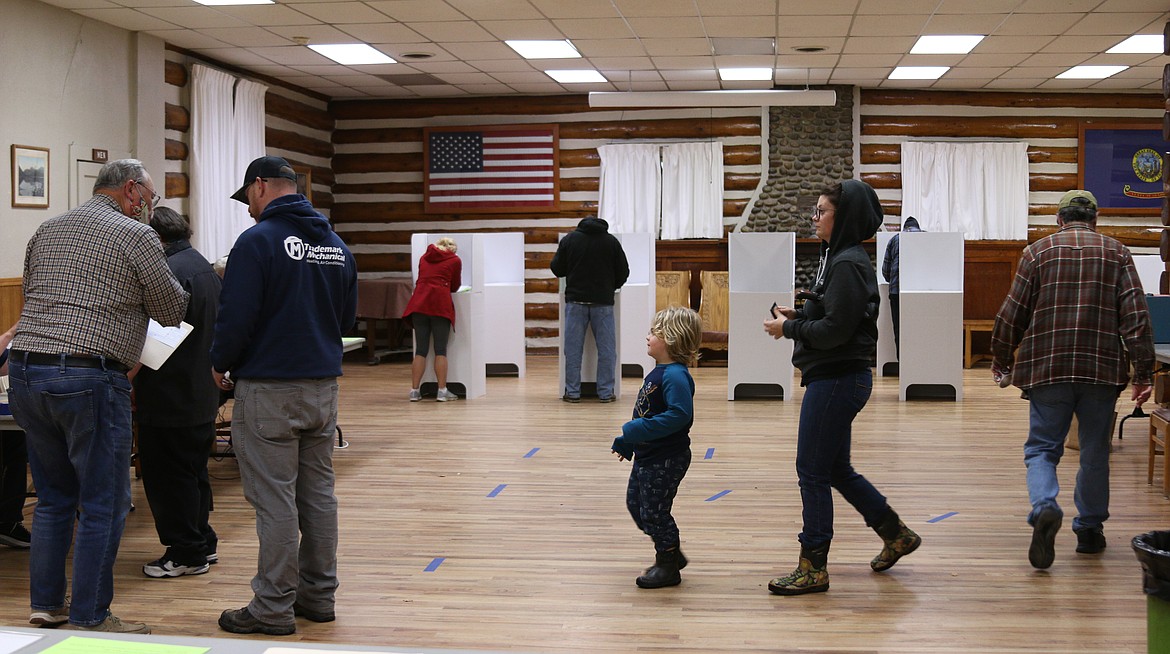 Residents line up to vote at the Sandpoint Community Hall to vote Tuesday night.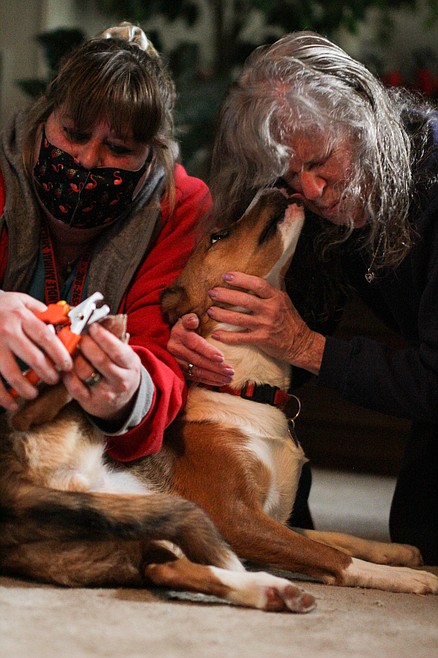 Cricket the dog licks her owner, Bobbe Komanec, while Kendra Dodge clips her nails Tuesday afternoon.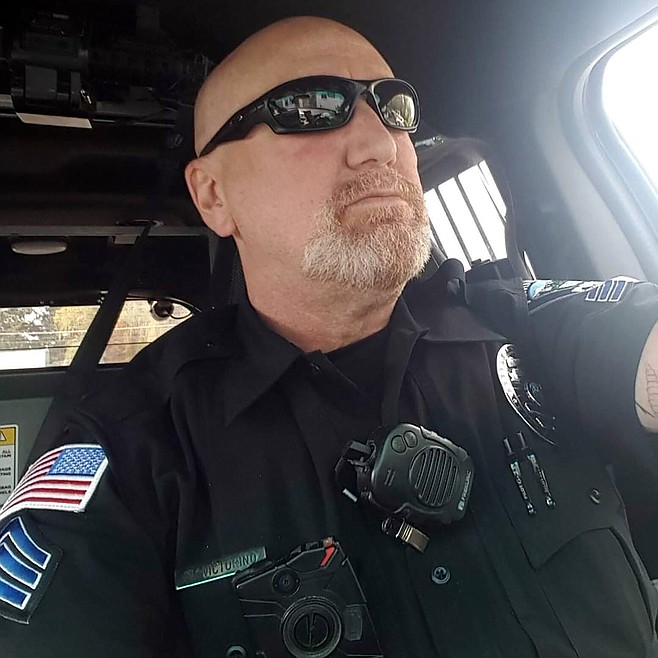 Previous
Next
by
CAROLINE LOBSINGER
Staff Writer
|
January 13, 2021 1:00 AM
On Nov. 1, the Bee reported that the Idaho Court of Appeals upheld the conviction and sentence in a Bonner County methamphetamine case, but is invalidating an order requiring the defendant to reimburse costs for his defense.
Also on the first, a story noted that while a COVID-19-induced moratorium had protected Americans from eviction litigation since September, without further action by Congress, millions of dollars in unpaid rent would be due Jan. 1.
Students at Southside Elementary spent weeks perfecting one thing for Halloween this year — their book-themed pumpkins, according to a story on Nov. 1.
Through Southside's STEAM (science, technology, engineering, arts and math) program, students decorated pumpkins based on their favorite book character and wrote reports describing the character, why they like them, how they relate to the character and who the character reminds them of in their lives.
At a meeting Nov. 2, the West Bonner County School Board moved to adopt an updated reopening plan after initially moving to blended learning under Panhandle Health's "orange" or "moderate risk" categorization for Bonner County.
Starting on Tuesday, Nov. 10, the board voted to have students in the district attend in-person learning five days a week while the county is in Category 2 (falling within a yellow or orange rating from Panhandle Health), and be required to wear a mask when it is impossible to maintain social distance.
A Nov. 3 story reported that the curtain was closing on Bonner Mall Cinemas, a decision announced by its former owners Dale and Trudy Reese on social media on Friday. The theater would shortly be reopened as Sandpoint Cinemas by Eric Plummer and Mike Lehosit, a pair of cinephiles who said they believe in the movie experience and said it was important to keep the six-room theater open.
With the state moving back to Stage 3 of Idaho's reopening plan, Schweitzer Alpine Racing School announced their annual Sandpoint Ski Swap had been canceled.
With a strong turnout across the county and nation on Election Day, a Nov. 4 story in the Bee reported that many races were coming down to the wire with more than 14,000 ballots cast of the county's 31,223 registered voters.
However, on Nov. 5, with all ballots counted, the election saw all county incumbents won, with Sheriff Daryl Wheeler, Commissioner Steven Bradshaw and Prosecutor Louis Marshall winning re-election.
In a Nov. 5 story, the Sandpoint council approved the preliminary plans for development of a 152-lot subdivision at University Park, the former site of the University of Idaho Research & Extension Center. On Nov. 6, an update noted the developers asked the council for more leniency to reduce costs as the development is built, from deferral and removal of some previously added requirements, including adding a right turn lane and some snow removal requirements.
A Nov. 7 story reported that amid a swelling caseload of patients across Idaho, a government advisory committee had asked Idaho Gov. Brad Little to implement a statewide mask mandate.
The state's Disaster Medical Advisory Committee, which falls under the umbrella of the Idaho Department of Health and Welfare, penned a three-page letter stating that COVID-19's strain on health care capacity across the state had become untenable, and that hospitals can't continue to provide adequate care unless the spread of the virus is curtailed. That, the letter said, required implementation of a statewide mask mandate.
Bonner County Clerk Michael Rosedale said in a Nov. 7 story that the county's voters set a new turnout record during Tuesday's general election. Rosedale said 27,681 of the county's 31,223 registered voters cast ballots on Election Day, resulting in a voter turnout of 88.66 percent. That turnout eclipses a record that was set in 2016, when 21,586 of the county's 26,758 registered voters cast ballots, resulting in a turnout of 80.67 percent.
In a Nov. 9 story, Kaniksu Land Trust Educational Director Dave Kretzschmar talked about the land trust's experiential learning programs are proving popular among Washington Elementary students.
Also on Nov. 9, a story detailed a move by the Idaho Supreme Court to hear oral arguments in a class action lawsuit seeking to reform the state's public defense system. The lead plaintiff in the suit is Tracy Don Tucker, who was arrested in Bonner County in 2015 on allegations of attempted strangulation and domestic battery in the presence of a child.
The American Civil Liberties Union and the ACLU of Idaho filed the suit on behalf Idaho residents who are facing criminal or juvenile charges but cannot afford to retain private counsel.
A story on the tenth reported that students at Washington Elementary raised $26,376 through the school's first boosterthon fun run.
Also on Nov. 10, Pend Oreille County Sheriff's Office reported that four Pend Oreille County residents were facing first-degree murder and first-degree kidnapping charges in the death of Jason Michael Fox, 19, whose remains were discovered Oct. 4.
Riley J. Hillestad, Matthew J. Raddatz-Freeman, Claude L. Merritt, and Kevin M.K. Belding were each charged with first-degree murder and first-degree kidnapping in connection to Fox's death. In addition, Sean D. Bellah was charged with providing false or misleading statements.
Like so many others in 2020, students and teachers in the Lake Pend Oreille School District had to rethink celebrations of Veterans Day this year amidst surging COVID-19 cases, a story on Nov. 10 reported. As a result, a number of alternative events were held to honor the nation's veterans.
Bonner County veterans honored Howard Bigelow for his service to the local Veterans of Foreign War chapter by renaming the Sandpoint post building after him. Bigelow, who passed away in January 2020, was a fixture at the building to help veterans connect with needed services and help.
Also on the eleventh, a story in the Bee noted that the Lake Pend Oreille School District moved unanimously to adopt a new protocol should the county be moved into "red" status by the Panhandle Health District amid a growing number of COVID-19 cases in the county. Additional precautions approved by the district were a face mask requirement for K-6 students where social distancing could not be maintained, adjustment of secondary lunches and the potential for added breaks in elementary schools at teacher discretion.
A Nov. 11 story detailed the service of veteran George Dong, at 95, one of the country's few surviving World War II veterans.
Dong served in the 411 the Field Artillery in the European Theater, stationed in England and Germany. He was one of the approximately 20,000 Chinese Americans who served. Later, he served stateside with the Army National Guard during the Korean War.
Dong was scheduled to receive the Congressional Gold Medal in September, but the honor ceremony has been postponed due to the pandemic until further notification.
On the twelfth, a story detailed the efforts by Savannah Mort and her mom Wendy Hansen Franck, owner of the Hoot Owl, to host a free Thanksgiving dinner for the community. The effort is an outgrowth of a soup kitchen started seven years ago after Mort's husband wanted to volunteer at one with the family for his birthday.
About a year later, the family decided to host a free Thanksgiving dinner for the community at the restaurant. Since then, the family has run the soup kitchen and Thanksgiving dinners through the Hoot Owl Hansen, Franck said.
Also on Nov. 12, the Bee reported that Bonner County installed a new camera
system to allow county commission board meetings to be streamed live on YouTube. Another story reported that a caravan of about 50 people held a car parade in support of President Donald Trump.
A story on Nov. 13 noted that Judith Marie Carpenter's competency to assist in her defense was again being called into question. Carpenter, 59, is charged with first-degree murder in the fatal shooting of former Hope city clerk Shirley Ramey in April 2017.
Bonner County was moved back to the red, or substantial risk category, according to a Nov. 12 announcement by Panhandle Health District officials.
The Bee reported on Nov. 14 that Idaho Gov. Brad Little had ordered the state back to Stage 2 of his Idaho Rebounds plan, limiting most indoor and outdoor gatherings to 10 people and under. However, the move exempts places of worship and political assembly.
Also on the fourteenth, a story noted that a second-degree murder trial had been set for Daniel L. Moore, who is accused in the fatal shooting of fellow chiropractor Dr. Brian Drake.
A story on the sixteenth highlighted Bonner Community Hospice and its work to offer grief support to patients and their families.
Also on Nov. 16, another story noted that the Bonner County Department of Motor Vehicle offices would only provide services to county residents. While the DMV has always provided services regardless of residency, complications with the Idaho Transportation Department's infrastructure upgrades, the novel coronavirus pandemic and attendant restrictions enacted by neighboring counties have resulted in a flood of customers seeking to avoid long lines in Kootenai County and elsewhere.
On Nov. 17, a story in the Bee noted that a commencement hearing was set on Jan. 21 to begin cataloging water rights in the Clark Fork-Pend Oreille basin.
The commencement hearing was set in 5th District Court in Twin Falls because of its experience it gained during the Snake River Basin Adjudication, according to the Idaho Department of Water Resources.
Also on the seventeenth, a story paid tribute to a log truck parade to honor Edwin "Pat" Mason, a longtime logger who passed away in a logging accident earlier in the month. Also, another story reported that two teens had been arrested in connection with the death of Kaden Quinn Hitchcock, a Sandpoint native who was slain in central Texas.
A story on the eighteenth reported that an increase of local COVID-19 cases was challenging area health care workers and had nearly maxed out hospital capacity at Bonner General Health.
Another story on Nov. 18 detailed a vote by county commissioners to reduce staffing levels for several weeks due to a surge in COVID-19 cases in the region, and another detailed a profile by Idaho Public Television's Outdoor Idaho series on steamboat builder Madison Larson.
The Sandpoint City Council voted unanimously on Nov. 18 to approve a land swap at City Beach with the Allan G. Cox Family, LLC.
The land swap between the city's property, valued at $2,066,000, and the private property, valued at $2,090,000, would allow the hotel to be rebuilt at twice its current size of 50 rooms and would keep a majority of the grassy area around the hotel open to public access.
In a story on the nineteenth, it was reported that Bradley Michael Leader
waived his right to a preliminary hearing on first-degree murder, kidnapping and felony assault charges. Bradley Michael Leader's waiver cleared the way for his arraignment in December.
Also that day, the Bee reported that Sandpoint was canceling its annual tree lighting ceremony due to the increase in COVID-19 cases. "The guidelines were too much for our little group of volunteers to do," said Shery Meekings of Creations, which has hosted the annual celebration for the past several years.
A story on Nov. 20 reported that the Panhandle Health District had approved a district-wide mask mandate in the five northern-most counties in Idaho. The mandate, which took effect immediately, was to remain in effect for 60 days (Jan. 19, 2021), barring a future board vote to reverse the decision.
Per Idaho code, failure to adhere to health board mandates is a misdemeanor, punishable by up to a $1,000 fine and up to six months in jail.
Also on the twentieth, a story detailed efforts by the community and Litehouse Foods to help the Bonner Community Food Bank meet a rising demand for its services; and another detailed efforts by SHS staff to raise $1,200 for the Hoot Owl's free Thanksgiving Day meal.
A story in the Nov. 21 Bee reported that the Montana Supreme Court ordered that state to conduct a new review of a pollution permit sought by developers of the Montanore mine.
A story on the twenty-second detailed Panhandle Animal Shelter's Pets for Life program, which helps pet owners with anything from food to nail clippings to minor medical needs. Another story that date detailed the West Bonner County School District's plans to remain in Stage 3 reopening until after winter break. Also on Nov. 22, the Bee reported that a Sagle contractor was facing a felony theft charge for drawing on a construction loan for work that was never completed.
As Sandpoint Lions kicked off the 2020 Toys for Tots drive in the Nov. 24 Bee, they noted that the campaign may look a little different, thanks to the novel coronavirus pandemic. However, members said the mission stays the same: Make Christmas merry and bright for all.
On Nov. 25th, the Daily Bee reported that Bonner County's elected officials were looking at withholding funding to Panhandle Health District after the district's board approved a mask mandate to help curb the spread of the novel coronavirus. Also on the twenty-fifth, Matchwood Brewing Company announced it would hold its third annual Powers of Gratitude event — with some COVID-19 modifications in place.
Sandpoint Police announced on Nov. 26 that it had launched a 30-day education and outreach efforts regarding mandatory usage of masks in the wake of the Panhandle Health District vote to require facial coverings in the five northern counties.
The Bee reported on Nov. 27 that local contractor Justin Schuck led an effort to build a covered bus shelter to protect students in the area of Samuelson Avenue and Woodland Drive during inclement weather.
In a story on the twenty-eighth, the Bee reported that Ponderay Police Sgt. Mike Victorino died Nov. 25 from injuries he suffered in an off-duty motorcycle crash earlier in the year.
"Mike has gone home to be with our Lord and Savior. He passed peacefully in his sleep. I was honored and able to be by his side to hold his hand, tell him we love him and he is free to go home to Jesus," Whitt said in a post to Facebook.
Victorino was 56.
On the twenty-ninth, a story reported that Michael Costello Sr.'s trial for second-degree murder was set for the coming year. Costello is accused of killing his son inside a converted bus the pair used for their home.
---