Rotarians gift students desks for at-home school work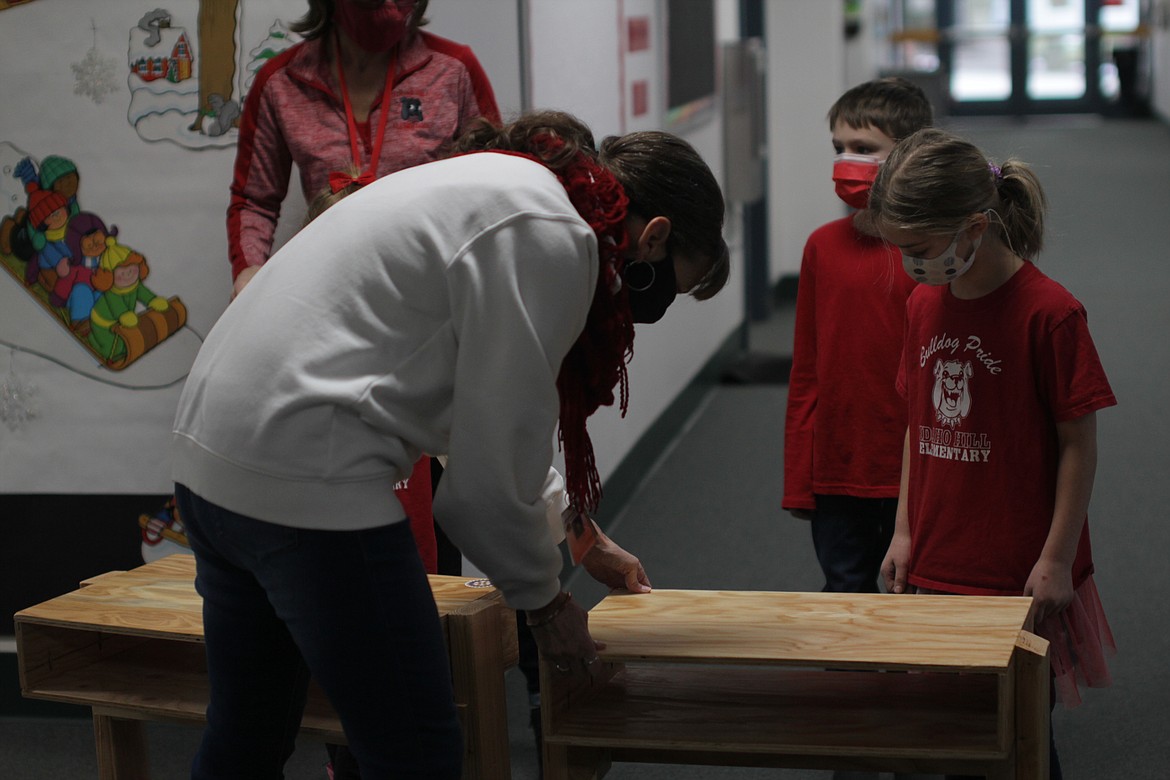 Principal Susie Luckey sets up desks for photos as second-grader Keith Campbell and first-grader Abigail Floyd watch Friday morning at Idaho Hill Elementary.
Photo by RACHEL SUN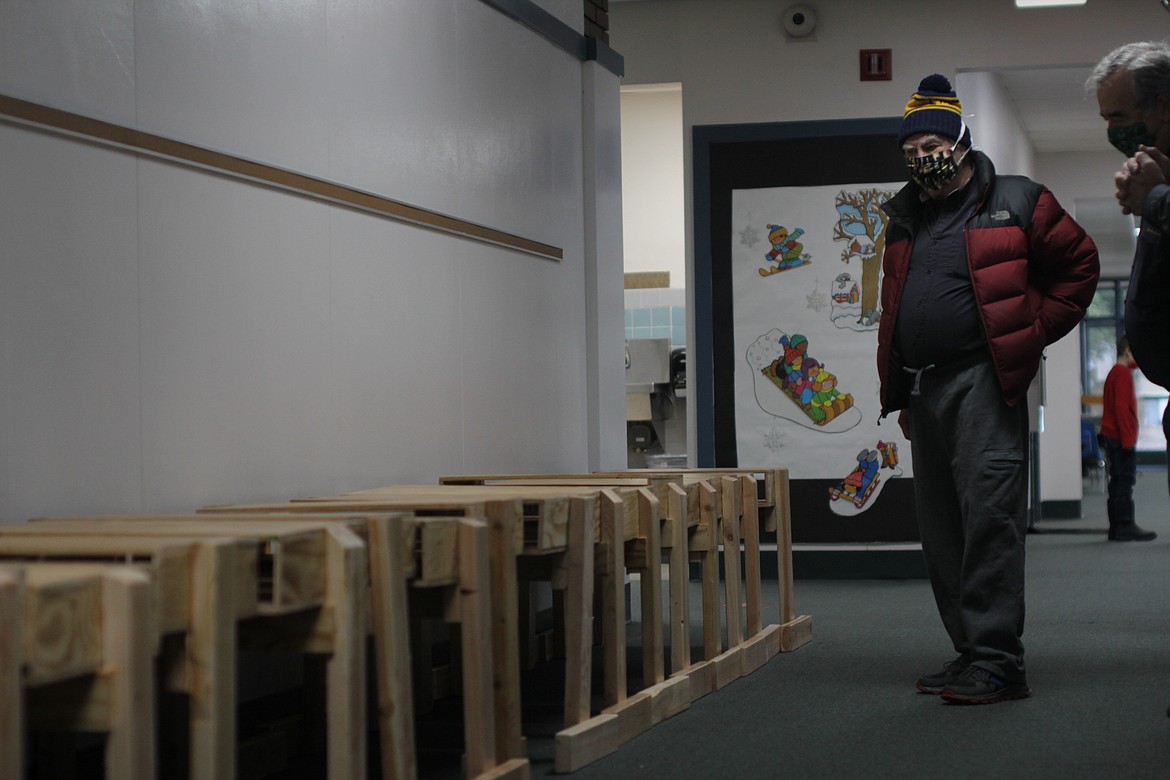 Rotary president Harry Loskill looks at the desks the group built for students Friday morning at Idaho Hill Elementary School.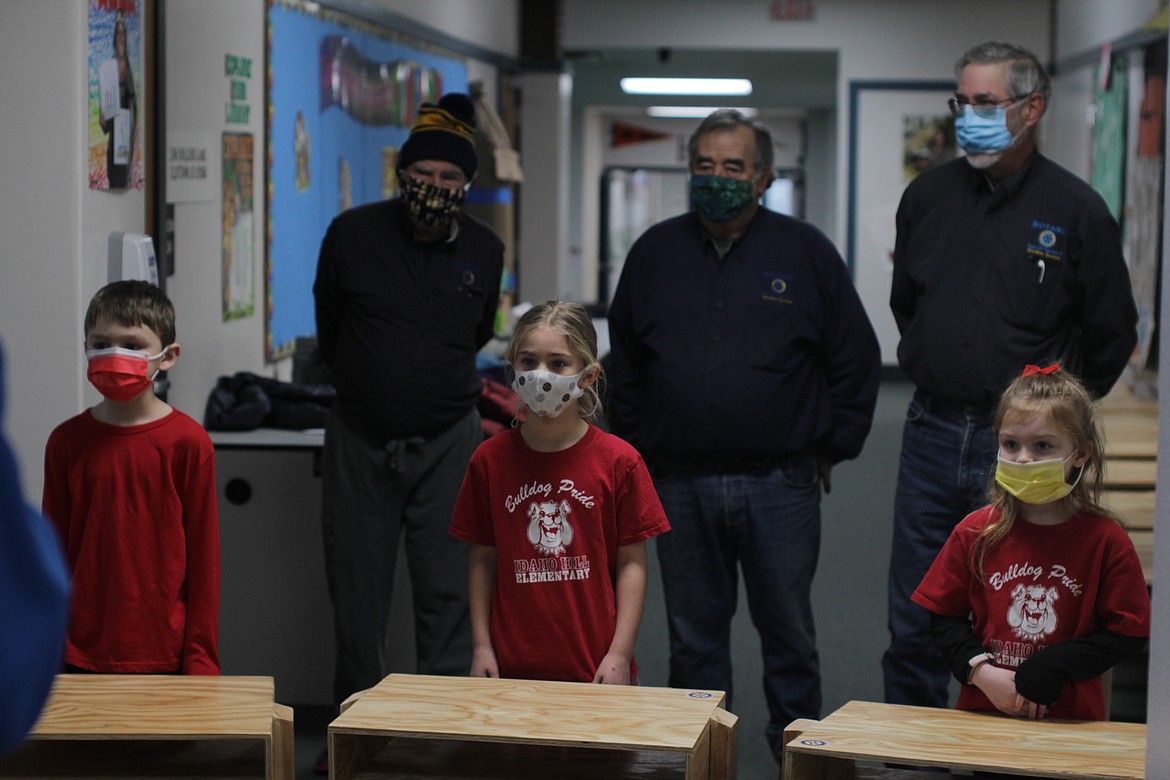 Left to right: Idaho Hill second-grader Keith Campbell and first-graders Abigail Floyd and Emma Toews pose for a photo alongside Rotarians Harry Loskill (upper left), Brad Mingay and Joe Olmstead Friday morning at Idaho Hill Elementary School.
Previous
Next
by
RACHEL SUN
Staff Writer
|
January 13, 2021 1:00 AM
OLDTOWN — Thirty students at Idaho Hill Elementary school in kindergarten through sixth grade will now have handmade desks for studying at home thanks to a group of local Rotarians.
The Newport/Priest River Rotary Club arrived at the school Friday morning to drop off the desks, which were lined up along a hall at the school.
The idea for making desks, said Treasurer Brad Mingay, came from another Rotary branch in Arizona, where one of their former members had moved. When the group heard about the project, they thought they would do something similar themselves.
Harry Loskill, the president of the local Rotary, contacted the school district with the Rotarians' offer. Idaho Hills Elementary reached out to its families during parent-teacher conferences and determined around 30 children from families at the school might benefit.
"I would imagine at home that it's giving the parents a workspace for the children," said Suzie Luckey, principal at Idaho Hills Elementary. "The children, they cannot come to school this year if they have the sniffles. So then we do have all their work online, usually on Google Classroom, but it allows them … then the child has a place to work aside from the dining room table."
To build the desks, the Rotarians spent roughly six days and 100 man-hours divided between eight people, Mingay said.
"We use Harry's garage to build them, a neat shop with a lot of tools. We cursed a lot," he said, laughing. "Rebuilt quite a few, and we modified the design a little bit to make them better."
In addition to the Rotary members, a local Boy Scout also pitched in to work for several hours, Mingay said. For supplies, Dave Melbourn at Albeni Falls Building Supply and Rotarian Brian Orr split the roughly $300 bill for plywood and 2x4s.
Having to keep students at home can be a major strain for families, Luckey said, so any help the schools and parents can get is appreciated.
"The Rotary has always worked with us and been partners for years," she said, "It was just awesome that they did that. I would say we're just very thankful."
The Rotary Club is also seeking new members, Mingay said. Anyone interested in Rotary or participating in future projects like this one is welcomed to attend the weekly 8 a.m. Wednesday meetings at the Oldtown/RotaryPark Visitor Center.
Mingay can also be contacted at bmingay@conceptcable.com, or by calling (208) 448-2875 to get a Zoom link for meetings.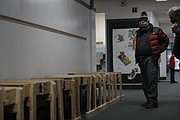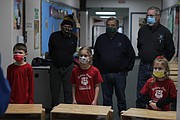 ---