Sandpoint wrestling rolls in mixer at St. Maries, picks up four dual wins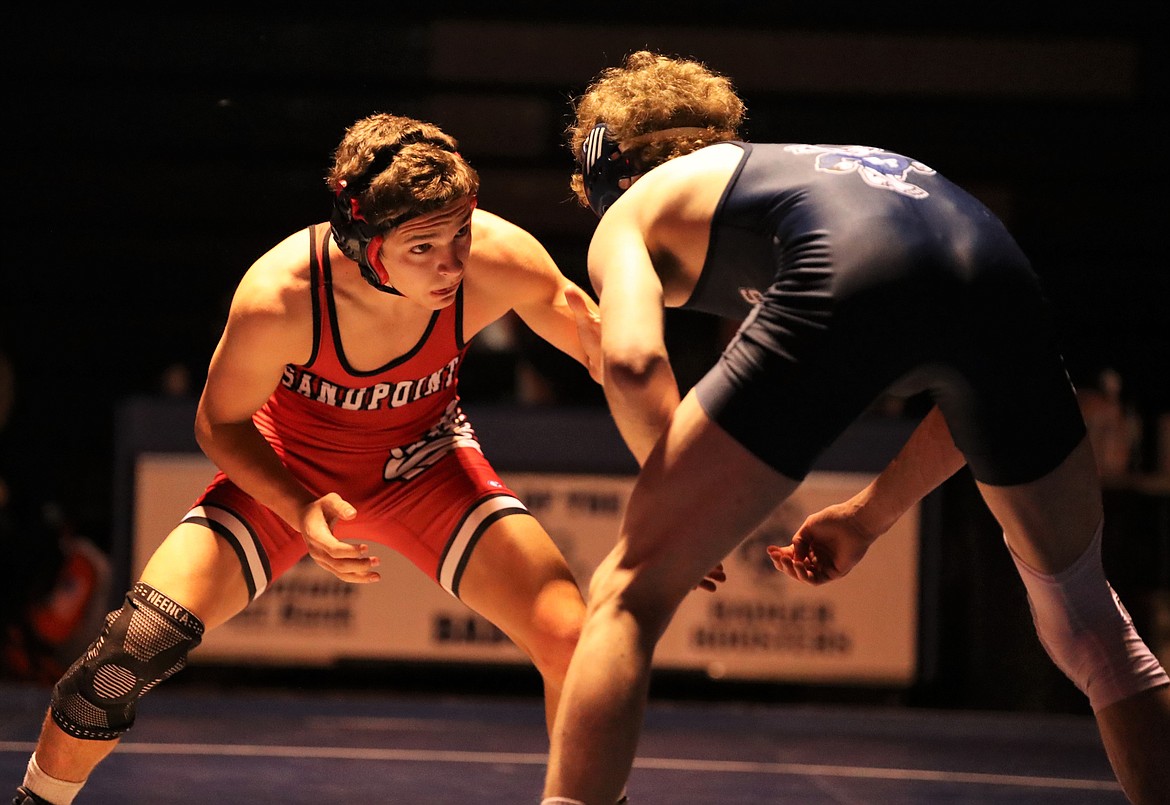 Sophomore Darrian Resso (left) takes on Spencer Eby from Bonners Ferry during a 145-pound match on Dec. 10 at BFHS.
(File photo by DYLAN GREENE)
by
DYLAN GREENE
Sports Editor
|
January 13, 2021 1:00 AM
ST. MARIES — After deciding not to take part in the Rollie Lane Invitational in Nampa due to COVID-19 concerns, Sandpoint wrestling headed to St. Maries this past Saturday for a mixer.
The Bulldogs faced off in duals with St. Maries, Kellogg, Priest River and Potlatch. The team won all four to improve their dual record this season to 6-2.
Head coach Jake Stark was happy with how his team performed at the mixer.
"I felt like we did pretty solid," he said. "It was more about just getting mat time this weekend then winning duals because that's what we were lacking. We hadn't had a lot of competition this year."
The Bulldogs returned from holiday break and a 10-day quarantine last Wednesday with a dual against Kellogg. SHS fell 61-30 to the Wildcats. It was their first event in three weeks.
On Saturday in its second dual at the mixer, Sandpoint got revenge on Kellogg, taking them down 45-39.
To get back at the Wildcats, the Bulldogs had to flip a handful of bouts in their favor. After losing last Wednesday, Tanner Dickson, Austin Smith and Carson Laybourne all won their matches to help Sandpoint secure victory. Dickson won by sudden victory 11-9 while Smith and Laybourne earned pins.
Shane Sherrill, Darrian Resso and Blake Sherrill secured victories by pin as well.
Stark said the Bulldogs executed and corrected what they did last time against Kellogg.
"We were just focused," he said. "Sometimes when you lose a dual it opens your eyes up and wakes you up."
Sandpoint opened the mixer against St. Maries and handed the Lumberjacks a 48-36 defeat.
KJ Johansen, Shane and Blake Sherrill, Resso, Trevan Adam, Jacob Crum, Tag Benefield and Laybourne all earned victories by pin.
In their third dual against Priest River, the Bulldogs dismantled the Spartans for the second time this season.
SHS won 60-24 thanks to pins by Jacob Albany, Wyatt Marker, Shane and Blake Sherrill, Adam, and Christian Troumbley-Karkoski.
Sandpoint capped the mixer by taking care of Potlatch 54-22 with four pins and four forfeits.
Shane Sherrill had quite the weekend. He went 4-0 with four wins by pin. Stark said Smith, Resso, Adam and Laybourne all stood out at Saturday's mixer.
"He wrestled pretty solid," Stark said about Laybourne. "I was proud of his performance."
Next up for the Bulldogs is rival Lakeland. The atmosphere for the dual won't be the same as years past due to COVID-19, but the Bulldogs are looking forward to the battle.
"I'm excited," Stark said. "I think we're going to be ready for the challenge and we're going to step it up ... We're wrestling pretty good, so hopefully things will fall into our favor."
SHS will face the Hawks at 5 p.m. Thursday at Lakeland High, followed by a dual at 6 p.m. with Nampa.
Thursday's action kicks off a busy few days for the Bulldogs. On Friday, Sandpoint will head to Post Falls High School to face two teams in the River City Duals. Then the team will head back to Post Falls on Saturday for three more duals.
Stark said this week will be the ultimate test for the Bulldogs.
"You know what you're made of after this week," he said.
Results (SHS athletes in bold)
Sandpoint 48. St. Maries 36.
98 — Double forfeit. 106 — Anderson accepted forfeit. 113 — Double forfeit. 120 — Sotin p. Dickson, 3:29. 126 — Johansen p. Mattox, 0:44. 132 — S. Sherrill p. Norris, 1:13. 138 — Martin p. Birkhimer, 2:58. 145 — Resso p. Kolar, 1:57. 152 — Adam p. Gibson, 3:29. 160 — Crum p. unknown, 2:54. 170 — Sotin p. McKinnon, 1:03. 182 — B. Sherrill p. unknown, 1:48. 195 — Sibert p. Smith, 1:15. 220 — Benefield p. Rouse, 2:56. 285 — Laybourne p. Lambson, 1:33.
Sandpoint 45. Kellogg 39
98 — Morden p. Duke, 3:15. 106 — Wood accepted forfeit. 113 — Eixenberger p. Ambridge, 1:05. 120 — Dickson d. Heely, SV 11-9. 126 — Hall p. Johansen, 1:50. 132 — S. Sherrill p. Garcia, 1:55. 138 — Bauer p. Birkhimer, 0:54. 145 — Resso p. Rainio, 1:01. 152 — Adam p. unknown, 1:24. 160 — Crum accepted forfeit. 170 — Zimmerman d. Troumbley-Karkoski, SV 8-6. 182 — B. Sherrill p. Goodner, 3:15. 195 — Smith p. Hoffman, 3:00. 220 — Hudson p. Thurlow, 0:59. 285 — Laybourne p. Bublitz, 0:49.
Sandpoint 60. Priest River 24.
98 — Double forfeit. 106 — Albany p. Sorbel, 5:17. 120 — Keith Poirier p. Dickson, 0:56. 126 — Troumbley p. Norris, 2:24. 132 — Marker p. Williams, 1:23. 132 — S. Sherrill p. Wong-Yuen, 1:42. 138 — Nessel p. Birkhimer, 5:13. 145 — Resso accepted forfeit. 152 — Adam p. Keegan Poirier, 3:40. 160 — Crum accepted forfeit. 170 — Bennett p. McKinnon, 3:43. 170 — Troumbley-Karkoski p. McLain, 5:09. 182 — B. Sherrill p. Reynolds, 1:28. 195 — Smith accepted forfeit. 285 — Laybourne accepted forfeit.
Sandpoint 54. Potlatch 22.
98 — Duke accepted forfeit. 106 — Albany accepted forfeit. 113 — Lewis accepted forfeit. 120 — Dickson accepted forfeit. 126 — Norris p. J. McPherson, 3:55. 132 — S. Sherrill p. Palmer, 3:03. 138 — T. McPherson p. Hancock, 0:31. 145 — G. Prather p. Resso, 4:52. 152 — E. Prather md. Adam, 12-2. 160 — Crum p. Tucker, 2:30. 170 — McKinnon p. Aquaro, 0:23. 182 — McNeal p. B. Sherrill, 1:35. 195 — Smith accepted forfeit. 220 — Double forfeit. 285 — Double forfeit.

Recent Headlines
---