Bonner County declares emergency following windstorm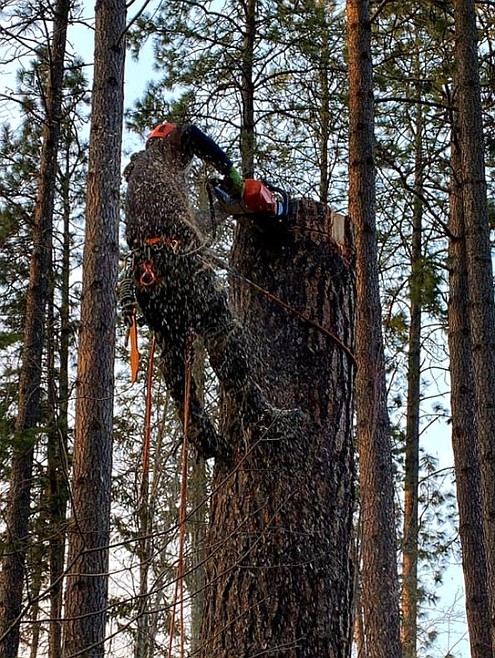 An arborist with Dirks Tree Care cuts a storm-damaged tree.
(Photo via FACEBOOK)
by
KEITH KINNAIRD
News editor
|
January 15, 2021 1:00 AM
SANDPOINT — Bonner County commissioners declared a state of emergency Thursday due to a damaging windstorm that raked the county earlier this week.
Commissioners Jeff Connolly and Steven Bradshaw adopted a resolution declaring a local disaster emergency. Commissioner Dan McDonald was not present during the meeting, but officials said he was briefed on the matter.
The nature of the emergency mainly revolves around damage to utility infrastructure maintained by Northern Lights, Inland Power, Kootenai Electric and other nonprofit cooperatives which serve residents in Bonner County, according to Bob Howard, director of Bonner County Emergency Management.
The declaration enables utility providers to coordinate with the county to secure funding through the Federal Emergency Management Agency, Howard said.
Howard said the state's threshold for qualifying for emergency FEMA funding is $1.55 in impacts per person. The county's threshold is $3.98 per person.
"They reached that threshold," Howard said.
Wednesday's winter windstorm had gusts of up to 55 mph, according to the National Weather Service in Spokane. Winds pushed trees and limbs into power lines throughout the county.
Northern Lights reported that the windstorm caused widespread and significant damage across its service territory. Crews and contractors worked overnight to bring approximately 4,000 locations back into service.
Northern Lights said it is currently working to repair more than 40 broken utility poles, with each one representing more than 10 man hours of work to repair.
"Unfortunately, we also continue to discover more damage every time we access a new area," NLI said in a statement.
Northern Lights asked its customers for the possibility of a multiple-day restoration effort for some hard-hit areas. The company said it was unable to provide restoration estimates on Wednesday.
Northern Lights' Outage Center indicates that more than 500 customers south of Priest River were still without power on Thursday. Hundreds are still without power in the Clark Fork area. Smaller outages were reported in Sagle, Priest Lake and northern Bonner County, according to the outage map.
The outages affected more than 10,000 of NLI's customers. Nearly 7,000 NLI customers have had their power restored, but 3,258 are still without power, according to NLI.
Connolly said Bonner County roads fared well during the storm. He attributed the limited damage to the county's increased efforts to replace, repair and clear culverts.
"That's helped us a lot," Connolly said of Bonner County Road & Bridge's maintenance program.
Keith Kinnaird can be reached at kkinnaird@bonnercountydailybee.com or followed on Twitter @KeithDailyBee
---