Little disappointed in nationwide vaccine lag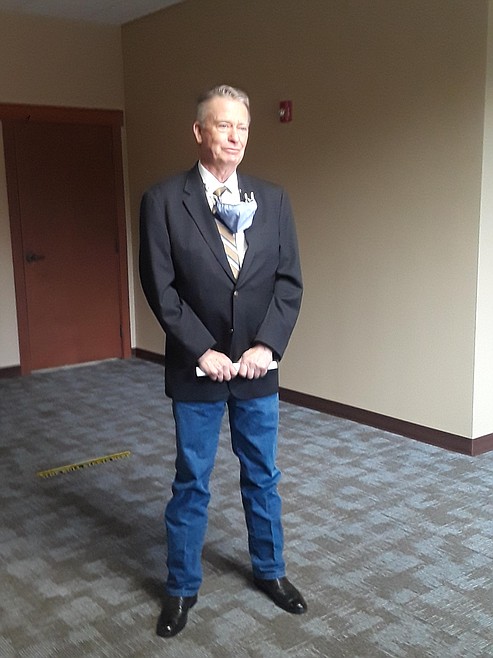 Gov. Brad Little answered questions from reporters during a Friday press conference at the Idaho Forest Group office in Coeur d'Alene. (CRAIG NORTHRUP/Press)
by
CRAIG NORTHRUP
Hagadone News Network
|
January 16, 2021 1:00 AM
Gov. Brad Little said during a visit to Coeur d'Alene Friday the state was up to the daunting task of getting Idaho's population vaccinated, but that he was frustrated at the pace nationwide.
"I didn't realize this until I was looking at some of the metrics," Little said at the Idaho Forest Group on Canfield Avenue in Coeur d'Alene, "but Alaska — with half the population — has got more vaccine than what we have in Idaho."
Little came to North Idaho as part of a scheduled trip, but he took the opportunity to monitor the situation at the Galena Mine, where approximately 40 miners were stranded south of Silverton due to the wake of the windstorm and ensuing power outage. Power was restored Thursday, enabling the trapped miners to leave. Little also surveyed the damage across the area, where downed trees crashed into homes and, in some places, continue to block roads.
"Our guys are trying to help," Little said, "secure generators for areas, particularly for anyone that critically needs it."
Little said he's been focused on vaccine distribution and building Idaho's economic recovery, primarily through his "Building Idaho's Future" initiatives that are currently working their way through the state legislature's budget hearings. He said Friday the delay in an appropriate amount of doses — spurned in part by reported delays by pharmaceutical companies AstraZeneca and Johnson & Johnson to shepherd their vaccines through the approval process — has Idahoans naturally concerned about when their time to get vaccinated will come.
"We haven't got as much vaccine as we hoped for," he said. "But now that we've added teachers, first line and people over 65 [years of age], we're going to have a big line. It's going to take a lot of capacity to [vaccinate] everybody."
Little said those delays gummed up the timetable he'd set to help Idaho celebrate the essential end of the pandemic by Independence Day.
"Some of the indications we'd heard from the CDC and [Health and Human Services] about the vaccine I had, myself, in my own mind, my own spreadsheet," Little said. "I had a flow rate that I needed, because I want everything to be back to normal by July or August, to get everybody vaccinated. This is going to disrupt that … [But] when we get the AstraZeneca vaccine, get the Johnson & Johnson vaccine, the flow rate will go up. Both of those are coming."
As of Friday, 51,233 Idahoans have been vaccinated. Friday also saw 1,112 new COVID-19 cases statewide, bringing Idaho's total to 154,470. A total of 1,603 Idahoans have died as a result of the coronavirus.
Those skyrocketing numbers are also pinching the vaccination rate against a political debate the Governor fears could make new daily case counts untenable. This week in both the Idaho House and Senate, lawmakers introduced legislation that, if eventually approved, would unwind some of the restrictions Little implemented to combat the spread of the coronavirus, including Thursday's introduction of a bill that would prohibit limiting the size of gatherings, one of the key tools recommended by the Centers for Disease Control to slow the spread of the virus.
But while Little said he was concerned, he added it was important to let the political process play itself out.
"It's a process," he said. "The bill will be introduced for print. It'll be printed. They'll have hearings on them. There will be hearings of one body, then it'll go out on the floor. There will be debate on them. It'll go across the Rotunda to the other body. But I'm really focused on getting the vaccine out and building Idaho's future, what we're doing for education, what we're doing for health care."
---