Little outlines goals in State of the State address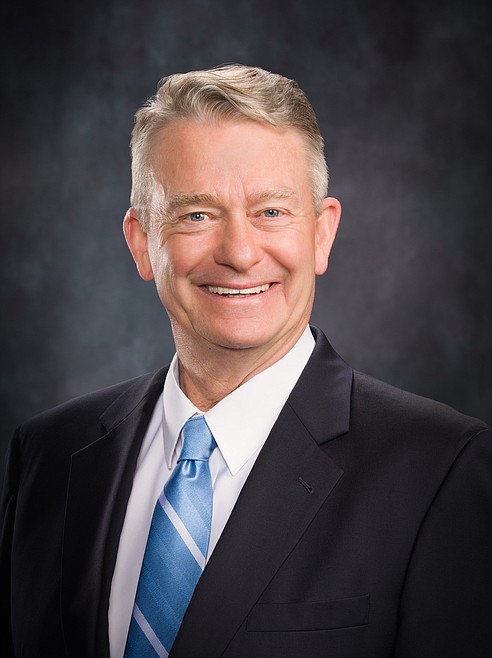 by
ALEXANDRA DUGGAN Contributing Writer
|
January 16, 2021 1:00 AM
BOISE — Idaho Governor Brad Little's State of the State was not given on the House floor this year as normal, but rather streamed virtually from the Lincoln Auditorium as he spoke to Idahoans in a 30-minute speech about past and future plans for the state, including a $600 million surplus.

Little began his address in a way that reflects the unusual times Americans are living in — by condemning the Jan. 6 riot at the Capitol in Washington, D.C. — before holding a moment of silence for all those lost due to COVID-19.
The main focus of the speech centered around COVID-19 and how the pandemic has impacted jobs, education, and revenue. Because nearly all of 2020 was during a pandemic, Little's goals aimed to address the hardships that the novel coronavirus has caused Idaho with million-dollar investments while still keeping the state competitive.
"My budget leaves a prudent surplus, bolsters rainy day funds and reflects my continued priority on education," said Little. His main goal with the surplus so far would be investing in education.
Learning from home amidst the pandemic has been harder on families from rural Idaho, since the internet is mostly dial-up or broadband related. Little noted he invested $50 million in the state's broadband infrastructure, as well as a 16-percent bump increase in safe education. He recounted a story about children in rural Idaho using their mother's cell phone to do homework because they could not access internet speed fast enough for school conferences.
"We all play a role in choosing to protect our kids' ability to continue learning in the classroom," Little said.
The governor called Idaho's students his top priority. The "Building Idaho's Future" plan puts aside parts of the budget to go toward combating learning loss, helping with learning technology and supporting the higher education system to connect them to successful careers.
Toward the end of his speech, Gov. Little introduced a "no-frills" budget for fiscal year 2022.
Some of the proposals include:
A $250 million investment in the career ladder.
More than $250 million into COVID-19 relief using federal funds.
Investing into reducing wildfire risks and active land management.
$60 million in long-term water projects and agriculture.
$126 million in highway infrastructure.
$450 million in tax relief.
"Let's continue to live within our means, and make investments where they count," said Little.
Ultimately the budget is approximately $4.2 billion. Little also proposed $455 million in tax relief.
Little ended his speech by thanking the citizens of Idaho for their perseverance and kindness during these times of hardship.
"As Idahoans, we must choose to come out of this pandemic stronger and more resilient, more united than ever before."
Alexandra Dugan is an intern with the University of Idaho McClure Center for Public Policy Research and the UI JAMM News Service.
---