Welcome back: SHS plans to follow updated athletic plan, allow 40 percent gym capacity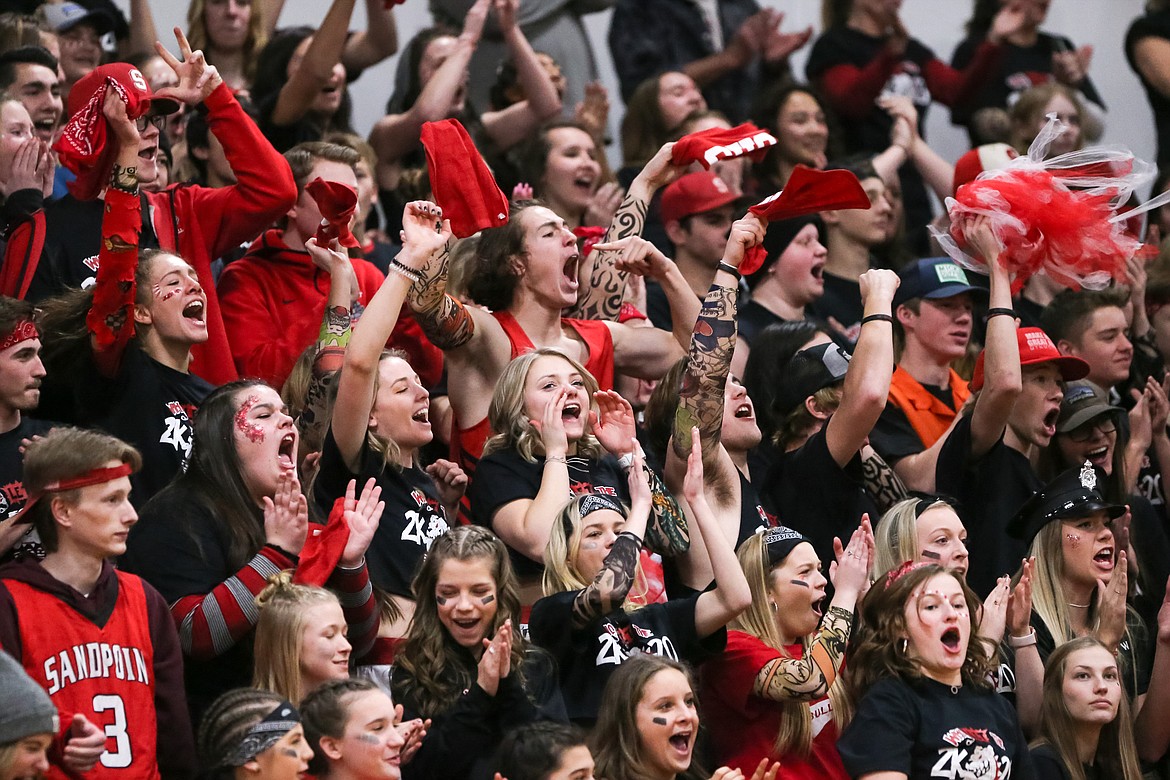 The Sandpoint High School student section goes berserk during the Battle for the Paddle against Lakeland on Jan. 17, 2020 at Les Rogers Court. So far at sporting events this winter, SHS has had no student section due to regulations from the governor's office. That will change Saturday when Les Rogers Court is allowed to be filled to 40 percent capacity.
(Photo courtesy of JASON DUCHOW PHOTOGRAPHY)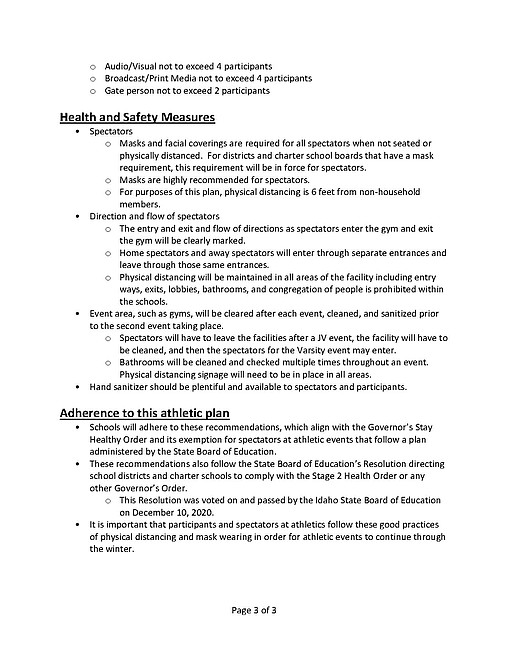 Page three of the updated athletic plan for winter sports from the Idaho State Board of Education and the governor's office.
(Photo courtesy of the IDAHO STATE BOARD OF EDUCATION)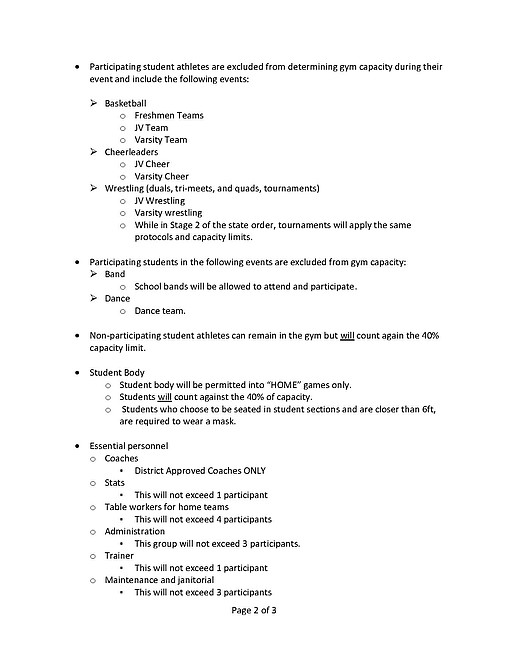 Page two of the updated athletic plan for winter sports from the Idaho State Board of Education and the governor's office.
(Photo courtesy of the IDAHO STATE BOARD OF EDUCATION)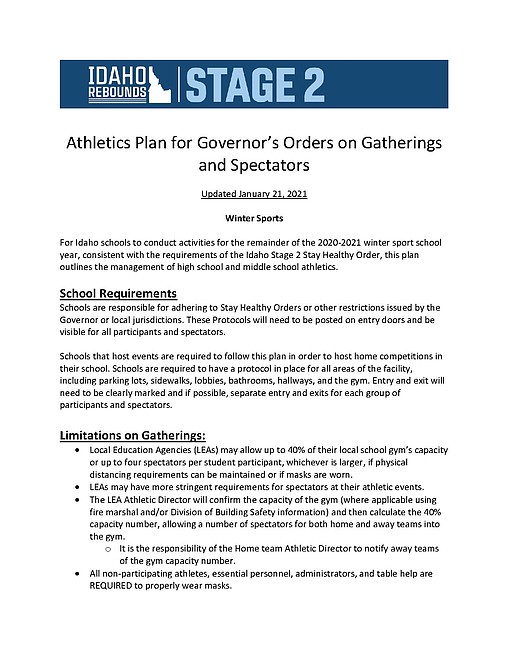 The updated athletic plan for winter sports from the Idaho State Board of Education and the governor's office.
(Photo courtesy of the IDAHO STATE BOARD OF EDUCATION)
Previous
Next
by
DYLAN GREENE
Sports Editor
|
January 23, 2021 1:00 AM
SANDPOINT — Sandpoint Athletic Director Kris Knowles was supervising girls basketball games at Coeur d'Alene High on Thursday night when he received a notification on his phone.
That message at about 7:30 p.m. let him know that the Idaho State Board of Education and the governor's office had released an updated athletic plan that would allow significantly more spectators into the stands at sporting events this winter.
Given all the challenges the COVID-19 pandemic has presented since reaching Idaho last March, Knowles has gotten used to adjusting to new guidelines on the fly, and this is no different.
"This is not the year of getting comfortable doing things," he said.
On Friday morning, Knowles got on the phone with the rest of the athletic directors around the 4A and 5A Inland Empire League and all the schools agreed to follow the new guidelines, which allow 40 percent gym capacity or four spectators per athlete.
"To look for the silver lining in the pandemic, the best thing that's come out of this whole thing is how well all the schools in the Inland Empire League are communicating and working together," Knowles said.
The expanded-spectator plan will be in full effect for the first time Saturday when Sandpoint hosts boys and girls basketball games against Lewiston at Les Rogers Court. Priest River High School will also welcome four fans per athlete for home basketball games with Kellogg on Saturday.
The sudden change comes just days after Gov. Brad Little asked the State Board of Education on Wednesday to revisit its Stage 2 exemption for high school and middle school athletics and allow more fans into events.
Prior to this new plan, schools were allowed two spectators per student participant for both home and away teams.
The 40 percent gym capacity guideline means hundreds, if not thousands, of fans will be welcomed back into gyms around the state. For SHS, that capacity limit isn't completely clear yet, but Knowles expects it to be around 500 for Les Rogers Court.
"We're still just diving into what the number exactly is, but at least on [Saturday] I don't believe that we would be over the number," he said. "We'll know that [number] sooner than later."
Due to the quick turnaround, admission is free to Saturday's basketball games and Knowles doesn't envision the school having to turn anybody away. But just in case, SHS will use clickers to monitor the amount of spectators going in and out of the gym to ensure they don't go over capacity.
"[Saturday], I don't feel like that will be an issue," Knowles said.
After Saturday, SHS will presell tickets to home sporting events at the standard Inland Empire League price, Knowles said.
As the regular season for winter sports draws to a close and postseason play nears, Knowles said he expects demand for tickets to games to increase. He added that the IEL has already discussed hosting the regional tournaments at a neutral site and pre-selling tickets.
In terms of students, Knowles said they haven't had any discussions about limiting the amount of tickets given to them.
"Where we are is we're going to welcome students and we want students here [Saturday]. We want students here next week, but next week we'll be able to have a better sense of an exact number," he said. "Even in the best of times, having 40 percent occupancy isn't the norm, so we're going to be just fine."
However, the revised plan states that students who choose to sit in the student section less than 6 feet apart are required to wear masks.
Despite the expanded crowd size, a lot of the same guidelines that were in the previous athletic plan still apply. Gyms will continue to be cleared and sanitized between games and face coverings are required for all spectators when not seated or physically distanced 6 feet from people not in their household.
"A lot of it doesn't change from what we've been doing," Knowles said. "It will take a little more time to clear the gym, but you've got that warm-up time and I'm just really hoping everyone is respectful ... This is what we have to do to save our season and keep it going forward. I think if that's the messaging on our end, I think we'll be just fine."
So far, Knowles said fans at SHS have respected the guidelines and it's important they continue to do so.
"I think it's absolutely critical because as fast as we got it back, it can be taken away just as fast if we don't follow the governor's orders," he said.
Knowles said he doesn't want a repeat of last spring when athletes had an entire season ripped away in an instant. He added that the school wants to make sure they do whatever it takes to keep kids on the court, on the mat and on the field.
"Everyone has a different opinion, but this is what we have to do to keep playing," he said. "Masks are something that are a necessary thing in the situation that we have right now and so we have to be respectful of what the governor asks, we have to be respectful of what the IHSAA asks and there is no wiggle room there. If we just decide we're going to go rogue and not do it, that jeopardizes all the work that these young kids have put in and I'm not willing to do that."
Knowles said the school is looking forward to letting more spectators in the stands and he thanked the community for being so flexible over the past few months.
"I think that's probably the most important thing is the administration here is very thankful for the community for supporting us as we have gone through this unbelievably trying year," he said.
The Sandpoint varsity girls host Lewiston at 1:30 p.m. today, followed by the boys at 3 p.m.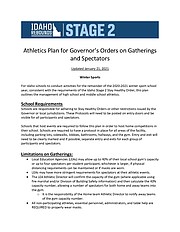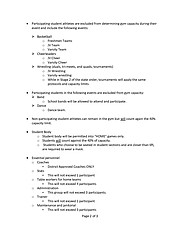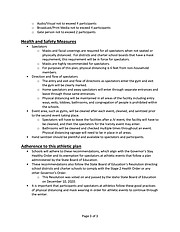 ---