New business offers massage for horses, people
by
RACHEL SUN
Staff Writer
|
January 29, 2021 1:00 AM
A new massage business in North Idaho is offering massage not only for humans, but horses.
Rebekka Job, owner of Back2Balance human and equine massage, earned a bachelor's degree Animal and Veterinary Care from the University of Idaho, but fell in love with massage therapy.
After earning a certification as a licensed massage therapist, Job started her business in December, and recently earned her certification as a large animal massage practitioner from the Northwest School of Animal Massage. The business is one of the few in the area to offer equine massage therapy, she said.
While Job's human clients can visit her studio by appointment at 241 Ellie's Lane in Spirit Lake, she says she will be traveling to her equine clients in the Sandpoint area and other locations in North Idaho.
Equine massage is especially beneficial for horses used for sports like dressage, she said, but any can benefit. She will sometimes massage both the horse and its owner, to get the most benefit.
"Horses mirror the problems that their riders have," she said. "So if a rider is imbalanced in the way that they ride, that can ultimately reflect the way that the horse moves its body."
Because of this, treating both the horse and the rider allows for the most benefit, she said.
Horses also make excellent clients, she said, because they give a lot of feedback through body language.
"They almost give me more feedback than people," she said. "They'll either flick their ears, or yawn and relax. They definitely communicate a lot."
Her equine clients love the sessions, she said, often becoming so relaxed they fall asleep.
Chloe Reed, a hairstylist and client of Job, said she's also found Job's massages for human clients also extremely beneficial.
As a hairstylist, it's important for her to get regular massages, Reed said.
"She's very knowledgeable," Reed said. "Anyone that wants more than your average massage, I'd recommend her."
Job can be reached on her Facebook page, Back2Balance, or by email at backtwobalance@gmail.com.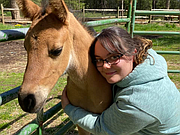 ---