All you need to know about the local Fourth of July festivities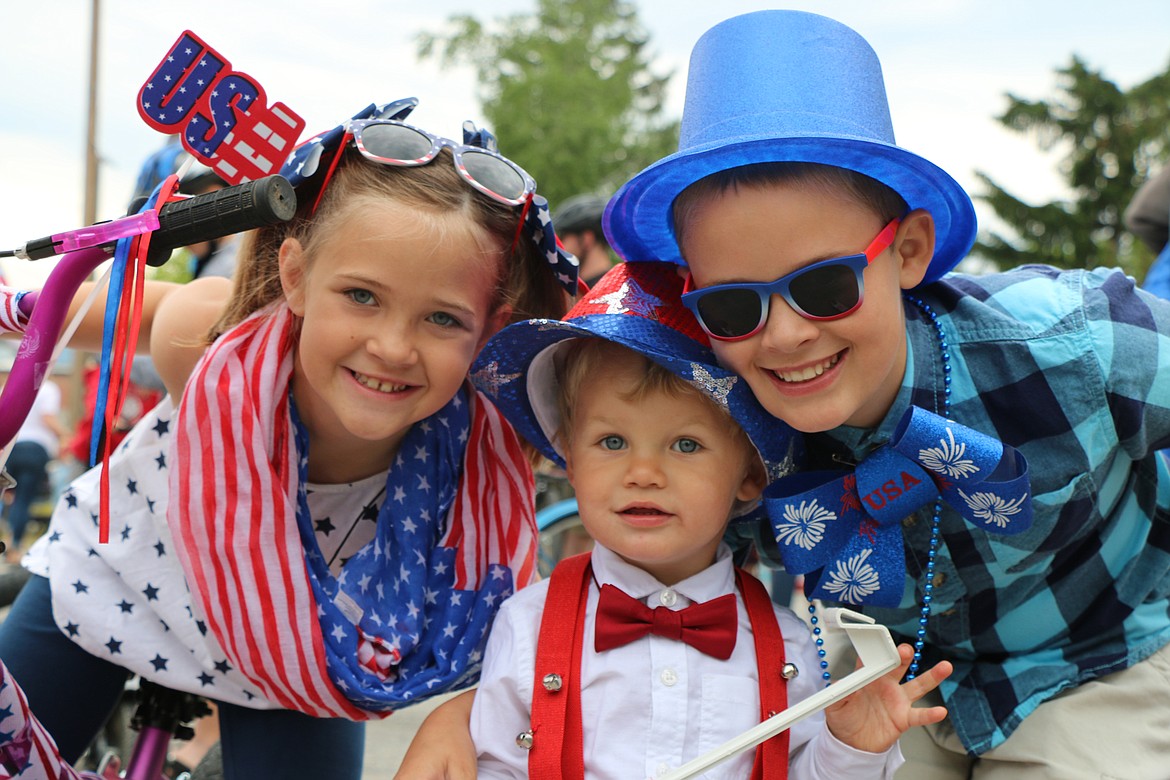 A young trio poses for the camera as they wait for the start of the Sandpoint Lions' Fourth of July kids parade in 2019.
(File photo by CAROLINE LOBSINGER)
Editor's note: This story has been updated.
There will be plenty of festivities going on this weekend to celebrate the Fourth of July. Here is a roundup of some of the events happening across Bonner County.
Sandpoint
The Sandpoint Lions Club Independence Day celebration is back after a year away due to the pandemic and the Lions are hoping to make it bigger and better than ever.
It all starts at 9 a.m. Sunday with the children's parade, followed by the Grand Parade at 10 a.m.
Both parades will gather at the parking lot next to N. Fifth Avenue between Pine and Church streets, then proceed down Church until reaching First Avenue. From there, the route will go up Cedar Street and wrap up back at Fifth.
The theme for the celebration is "It Takes a Community," and will showcase the community's appreciation for the local businesses and frontline workers who were impacted by the pandemic.
T-shirts from the Sandpoint Lions Club will also be available to the first 150 people who make a donation of $20 or more on the Fourth of July at the registration table.
At 1 p.m., people can head over to City Beach for some free ice cream from the Lions.
The grand finale, the coveted fireworks display, will take place at dusk at City Beach.
Clark Fork
Clark Fork will hold its "Old Fashioned 4th of July" celebration on Sunday. The theme this year is "Proud To Be An American."
The first item on the schedule for the all-day event is the Filling Station Youth Center's 5K Freedom Fun Run at 7 a.m. at 108 First Avenue. Participants can run or walk.
Anyone who wishes to be in the parade — which has no fee to enter — can start lining up at 8:40 a.m. on Stephen Street. The parade starts on Highway 200 at Stephen Street at 9:30 a.m., turns right on Main Street and ends at the Clark Fork High parking lot, 502 N. Main Street.
From 10:15 a.m. to noon at the school, the Booster Club will serve up plenty of food and foot races are available for all ages.
The celebration shifts over to Veterans' Memorial Park, on Ninth Avenue between Cedar and Pine streets, at 1 p.m. Free coupons and dollar bills will be dropped from an airplane, followed by turtle races, a watermelon eating contest and more games. At 3 p.m., pole climbing, ax throwing and several log sawing competitions begin.
At dark, the fireworks display will cap the community's celebration.
Bayview
Bayview will get a headstart on the Fourth of July festivities, hosting its parade through downtown at 11 a.m. Saturday.
The Bayview Daze Street Fair will be going on all day Saturday and wrap up Sunday. It features plenty of vendors and activities. The city will cap off its July 3rd celebration with a fireworks show at around 10 p.m.
Laclede
The Laclede Community Center, 25 N. Riley Creek Road, will host its annual 4th of July pancake breakfast from 8-10 a.m. Sunday.
A donation of $6 per person includes blueberry or regular pancakes, sausage links and a beverage. Children 5 and under eat free.
The parade starts at 1 p.m., with staging taking place at 12:30 p.m. at the center. Everyone is invited to participate in the parade that goes through the Riley Creek Recreation Area and back.
Hope
Fireworks will light up the sky above Ellisport Bay in Hope.
Priest Lake
Elkins Resort is hosting a free fireworks display from 9:30-10:30 p.m.
Priest River
The Priest River Chamber of Commerce will light off fireworks over the water at Bonner Park West at dusk.
Recent Headlines
---