Lightning storms start fires in region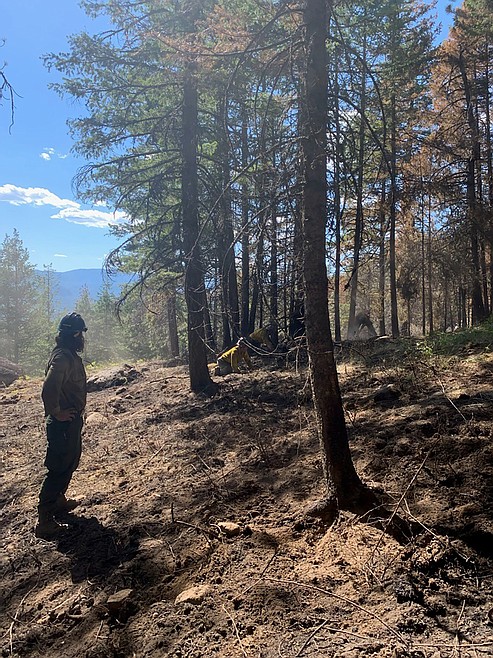 A photo of the recent Little Pine Fire near Priest River.
(File photo/IDAHO DEPARTMENT OF LANDS)
SANDPOINT — Lighting storms with multiple strikes have resulted in fires in north and north central Idaho. Idaho Department of Lands and Timber Protection Associations firefighters are fighting numerous fires, officials said in a press release.
Among the fires were those caused in the Trestle Ridge/Lunch Peak area in Hope, according to a Nixle alert from the Bonner County Sheriff's Office.
Other fires reported in the region are:
Pine Creek Fire
The Pine Creek Fire is estimated to be more than 200 acres and is burning on steep terrain south of Leeland near the town of Lenore. Twenty to 30 homes are threatened, and the Nez Perce deputies are in the process of notifying residents who need to evacuate. A Type 3 Interagency Management Team has been ordered for this fire and will be taking over in the morning. 
Mission Flats Fire
The Mission Flats Fire near the Cataldo Mission is now estimated to be about 60 acres. It is located west of the boat ramp and the mission is not threatened. Resources on the fire now include a combination of 7 engines and water tenders, 2 dozers and more than 20 firefighters. Fire crews have made excellent progress and it remains between I-90 and the river. Eastbound drivers should continue to use caution if driving on I-90.
Butte Creek Fire 
This fire is now estimated to be 400 acres burning in timber and logging slash and is located near Butte Creek in Clearwater County. No structures are currently threatened. Engines and ground resources are currently battling this blaze. Aerial resources were needed at higher priority fires. A Type 2 Interagency Management Team has been ordered for this fire and the other fires in the area.  There are currently 12 confirmed fires and another possible 12 unconfirmed fires within the protection area.
Scott Road Fire 
This fire is estimated to be about 100 acres and is located north of Boehls Camp.  It is burning in timber with no structures threaten.   IDL firefighters and ground equipment are the resources currently on the fire.
Shovel Creek Fire 
The Shovel Creek Fire is now estimated to be at 2500 acres burning in grasses. Multiple air resources, a hand crew and engines are fighting the fire. Some structures are threatened but no evacuations have been ordered.  This fire is near Corral Creek near the Nez Perce and Lewis County border. A Type 2 Interagency Management Team has been ordered for this fire.
Sweet Ridge Fire
Fire crews are on a 15 acre fire east of Waha that is burning in timber. Resources on the scene include 4 engines and one dozer. No structures are threatened at this time.
Hoover Ridge Fire
This fire is estimated to be about 10 acres burning in timber is near the oxbow of the Salmon River. Multiple air resources are currently working on the fire. There are at least 3 other small fires and fire crews are investigating multiple reports of smoke.
Ridgewood Fire
Earlier Wednesday, a drone operator put firefighters, aircraft, and homes at risk on the Ridgewood Fire, located about 3 miles south and east of Kamiah. Because of the drone, multiple air resources had to be grounded until after authorities were called and the drone flew away. The drone operator was not located. 
The fire is now estimated to be about 40 acres. It is burning in timber, brush and grass on steep terrain, causing challenges for firefighters. Rural Fire Department structural firefighters from Kooskia and Kamiah are focused on protecting homes located above the fire.  No evacuations have been ordered.  An air attack coordinator is directing two helicopters with water buckets to the fire; multiple engines including two IDL engines, and 10 IDL crew members are currently fighting this fire.
Big Horse Fire
This 40-50 acre fire is burning at the top end of Big Horse Canyon near Kooskia in timber on the edge of agricultural land with homes nearby. No evacuations have been ordered.  Three IDL engines, a Troy Fire Service engine, and one Kamiah Rural Fire Department engine are on the scene along with a 20 person fire crews, and 2 bulldozers.  Two helicopters are dropping buckets of water on the fire. The Ridgerunner Rural Fire Department is working on structure protection around the homes.
The public is reminded not to use drones anywhere near wildland fires as fire planes cannot fly when a drone is flying, putting firefighters, homes and resources at risk. Fire resources are spread thin and there is the threat of additional lightning storms throughout the week across the state. Many regions are considering fire restrictions.  With drought conditions at high to extremely high fire conditions throughout the state, the public is reminded to take every precaution to prevent wildfires.
Recent Headlines
---