Local chef opens vegan food stand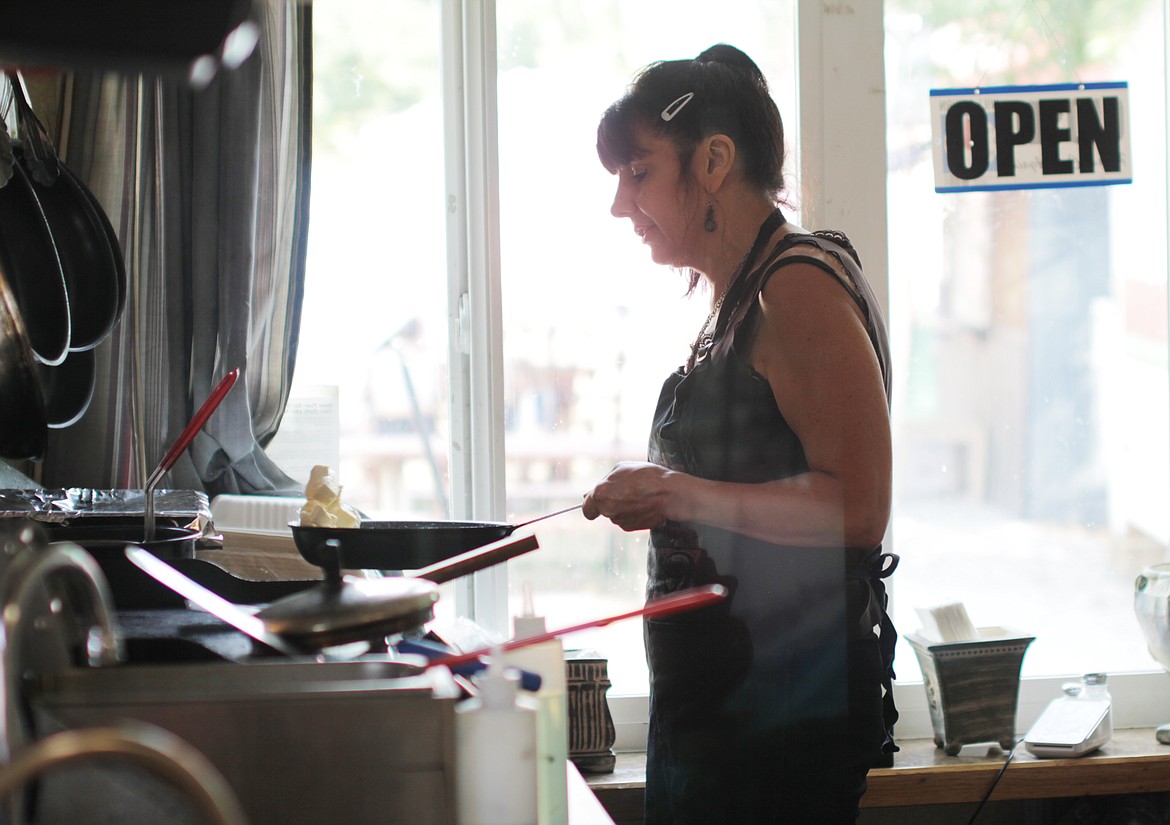 Cheryl Felts prepares food prior Wednesday morning before opening at the Dirty Vegan food bus, located at the Oak Street food court.
Photo by RACHEL SUN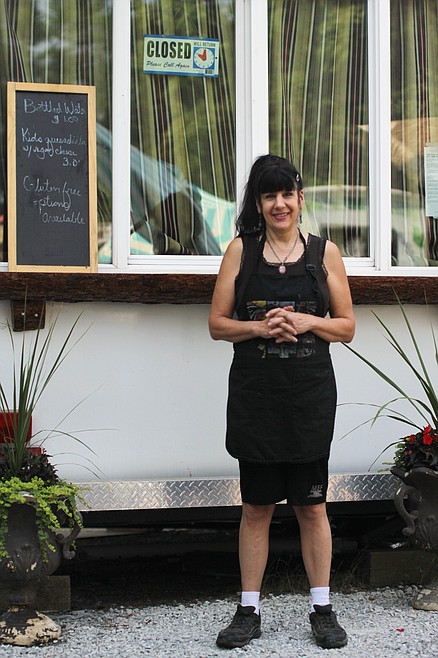 Cheryl Felts poses for a photo outside the Dirty Vegan Wednesday morning. The local chef opened her stand in May after hearing about the opening at the food court from her daughter.
Photo by RACHEL SUN
Previous
Next
by
RACHEL SUN
Staff Writer
|
July 15, 2021 1:00 AM
SANDPOINT — Cheryl Felts spent years working for local restaurants before deciding to open a new vegan food stand, the Dirty Vegan, this May.
A local chef with experience — including Connie's, Forty One South, the Pack River Store and other Sandpoint hubs — Felts said she wanted to create a menu that would appeal to both vegans and non-vegans at her spot in the Oak Street food court.
"Just like last weekend, I had a lady who had a vegan friend who ordered the buffalo jackfruit sandwich," Felts said. "Then she took a bite of it. She goes, 'Oh, that was really tasty. I'm going to order one, too.'"
Felts, who's been vegan for around three years, said opening a vegan food stand has some additional challenges in North Idaho — many locals are big fans of classic "meat-and-potato" style dishes, and often assume vegan food is only salad. But even so, she's working to try and change the way people think about vegan food.
"They think, you know, 'Grass and leaves, and that's it,'" she said. "[But] most people's diets don't consist of just meat. I think people come [at it] from a kind of limited point of view."
Although the food truck is a one-woman operation, her menu offers a wide variety of options — in fact, narrowing down the menu was a big challenge for Felts, she said.
Menu items include green and red Thai curry, Asian stir fry, fettuccine Alfredo, Jamaican jerk jackfruit tacos, crab cake jackfruit burgers, a jackfruit buffalo sandwich, a "Tribute to Truby" sandwich, greek salad with falafel and caesar salad with crispy chickpeas.
Among other unique ingredients, Felts uses jackfruit, which is commonly used as a pulled pork substitute for its similar texture, in several of her dishes. Because jackfruit and other ingredients she uses can't be found locally, Felts orders from multiple different vendors.
After hearing there was an opening at the food court, she spent much of the winter doing research on where she could source each ingredient at the best price.
Although it's a lengthy process to order all her ingredients from different sources, Felts said she felt compelled to make the switch after watching the documentary "Cowspiracy," which her daughter had brought home.
"We see everything nice and pre-packaged in our grocery stores. But we don't see what the process is beforehand," she said.
And although Sandpoint might not be known for having many vegans, there are more than one might expect, Felts said. Being able to expand the possibilities for those customers is one of the exciting parts of her job.
"What's funny is the people that I've had that have been most skeptical have been vegans," she said. "When they've tried the jackfruit they've been like, 'Are you sure this isn't meat, because I'm [vegan],' and I'm like, 'No, it's not meat.'"
Two of Felts' personal favorites from the menu are the Asian stir fry and crab cake jackfruit bites, she said. Another widely popular dish is the Greek salad with falafel.
"But you know, I like the curries, too. So I don't know. I just like food," she said, laughing.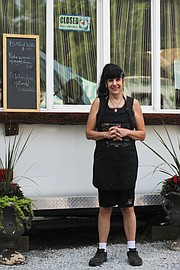 ---