16U North Idaho Lakers rally for dramatic walk-off win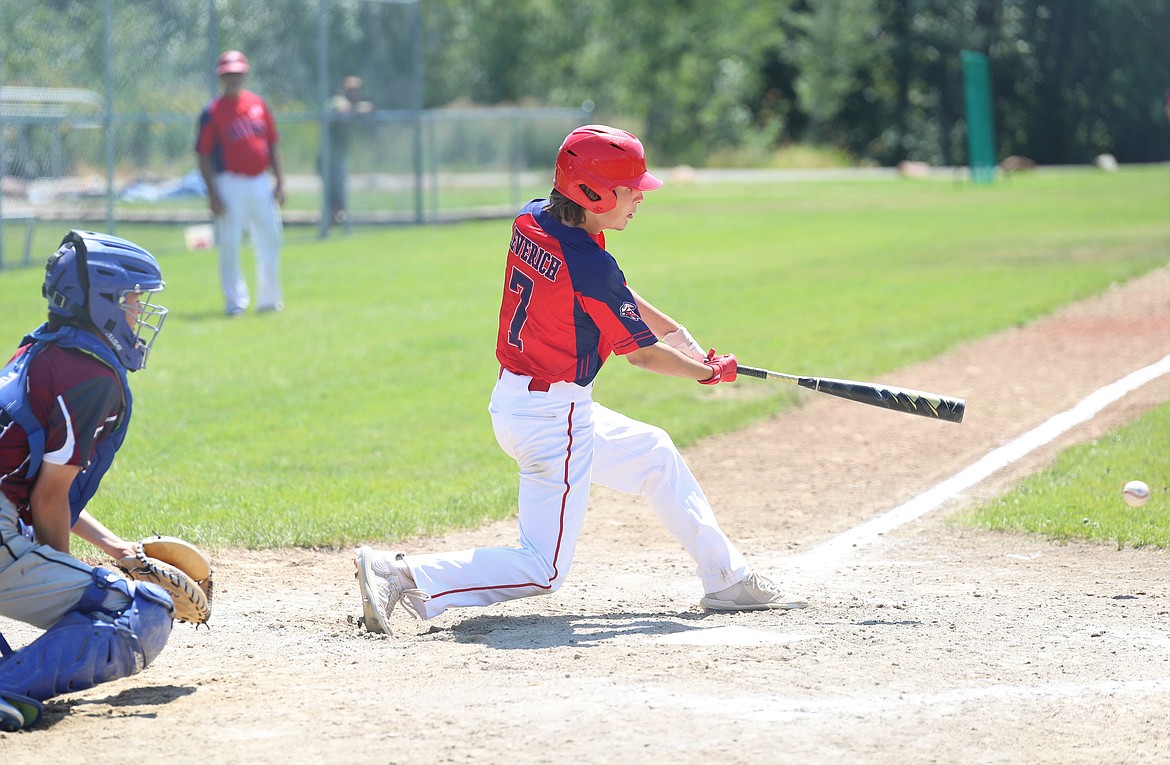 Zach Leverich hits a walk-off single to give the 16U Lakers a 6-5 victory over Whitman County during district play on Friday at Pine Street Field.
(Photo by DYLAN GREENE)
Cole Sanroman makes a throw to first to record an out on Friday.
(Photo by DYLAN GREENE)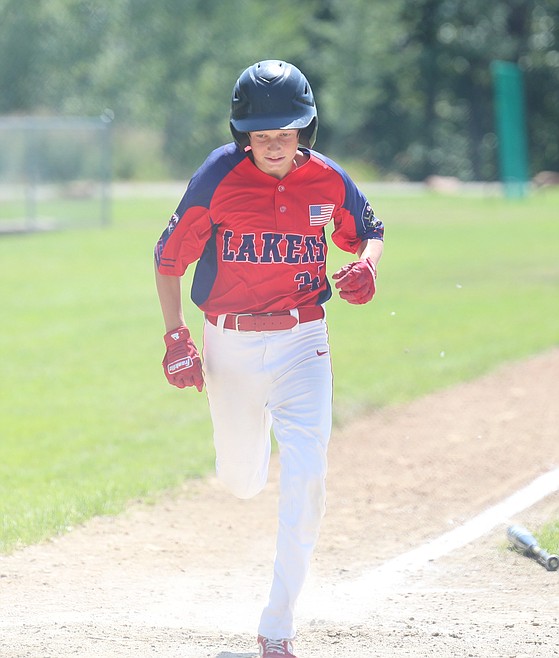 Coleman Inge scores the game-winning run on Friday.
(Photo by DYLAN GREENE)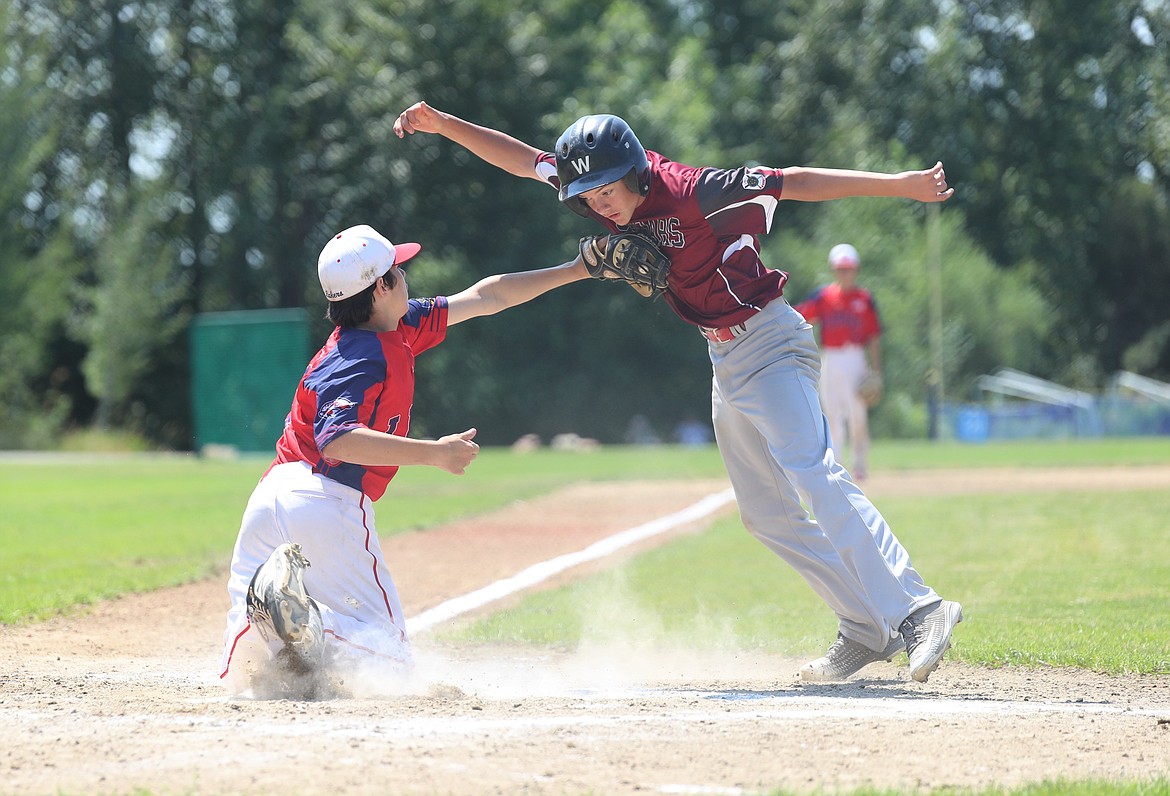 Cole Sanroman tags out a Whitman County runner at home on Friday.
(Photo by DYLAN GREENE)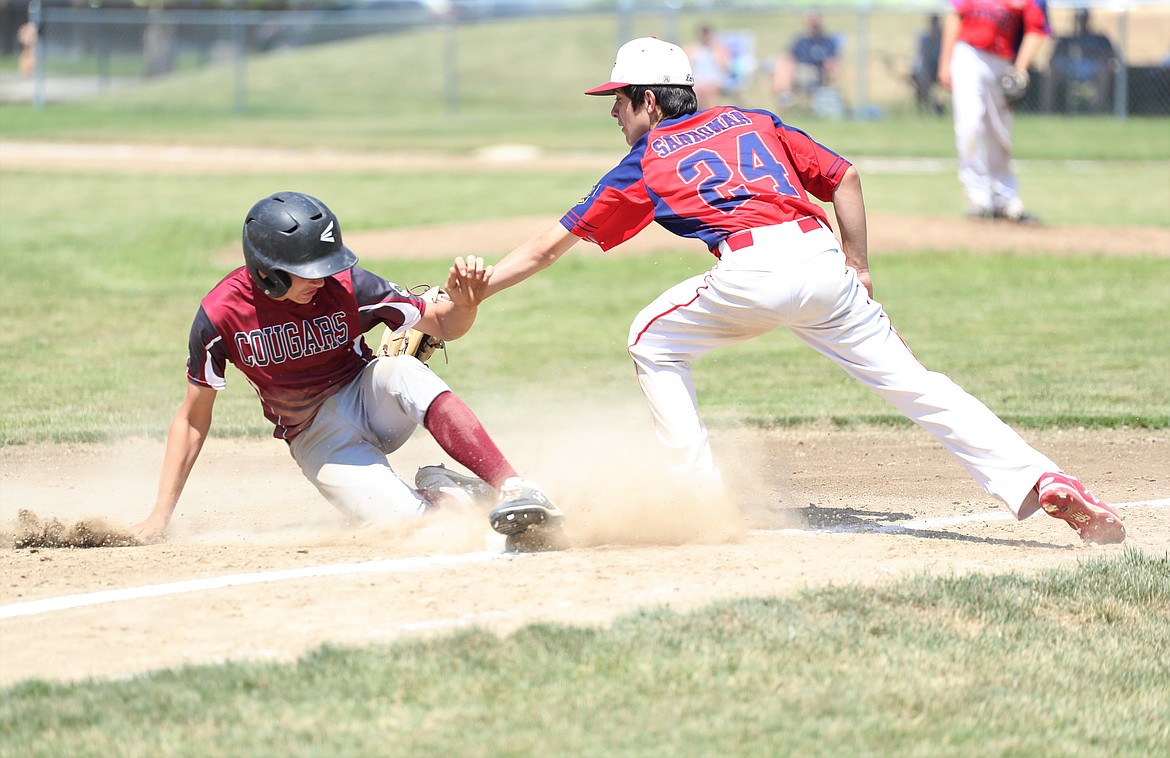 Chase Sanroman tries to tag out a Whitman County base runner at third base on Friday.
(Photo by DYLAN GREENE)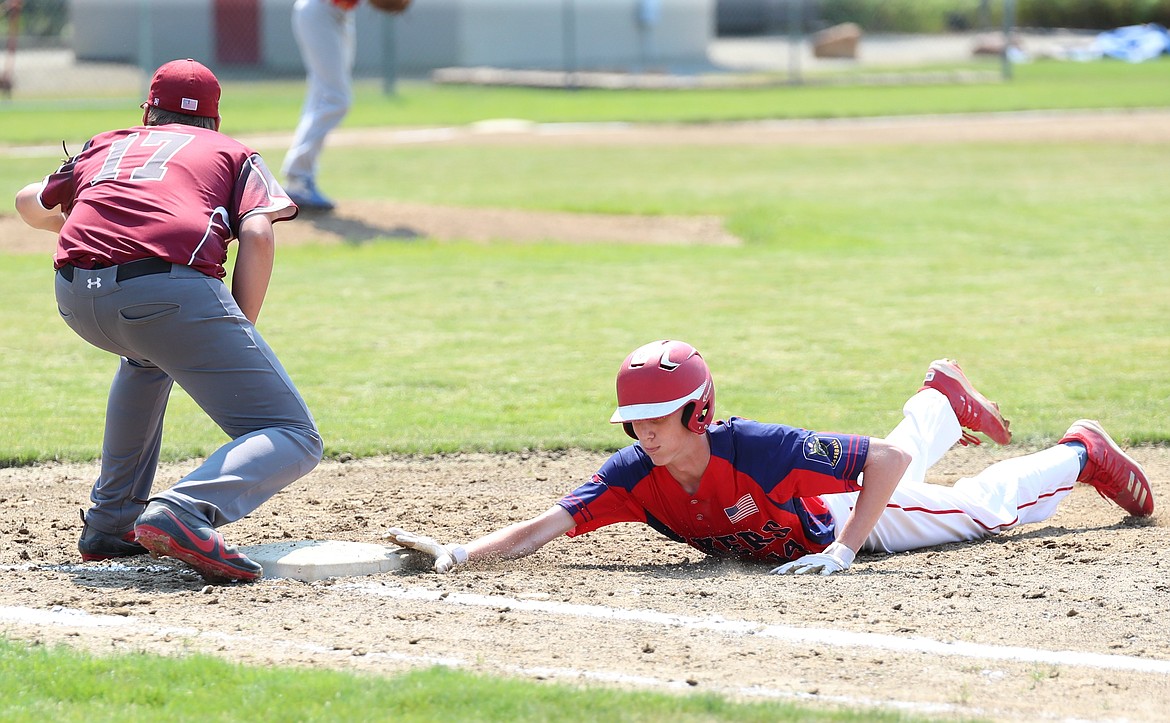 Alex Leverich slides back to first base to avoid being tagged out.
(Photo by DYLAN GREENE)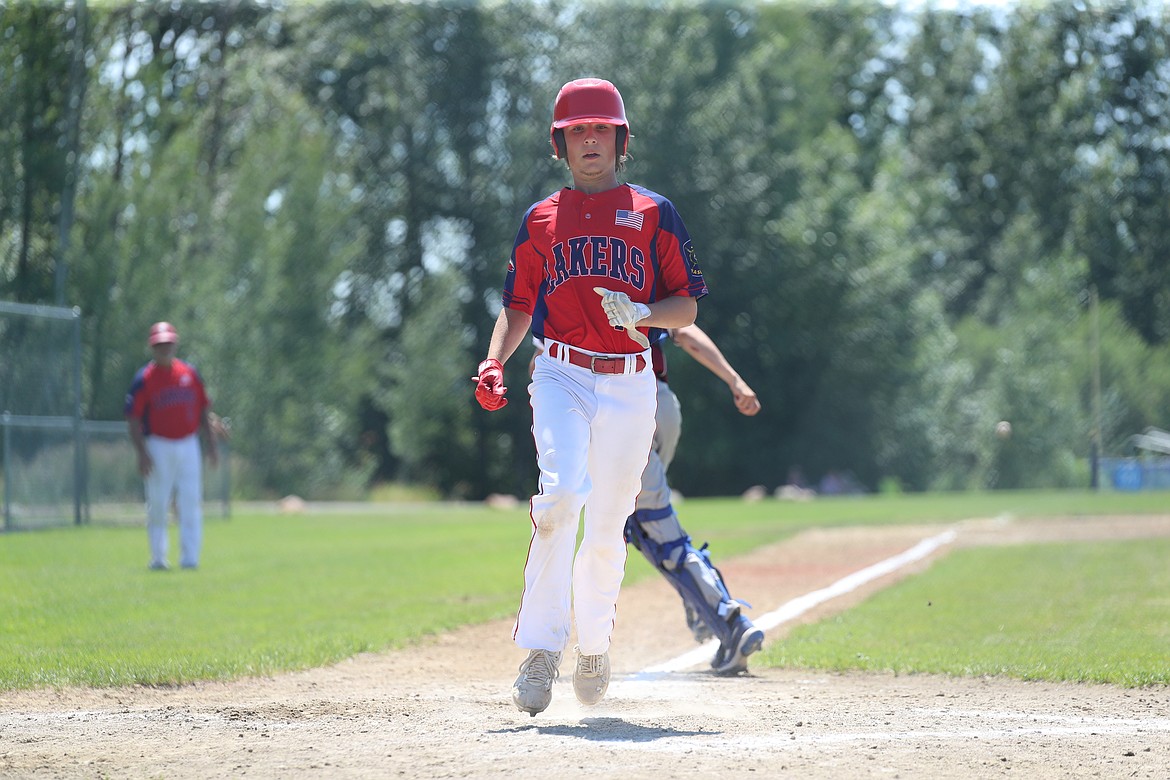 Zach Leverich scores a run on Friday.
(Photo by DYLAN GREENE)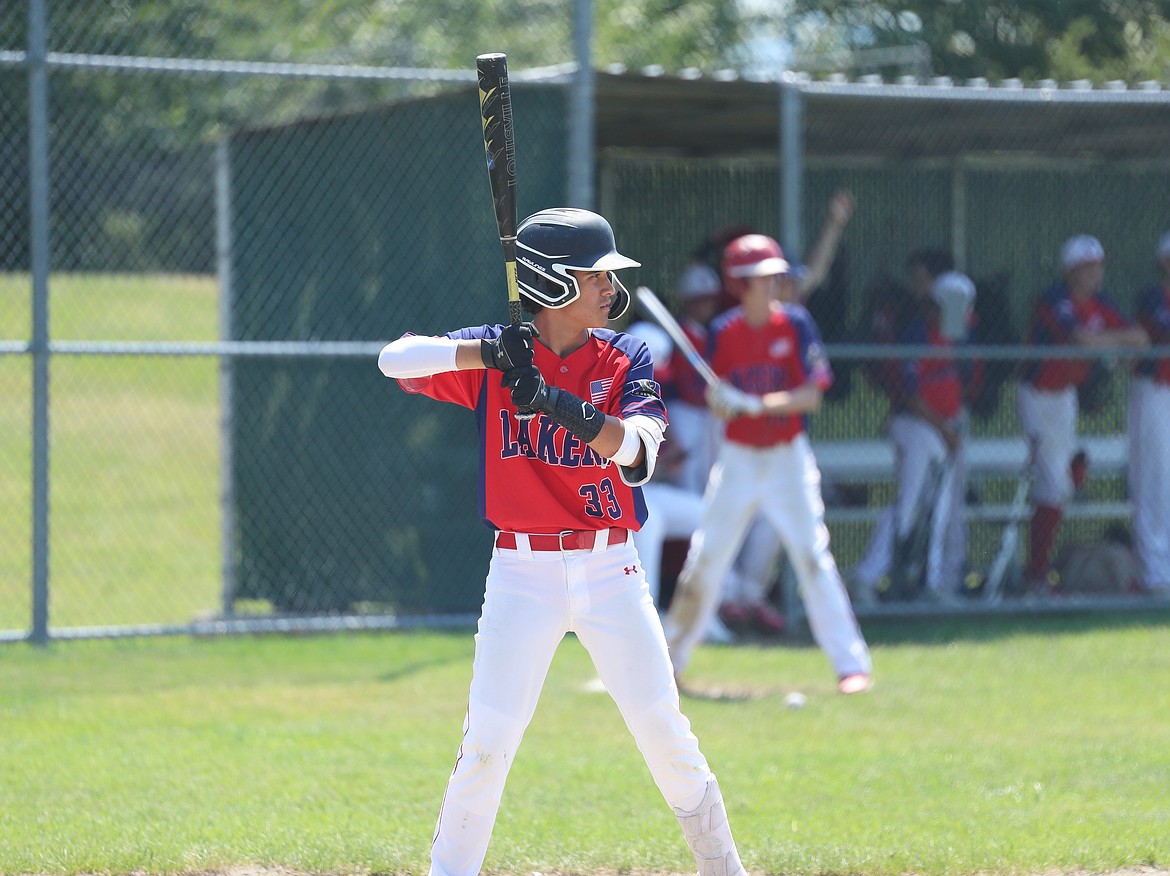 Kaipoi Wong-Yuen stands in the batter's box on Friday.
(Photo by DYLAN GREENE)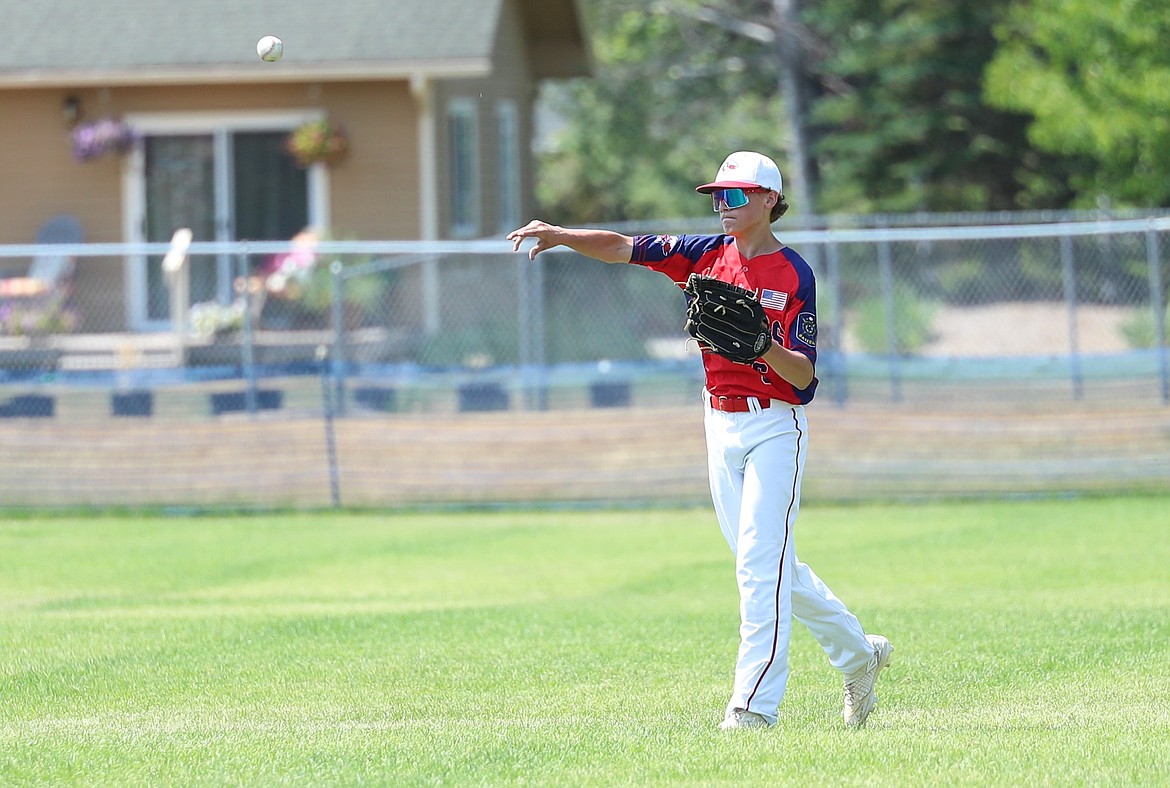 Tyson Troudt makes a throw from the outfield on Friday.
(Photo by DYLAN GREENE)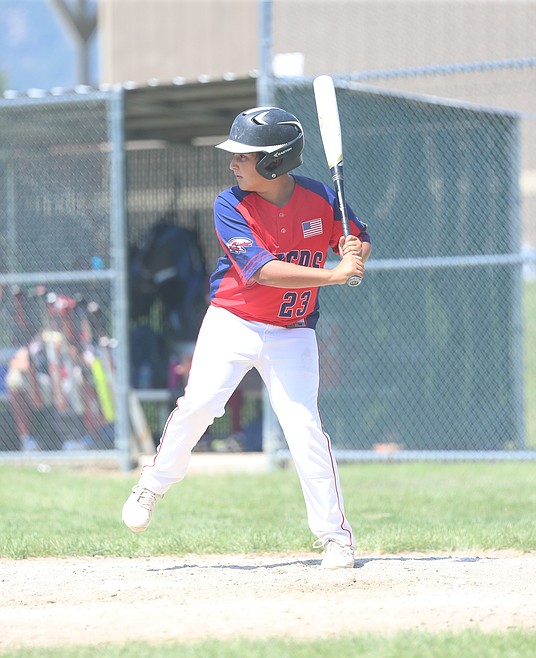 Jason Ringer prepares to take a swing on Friday.
(Photo by DYLAN GREENE)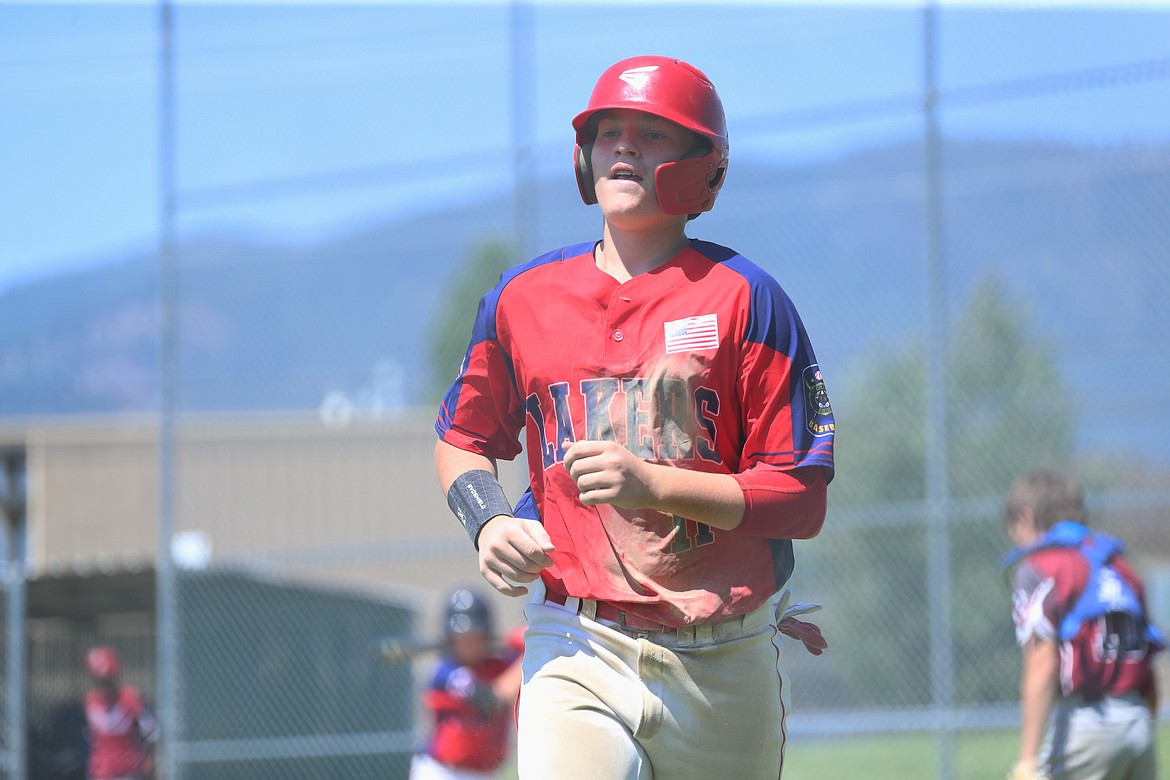 Jacob Hansen heads toward the dugout after scoring a run.
(Photo by DYLAN GREENE)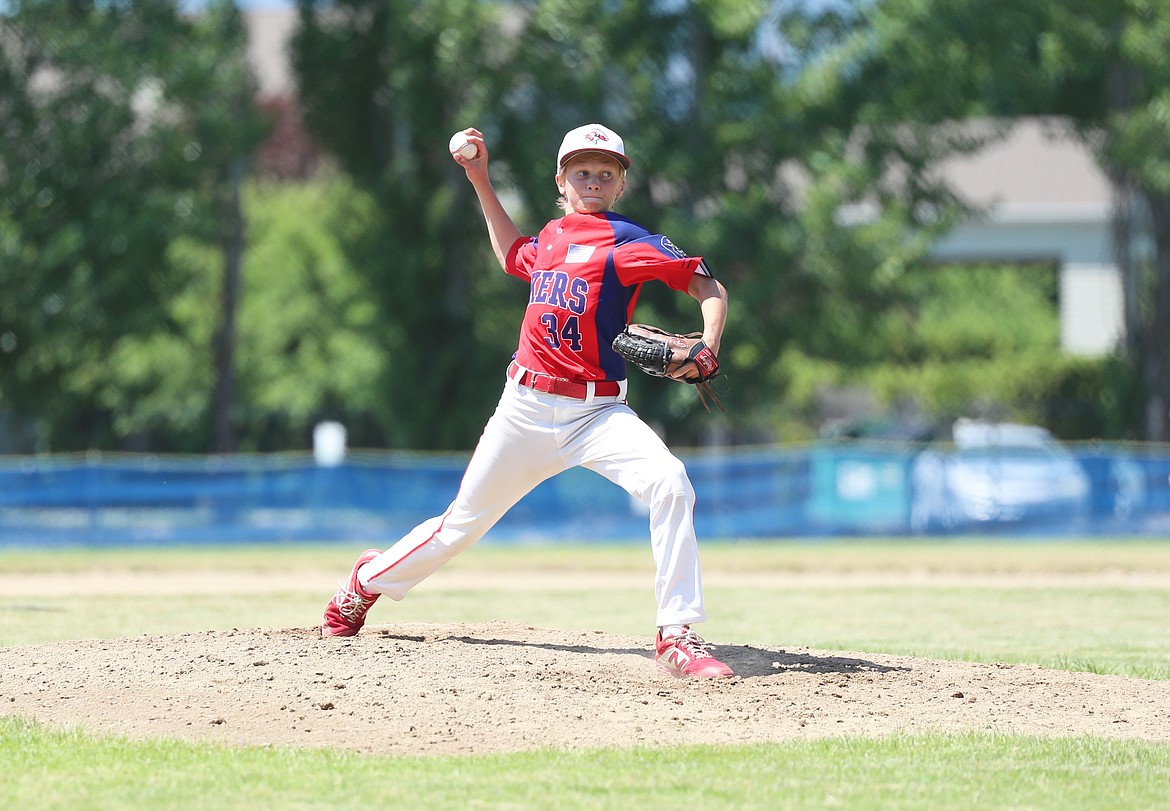 Coleman Inge pitches on Friday.
(Photo by DYLAN GREENE)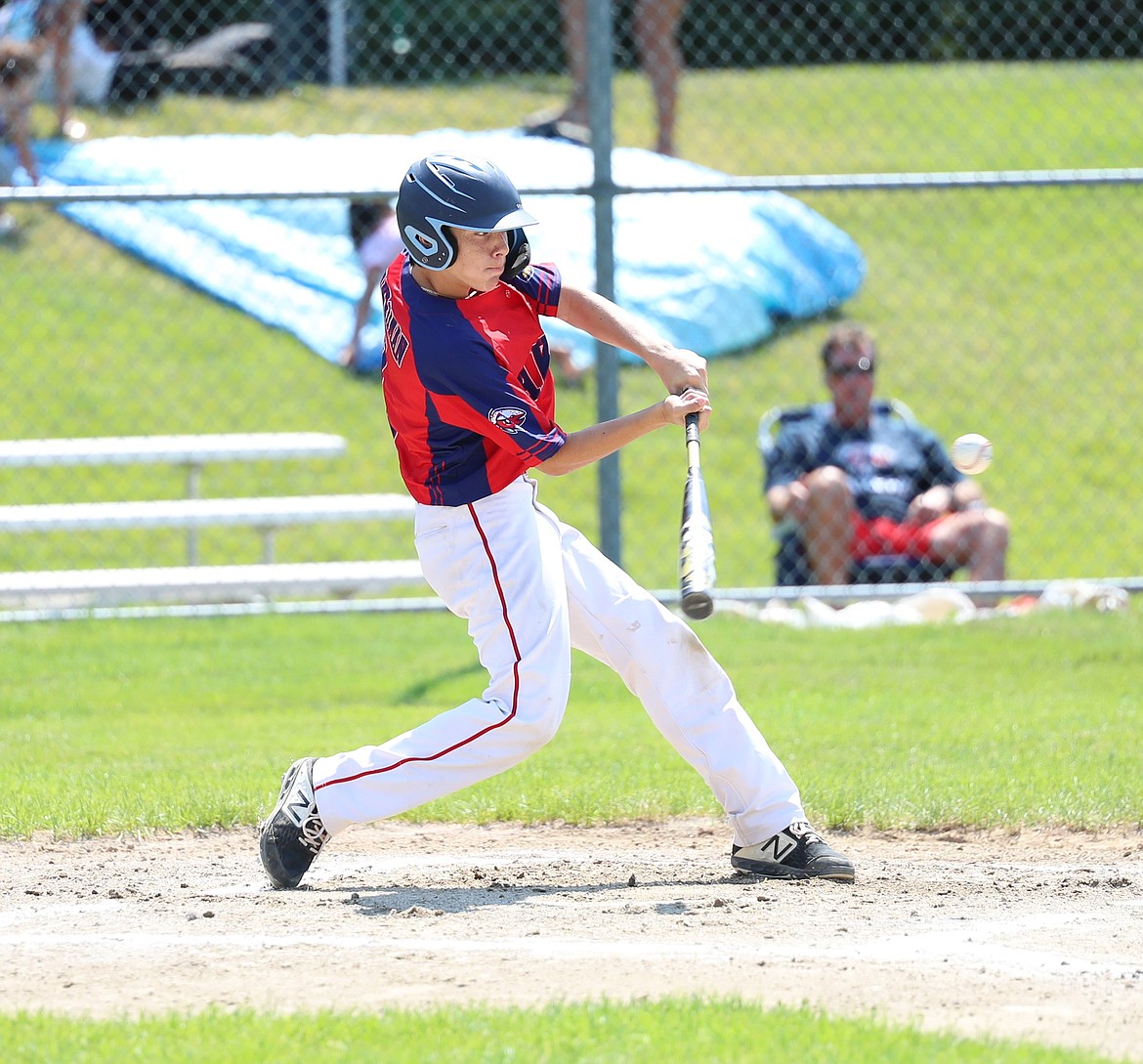 Cole Sanroman fouls off a ball on Friday.
(Photo by DYLAN GREENE)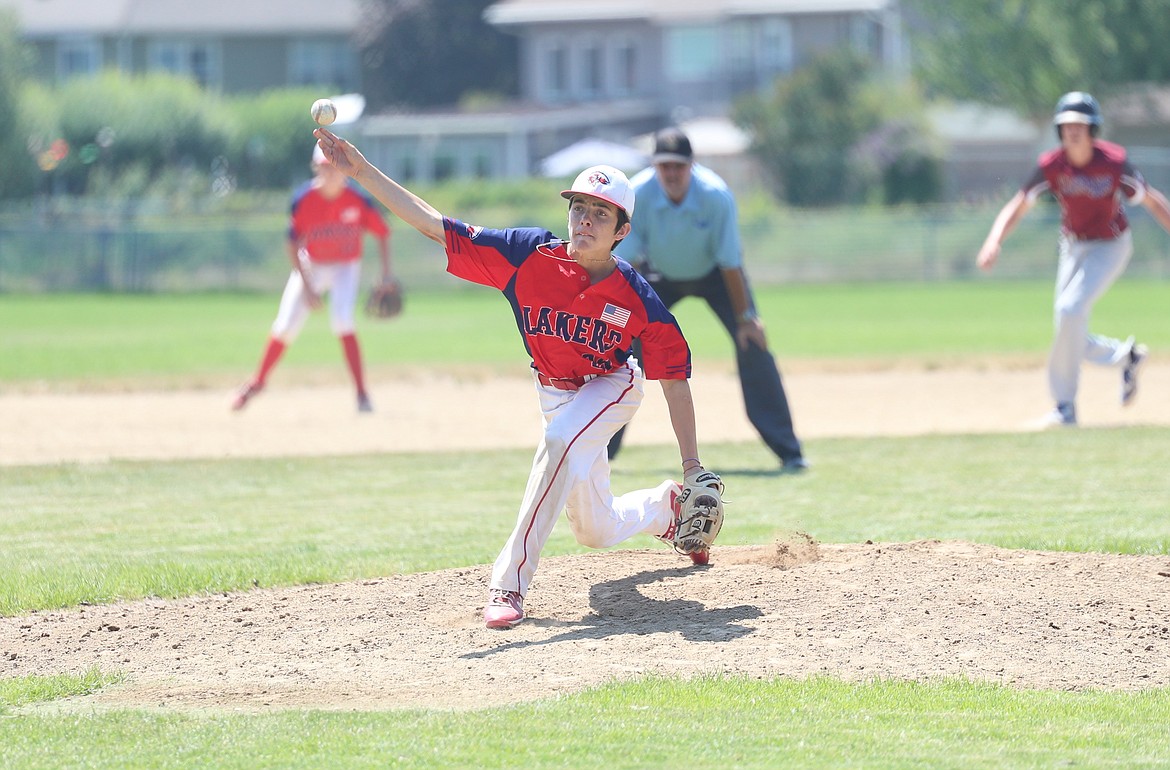 Chase Sanroman pitches on Friday.
(Photo by DYLAN GREENE)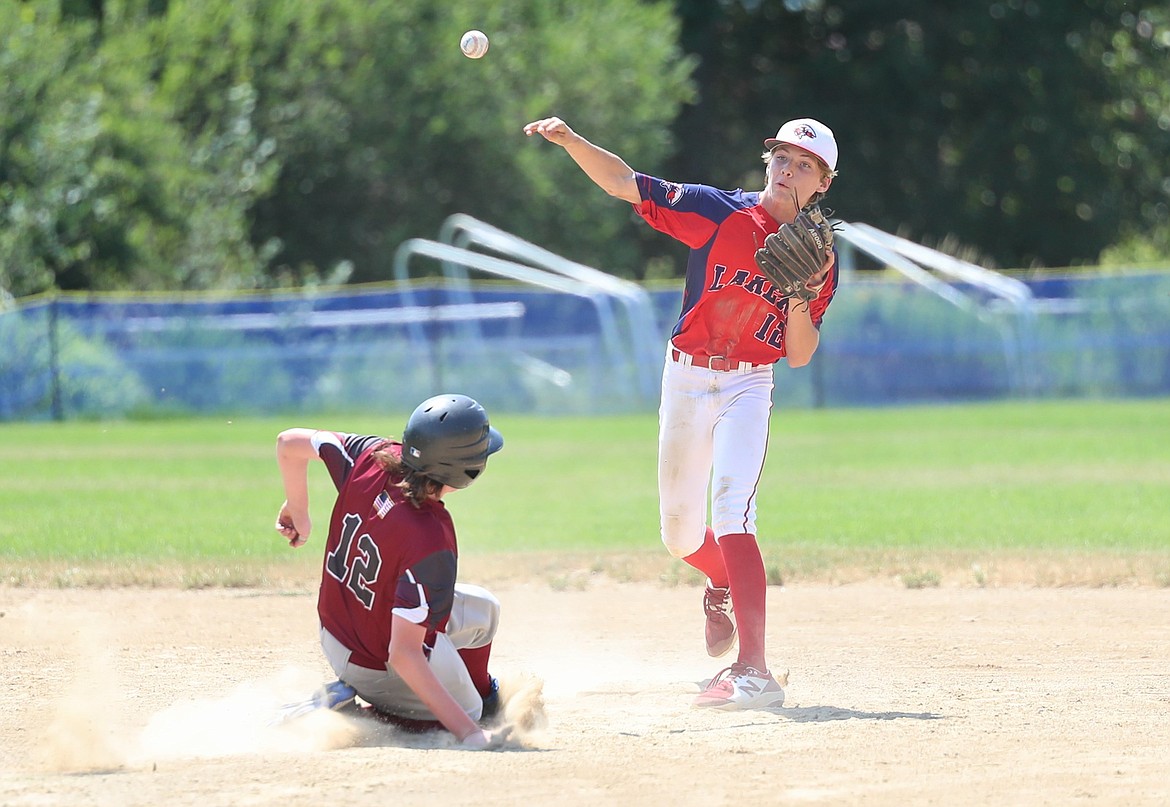 Brady Newhart throws to first base to complete a double play on Friday.
(Photo by DYLAN GREENE)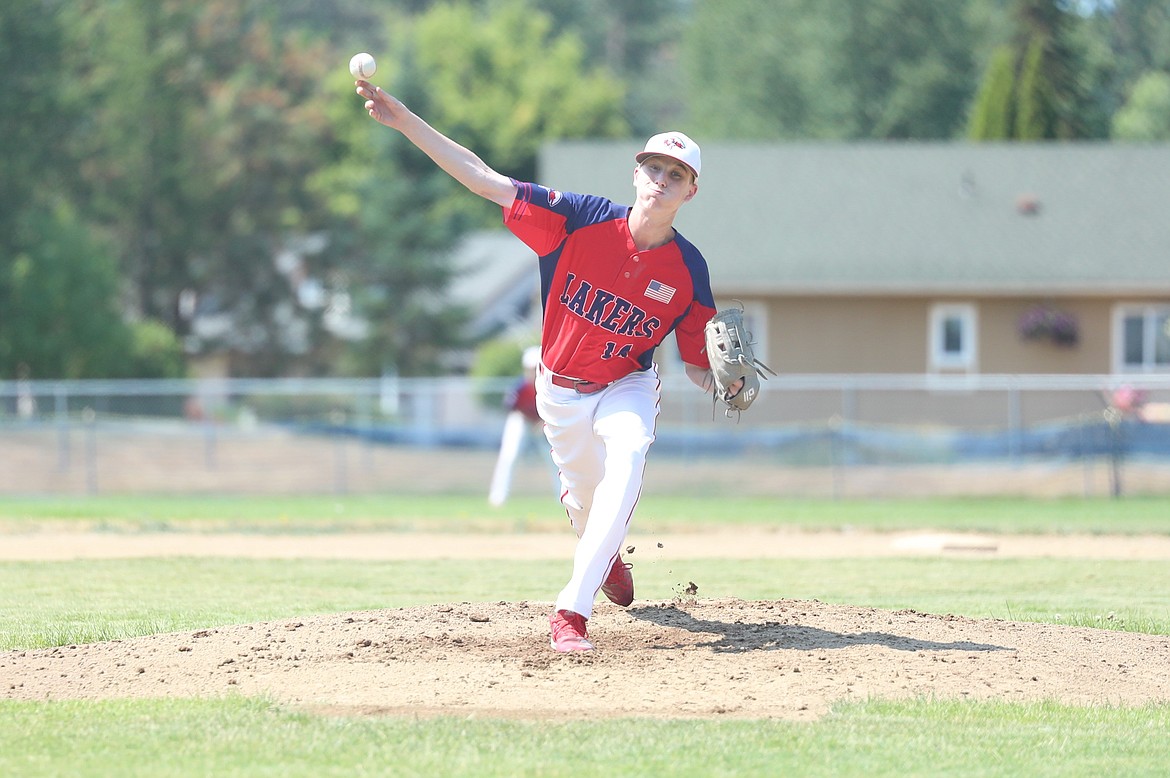 Alex Leverich pitches on Friday.
(Photo by DYLAN GREENE)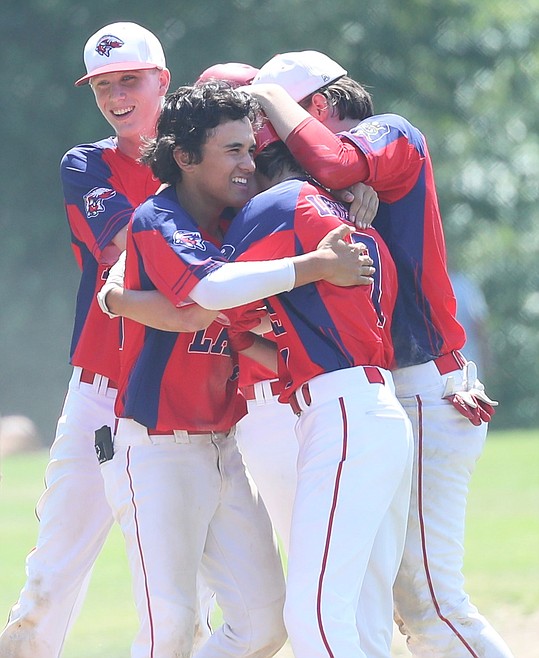 The Lakers swarm Zach Leverich to celebrate his walk-off hit on Friday.
(Photo by DYLAN GREENE)
Previous
Next
by
DYLAN GREENE
Sports Editor
|
July 16, 2021 7:33 PM
SANDPOINT — What a way to open districts.
Entering the bottom of the seventh inning on Friday at Pine Street Field, the 16U North Idaho Lakers trailed 5-2.
But in the face of adversity, the top-seeded Lakers (18-8-1) didn't flinch and rallied for four runs to secure a 6-5 walk-off victory over the eighth-seeded Whitman County Cougars in their first game of the Washington American Legion class A Area 3 tournament.
Head coach Ken Oler could hardly contain his excitement following the dramatic comeback win.
"Yeah, I'm pretty amped," he said after the game.
Jacob Hansen got the rally started in the bottom of the seventh with a lead-off single. He advanced to second on a throwing error by the Cougars. A walk and then a hit batter loaded the bases for the Lakers with no outs and Coleman Inge at the plate. Inge drew a walk to score Hansen and bring North Idaho within two runs.
With the bases still loaded, Brady Newhart was hit with a pitch. That brought in Jason Ringer and made the score 5-4 in favor of Whitman County.
Zach Leverich stepped to the plate looking to tie up the ballgame or end it. He did the latter by hitting a walk-off single to score Chase Sanroman and Inge and complete the comeback.
Oler might have grown a few more gray hairs from the stress and drama of the game, but he said it was worth it. He also wasn't surprised by the fight his team showed.
"We've been doing that all season really," he said. "... They've got a ton of grit and a ton of scrap in them."
Oler said he always preaches to his team to stay calm, cool and collected in pressure situations, and Zach Leverich did just that. He came up clutch, which is something Oler has seen from him on several occasions.
"Zach typically does come up with big hits," he said. "I always say, 'Right guy at the right time.' There's a reason he's in our four hole, he's a base clearer. I was happy to see him make an adjustment on that last pitch."
Whitman County got on the board first in the third. The Cougars scored three runs and North Idaho committed a pair of errors in the inning.
The Cougars added another run in the top of the fourth to grab a 4-0 advantage. The Lakers finally broke through in the bottom of the inning when Hansen hit a single to score Kaipoi Wong-Yuen.
In the top of the sixth, Whitman regained a four-run lead. North Idaho responded in the bottom of the inning on a sacrifice fly by Cole Sanroman to make it 5-2.
Prior to the start of the bottom of the seventh, Oler huddled up with his team in front of the dugout. He reminded them that the pitcher that started the game for the Cougars (Peyton Townsend) was still on the mound and told them he believed this game was still theirs for the taking.
"I knew [their starter] was probably getting tired so I just asked them to be more discipline at the plate and to see some pitches," he said, "and that resulted in a couple walks and a hit batter. They just made the adjustment."
Alex Leverich started on the bump for North Idaho. Over 3 2/3 innings, he allowed five hits and one earned run. Cole Sanroman, Inge and Chase Sanroman came on in relief and combined to allow just three hits and one run while fanning six.
Hansen went 3 for 3 and Zach Leverich 2 for 3 at the plate.
With the victory, North Idaho is now just one win away from securing a spot in the district title game on Sunday and a berth to the state tourney in Washington. The Lakers will face fifth-seeded Shadle Park at 5 p.m. Saturday at Rogers High School in Spokane.
If they lose that game, they can still earn a bid to state by winning a loser-out game at 9 a.m. Sunday.
Oler said he knows what's at stake this weekend, but he's not letting the Lakers get ahead of themselves. He wants them to focus on the present.
"We just treat every game like its a game honestly," he said. "I just try to keep them balanced with every game is important and ... you can't take anybody for granted, you just got to focus on today."
The Lakers rolled through Spokane League play this summer, amassing a 16-1-1 record. They did that with a team made up mostly of players under the age of 15.
Over the past few weeks, Oler said the team has really started to bond and he can't wait to see what they do the rest of this postseason and in the future.
"For the most part we're a young team and when you watch them play its hard to believe that a lot of these guys are only 13 and they are playing in the 16U division," he said.
Whitman 003 101 0 — 5 8 1
North Idaho 000 101 4 — 6 7 4
Peyton Townsend, Bryson Hathaway (7) and Robbie Bammes; Alex Leverich, Cole Sanroman (4), Coleman Inge (6), Chase Sanroman (7) and Zach Leverich and Cole Sanroman (6).
HITS: W — Bell 2, M. Townsend 2, Hathaway 2, P. Townsend, Lobdell. NI — Hansen 3, Z. Leverich 2, Wong-Yuen, A. Leverich. 2B — Z. Leverich.
---