19U Lakers fall to No. 1 Moscow at districts, still alive for state berth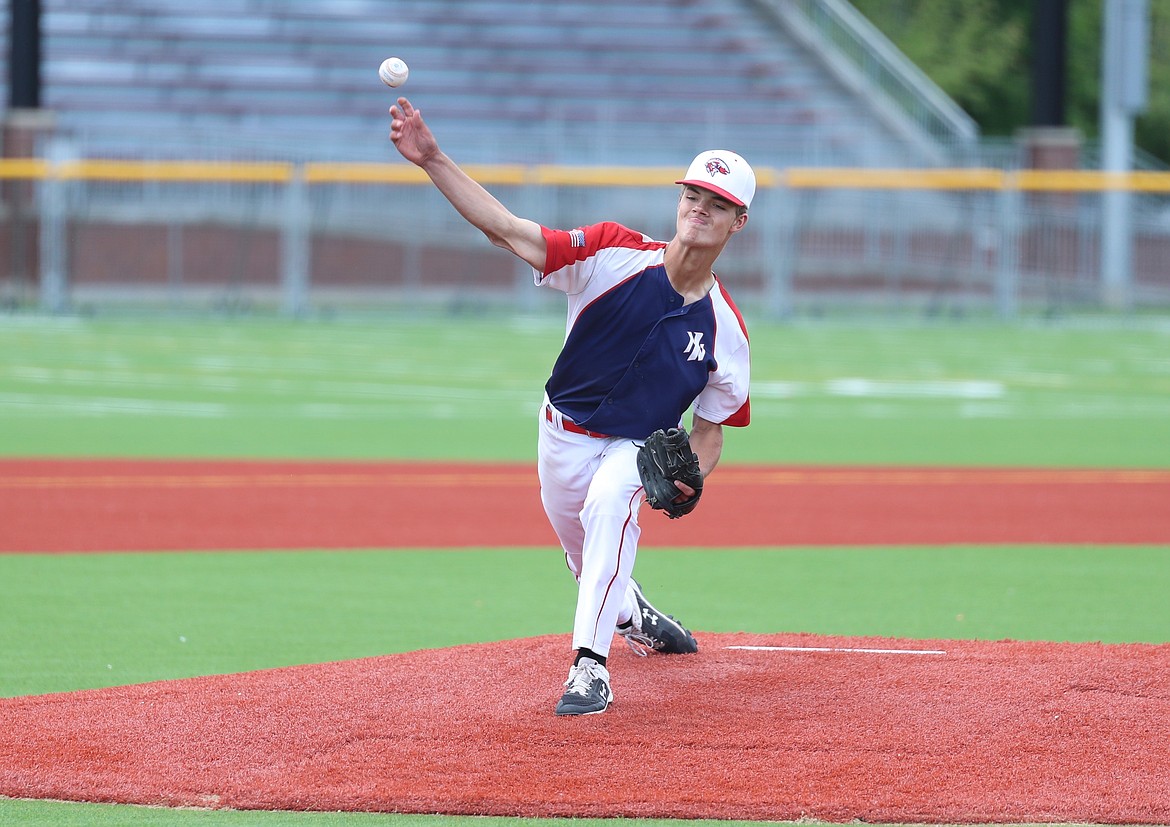 Avery Bocksch pitches during a doubleheader against the Lewis-Clark Cubs on June 12 at War Memorial Field.
(File photo by DYLAN GREENE)
RATHDRUM — The 19U North Idaho Lakers were unable to dethrone top-seeded Moscow during the class A Area A tournament on Friday night at Lakeland High.
Despite the defeat, the Lakers (15-17) are still alive in the double-elimination tournament and can work their way back to the district championship on Sunday afternoon through the losers bracket. They will face the winner of second-seeded Camas Prairie and fifth-seeded Lewis-Clark in a loser-out game at 5 p.m. Saturday in Rathdrum.
North Idaho, the fourth seed, gave the Blue Devils all they could handle on Friday. They jumped out to a 6-4 lead with a five-run third inning. Moscow knotted the game at 6-6 in the fourth, but the Lakers took a 8-6 advantage in the fifth on a two-run homer by Avery Bocksch.
The Blue Devils broke the game wide open in the sixth with six runs and they held on for an 13-8 victory. It was a valiant effort, but the Lakers just couldn't stave off Moscow down the stretch.
North Idaho outhit the Blue Devils 13-10. Kody MacDonald, Trevor Brackett, Zeke Roop and Bocksch all recorded two hits. Bocksch finished with three RBIs.
MacDonald also started on the mound. He surrendered eight runs and seven hits over five innings.
Earlier Friday, the Lakers took down the Lewis-Clark Cubs to advance to the matchup with Moscow.
In that game, North Idaho fell behind 4-3 after four innings but scored five runs in the fifth to surge ahead for good.
The Cubs attempted to mount a comeback in the final inning, but Mick Koch recorded a strikeout with the bases loaded to shut the door on that idea and give the Lakers the 8-6 win.
Koby Barlow went 2 for 2 with two RBIs, Finn Mellander tallied a pair of hits and Mike Riley drove in two runs.
Jack Ringer started on the bump. He allowed seven hits and four runs over four innings of work. Roop tossed four strikeouts over 1 1/3 innings.
Moscow 220 206 1 — 13 10 0
North Idaho 015 020 0 — 8 13 1
Moscow battery unavailable; Kody MacDonald, Zeke Roop (6), Mike Riley (6) and Trevor Brackett and Dillon Terry.
HITS: M — unavailable. NI — MacDonald 2, Brackett 2, Roop 2, Bocksch 2, Barlow, Riley, Mellander, Hannah, Belgarde. 2B — Riley. HR — Bocksch.
North Idaho 120 050 0 — 8 11 1
Lewis-Clark 003 101 1 — 6 9 1
Jack Ringer, Zeke Roop (5), Avery Bocksch (6), Mick Koch (7) and Trevor Brackett; Johnson, Lopez (5), Elliot (6), Konkol (7) and Granlund.
HITS: NI — Barlow 2, Mellander 2, Riley, MacDonald, Belgarde, Bocksch, Brackett, Hannah, Ringer. LC — Bambacigno 2, Ells, Somers, Line, Granlund, Johnson, Goicoa, Elliot. 2B — Riley, Barlow, Brackett, Granlund.
---