16U Lakers hold off Rogers, secure district title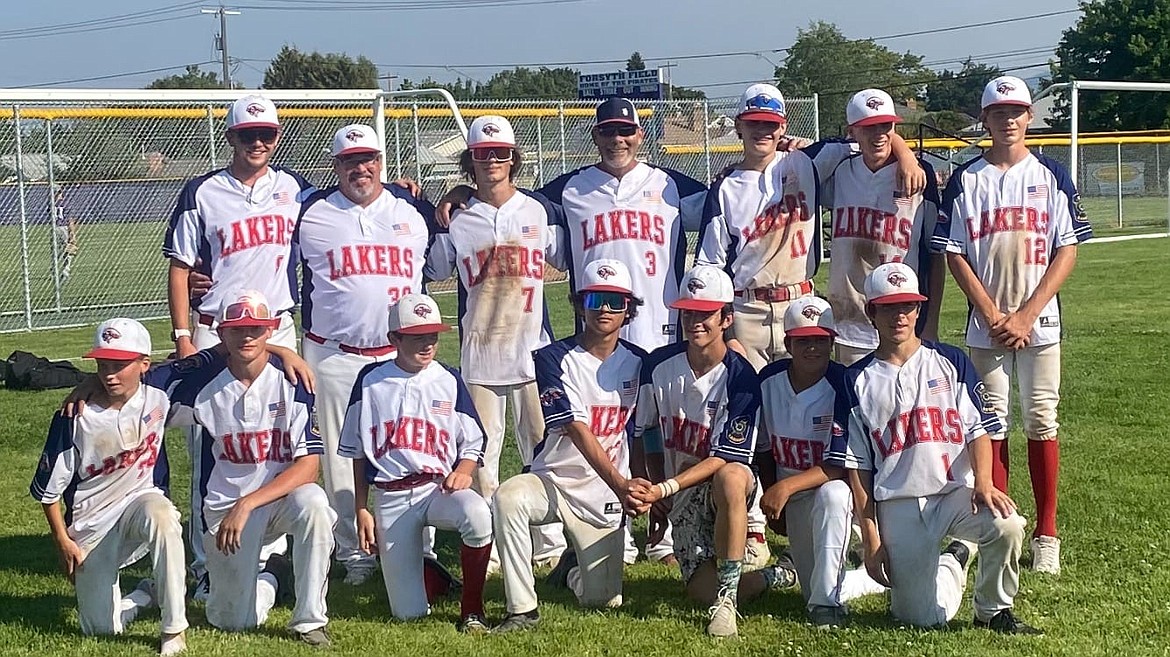 The 16U North Idaho Lakers pose for a photo after claiming the district title on Sunday in Spokane.
(Photo courtesy of BARB OLER)
by
DYLAN GREENE
Sports Editor
|
July 18, 2021 8:58 PM
SPOKANE — The 16U North Idaho Lakers are district champs.
The Lakers held off Rogers of Spokane 9-8 on Sunday to claim the Washington American Legion class A Area 3 tournament title.
The victory also allowed the Peak Sand and Gravel Lakers to secure a top seed to the Washington class A state tournament on July 26-30 at Shadle Park High School in Spokane.
"Overall, the team energy and excitement is extremely high right now," head coach Ken Oler told the Bee on Monday. "It was a pretty joyous reaction."
The Lakers entered districts as the No. 1 seed with a 16-1-1 record in league play and they continued their stellar play in the tournament to punch their ticket to state.
The road to state wasn't easy and the Lakers encountered some nail-biters, including a walk-off victory over Whitman County on Friday to open districts, but for Oler that made the journey that much sweeter.
"We had a few close games which I think just made it more fun, more exciting and helped us grow more as a team," he said.
The 16U team is headed back to state for the first time since 2018 when they won districts and were the No. 1 overall seed at the state tourney. Oler led the 16U Lakers to state in their inaugural season in 2015.
Oler returned to coaching this summer after stepping away from the team for a few years to focus on the first sanctioned American Legion Lady Fastpitch Softball League in Idaho and other Legion responsibilities at the state level.
Oler said he's glad he got back in the dugout and he knows the team wouldn't be where they are today without the help of his assistant coaches, Bill Connolly and Tyler Connolly.
"You don't realize how much you miss it until your back on the field with the guys," he said about baseball.
The Lakers went back and forth with Rogers in Sunday's district championship. The teams traded blows early, but after three innings North Idaho held a 6-5 advantage.
In the top of the fourth, Rogers tied the game at 6-6. However, in the bottom of the inning the Lakers scored three runs on a pair of walks and a sacrifice fly by Cole Sanroman to take a 9-6 lead.
Rogers was able to bring home two runs in the top of the fifth to cut into the Lakers' lead, but North Idaho was able to close out the game down the stretch.
Zach Leverich started on the bump and allowed three hits and three earned runs over three innings while striking out six. Coleman Inge relieved him in the fourth and was on the mound the rest of the way. He struck out three while only surrendering two hits and one earned run.
Jason Ringer went 2 for 3 at the plate.
Prior to the start of the season, Oler predicted the Lakers would make it to state, but he said this team exceeded his expectations by winning the district title. Right off the bat he could this squad had plenty of talent, the only question mark was their youth. However, they showed Oler very quickly that they were mature beyond their years and extremely coachable.
Oler said the Lakers also displayed an uncanny ability to never get rattled.
"You got to tip your hat to the players," he said. "What they've accomplished is a big deal, especially given their age."
On Saturday, the Lakers locked up a trip to state with an 11-7 victory over Shadle Park in the semifinals.
Chase Sanroman and Alex Leverich each had a pair of hits and RBIs, and Cole Sanroman drove in two runs.
The Lakers open play in the eight team double-elimination state tournament at 7 p.m. next Monday at Shadle Park High.
"Our focus remains on just getting better," Oler said. "We've grown quite a bit this season and we're not done growing. We still have opportunity for improvement, so we're just going to be focusing on the next stage in our evolution."
Rogers 122 120 0 — 8 5 1
North Idaho 213 300 X — 9 6 1
Jaysen, Justice (4) and Karim; Zach Leverich, Coleman Inge (4) and Coleman Inge and Cole Sanroman.
HITS: R — Jaysen, Justice, Skyler, Jaxson, Dylan. NI — Ringer 2, Newhart, A. Leverich, Inge, Co. Sanroman. 2B — Newhart.
Shadle Park 202 003 0 — 7 9 5
North Idaho 220 700 X — 11 8 2
Shadle Park battery unavailable; Cole Sanroman, Chase Sanroman (6) and Coleman Inge.
HITS: SP — unavailable. NI — Ch. Sanroman 2, A. Leverich 2, Hansen, Ringer, Inge, Co. Sanroman. 2B — Ch. Sanroman, Co. Sanroman.
---