19U North Idaho Lakers drop heartbreaker to Mountaineers at districts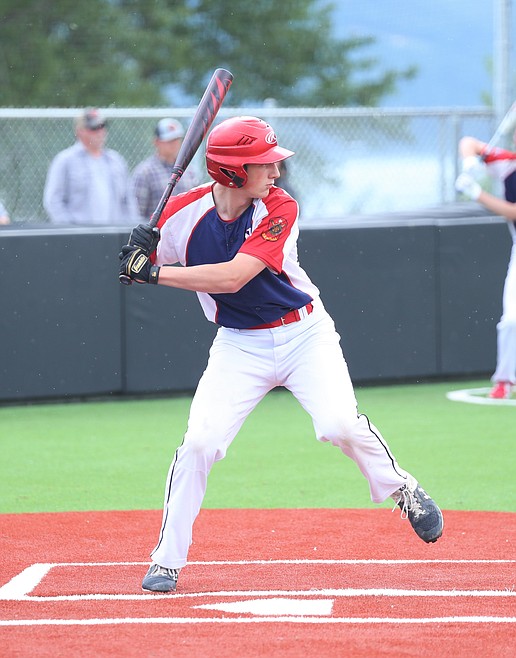 Zeke Roop prepares to swing at a pitch during the North Idaho Lakers doubleheader against the Lewis-Clark Cubs on June 12 at War Memorial Field.
(Photo by DYLAN GREENE)
RATHDRUM — The pursuit for a state berth for the 19U North Idaho Lakers came to an end on Sunday at districts.
The Legion team suffered a heartbreaking loss to the Northern Lakes Mountaineers in a loser-out game in the class A Area A tournament.
The Lakers were able to build a 4-0 lead in the top of the second and clung to a 4-2 advantage for most of the game. Then in the bottom of the sixth, the Mountaineers scored three runs on a bases-clearing triple to take a 5-4 lead.
In the top of the seventh, the Lakers were able to get the tying run to third base, but a strikeout ended their hopes of a comeback.
The Mountaineers outhit the Lakers 8-2. Zeke Roop recorded both hits for North Idaho.
Avery Bocksch was on the bump the entire game. He allowed eight hits and three earned runs over six innings while striking out nine.
On Saturday evening, the Lakers took down the Lewis-Clark Cubs 7-1 to stay alive in the district tournament.
Everett Hannah started on the mound and lasted 6 2/3 innings. He surrendered eight hits and one run.
Mike Riley went 2 for 4 with two RBIs, and Kody MacDonald and Roop each had three hits.
The Lakers finish the season with a 16-18 record.
North Idaho Lakers 310 000 0 — 4 2 1
Northern Lakes 020 003 X — 5 8 1
Avery Bocksch and Trevor Brackett; Wyatt Kitchin, Payden Wysong (7) and Sam Pemberton.
HITS: NIL — Roop 2. NL — Knight 2, Powell, Pemberton, Horn, Vandever, Schaffner, Wysong. 3B — Powell.
Lewis-Clark 000 001 0 — 1 9 1
North Idaho 030 202 X — 7 12 1
Elliot, Bambacigno (3), No. 24 (6) and Granlund; Everett Hannah, Koby Barlow (7) and Mike Riley.
HITS: LC — Goicoa 2, Somers, Line, Granlund, Johnson, Slagg, Konkol. NI — Roop 3, MacDonald 3, Riley 2, Barlow, Mellander, Koch, Bocksch. 2B — Bocksch, MacDonald, Konkol. 3B — Koch.
---