Nelson honored as top chamber volunteer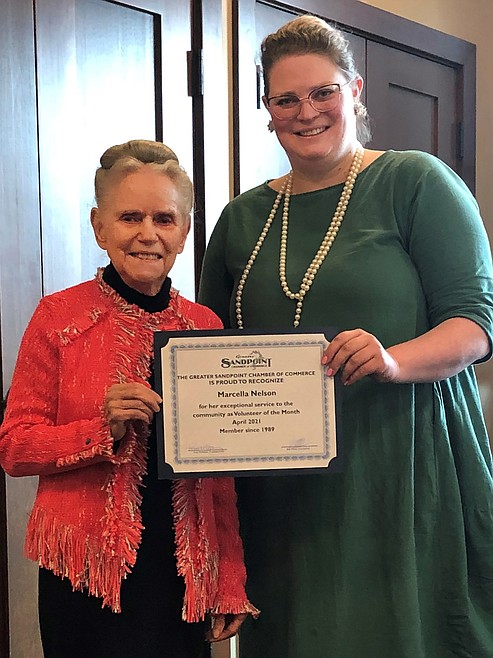 Marcella Nelson is presented with the April Volunteer of the Month honors by Ricci Witte from the Greater Sandpoint Chamber of Commerce.
(Courtesy photo)
by
RICCI WITTE Contributing Writer
|
June 2, 2021 1:00 AM
The Greater Sandpoint Chamber of Commerce honored Marcella Nelson as April's Volunteer of the Month at the April 8 general membership luncheon.
Prior to extensive contributions to area non-profits, Nelson had an expansive professional career. Nelson was born in Saskatchewan, Canada, in 1928 to American-born parents. When she was 3, the family moved to Lewiston and eventually settled in Bonners Ferry, where Nelson grew up on the family farm.
While still in school, she worked as a farm hand. In 1947, Nelson began a long career with what is now the Idaho Department of Labor. She worked there for the next 37 years under various job titles: stenographer, interviewer, claims examiner, employment counselor, unemployment claims supervisor, assistant manager, and office manager, just to name a few.
Nelson retired from the department in 1984 and after just three days, she realized retirement wasn't for her. She saw an ad in the Daily Bee for a position with the Greater Sandpoint Chamber of Commerce. She got the job and held it for the next 20 years.
In 2004, the Ponderay Community Development Corporation asked her to be their manager, a position she held for nearly 10 years. When she "retired" once again, after now working for 67 years, she dedicated her time to volunteering.
Nelson serves on the POAC board, Festival at Sandpoint board of directors, and Ponderay Rotary. She is also a member of the Greater Sandpoint Chamber of Commerce, Bonner General Health Advisory Council, and the Community Assistance League. She is also a supporter of Kinderhaven, Panhandle Alliance for Education, Panida Theater (where she was a long-time board member), Women of Wisdom and the Litehouse YMCA, whose gym is witness to Nelson doing aerobics since SWAC opened in 1984.
Many fellow board members speculate as to how she can convince people to donate or where her seemingly endless energy comes from. Their only explanation: "The Power of the Bun."
With most events canceled due to COVID-19, Nelson missed the in-person meetings but that didn't slow her down! She managed to adapt very well to the new world of Zoom. Quite an accomplishment for a farm girl born in 1928.
If anyone has ever deserved to be honored for their volunteerism, it is Marcella Nelson.
---