With the help of 3 alums, SHS girls basketball sees successful start to summer play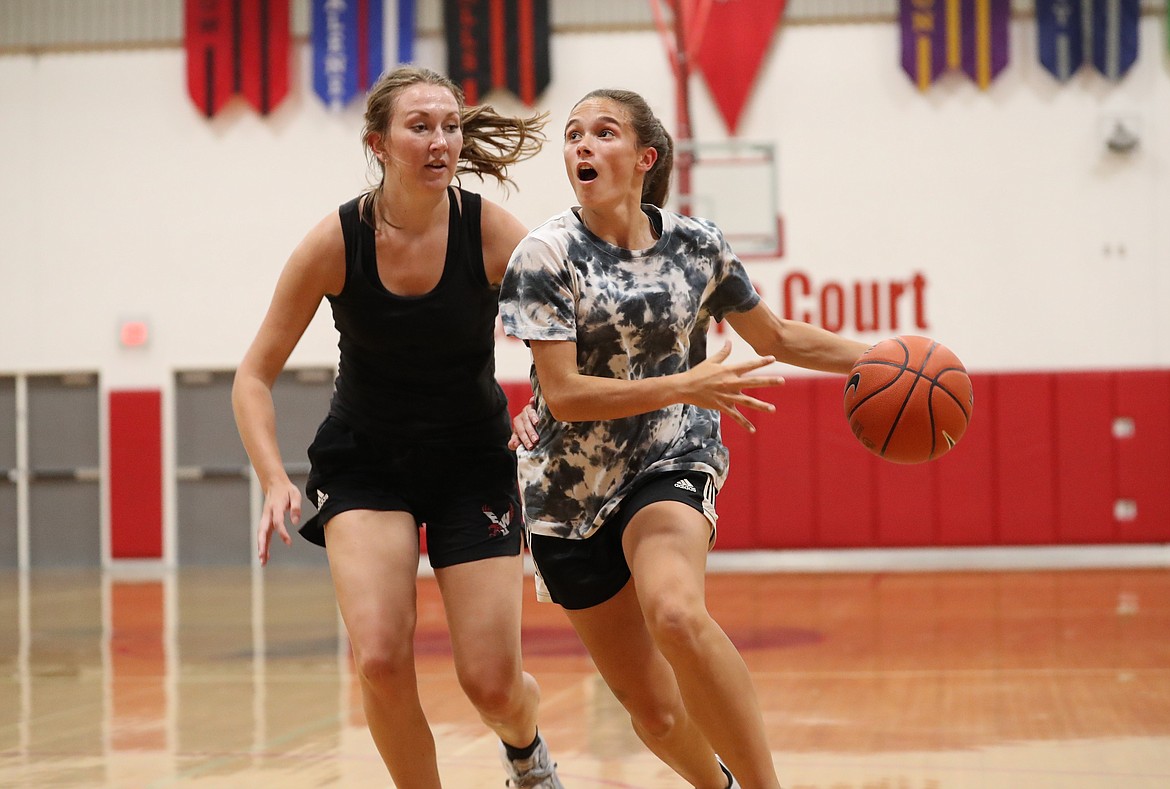 Aliya Strock (right) drives to the basket while SHS alum Grace Kirscher defends her during practice at Les Rogers Court on Thursday.
(Photo by DYLAN GREENE)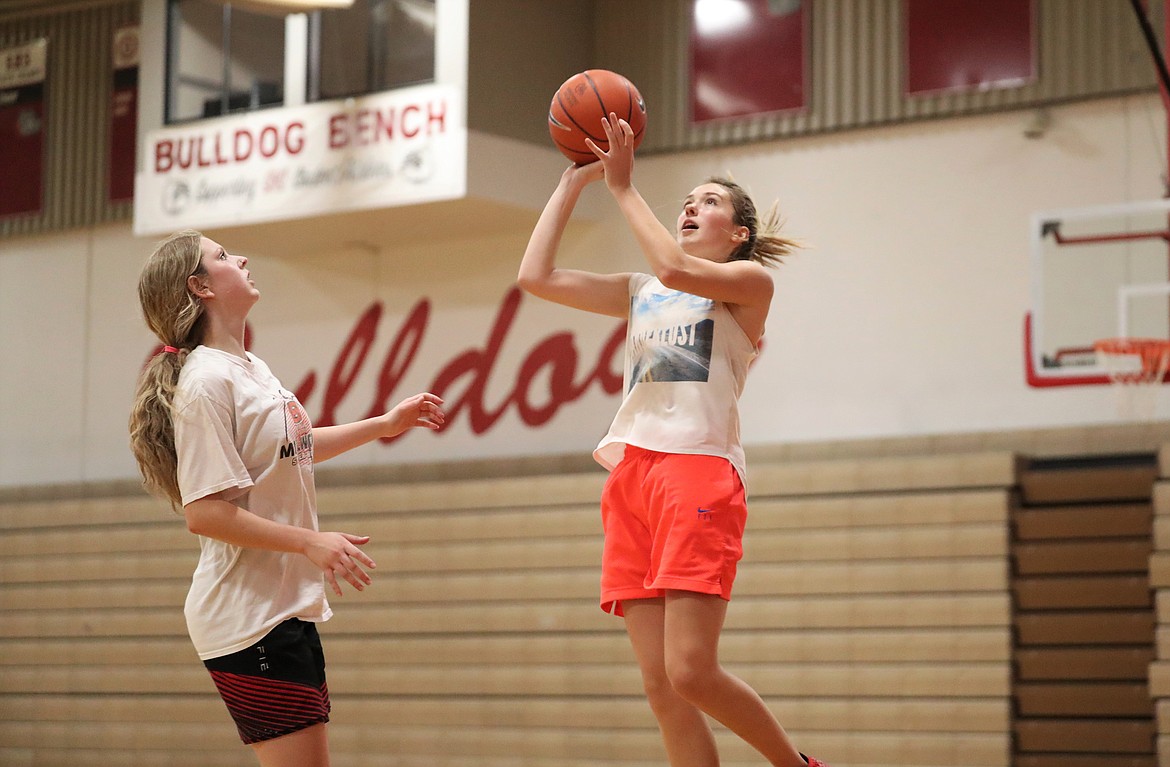 Tru Tomco (right) goes up for a shot over Daylee Driggs during practice on Thursday.
(Photo by DYLAN GREENE)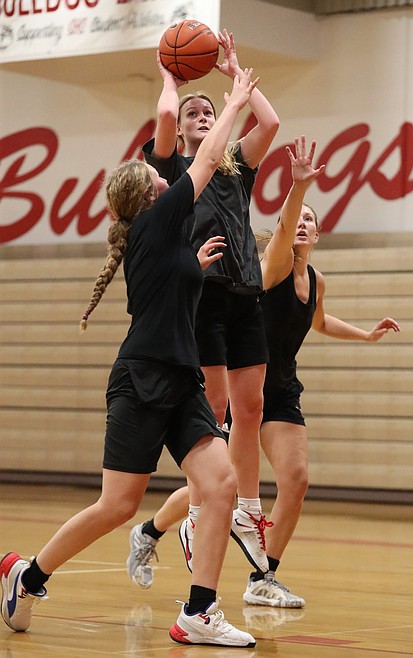 Sofia Platte (center) shoots over Karlie Banks (left) on Thursday.
(Photo by DYLAN GREENE)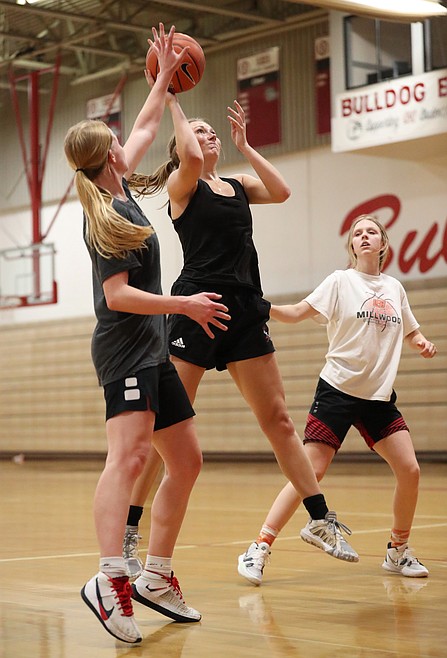 Sofia Platte (left) blocks a shot attempt by Grace Kirscher (center) during practice on Thursday.
(Photo by DYLAN GREENE)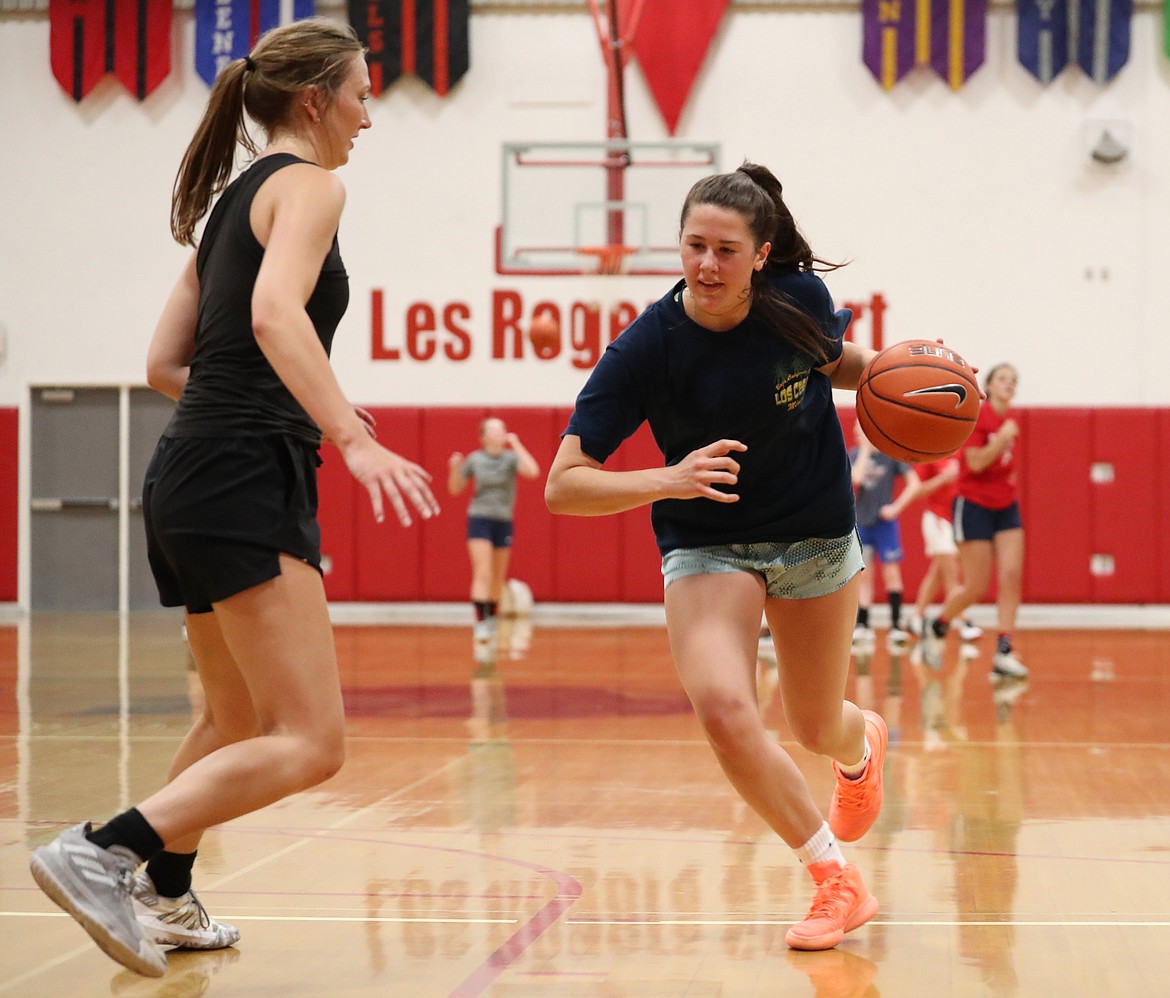 Livia Owens drives toward the basket on Thursday.
(Photo by DYLAN GREENE)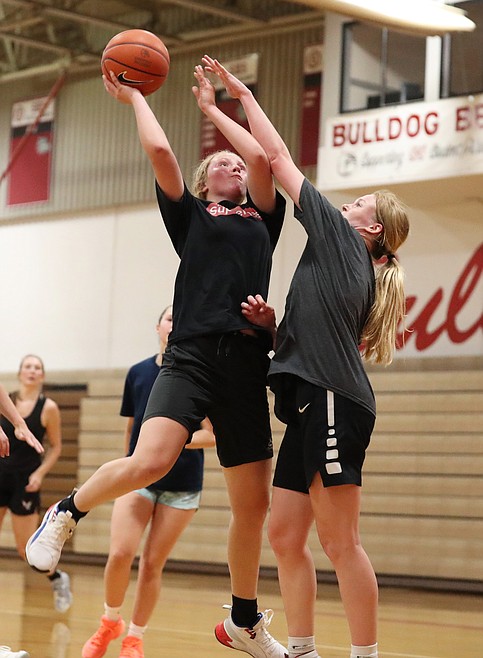 Karlie Banks tries to shoot over Sofia Platte during practice on Thursday.
(Photo by DYLAN GREENE)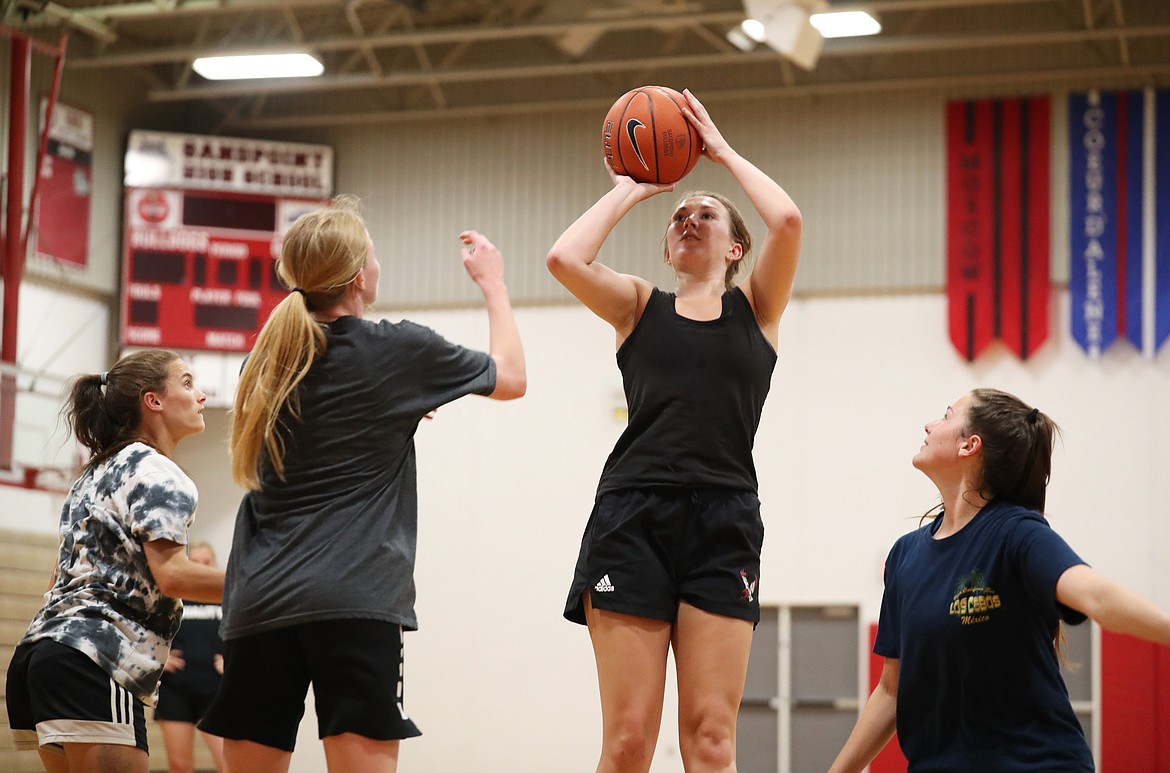 Grace Kirscher goes up for a jumper over a swarm of defenders during practice on Thursday.
(Photo by DYLAN GREENE)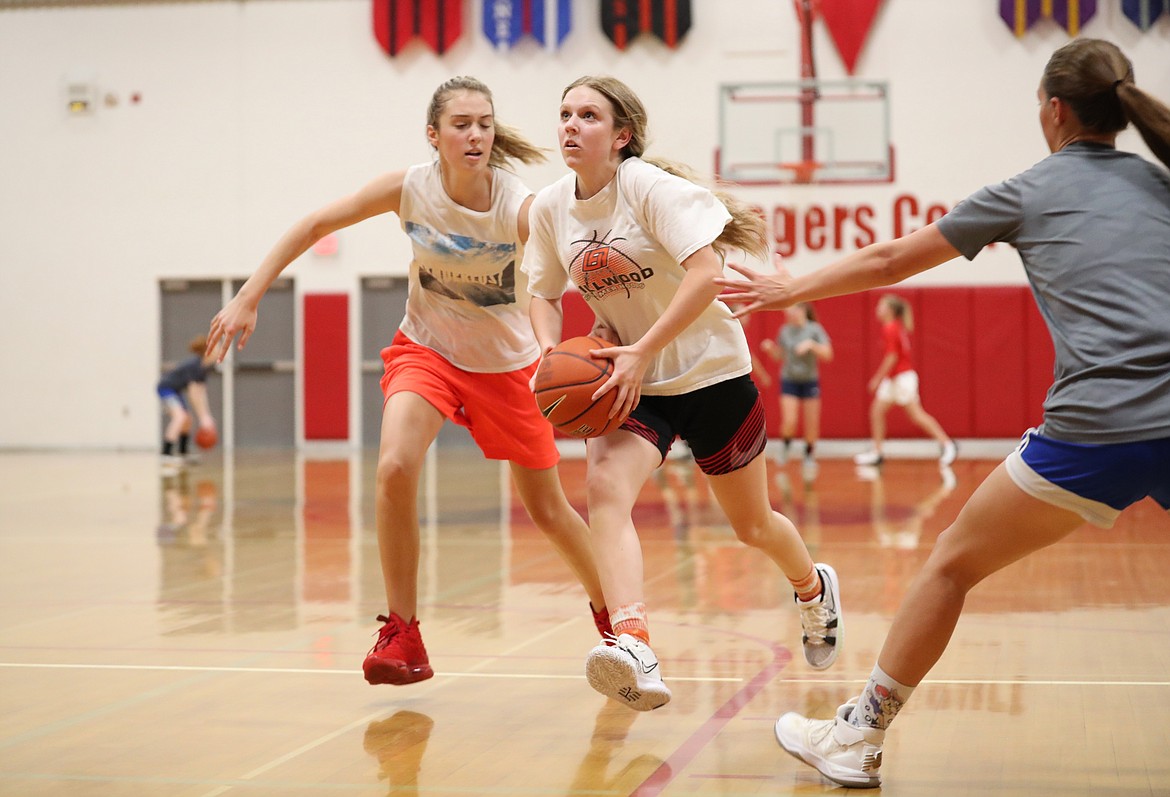 Daylee Driggs drives through the heart of the defense to attack the basket during practice on Thursday.
(Photo by DYLAN GREENE)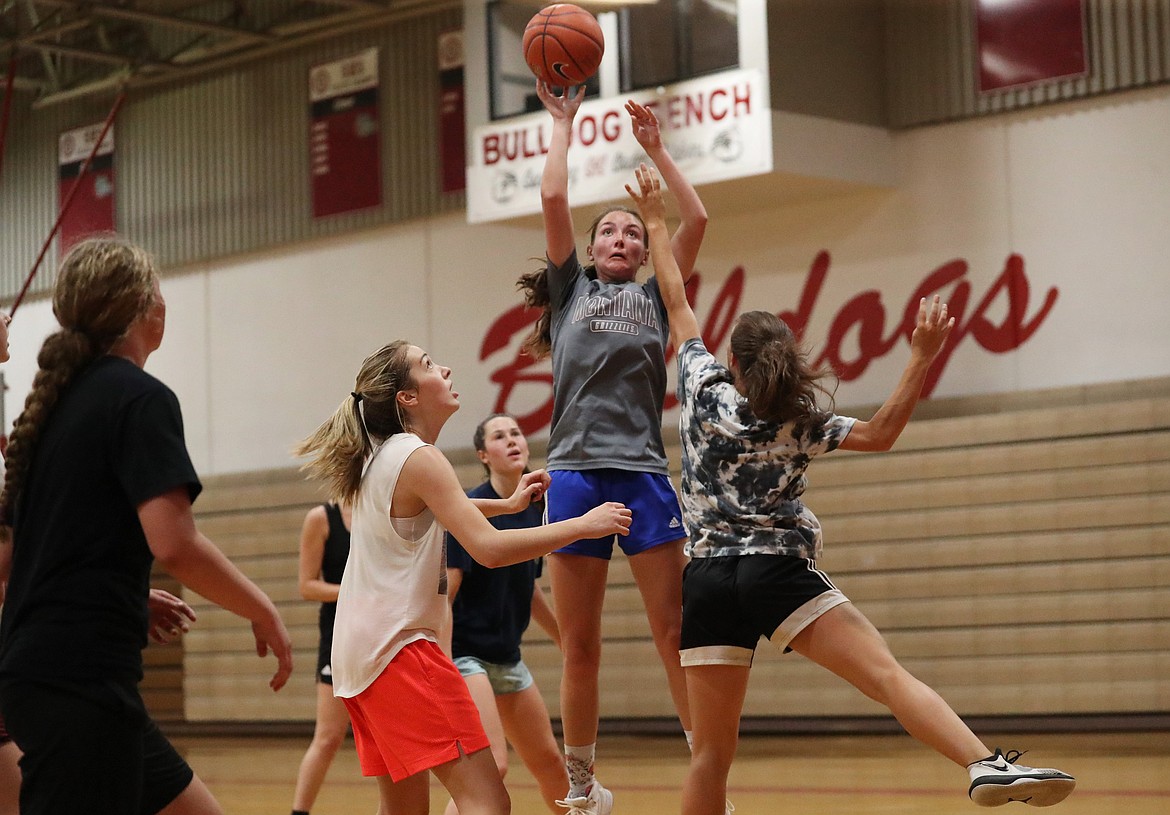 Anna Reinink shoots over a pair of defenders during practice on Thursday.
(Photo by DYLAN GREENE)
Previous
Next
by
DYLAN GREENE
Sports Editor
|
June 4, 2021 1:00 AM
SANDPOINT — The summer season is in full swing for Sandpoint girls basketball, and the team is taking full advantage of every minute they get inside the gym after what happened to their offseason plans last year.
In 2020, COVID-19 wiped away the Bulldogs' regular summer season. Head coach Will Love was still able to organize skill development sessions and limited open gyms as the state moved through stages of Gov. Brad Little's reopening plan, but everything happened within the program. SHS never encountered another team.
Fast forward a year later, and the Bulldogs have already gotten one scrimmage under their belt. This past Tuesday, Sandpoint took a short drive down U.S. 95 to face a talented Lake City team. It was the first of hopefully many games for the Bulldogs this summer.
Even with things opening up over the last few months, Love said there is still a lot of uncertainty surrounding Sandpoint's summer plans. Just two days ago, the University of Montana canceled its Lady Griz Camp the Bulldogs were set to attend.
In 2018 and 2019, Sandpoint competed in the West Valley Summer League in early June, but that's not happening this summer because schools in Washington are just getting ready to wrap their high school basketball seasons.
"Things are a lot different than last summer, obviously," Love said, "but there is still plenty of stuff up in the air."
Despite all of that, Sandpoint still has several events scheduled for this month to continue growing the program. On June 18-20, the team will head to Lewis-Clark State College for a tournament. On June 21-24, SHS will host a youth camp at Les Rogers Court for third to eighth graders. And on June 26-27, the squad will participate in the West Valley summer tournament.
Between the two tournaments, Love said the Bulldogs should get to play about 10 games.
"The girls are eager to play basketball, especially the varsity group," he said.
A solid summer season for the Bulldogs consists of 15-20 games and Love is hoping to fill out the offseason schedule with some games against the likes of Timberlake, Kellogg and Post Falls to meet that goal.
Love has also heard rumblings of some tournaments or camps in North Idaho that may form over the next few weeks in lieu of the Lady Griz Camp being canceled.
After a year like 2020, Love doesn't get caught off guard anymore when events are taken away at the last second. Late calls and emails informing him of cancellations have become part of the job. There are no more surprises, but the 2021 offseason certainly has more promise than last year.
"Last summer there really wasn't hope," he said. "We knew that maybe we'd get a game in or two, but reality was that we didn't. This year, there's a lot of hope."
Over the past few weeks, the Bulldogs have been holding open gyms and practices pretty regularly, and they just recently wrapped up their Summer Kickoff Camp. Throughout those events, SHS girls basketball alums and college standouts Madi Schoening, Grace Kirscher and Dawson Driggs have been on hand to offer advice and tips to the future stars of the program.
"They've been able to help out quite a bit and it's been cool to regularly have three generations of Sandpoint basketball players in the gym," Love said.
Schoening, a 2016 SHS grad, just wrapped her collegiate career at the University of Montana and is back in Sandpoint to start the new chapter of her life, which will involve coaching. Kirscher, a 2017 SHS grad, played her third season at Eastern Washington University this winter, but recently announced she is transferring to Western Colorado University. Driggs, a 2020 SHS grad, saw some playing time this winter during her freshman season at Whitworth University.
All three alums racked up quite the collection of league and state honors during their careers as Bulldogs and now they are passing their knowledge on to the next generation.
On Thursday, Kirscher could be seen trading elbows with the current high school players on the court while Schoening watched from the sidelines and coached up the girls. All three have embraced those two roles over the past month, and enjoyed every minute of it.
"They are just so fun to coach," Schoening said. "It's a lot of kids that I already know or knew in the community, so coming back five years later and seeing how grown up they are is really cool."
It would be difficult to find another girls basketball program across the state that has three grads giving back to their alma mater. The trio hopes seeing and playing with three athletes that made it to the next level gives the current Bulldogs a little extra motivation.
Kirscher said she wants to show the girls how far hard work can take you.
"I think it's really hard in a small town to kind of see the light in a way," she said, "and so just to be able to see examples of that and to be able to talk to them about it is something I'd like to pass on."
Kirscher, who averaged 10.1 points per game at EWU this season, announced in early May that she planned on moving on to Western Colorado, a Division II school in the Rocky Mountain Athletic Conference, to finish out her college career.
It wasn't an easy decision, but Kirscher can't wait to get to her new home.
"The coaching staff at Western they really spoke to a lot of the values that I had and I just immediately connected with all of the girls," she said. "... It is everything that I'm looking for."
Throughout their summer activities, the Bulldogs have had up to 25 players turn out. That number is much higher than what Schoening and Kirscher had during their careers at SHS.
The duo said they were lucky if they saw five kids show up regularly for summer activities.
"I'm just excited there's enough to play," Kirscher said. "Madi and I never really had that, so to see everyone out here working in the summer I think is phenomenal."
When Schoening and Kirscher were in high school, they said youth programs like Sandpoint Future and the Basketball School of Sandpoint weren't around or were just starting to take shape. Now with the increased opportunities for basketball, Sandpoint is seeing numbers on the court at the high school level take off and Schoening loves it.
"We're finally starting to see how that's turning out," she said.
As a coach, Love said it was difficult to not get a normal summer season in 2020, but he learned to carry on.
"Life is going to throw you some stuff sometimes and you can dwell on that or you can figure things out," he said.
Love knows the Bulldogs would have benefited greatly from a full summer this past season because reps matter and can be the difference between winning and losing games.
So far, Love has been impressed with what he has seen from his team.
"We've got a lot of experience coming back and some of the kids that are knocking on the door for a varsity spot are looking really good," he said.
June might be the most important month of the 2021-22 season for the Bulldogs because the summer is where champions are made.
"It's a huge part of program development," Love said, "and so I think if you look at any of the programs that compete at state, you're going to see they have a vibrant summer program."
---