Spokane-based construction company adds Sandpoint office
One of the Northwest's local construction companies has officially expanded to Sandpoint.
Spokane-based Ramey Construction Co. has been in business since 1983, and has long served the Sandpoint community, said Doug Lutz, assistant project manager.
The increased demand for housing was the final push that made them pull the trigger on the local office, he said, but the company had been thinking about adding an office in Sandpoint for years.
"We started hiring guys from North Idaho a while ago, and we wanted them to be able to work close to home," he said. "We have more than 40 guys and we're in the process of hiring more."
The company does commercial, residential and custom high-end residential work, Lutz said. Everything is custom-designed and built.
The company also works to keep costs as low as possible by doing work including framing and other projects in-house, and informing customers on different cost-saving options, he said.
"We really like pretty strong client interaction, and we have a tremendous amount of transparency," Lutz said. "If we can find something at a cheaper cost we'll let you know, 'Hey, if you're trying to save some money this might help.'"
The company works as a team, and includes the clients in that team, he said, and includes clients in that team to ensure the outcome customers want.
He, along with project manager Levi Bush and Amanda Langston, project coordinator, run the Sandpoint office, he said.
Ramey Construction Co. can be found at 509 North Fifth Ave, Suite G in Sandpoint, or online at rameyco.com.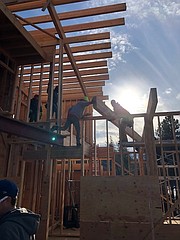 ---