Innovia Foundation honored as May Business of the Month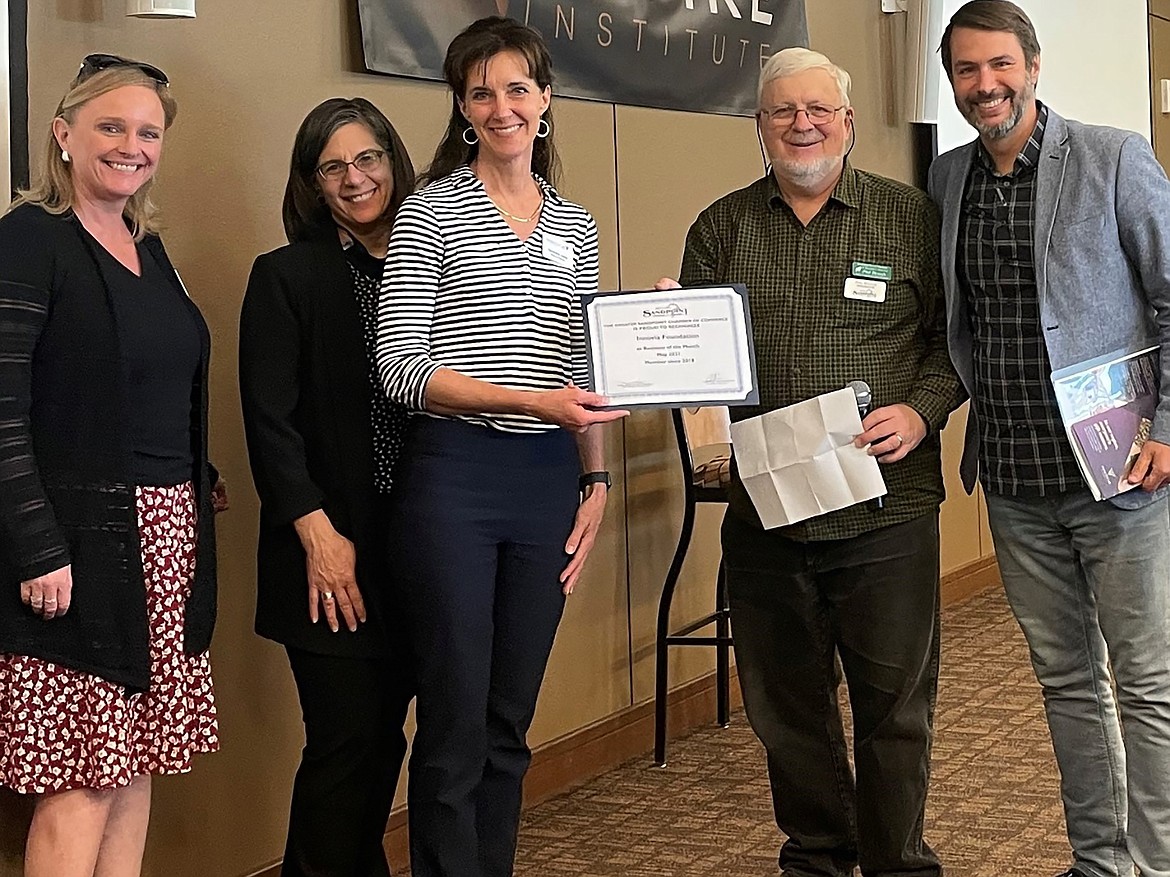 Phil Hough, second from right, of Friends of Scotchman Peaks Wilderness, presents Amy Voeller, Molly Sanchez, Geraldine Lewis and Aaron McMurray of Innovia with the Greater Sandpoint Chamber of Commerce's May Business of the Month Award.
(Courtesy photo)
SANDPOINT — The Greater Sandpoint Chamber of Commerce has selected Innovia Foundation as their May 2021 Business of the Month.
Friends of Scotchman Peaks Wilderness Executive Director Phil Hough presented the certificate to Innovia's board member, Geraldine Lewis, at the May 10 general membership luncheon. They have been members of the chamber since March 2018.
Innovia is a community foundation focused on 20 counties in Eastern Washington and North Idaho for the last 46 years. Their mission is to ignite generosity that transforms lives and communities. To do that, the foundation collaborates with communities throughout the region to identify and address local needs and priorities.
Innovia Foundation was a cornerstone in our region's climb through COVID-19 shutdowns and pandemic relief. In the past year, community grants in both Bonner and Boundary counties includes 14 awards, totaling $129,000. Innovia also helped fund two rounds of Small Business Recovery grants in the northernmost counties and three rounds of COVID-related grants of almost $100,000 each.
There are many ways Innovia is looking into the future health of our communities as well, chamber officials said. They have active campaigns focused on civic leadership, youth and education, health and wellbeing, arts and culture, quality of life and economic opportunity. They have recently launched the 5% Campaign, aimed at directing 5% of generational wealth transfers back into community-focused programs.
For all the foundations contributions, Greater Sandpoint Chamber of Commerce officials said they were proud to recognize the Innovia Foundation as their May Business of the Month.
Information: Innovia Foundation, innovia.org or 509-624-2606
---