Family Fun events packed with education, entertainment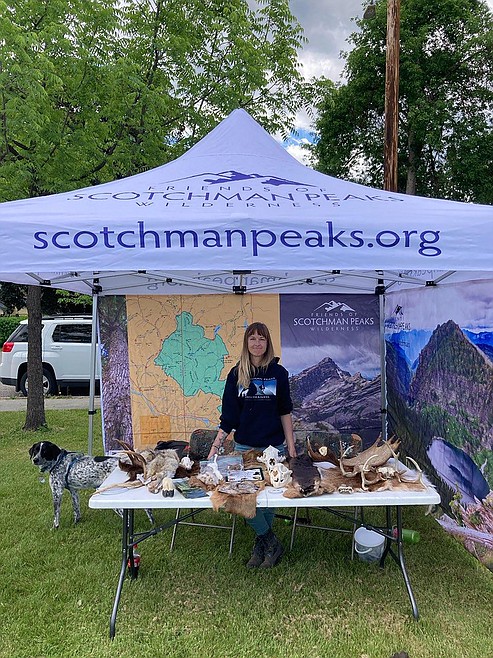 Amy Pearson, Friends of Scotchman Peaks Wilderness' northwest Montana outreach coordinator, teaches kids about the animals in the region's wild backyard.
(Photo courtesy FRIENDS OF SCOTCHMAN PEAKS WILDERNESS)
You can always count on the great outdoors to bring families together.
See for yourself when you swing by the Friends of Scotchman Peaks Wilderness' Family Fun in the Forest events. Come for the games and hands-on activities. Stay for all the handy information and outdoors know-how you'll pick up along the way!
The first Family Fun in the Forest event lands Sunday, June 13, from 2-4 p.m. (Pacific time) at the Lakeview Park pavilion. Sponsored by Sandpoint Parks and Recreation and FSPW, the event focuses on learning about the plants and animals in the community's wild backyard. After all the fun and games, FSPW officials said you'll be able to spot and identify the plants and animals that make Scotchman Peaks so great. Skulls, antlers, fur pelts and other learning tools will let people really dig into the coolest facts of the natural world, they said in a press release.
After the event, residents are invited to put some of that new knowledge to when FSPW staffer Kelsey Maxwell guides an ecology expedition up Goat Mountain on Wednesday, June 16. The expedition is the perfect time to put that identification knowledge to the test. While the trail is steep, the pace will be slow and there will be lots of breaks to talk about the trees, plants and animals living on the mountain.
"Will we make it to the top?," FSPW officials said in the release. "Probably not, but that's OK, because it's the journey that matters. It all starts at the Goat Mountain Trailhead 9 a.m." (Mountain time).
A number of other Family Fun hikes will be held during the summer. FSPW will host a wildflower walk along Blacktail Creek, adventures in the Ross Creek Cedars, huckleberry hikes on Pillick Ridge, and more. Plus, if you can't make this weekend's Family Fun in the Forest event in Sandpoint, there will be another one on Sunday, June 27.
Each Family Fun hike covers a different range of difficulty and new educational topics. Regardless of the overall challenge, hikes will go slowly as the group checks out the environment and smells the flowers — literally! Visit www.scotchmanpeaks.org/hikes-events-schedule to get all the details for each hike and event.

Looking for more ways to explore your wild backyard this summer? Keep an eye on www.scotchmanpeaks.org for more great events!
---