Lions work to make Fourth best one yet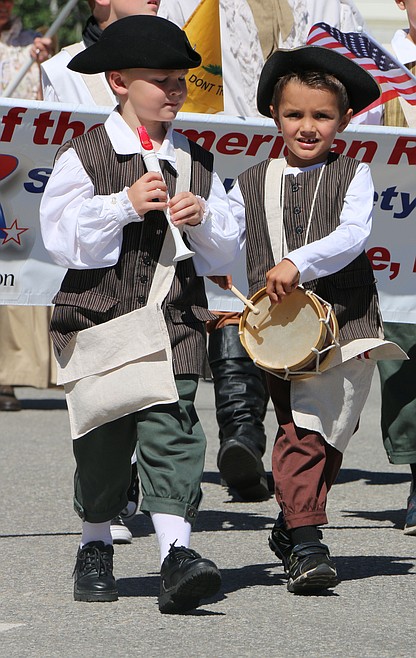 (Daily Bee file photo/CAROLINE LOBSINGER) A pair of youngsters take part in a past Fourth of July parade.
by
CAROLINE LOBSINGER
Staff Writer
|
June 11, 2021 1:00 AM
Alfred Guerra never faltered during his years of military service during World War II.
In honor of his service, the San Antonio area steppe up in a big way recently after Guerra's daughter reached out on Facebook seeking help to fix up her dad's home, according to an article on the Good News Network website.
The family had tried to keep up with repair and maintenance on the old house, but efforts to remodel the home were complicated by the sudden death of Guerra's son from cancer. The home was uninhabitable when Guerra's daughter, Maria, reached out via Facebook to ask for help.
The website said it wasn't long before a variety of veterans groups heard the story and jumped in to help the soldier who had earned a Bronze Star and Purple Heart for acts of bravery in the Philippines.
"As combat warriors, we leave nobody behind. And as veterans, we leave no veteran behind," Tony Roman, of the Military Order of the Purple Heart, told KSAT-News.
Guerra had moved in with his daughter and was thrilled with news he might soon be able to move into his home once again. Unfortunately, repair efforts were put on hold by the pandemic and the project was again delayed.
But as the pandemic eased, volunteers were again swinging their hammers, and putting their saws, and nail guns to use once again. Veteran volunteers who had served in Iraq, Afghanistan, and Vietnam turned out to gut the home's interior and prep it for the next phase of the home makeover, the website reported.
As of early May, a GoFundMe account set up to pay for supplies had attracted more than $7,000 of a hoped-for $9,500 goal.
"Mr. Guerra can truly see the end of this project around the horizon," the GoFundMe page organizers said.
It is for veterans like Guerra — and the sense of community that inspired the many volunteers determined to bring the veteran home to a remodeled, up-to-date home, that inspire Sandpoint Lions Club members to dedicate their time to putting on a community Independence Day celebration. They want to thank them — and to celebrate all that Fourth of July means.
The parade's theme this year is "It Takes a Community" and the event will showcase the many local businesses which impacted by the pandemic, and celebrate the community and all residents, Lions Club officials said.
Applications are being accepted for the Grand Parade, and will be until the morning of the parade. The children's parade will start at 9 a.m., and the Grand Parade will begin at 10 a.m.
While the club has the funds to cover the costs of the parades, celebration, and fireworks show, they're looking to make them bigger and better than ever.
Among today's donations are a $200 donation via the Sandpoint Lions Club Facebook page, bringing donations to $2,800.
Those donating to the Independence Day celebration will be named in future columns. If you would like to be anonymous, please indicate that on your donation or let the Lions Club know.
Although overall fundraising for this year is limited due to the short turnaround time, Lions Club officials held a raffle in 2019 to pay for 2020 fireworks, which were then run by Sandpoint Independence Day, Inc. instead.
Those funds, in addition to community donations, will be used for the Fourth of July events.
Those who wish to contribute to the July 4 fundraising can do so by clicking the donation link on the Lion's Facebook page, facebook.com/SandpointLionsClub, or dropping off donations at the Daily Bee, 310 Church St.
---