Woods celebrate golden anniversary
Steve and Louise Wood celebrate 50 years of marriage today, June 11, in the Sandpoint community.
Steve Wood and Louise McNall were married on June 11, 1971, in Sandpoint. Steve graduated from the University of Idaho's agriculture department and the couple founded Wood's Meat Processing in 1973. For 48 years, the couple has focused on providing exceptional service and locally grown beef from the family ranch.
Steve and Louise raised two daughters, Jody Russell and Tina Johnson. Jody retired as a school teacher in Bonner County in 2018 and now works full-time at Wood's Meat Processing with her husband, Todd Russell, who has worked on the ranch by Steve's side for 30 years. Tina married Scott Johnson in 2017, a lineman, and owns The Valley Studio, a photography business, also located on the Wood ranch.
Steve and Louise have six grandchildren and one great-grandchild thus far. The family plans to celebrate the couples' 50th anniversary in the fall; date yet to be decided.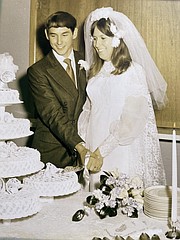 ---