Lenny Hess honored as June's top business, volunteer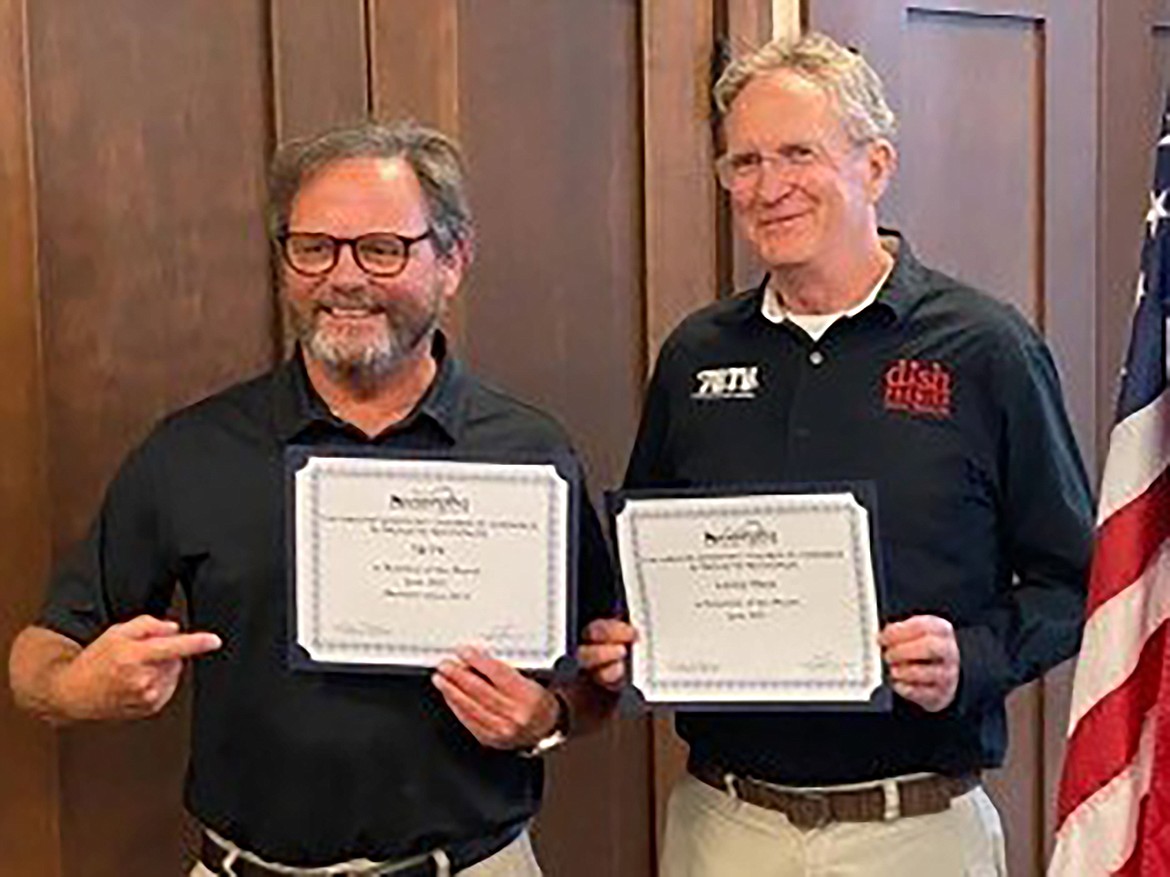 Greater Sandpoint Chamber of Commerce board chairperson Bob Witte presents 7B TV's Lenny Hess, right, with his volunteer and business of the month certificates.
(Photo courtesy GREATER SANDPOINT CHAMBER OF COMMERCE)
by
RICCI WITTE Contributing Writer
|
June 17, 2021 1:00 AM
SANDPOINT — In an unprecedented ceremony last week, the Greater Sandpoint Chamber of Commerce named Lenny Hess as its Volunteer of the Month AND his company, 7B TV, as Business of the Month at its monthly lunch meeting on June 10.
In recognition of both Hess' personal volunteerism and his professional donations the chamber board and ambassadors chose to honor him with both awards. Hess has served on several non-profit boards, most recently the Panida Theater in the role of board president. He has supported a variety of others, including the Festival at Sandpoint, Kinderhaven and Underground Kindness through monetary and in-kind donations. Through the "Dish Cares Initiative," Hess donates a portion of his business' advertising to various non-profits and causes in the community.
Still considered a tourist by many, Hess was born in Redwood City, California, and moved to Sandpoint in 1960 at the age of 2. He grew up in Sagle and, while attending Sandpoint High School, held jobs at the Alpine Shop, Schweitzer and the Panida. After graduating in 1976, Hess attended North Idaho College and majored in music. Naturally, his degree led him to a job at Pacific Gas and Electric in California.
After six years away, Hess relocated back to Sandpoint and began his career in television, working at Karli's TV. He gained knowledge and experience working with satellite TV companies who sent him all over the country. In 1997, Hess translated those skills into his own company, Hesstronics and Sandpoint Satellite. He became a Dish dealer, sold Sandpoint Satellite, started 7B TV and added smart home services. This move earned Hess the distinction of Premier Plus Retailer for excellence in customer service. The business has moved and changed with the ever-evolving market over the years, but Hess has come full-circle, location-wise, and is currently located at 105 S 3rd Ave, adjacent to the former Karli's TV building.

An avid skier and boater, Hess keeps a beautiful home with his wife, Nancy, and their pets in south Sandpoint. You can reach 7B TV by calling 208-263-7288, emailing lhess@hesstronics.com or stopping by the showroom.
Please join the Greater Sandpoint Chamber of Commerce in rewarding Lenny Hess and 7B TV as June's Volunteer and Business of the Month.
---