Local woman opens barre, fitness studio in Sandpoint
by
RACHEL SUN
Staff Writer
|
June 23, 2021 1:00 AM
Starting her own fitness studio was a dream years in the making, and perhaps the natural progression of Devyn Vaughan-Jolley's lifelong love of dance.
A fitness instructor, wife and mother of six children, Vaughan-Jolley has been dancing since she was a young girl. She remembers going six days a week to the dance studio as a child, every day after school and on Saturdays.
An instructor with a passion for fitness, dance and barre, Vaughan-Jolley started teaching classes two years ago at the YMCA. Still, starting her own business was a dream she had held onto long before opening her studio, BarreX Fitness, in May.
"Ever since I was a little girl I wanted to [have my own studio]," she said. "The last couple years it's been pressing on my heart."
Most of Vaughan-Jolley's classes are barre, a form of exercise that incorporates techniques from ballet, pilates and yoga. Those include a 45-minute "Barre Xpress" for those on a tight workout schedule, an hour-long "BarreX," which teaches classic barre movements, and a 45-55 minute-long "Barre Xtreme," an interval-based cardio workout.
Vaughan-Jolley also teaches "SHiNE," a three-day-a-week, hour-long dance fitness class with original choreography that follows a high intensity interval training format.
Dance is an emotional expression, she said, and produces endorphins in the body. Combining dance with fitness, Vaughan-Jolley said, is a great way to maintain a healthy lifestyle.
"I created BarreX to be a place free of judgment, to have fun while working out, to encourage others and uplift [them] in their fitness journeys," she said. "As an instructor I am fortunate to get to be a part of changing people's lives for them to be happier and healthier."
Although getting a new business up and running is a challenge, Jay Jolley said his wife has "put her heart and soul" into making the most of her opportunity.
In the 22 years they've been together, Vaughan-Jolley has always been passionate about dance and fitness, Jay Jolley said, and she's always trying to help others with a positive mindset and infectious smile.
One of her clients, Aletha Boyce, began taking her classes two years ago when a client of Vaughan-Jolley first started tteaching at the YMCA.
"Devyn is very inspiring and motivational, she's fun," Boyce said. "You get an excellent workout. You can tell she loves what she's doing."
Boyce said she tries to take all of Vaughan-Jolley's classes, but her favorites are the dance classes, she said. Vaughan-Jolley also makes a point of modifying workouts so they're accessible to everyone in her class.
A dance fitness enthusiast since the 1980s, Boyce said she especially likes Vaughan-Jolley's classes because of the instructor's positive attitude.
"She just has this bright smile on her face and she maintains that smile throughout the whole class," she said. "Sometimes you take a class, and you get a good workout in, but it's not as motivational as someone who is smiling and enjoying herself the whole time."
Brittney Blomquist, a friend and client, said she first met Vaughan-Jolley at the park, shortly after moving to Sandpoint. Soon after she began taking Vaughan-Jolley's classes at the YMCA.
One of her favorite things about Vaughan-Jolley's classes are that many are accessible to her children, as well as adults, and provide an enjoyable way to exercise for herself and her children.
"I'm super excited for her," Blomquist said. "[She is] able to offer so much to so many different age groups [and] she's so real."
BarreX Fitness is located at 229 Pine St., Sandpoint, and can be found on barrexfitness.com, Facebook and Instagram.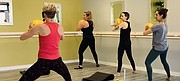 ---