Idaho among least restrictive states with coronavirus
by
BILL BULEY
Hagadone News Network
|
March 3, 2021 1:00 AM
▶️ Listen to this article now.
When it comes to novel coronavirus restrictions, Idaho is not exactly known for being strict.
It's actually, according to a recent study, among the top states with the fewest coronavirus restrictions.
Which some say is a good thing.
"As it goes with statewide restrictions, I think we're doing a really good job," said Idaho Sen. Peter Riggs in a phone interview with the Hagadone News Network on Tuesday.
He said the WalletHub study indicates that the state understands that Idahoans prefer to handle their own health care choices responsibly, rather than being dictated by government.
Riggs also pointed out that Idaho's economy is one of the strongest in the nation. After an initial, temporary lockdown last year, it has let businesses remain open. Gov. Brad Little declined to issue a statewide mask mandate, instead leaving it to local jurisdictions.
Idaho has adjusted its coronavirus strategy and it has been effective, Riggs said.
Today, it still recommends wearing masks, social distancing and washing hands often and limiting large gatherings, but it leaves it up to individuals to decide for themselves.
"We've learned a lot," Riggs said.
To identify which states have the fewest coronavirus restrictions, WalletHub compared the 50 states and the District of Columbia across 14 key metrics. The data set ranged from whether restaurants were open to whether the state required face masks in public and workplace temperature screenings.
Idaho's ranking for coronavirus restrictions, with 1 being the fewest, were:
• 1st – Requirement to wear a face mask in public
• 1st – State guidance on customer health checks at restaurants
• 1st – Travel restrictions
• 22nd – Large gatherings restrictions
• 1st – Strictness of "shelter in place" order
• 1st – Reopening of non-essential businesses
• 1st – Reopening of restaurants and bars
• 1st – Working from home requirements/recommendations
Iowa ranked as the state with the fewest coronavirus restrictions in part because it is one of 15 states that have not taken any action on face coverings in public, and one of 21 states that have no limits on large gatherings, said Jill Gonzalez, WalletHub analyst.
"Iowa has reopened all non-essential businesses, and it is one of only 14 states that neither require nor recommend working from home," she said.
Washington state ranked 42nd, Oregon 45th, and Montana 10th.
The study findings were not a surprise to Gov. Brad Little's office.
"Throughout the COVID-19 pandemic, Governor Little has worked to protect lives and critical health care capacity for the entire state while keeping families safe and businesses and schools open," according to a prepared statement emailed to the Hagadone News Network. "Every decision has been a balancing act, and he believes we achieved a balance. We can tell because we have managed to prevent a crisis in our hospitals and we have kept our state open longer than almost every other state. Thanks to quick action during the pandemic, Idaho has the strongest economy in the nation and the most financially solvent state budget. With our record budget surplus, Idaho is poised to provide Idahoans historic tax relief and make strategic investments in Governor Little's "Building Idaho's Future" plan. Few states can claim that kind of success."
Gonzalez offered a different approach. She said America should implement vaccine-related COVID-19 restrictions.
"The U.S. could follow the model of Israel, which has instituted a 'Green Pass' system," she said "The 'Green Pass' allows people who have received both doses of the vaccine, as well as people who have already recovered from COVID-19, to visit certain institutions like gyms, hotels and entertainment venues that are closed to the general public. Having a 'Green Pass' in the U.S. would not only help to keep people safe, but it would also encourage more people to get vaccinated and it would help struggling industries open sooner."
Gonzalez said there is a "moderate correlation" between a state's restrictiveness and its unemployment.
"WalletHub's analysis found that 80% of states with few COVID-19 restrictions had low unemployment rates," she said.
Idaho Sen. Mary Souza said the study results reflected what Idahoans want, which is reduced government restrictions. She also said fewer coronavirus restrictions are among the reasons why more people want to move to Idaho and the real estate market is thriving.
"I think it's good thing for the people of Idaho to have the responsibility for their own health," she said.
Souza noted that while the study ranked Idaho 22nd in large gathering restrictions, those restrictions were recently eased. Idaho is in Stage 3 of Gov. Little's "Idaho Rebounds" recovery plan, which recommends gatherings should be limited to 50 or fewer people.
She believes Idaho found a middle ground for responding to COVID-19 that has kept the economy strong, the health care system sound and let people go about their daily lives.
"I think people want their kids back in school," she said. "And they want to have their lives back."
Local health officials, asked for comment on the study findings, referred the Hagadone News Network to the Panhandle Health District. PHD referred HNN to the state.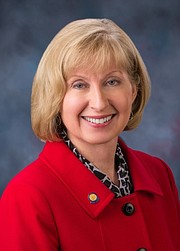 ---