Early childhood education bill fails, but could come back
by
CRAIG NORTHRUP
Hagadone News Network
|
March 4, 2021 1:00 AM
▶️ Listen to this article now.
A local legislator is optimistic the bill he sponsored that would send almost $6 million in federal grant money toward early childhood education in Idaho will see new life before the end of the legislative session.
House Bill 226 would have provided an appropriation facilitated by the State Board of Education through the Idaho Association for the Education of Young Children for $5,980,500. The grant would have gone to co-operative community child care facilities, but the bill — sponsored by Rep. Paul Amador, R-Coeur d'Alene — failed by a 36-34 vote in the Idaho House Tuesday.
Some conservatives claimed the bill pushes a "social justice agenda," with others saying the bill would sway mothers to leave their homes.
"I think there's a certain amount of misinformation that's going around right now," Amador said Wednesday. "I think that's part of the problem."
Amador said the opposition that rose against HB 226 stemmed from a line in a document found on the website of the National Association for the Education of Young Children, the parent consortium affiliated with the Idaho association of the same name. The line cites white privilege, spawning concerns from state lawmakers that the children enrolled in the co-operative child care programs would be indoctrinated with a social justice agenda.
"I think we need to talk about social justice ideology," said Rep. Priscilla Giddings, R-White Bird. "That's what you're voting for. You're voting for social justice ideology to be given through grant money to our little ones."
Rep. Tammy Nichols, R-Middleton, agreed.
"The goal in the long run is to be able to take our children from birth and to be able to start indoctrinating them and teaching them to be activists," Nichols said.
On Tuesday, Rep. Charlie Shepherd, R-Riggins, came under fire from fellow legislators, education groups and the national media after he argued that mothers should be dissuaded from leaving their homes.
"I don't think anybody does a better job than mothers in the home," Shepherd said. "Any bill that makes it easier or more convenient for mothers to come out of the home and let others raise their child, I don't think that's a good direction for us to be going."
But Shepherd apologized Wednesday, standing on the House floor as he called his previous comments "misguided."
"I stand before you now to admit that I failed miserably," Shepherd said. "After hearing my remarks played back, I recognize how my remarks sounded derogatory, offensive and even sexist toward the mothers of this state."
The funding would have supported 15 co-operative community child care facilities across the state and their efforts to develop early childhood education programs. Amador said that while he appreciates the views of the bill's opposition, HB 226 would have helped working families.
"I think every family is going to have to make the best decisions for themselves," Amador said. "I certainly understand the sentiment. Raising children in the home is definitely ideal. But there's a certain reality we have to recognize. We have to recognize the world we live in. Some parents want to have professional careers."
In a statement through the Idaho Democratic Campaign Committee, Rep. Ilana Rubel, D-Boise, said failing to pass what essentially consists of already-approved grant money from the federal government is nothing more than a wasted opportunity.
"It wouldn't have cost a penny of state funds, and would have provided desperately needed help for children and families throughout Idaho to improve literacy and school readiness," Rubel said. "Idaho is one of only four states that offer no public early childhood education options, and the GOP squandered this golden opportunity to change that."
But Amador remained optimistic that the supplemental appropriations bill will find new life. While the motion to reconsider died shortly after the bill was voted down, Amador said he's working to bring a similar appropriation back onto the floor of the House in a different legislative package before the session wraps up.
"If you live in the world of politics, you know this sort of thing can happen," Amador said. "But I'm pretty confident we're going to get something through."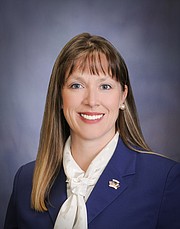 Recent Headlines
---