Investigators identify likely cause of fire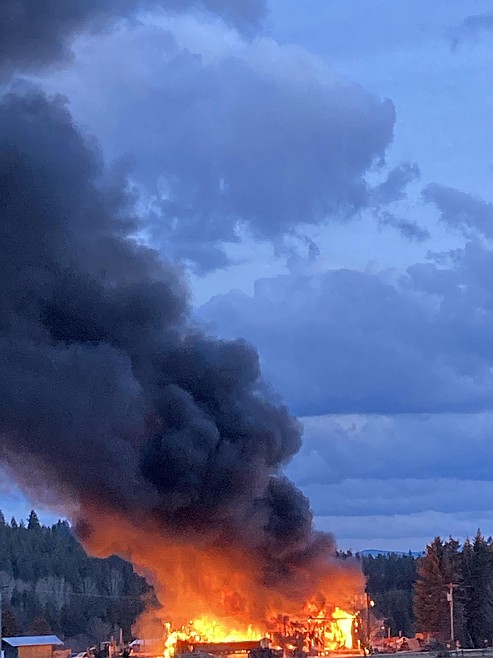 A building in the area of Sunnyside Cutoff Road and Highway 200 was destroyed in a Tuesday afternoon blaze.
(Photo courtesy CYNTHIA WEISS)
by
CAROLINE LOBSINGER
Staff Writer
|
March 4, 2021 1:00 AM
SUNNYSIDE — A malfunction in a portable pressure washer is the likely cause behind a fire that destroyed a large shop building — and all of its contents — in Tuesday's fire in the Sunnyside area, Northside Fire officials said.
The building — and all of its contents were destroyed in the fire, Brad Mitton said. While an exact estimate of the damage from the fire isn't known, the Northside Fire chief estimated that it could cost as much as $500,000 to replace the 40-foot by 72-foot building.
"It's a terrific loss," Mitton said. I mean it's just terrible."
Mitton said a worker was outside near the building when he heard an explosion. The man ran inside and attempted to put the flames out with a fire extinguisher.
"It just wasn't enough and he said it then just took off and it did, too," Mitton said.
Crews were notified of the fire about 5:23 p.m. and were able to respond within 10 minutes, thanks in part to crews happening to be outside near the truck with their gear.
The building, which is owned by members of the Lippert family, was fully engulfed when fire crews arrived on scene. Firefighters immediately began attacking the blaze to keep it from spread. Thanks to the assistance from nearby fire departments, firefighters were able to throw "lots of manpower" to fight the fire.
There were no injuries, either on the part of fire crews or the property owners, he said.
Responding to the scene were the Northside, Selkirk and Sam Owen fire departments as well as Bonner County Sheriff's deputies and Bonner County EMS. Mitton praised the teamwork, saying his hat was off to all who responded to help to battle the fire and to keep it from spreading to other buildings on the property.
"So you know, it was it was a great thing and great team effort by all parties involved," Mitton said. "And it was nice that they went and got some statements and things for us, too, which helped out this morning and it took less time for us to do [the investigation.]"
Also helping out with the investigation was Jason Blubaum of the Idaho State Fire Marshal's office
"It's a matter of putting all those pieces of puzzle together and everybody working together trying to see what all happened, what went on, and try to reconstruct the scene," Mitton said.
---