Lakeshore Drive project approved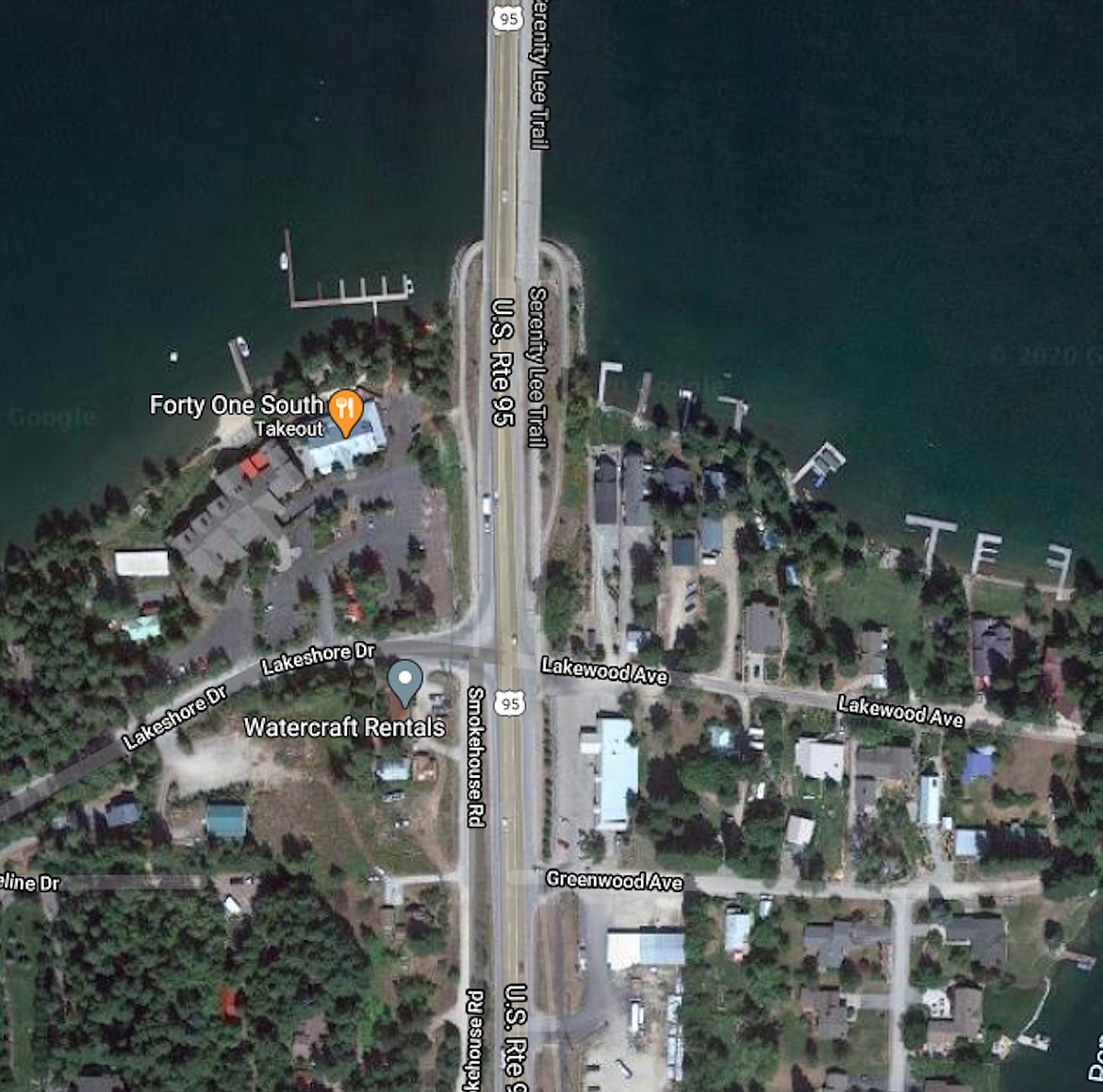 The Idaho Transportation Board has a short-term solution to the U.S. Highway 95/Lakeshore Drive dilemma while a more permanent fix is developed.
(Image via GOOGLE MAPS)
by
CAROLINE LOBSINGER
Staff Writer
|
March 7, 2021 1:00 AM
▶️ Listen to this article now.
SAGLE — A plan to make the Lakeshore Drive and U.S. 95 intersection safer has been approved by the Idaho Transportation Board.
The plan, first suggested by Bonner County Road & Bridge officials, calls for a combination of acceleration lanes and U-turns. Lakeshore motorists would be routed into southbound traffic but would be able to reverse course safely and in fairly short order via the U-turns.
"I think it's a great, great result for us," District 1 Sen. Jim Woodward said. "And I'm happy to see the Idaho Transportation Department being able to move that fast on something that we've recognized for a while now is really a safety issue."
Safety improvements at the intersection have been a constant refrain from community leaders and local officials for years.
At present, motorists struggle to find a break in the flow of southbound traffic coming off the Long Bridge at highway speeds. Impatient drivers have occasionally been known to dart out into the intersection despite the a near-steady stream of traffic, leading to numerous accidents.
"Through the efforts of many in the community, we were able to demonstrate the need for the project and move it up the priority list," Woodward said.
Construction is expect to take place over a two-year period, beginning this summer. The first phase, which is in design, would include northbound and southbound acceleration lanes. The second phase, set for the summer of 2022, would include U-turns at Lakeshore Drive and Bottle Bay Road, similar to those already in use in Ponderay.
"Instead of having everybody come into one point, the southbound traffic will widen, just be able to roll through and the yield and roll on out into the traffic," Woodward said.
Also included in the plan is a light at Sagle Road, which Woodward is the "only seven-lane roadway" in North Idaho, with two turn lanes, four traffic lanes and a center lane.
"I know we'll get some feedback on both sides and on that one," Woodward told a small crowd gathered for a Saturday town hall co-hosted by Rep. Sage Dixon. "But what that'll do is make that intersection safer. I drive that almost daily when I'm home, and the speed limit is 45 and not many folks follow that."
A light will create breaks in traffic, which should also improve traffic flow in the area. It also should improve safety with truck traffic, giving the larger rigs a chance to safely get onto the highway, especially those headed north, Woodward said.
Funding for the project is coming from an initiative by Gov. Brad Little, Building Idaho's Future, Woodward said, adding the Legislature is in the process of approving additional funding for the 2021 budget year.
It didn't take long after the idea was proposed for representatives from both legislative districts — U.S. 95 serves as the dividing line between districts 1 and 7 at the south end of the Long Bridge — to begin working to get the proposal approved and funding secured.
"That actually helped in this case, because then we had more people at the table saying this is a problem," Woodward said. "Senator Crabtree was on one side of the table and were were on the other side of the table."
Because the project is still in the design phase, the exact cost is still being determined. However, past estimates place a very rough ballpark cost is in the range of $4-6 million.
Woodward said making the project happen took the combined efforts of a number of people, including Jim Thompson, Idaho Transportation Board member for ITD's District 1, and transportation department officials as well as Bonner County Commissioner Jeff Connolly and Road and Bridge Director Steve Klatt.
Caroline Lobsinger can be reached at clobsinger@bonnercountydailybee.com and followed on Twitter @CarolDailyBee.
---