Sandpoint tennis throttles Post Falls in rare March home match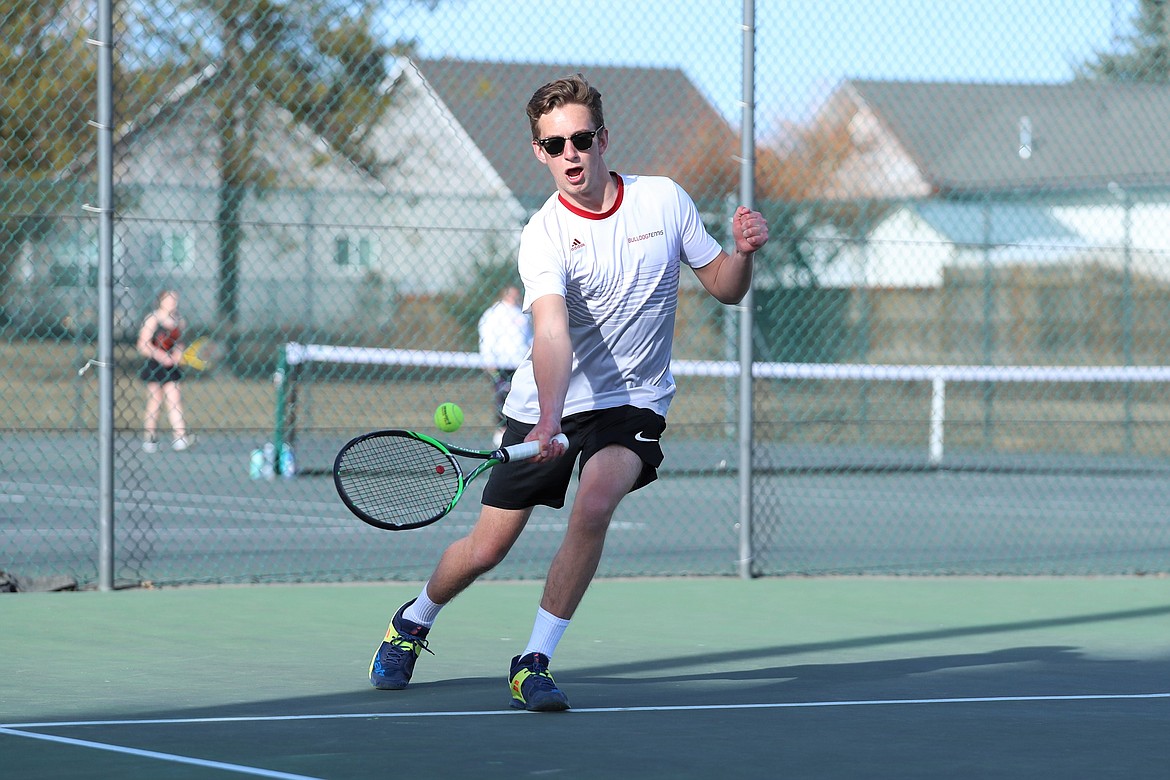 Senior Christian Story gets down low to return a shot during a singles match against Post Falls on Wednesday at Travers Park.
(Photo by DYLAN GREENE)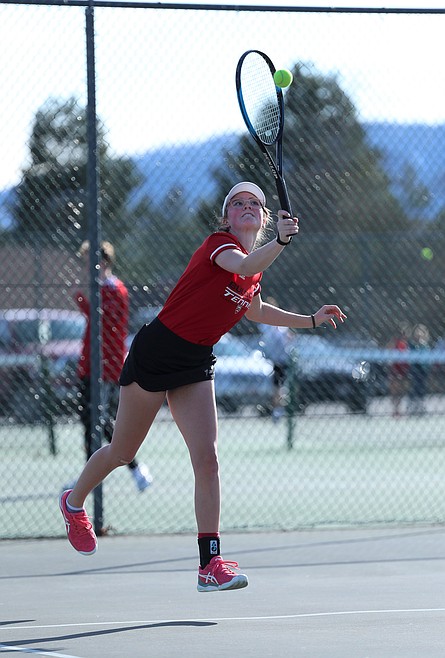 Junior Denali Terry serves during doubles play on Wednesday at Travers Park.
(Photo by DYLAN GREENE)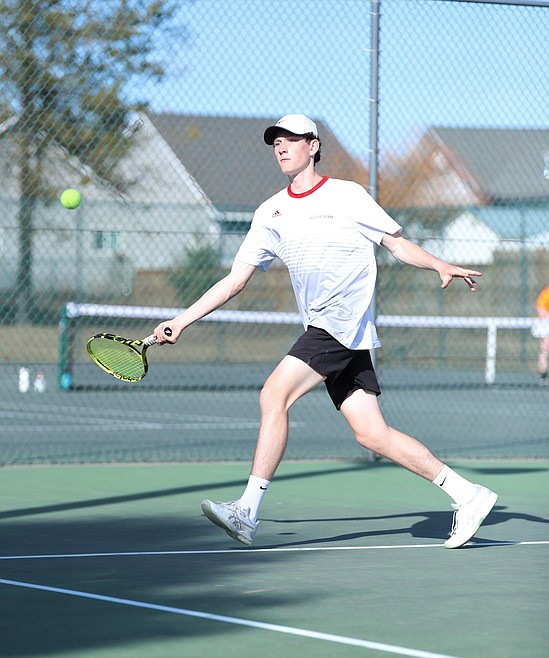 Josh Embree chases down the ball and hits a forehand on Wednesday.
(Photo by DYLAN GREENE)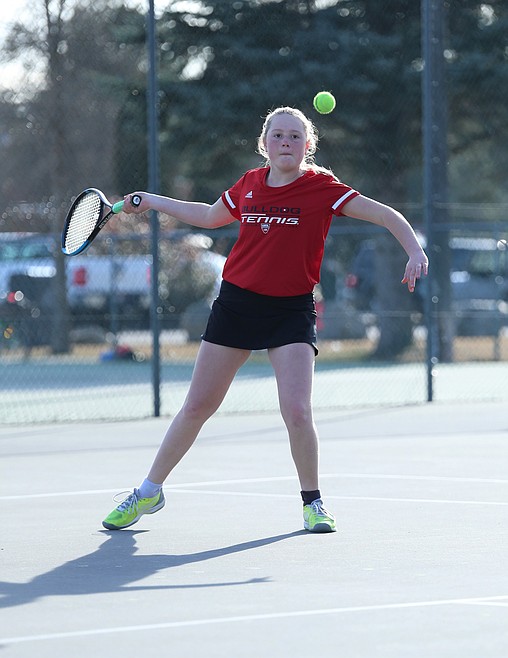 Berkeley Cox lines up her shot to hit a forehand on Wednesday.
(Photo by DYLAN GREENE)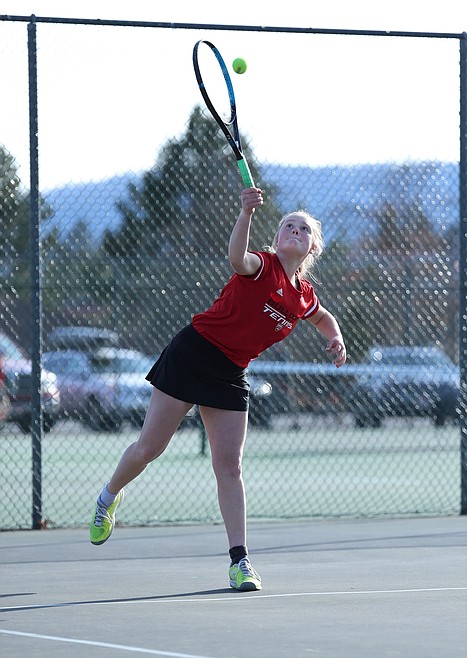 Berkeley Cox serves during doubles play on Wednesday.
(Photo by DYLAN GREENE)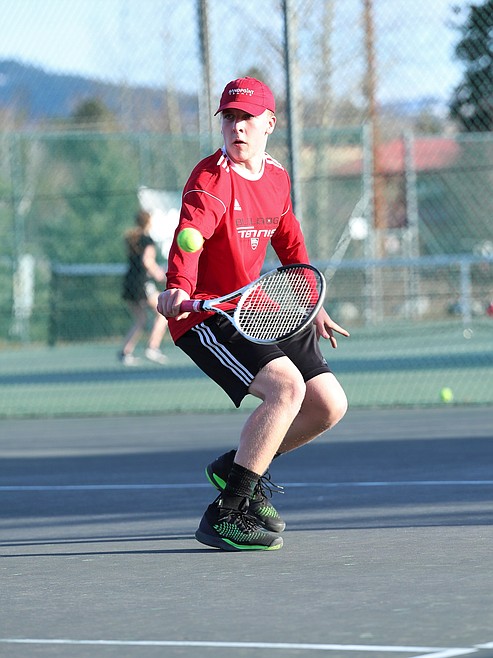 Josh Jessen hits a backhand on Wednesday.
(Photo by DYLAN GREENE)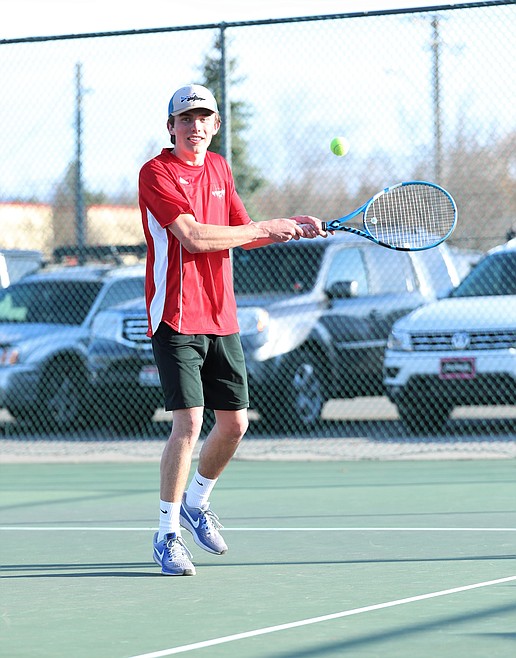 Carter Johnson eyes a backhand on Wednesday.
(Photo by DYLAN GREENE)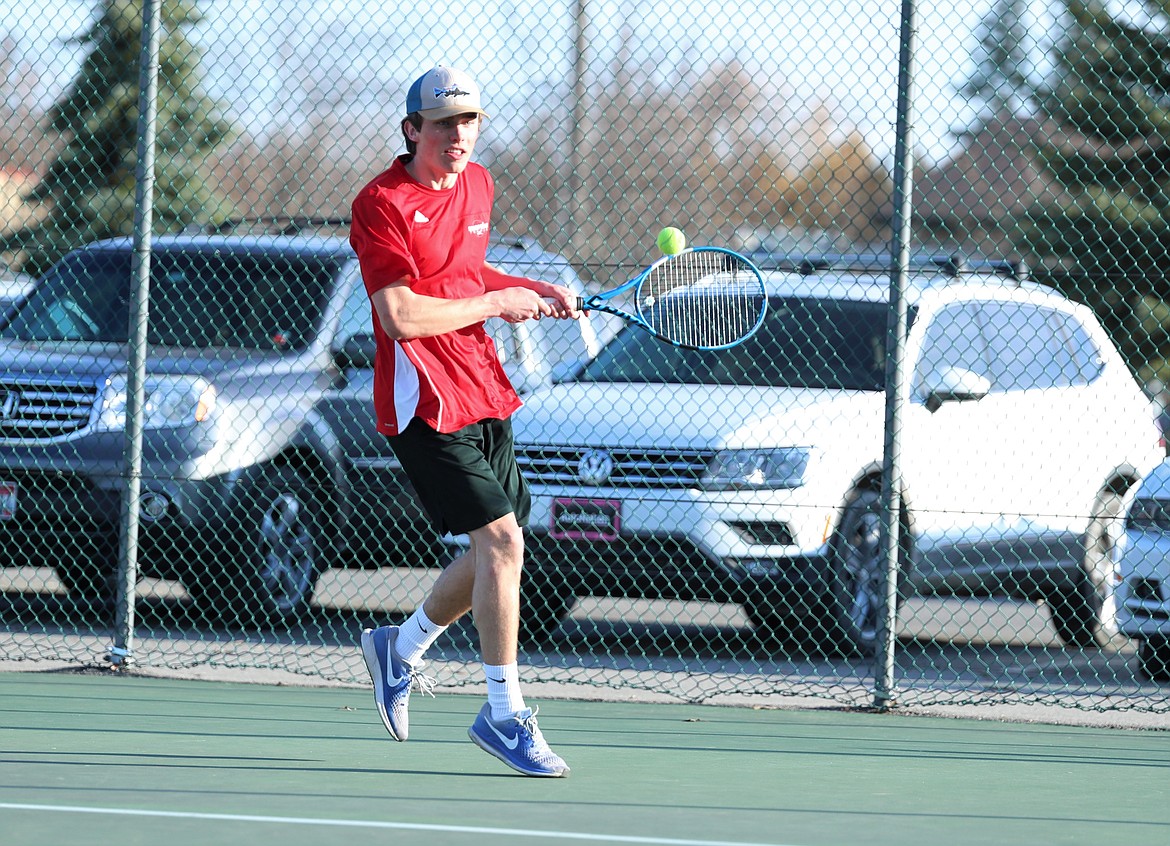 Carter Johnson hits a backhand on Wednesday.
(Photo by DYLAN GREENE)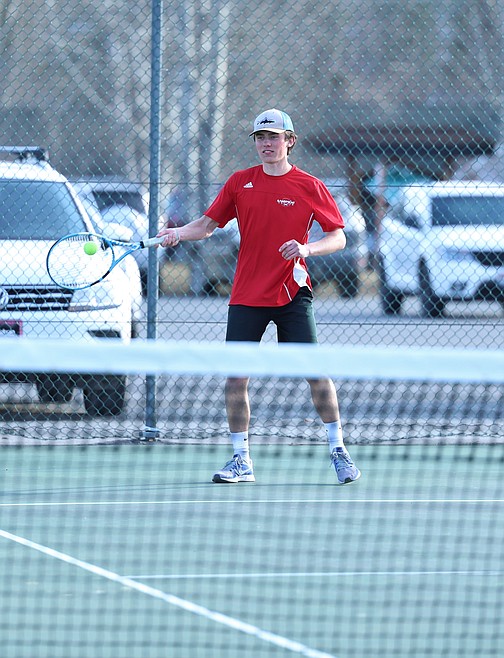 Carter Johnson returns a shot on Wednesday.
(Photo by DYLAN GREENE)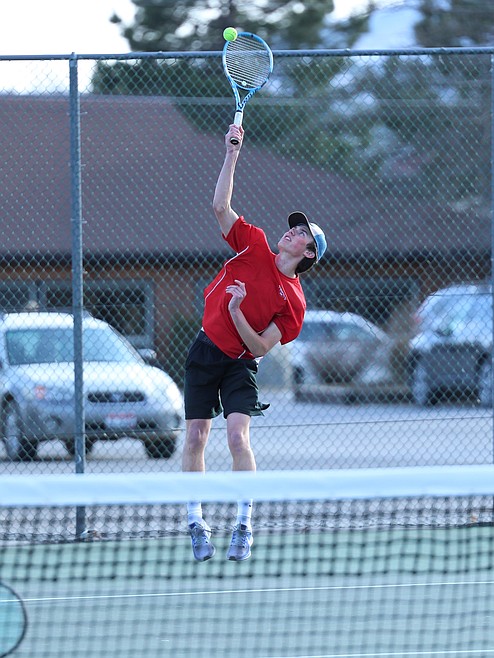 Carter Johnson serves on Wednesday.
(Photo by DYLAN GREENE)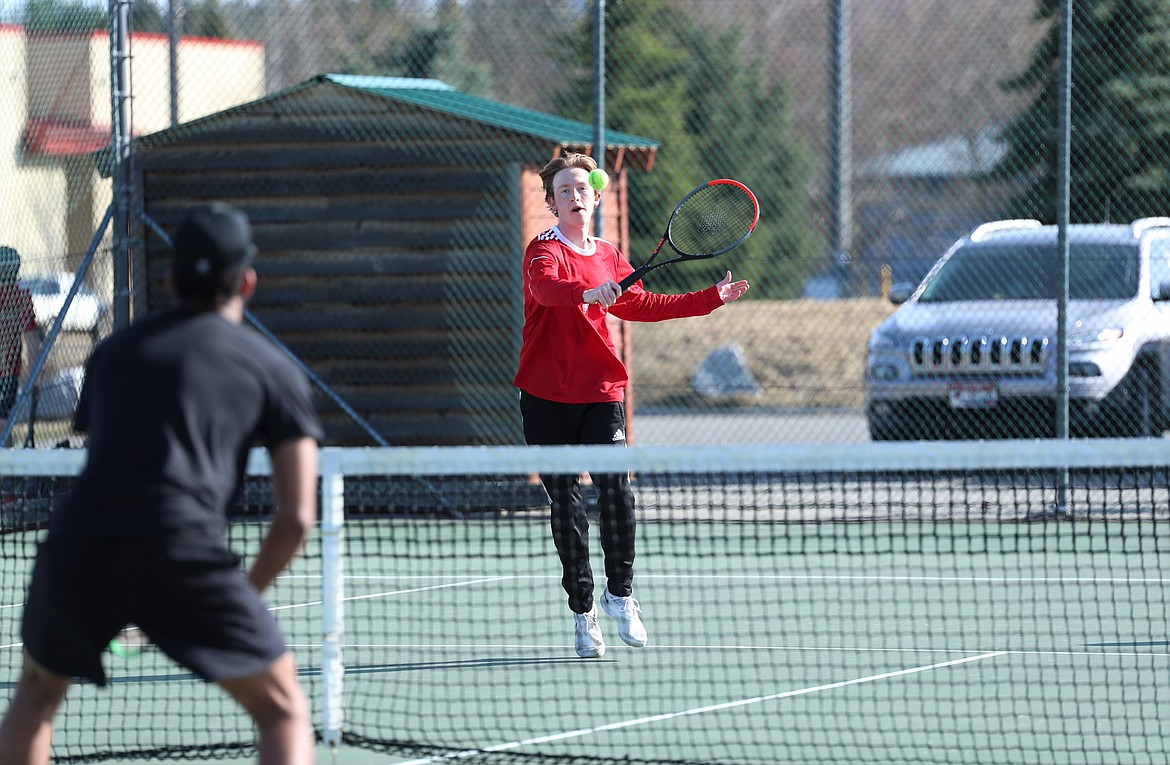 Charlie Johnson attacks the net Wednesday.
(Photo by DYLAN GREENE)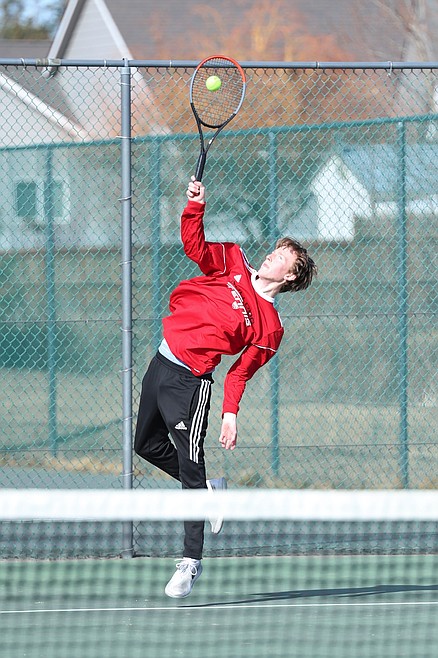 Charlie Johnson serves on Wednesday.
(Photo by DYLAN GREENE)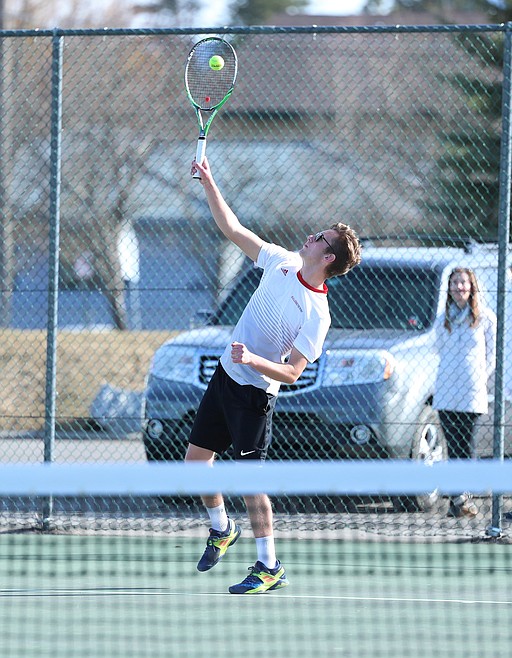 Christian Story serves on Wednesday.
(Photo by DYLAN GREENE)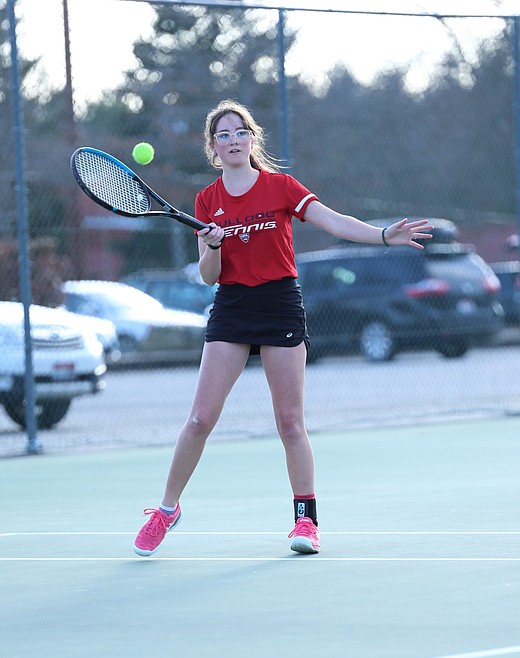 Denali Terry returns a shot during singles play on Wednesday.
(Photo by DYLAN GREENE)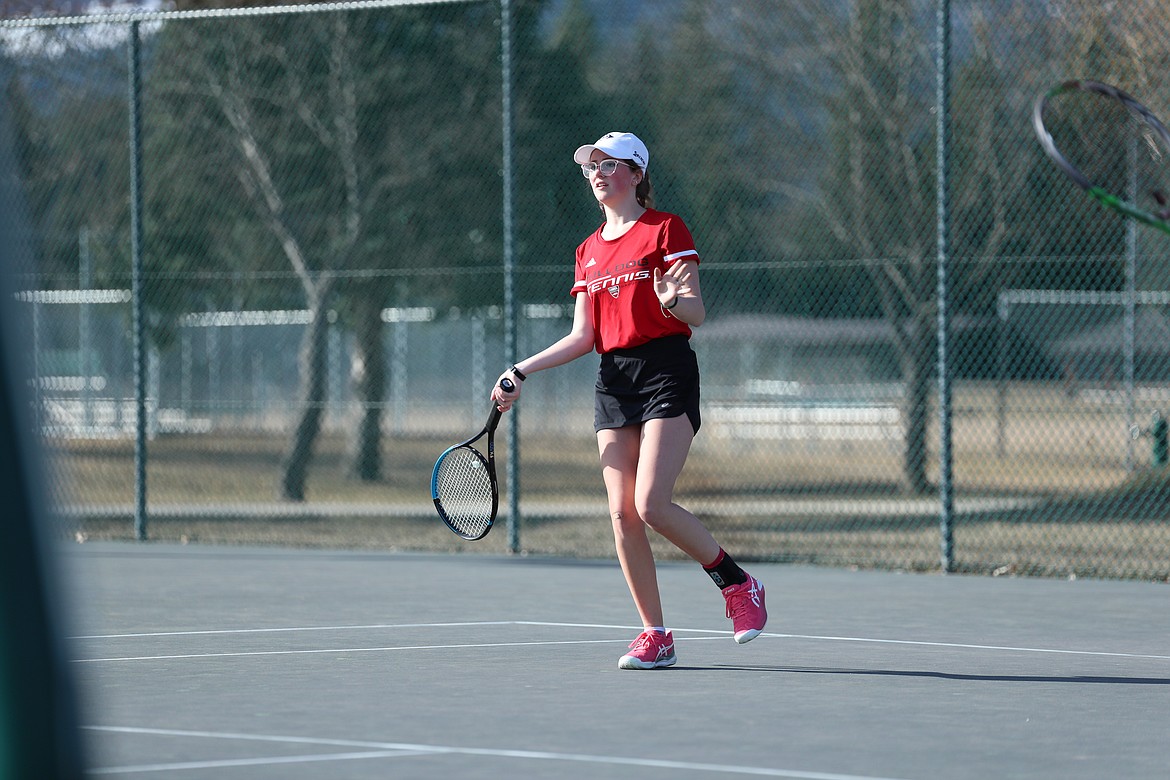 Denali Terry moves forward to attack the net on Wednesday.
(Photo by DYLAN GREENE)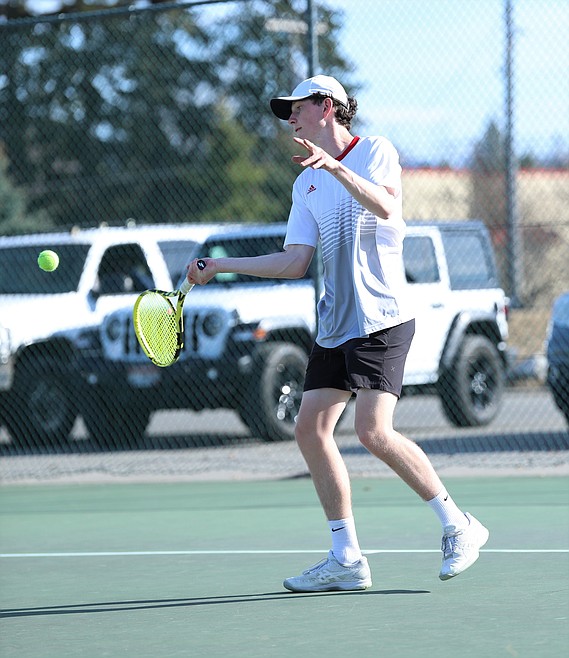 Josh Embree hits a forehand on Wednesday.
(Photo by DYLAN GREENE)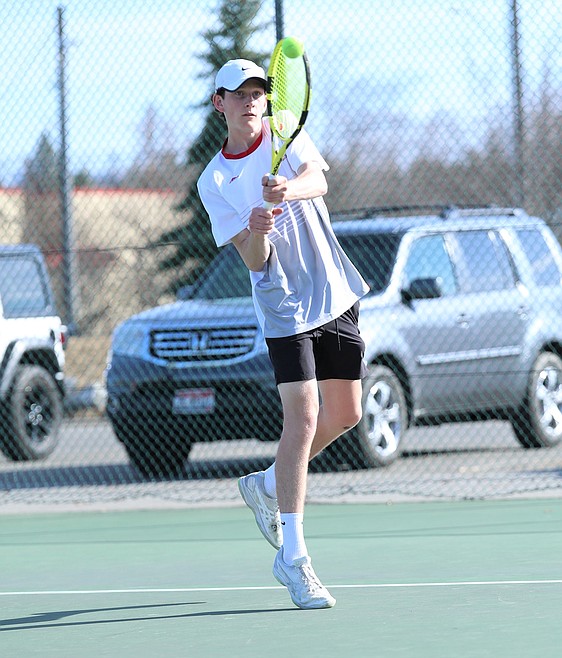 Josh Embree hits a backhand on Wednesday.
(Photo by DYLAN GREENE)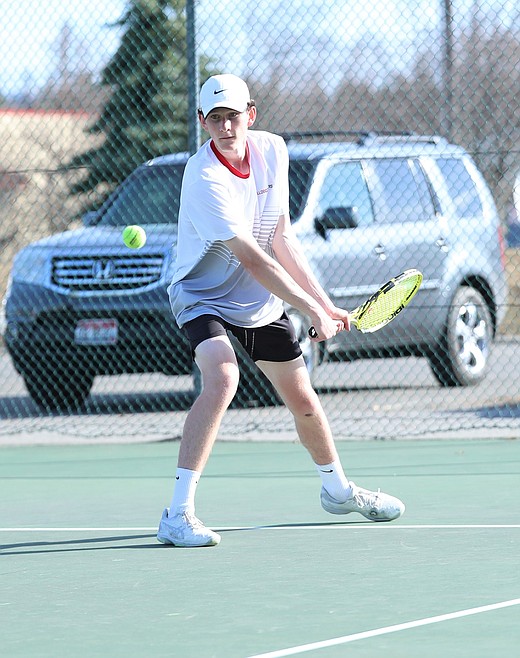 Josh Embree prepares to hit a backhand on Wednesday.
(Photo by DYLAN GREENE)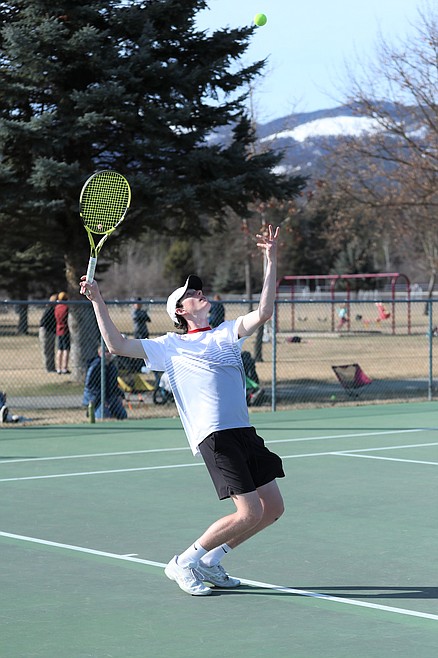 Josh Embree prepares to serve on Wednesday.
(Photo by DYLAN GREENE)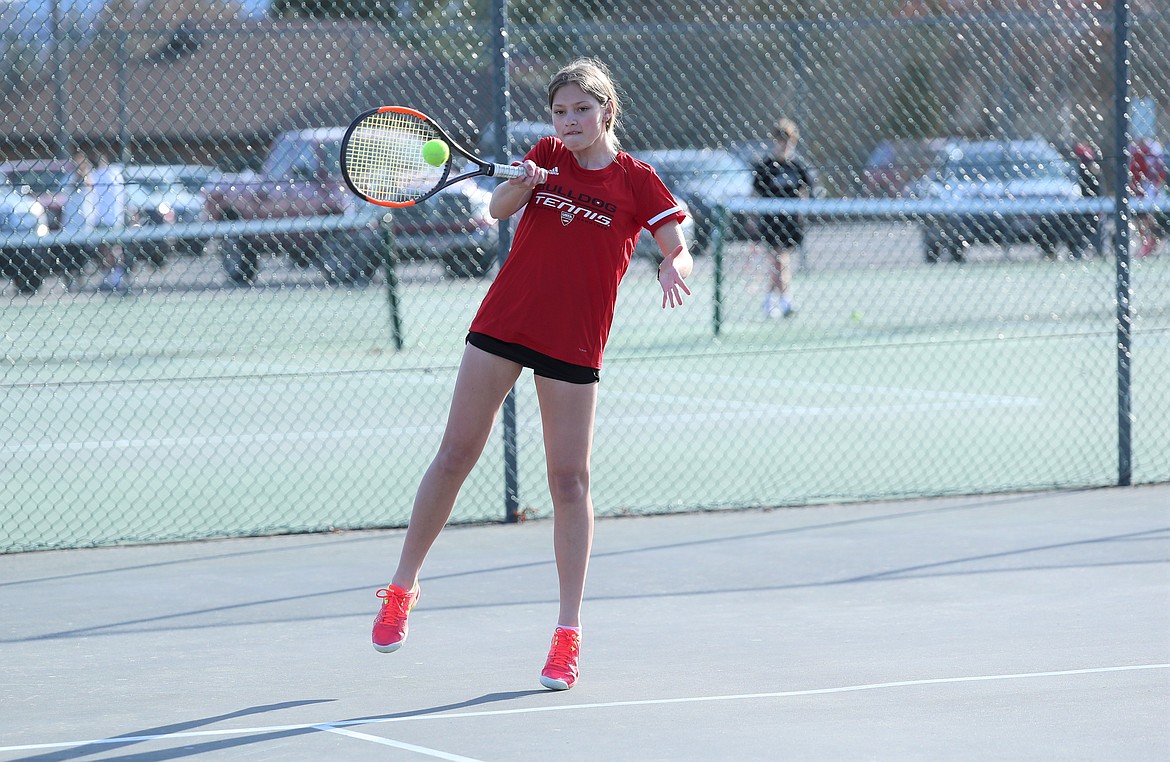 Maile Evans hits a forehand on Wednesday.
(Photo by DYLAN GREENE)
Maile Evans returns a shot on Wednesday.
(Photo by DYLAN GREENE)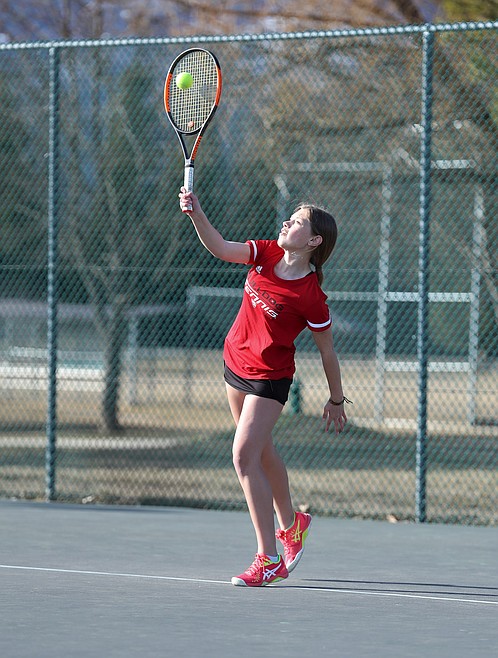 Maile Evans serves on Wednesday.
(Photo by DYLAN GREENE)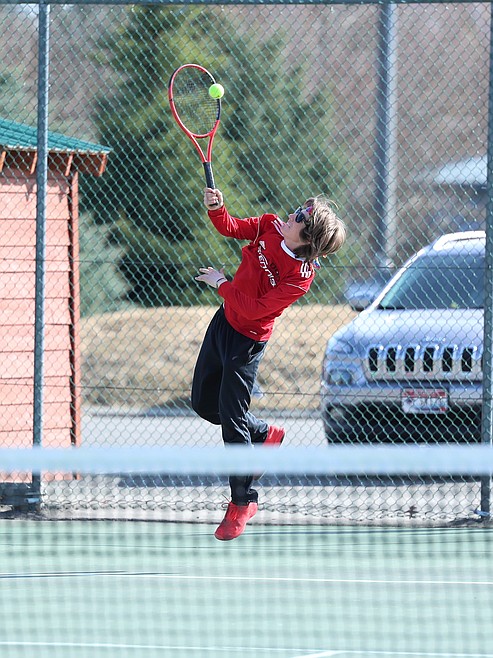 Tyler McNamee serves on Wednesday.
(Photo by DYLAN GREENE)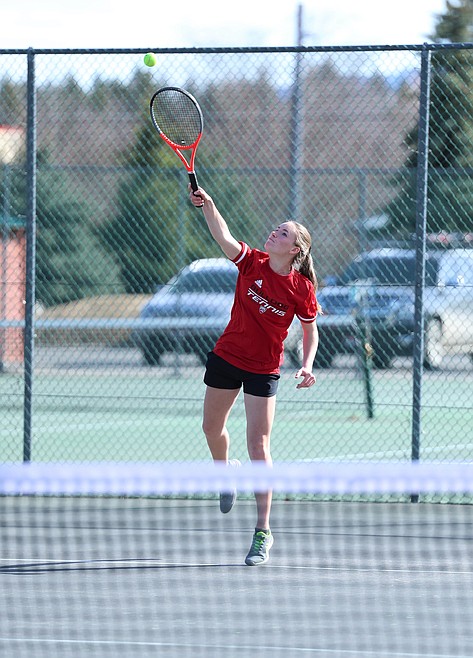 Neva Reseska serves on Wednesday.
(Photo by DYLAN GREENE)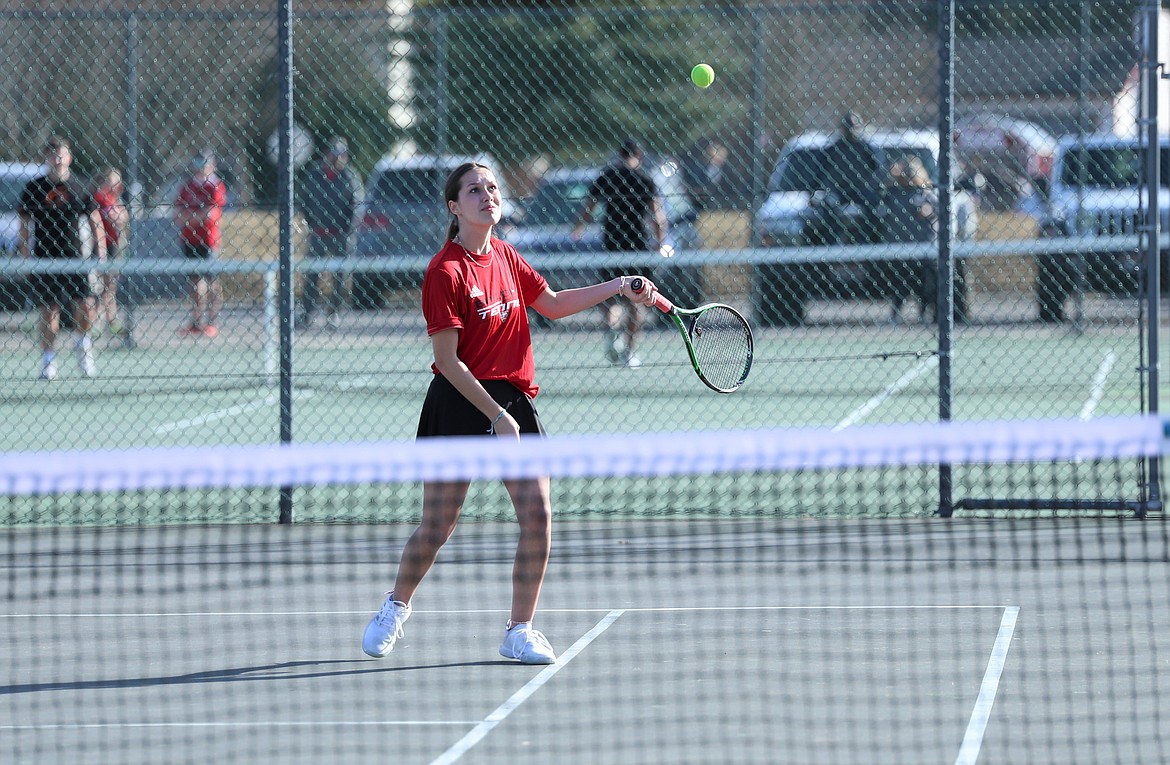 Olivia Petruso stares down her shot on Wednesday.
(Photo by DYLAN GREENE)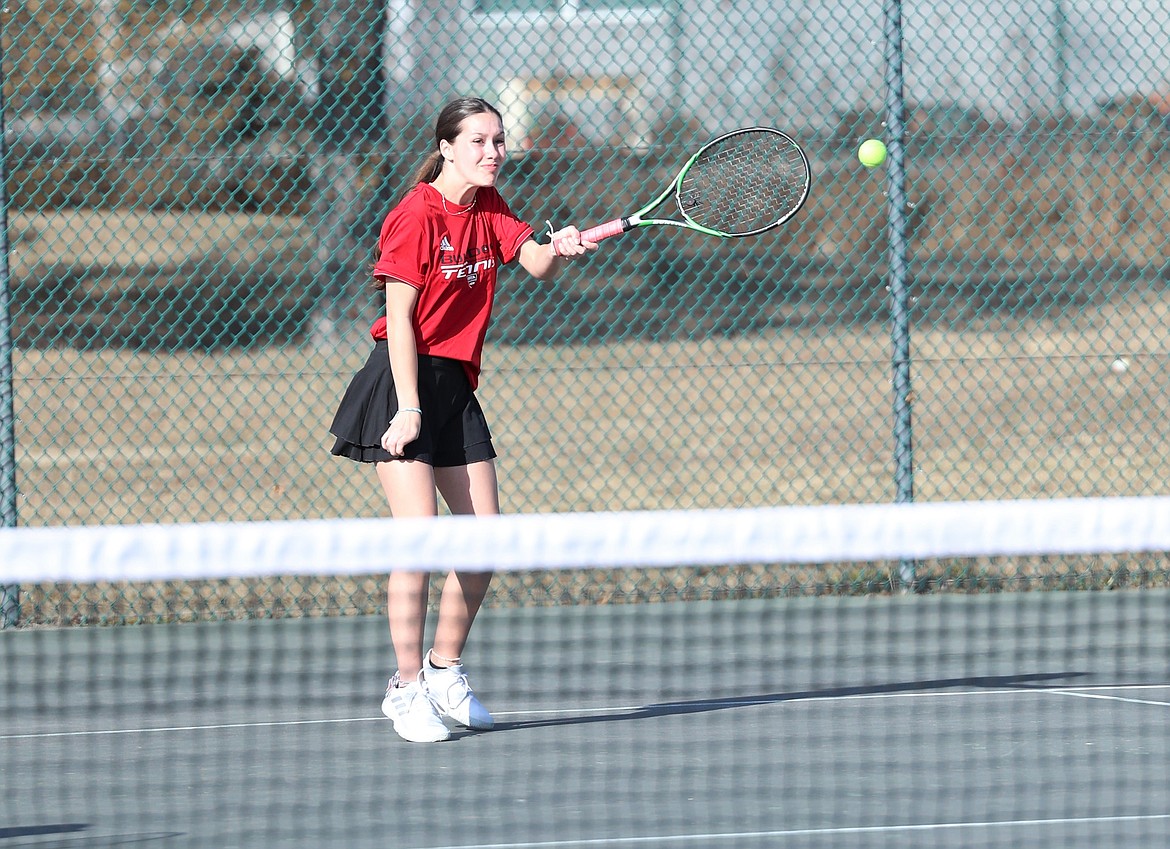 Olivia Petruso returns a shot on Wednesday.
(Photo by DYLAN GREENE)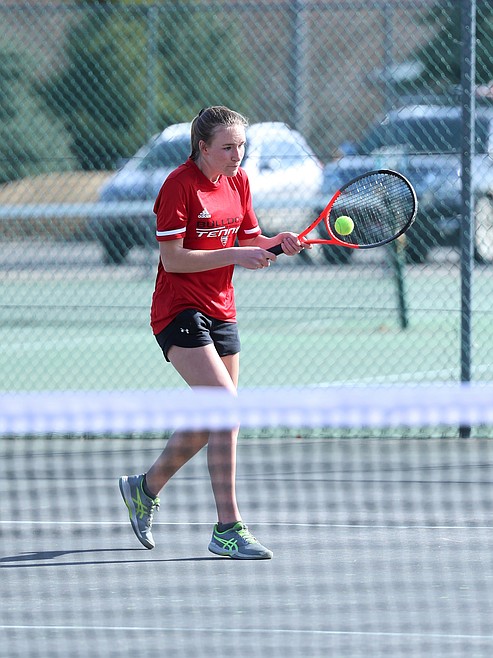 Neva Reseska hits a backhand on Wednesday.
(Photo by DYLAN GREENE)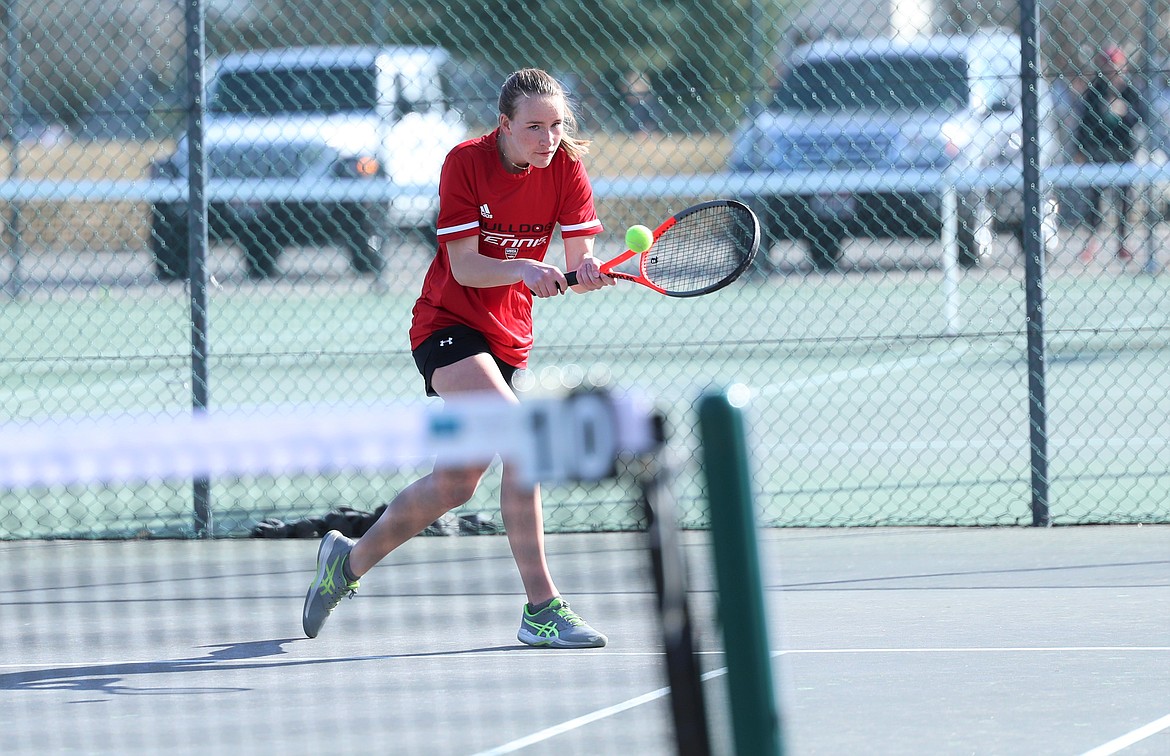 Neva Reseska hits a backhand down the line on Wednesday.
(Photo by DYLAN GREENE)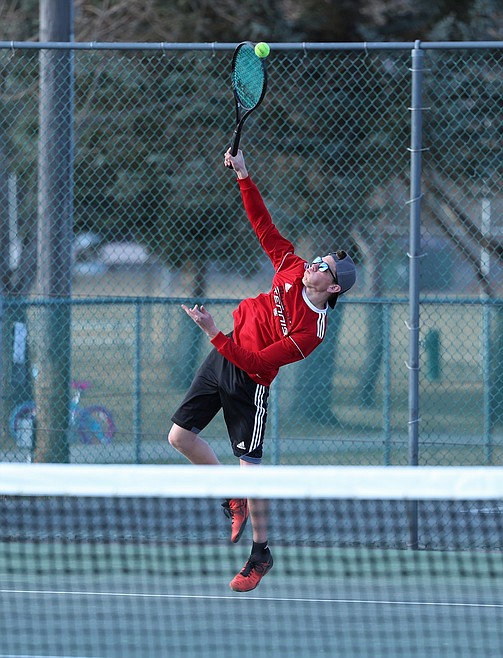 Tyler Korn serves on Wednesday.
(Photo by DYLAN GREENE)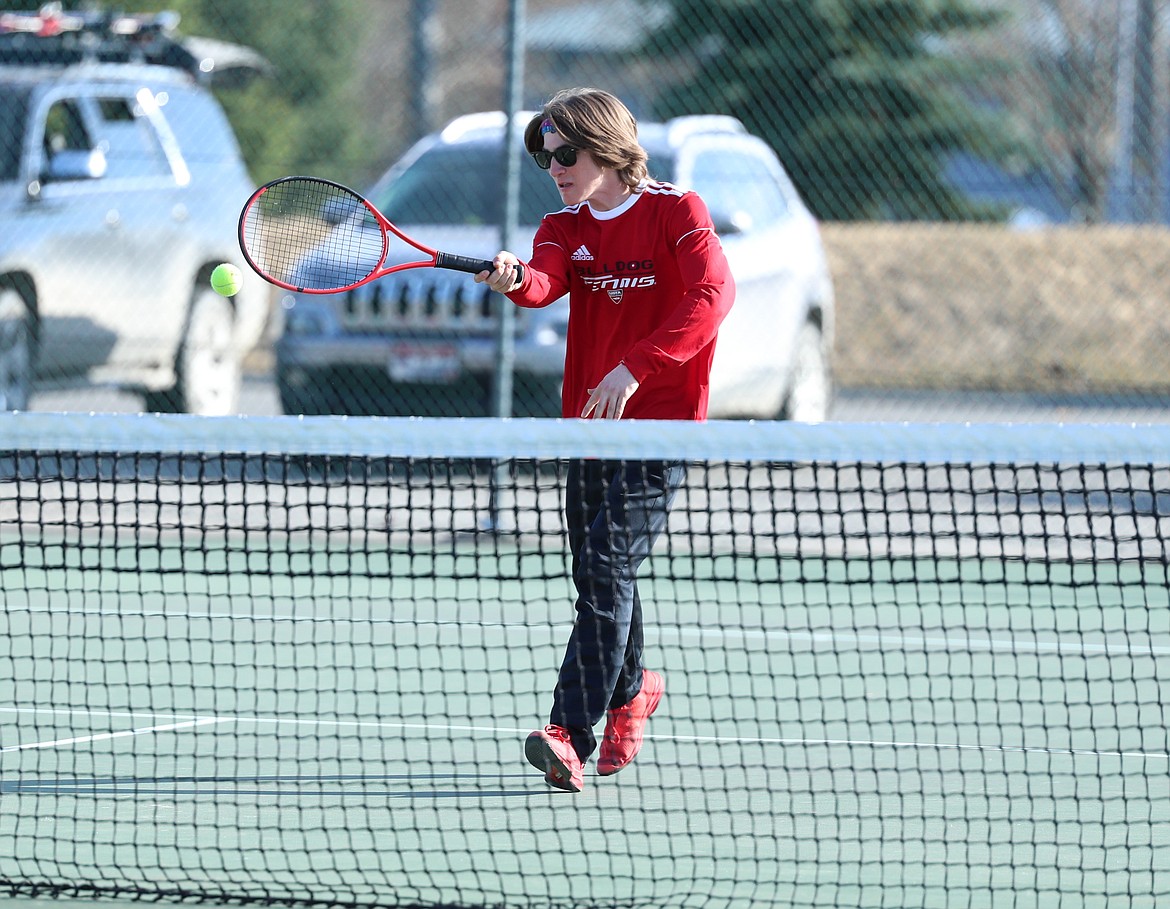 Tyler McNamee charges the net on Wednesday.
(Photo by DYLAN GREENE)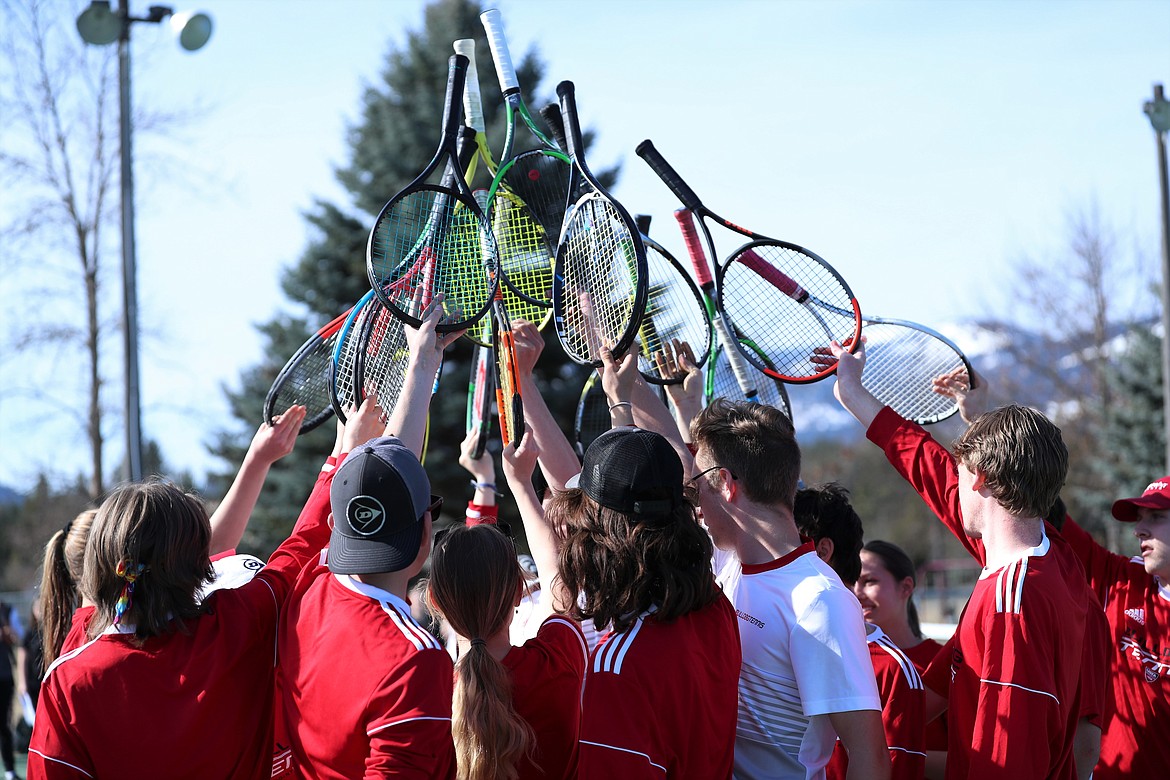 The Sandpoint tennis team huddles up prior to Wednesday's match against Post Falls.
(Photo by DYLAN GREENE)
Previous
Next
by
DYLAN GREENE
Sports Editor
|
March 17, 2021 10:43 PM
SANDPOINT — At this time of year, the Sandpoint tennis team is accustomed to traveling south for matches, whether it's Post Falls, Coeur d'Alene, Lewiston or any other team that has the ability to get outside.
But not this spring. The Bulldogs hosted their first match of the season Wednesday when they took on Post Falls at Travers Park.
In his 13 years as the head coach, Kent Anderson can't recall a time when SHS hosted a match in March.
"It's crazy," he said. "It's such a joy to have a year like this."
The Bulldogs took full advantage of playing at home and dismantled the Trojans 10-2.
Families and friends surrounded the fences bordering the courts to cheer on the team and early on, Anderson could tell his team was a little nervous. But eventually, they all found their groove.
"As everyone got through the jitters and the first set, it all went the way I expected," he said. "It's pressure and you can't simulate that in practice. You've got to have matches and get used to playing under those conditions."
The Bulldogs' three boys singles players seemed to be unfazed by the friendly environment. No. 1 Josh Embree, No. 2 Christian Story and No. 3 Brahma Heitz cruised to victories in their matches. Embree won 6-1, 6-1, Story shut out his opponent 6-0, 6-0, and Heitz earned a 6-1, 6-1 win.
Anderson said Story was precise with his shots and treated the tennis court like a billiards table.
"He just goes for location," he said, "and he was moving the ball around against his opponent so well that his opponent, if he got to a ball, he wasn't going to get to the next one ... He just surgically destroyed him."
Embree overpowered his opponent and a victory was never in question for him, Anderson said.
Heitz moved over from the No. 1 mixed doubles pairing and made his season debut at singles, and didn't miss a beat.
"He had a really good match," Anderson said.
Junior captains Olivia Petruso and Denali Terry also teamed up for the first time this season at the No. 1 girls doubles spot. After a bit of a slow start, the duo pulled out a 6-3, 6-0 victory.
"They were in a battle the first set and then they just figured it out and loosened up," Anderson said, "and that's kind of how some of the other matches went."
Anderson moved around a couple other players in his lineup, including Adrian Doty, who won 6-3, 6-3 at the No. 3 singles slot for the girls.
"We're playing the chemistry game to see who works well together," Anderson said. "I just try to get kids in a position where they have the best chance of qualifying for state and sometimes that means not playing where they thought they were going to play."
Three players who went undefeated during matches against Lewiston and Coeur d'Alene this past Saturday, stayed that way on Wednesday.
After grabbing a pair of singles wins this last weekend, Maise Brazill teamed up with Josh Jessen at No. 1 mixed doubles and earned a 6-3, 6-0 victory.
The boys' No. 2 doubles pairing of Tyler Korn and Carter Johnson tallied their third straight win to open the season, 7-5, 7-5.
Freshman Neva Reseska found herself in a battle at No. 1 singles with Emily Schlothauer from Post Falls. Ultimately, she prevailed 7-5, 6-1 to secure her first career varsity win.
Aden Heitz and Patch Howard won 6-3, 6-0 at No. 2 mixed doubles, and sophomore Maile Evans and freshman Berkeley Cox played in the only match that went to a third-set tiebreaker at No. 2 girls doubles.
The duo lost the first set 6-4, but stormed back to win the second 6-3 and the tiebreaker 10-3.
"They were playing the way I thought they should have played the whole match," Anderson said about the pair's final two sets. "They were closing on the net, volleying hard and it was just like, 'Here we go.' I think that they made a quantum leap at the end of that match and I think that's going to carry forward for the next several matches. I was very happy with those two."
The only match Sandpoint lost on the court was at No. 1 boys doubles where Charlie Johnson and Tyler McNamee fell.
The other match the Bulldogs lost came by default at No. 2 singles on the girls side. However, Terry still played a singles match against Claire Holding from Post Falls that didn't count toward the final score, and won the back-and-forth battle 6-4, 7-6.
"Watching Denali play singles was really fun," Anderson said. "She had a great match."
The Bulldogs open play at the Lewiston Invitational at 10:30 a.m. Friday. Semifinals and finals for the tournament will be contested on Saturday.
Sandpoint 10, Post Falls 2
Sandpoint athletes in bold
GIRLS SINGLES: No. 1 Neva Reseska d. Emily Schlothauer, 7-5, 6-1. No. 2 Claire Holding won by default. No. 3 Adrian Doty d. Makensy Shaprio, 6-3, 6-3.
GIRLS DOUBLES: Olivia Petruso/Denali Terry d. Laura Moler/Mattie Mortensen, 6-3, 6-0. Maile Evans/Berkeley Cox d. Melanie Fry/Addie Muir, 4-6, 6-3 (10-3).
BOYS SINGLES: No. 1 Josh Embree d. Jacob Ditto, 6-1, 6-1. No. 2 Christian Story d. Cole Ditto, 6-0, 6-0. No. 3 Brahma Heitz d. Noah Merideth, 6-1, 6-1.
BOYS DOUBLES: Josiah Shields/Isaac Gondo d. Charlie Johnson/Tyler McNamee, 6-4, 7-5. Tyler Korn/Carter Johnson d. Nic McLeod/Ryan Nearing, 7-5, 7-5.
MIXED DOUBLES: Josh Jessen/Maise Brazill d. Austin Mayo/Madi Barkley, 6-3, 6-0. Aden Heitz/Patch Howard d. Brady Christenson/Madi Barlow, 6-3, 6-0.
---