Reuniting people with their pets — and it feels so good
by
BETTER TOGETHER ANIMAL ALLIANCE
|
March 24, 2021 1:00 AM
Your dog rushes out of the open gate, chasing a squirrel, before you can stop him. You search high and low but can't find your cat anywhere.
Any one of us can have pets accidentally go missing, no matter how careful we are or how much we love them. If it happened to you, wouldn't you hope that not just your animal shelter, but your entire community, is helping you out?
You're in luck, because they are. In Bonner County and nationwide, animal shelters are focusing on return to owner (RTO), or return to home (RTH), programs to reunite animals with their families. Through these efforts, everyone wins.
It's more efficient and effective for shelters to return animals to their existing homes than find them new ones. Animals stay in the shelter for a shorter length of time, decreasing both their stress and organizations' costs. Plus, it supports the vital bond that people have to their pets and vice versa.

"The most successful pet reunification programs operate under the assumption that the majority of animals have people who love or care for them," said Gina Knepp, national shelter engagement director at Michelson Found Animals Foundation.
With that attitude in mind, animal shelters can implement various measures to help pets get back to their families.
Perhaps most important is microchipping. A microchip, which essentially serves as a permanent ID tag, is placed below an animal's skin with a needle, similar to any routine injection. The microchip is registered to the owner's contact information. Using a special scanner, shelter staff can get the animal's microchip number and then look it up in a database to see whom the animal belongs with.
Microchips have been game-changers in getting animals home. Cats are 20 times more likely to be reunited with their families if they are microchipped than if they aren't, according to Michelson Found Animals Foundation.
At Better Together Animal Alliance, we microchip all the animals we adopt out and offer the service to the public for pets that aren't already microchipped.
Another best practice is using local social media pages to share information. In addition to adding photos and descriptions of lost and found pets to a directory on our website, we post them on Facebook—on the Better Together Animal Alliance page and other relevant pages, like Bonner County Critter Finders.
Our staff comb through these listings regularly, but so do our community members, who are often responsible for helping to reunite animals and people!
Empowering neighbors to help neighbors in reunification efforts is key, since lost animals usually don't stray too far. A majority of cats are found within 500 meters of where they escape, according to a study published in 2018 in the journal Animals. Preliminary studies out of two Texas cities show that most lost dogs are found approximately 1,000 feet from home, said Knepp.
Focusing on returning animals home supports Better Together Animal Alliance's mission of keeping pets and people—as our name says—together. The efforts of our staff and community members have paid off. Our dog RTH rate is more than 85%, one of the highest in the nation.
We'll leave you with a final reminder: Make sure your pet is not only microchipped but that the contact information associated with it is up to date!
To find out more about what to do if you lose or find a pet, or for information about getting your pet microchipped, go to our website at bettertogetheranimalalliance.org.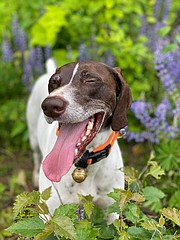 ---