Wolf population gets reprieve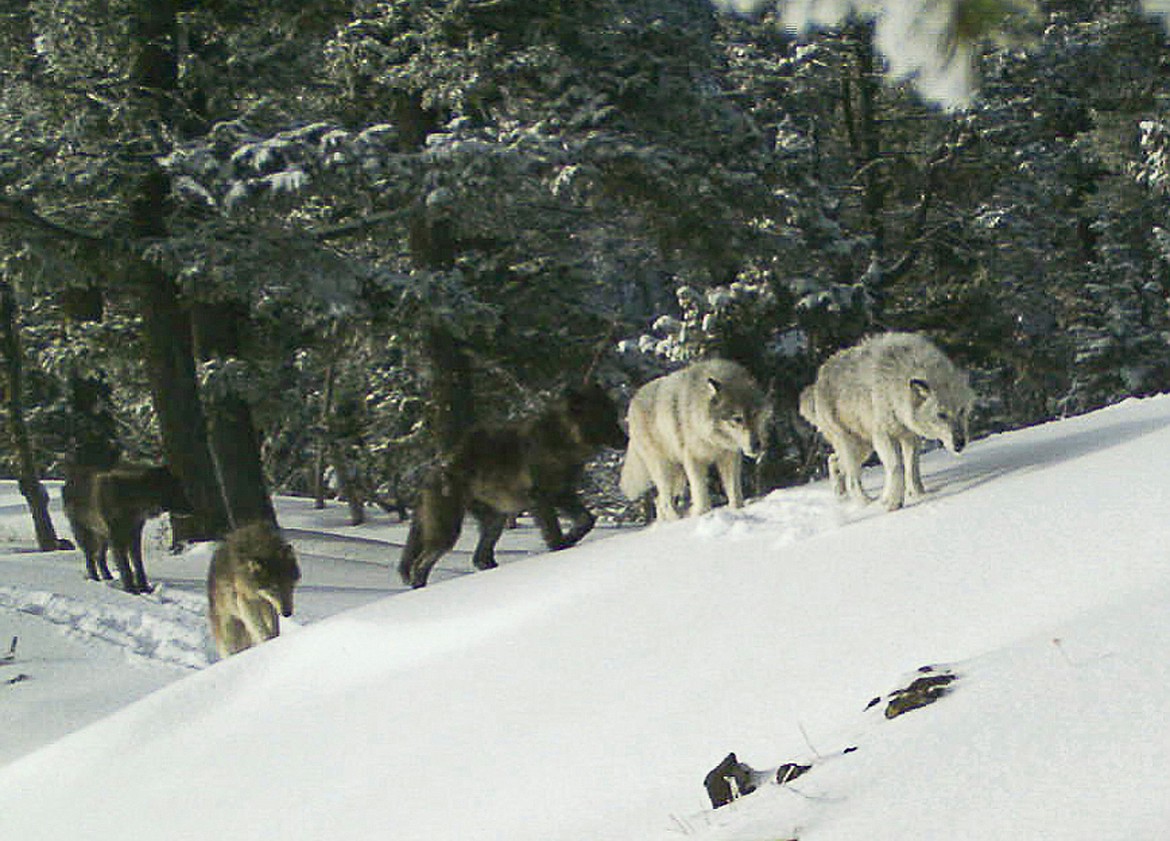 In this Feb. 1, 2017, file image provided the Oregon Department of Fish and Wildlife, a wolf pack is captured by a remote camera in Hells Canyon National Recreation Area in northeast Oregon. Oregon wildlife officials will allow a cattle rancher to kill two wolves from a new pack in Baker County along the Idaho border. (Oregon Department of Fish and Wildlife via AP, File)
by
MADISON HARDY
Hagadone News Network
|
March 26, 2021 1:00 AM
The Idaho House bill that would have cut the state wolf population by two-thirds may not have made it out of committee, but it inspired this question — why was it proposed?
House Bill 238, which would have allowed hunters to trap and kill wolves year-round with few limitations, was withdrawn in late February. The bill, presented by former Republican Sen. Jeff Siddoway, was drafted out of concern that Idaho has too many wolves, he said. 
Idaho Department of Fish and Game, which monitors the species under the Wolf Management Plan, estimated the state's current wolf population is 1,556. To diminish the population to the bill's goal of 500, the state would classify wolves as predators and allow anyone with a hunting license to shoot them 365 days a year with minimal restrictions.
While the number of wolves may seem high, it is about the same amount the department has reported for the last two years, IDFG Public Information Supervisor Roger Phillips said. 
Whether or not cutting the population down by 1,000 is a "good idea," Phillips couldn't say because it's subjective. 
"There are many points of view about how many wolves is enough, not enough or too many," Phillips said. "However, that 500 number is not outlined in our management plan."
Arguments for reducing the wolf population typically stem from the need to protect or preserve other natural species' vitality. Notably, the big game prey of wolves like elk, deer, and moose are popular attractions for sport hunters.
Still, governmental agencies have tested a variety of nonlethal predator controls, including capturing and relocating. According to the Idaho Fish and Game Wolf Management Plan, they involve balancing diverse biological and social considerations. 
"Left unmanaged, predators and prey are likely to cause private property damage and have significant economic impacts," the plan document reads. "Unmanaged, wildlife populations can also result in increased disease transmission, declines in habitat, food sources, and reduction of hunting, fishing and trapping opportunities." 
Phillips concurred that adjusting the number of wolves to see a positive reflection in other populations like deer, moose, or elk is one method the state has used from a wildlife management standpoint. Based on the last reported state data, those species — for the most part — are doing all right on their own. 
"Elk are doing pretty well from a statewide perspective. Whitetails are doing pretty well, mule deer are down in some areas, and moose in some parts of the state are down, and others are OK," Phillips said. 
For example, IDFG noted in 2019 that 16 out of 22 cow elk management zones and 17 of 22 bull elk zones are either meeting or exceeding numeric objectives. Due to these numbers, Phillips said there is no indication that the state needs to take extra precautions against wolf predation. 
"Sport hunting has not proven effective in the past to effectively manage wolf populations," Phillips said. "The IDFG is authorized to evaluate and use sport hunting or any other means necessary to maintain wolf populations at recovery levels that will ensure a viable, self-sustaining population until such time as all impacts are known."
Even if the bill had passed and a rise in hunting had decreased the wolf population to 500, or the bill's threshold of 50 packs, Phillips said it would not compare to extinction.
After being nearly wiped out in the early 1970s, Idaho wolves were declared endangered in 1974 under the Endangered Species Act. When wolves were initially introduced in central Idaho in the late 1990s, IDFG set the baseline of three years of 30 breeding pairs across Idaho, Montana, and Wyoming. 
"Idaho alone currently has enough wolves to meet that criteria, and about five times what's currently considered the minimum for the state," Phillips said. "So if we somehow ended up at that 500 figure, Idaho would still be about 200 above the minimum."
Without any action from the statehouse, IDFG will continue to monitor wolves through video cameras. While it's not the final formula for studying big game species, Phillips said, it puts IDFG on the leading edge of understanding the animals. 
Recent Headlines
---