Annual log drive on the Priest River underway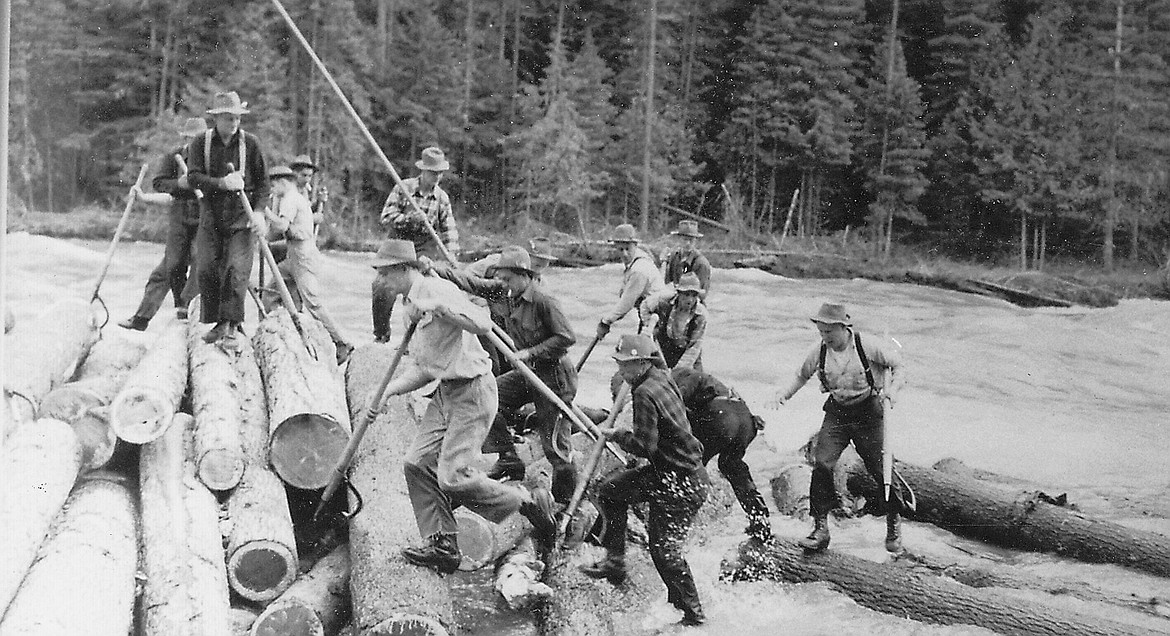 River pigs work their magic during a log drive in 1944.
by
MARYLYN CORK Contributing Writer
|
March 31, 2021 1:00 AM
20 Years Ago — 2001
Stewardship wins on appeal
The Lakeface-Lamb Fuel Reduction project, otherwise known as the Stewardship Project, will proceed. Acting Priest Lake District Ranger David "Norgy" Asleson announced that the Deputy Regional Forester for the Forest Service's Northern Region upheld the Idaho Panhandle National Forest decision for the project on the Priest Lake District. The project will reduce about 1700 acres of hazardous fuels next to private property and other high fire-risk areas along the southwestern edge of Priest Lake. The decision had been appealed by five environmental organizations.
30 Years Ago — 1991
Sight of swans delightful
Travelers going by the Georgia-Pacific mill on Highway 2 Saturday were thrilled to see a convoy of swans floating serenely on the millpond. There were eight of the lovely white birds.
40 Years Ago — 1981
L-P reopens mills
Louisiana-Pacific mills that were shut down March 16 resumed operations Monday, company officials confirmed. The Priest River mill was one of the eight mills reopened.
50 Years Ago — 1971
Skiers win blue ribbons
Priest River High School's ski club's last outing proved to be a "day at the races" at Schweitzer Basin Ski Area. Seven youngsters won blue ribbons in three categories. In the beginners' races, winners were Dave Coleman, John Cook, Dave Shirk, and Rae Nell Van Vleet. Wayne Falk and Jeff Naccarato won in intermediate, and Craig Hill won the advanced race.
60 Years Ago — 1961
Lodge sold on lake
Announcement has been made of the sale of Linger Longer Lodge on Priest Lake to the Society of Jesus, Catholic religious education order. The $250,000 resort development, the largest on the lake, will be used as a vacation facility for students of Mount St. Michael's scholasticate in Spokane. J. E. "Bud" Thompson, a long-time lake resident, and persons he represented, sold the property for an undisclosed sum.
70 Years Ago — 1951
Golf Club organized
A meeting of golf enthusiasts was held at the Ranch Club Friday evening and a temporary organization was formed. Bob Gill of Priest River and Earl Kelly of Newport were chosen as temporary co-chairmen and Seymour Katims as secretary. The club will be located on the Ranch Club grounds.
80 Years Ago — 1941
Annual log driver underway
The annual log drive on Priest River got underway Wednesday, about a half-dozen men starting out to do the preliminary work. The drive this year will consist mainly of white pine, some 25 million feet being expected. William Whetsler is in charge.
90 Years Ago — 1931
Old-time program announced
A PTA program consisting of an old-fashioned literary society will be held Monday. One of the featured numbers is the duet, "The Bull Frog on the Bank," by George and Lester Binkley.
100 Years Ago — 1921
Jesse Parsons takes over
With this issue of the Times, the management and ownership of the paper passes into the hands of Jesse G. Parsons of Cheyenne, Wyo. Parsons is an experienced newsman, having engaged in the business with his father at a very early age.
---