Homeschool Academy waves goodbye to winter with cardboard derby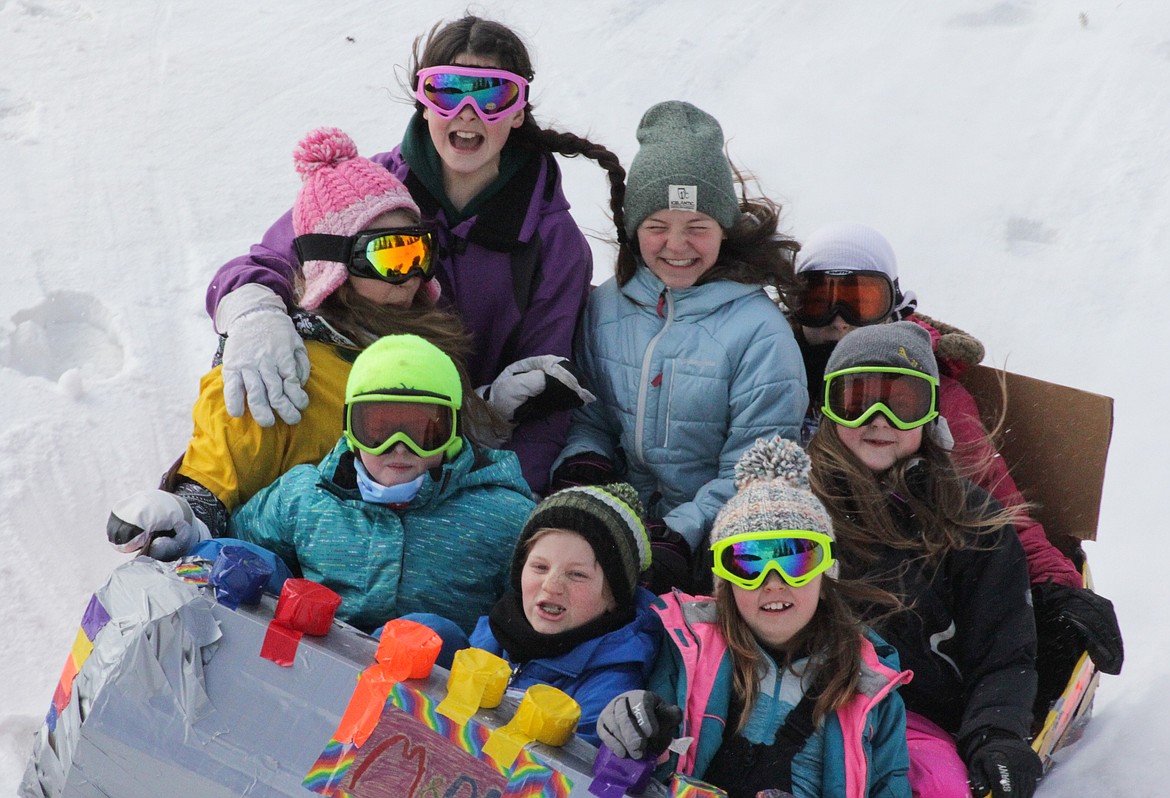 Xzendriya, Banjo, Ollie, Kaidan, Charly, Summer, Aila and Leisl slide down the hill Tuesday morning at Schweitzer Mountain.
Photo by RACHEL SUN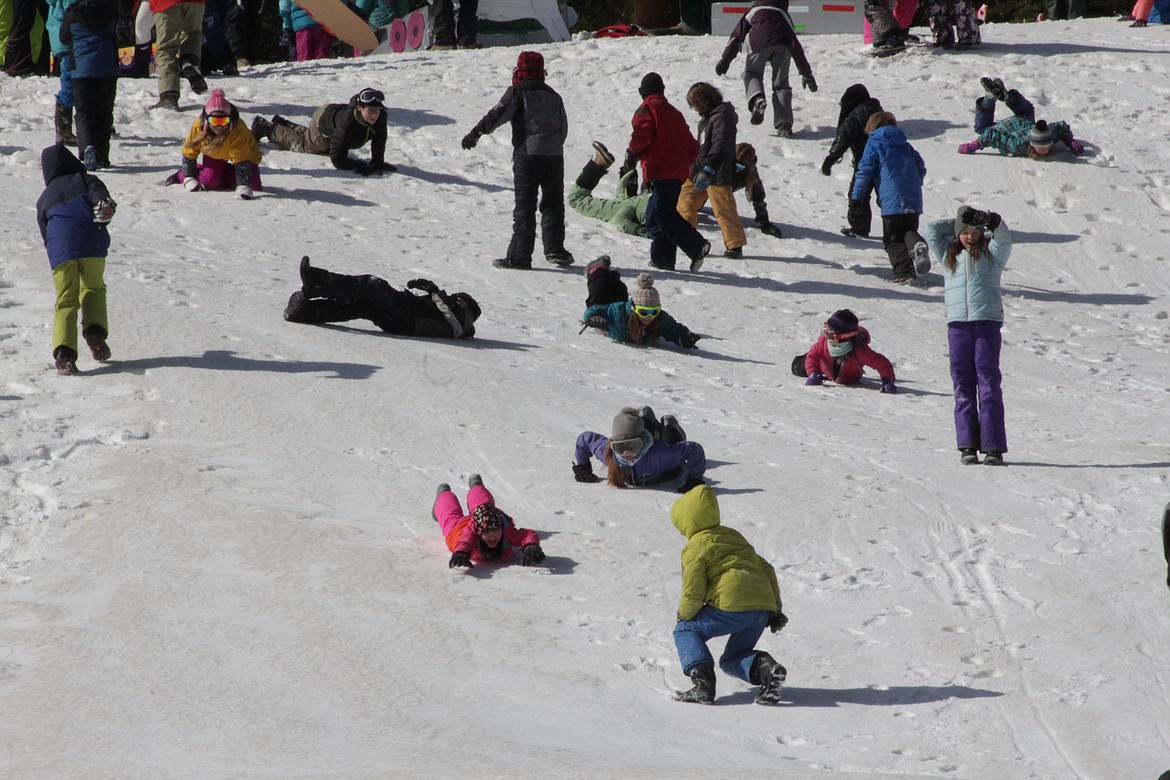 Children slide and roll down the hill while waiting for their turn on the toboggans.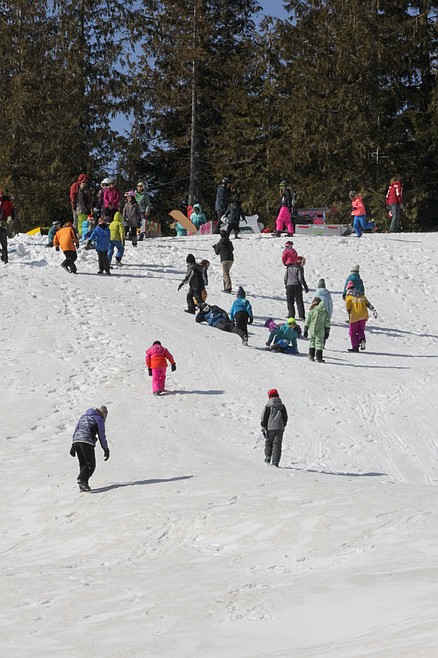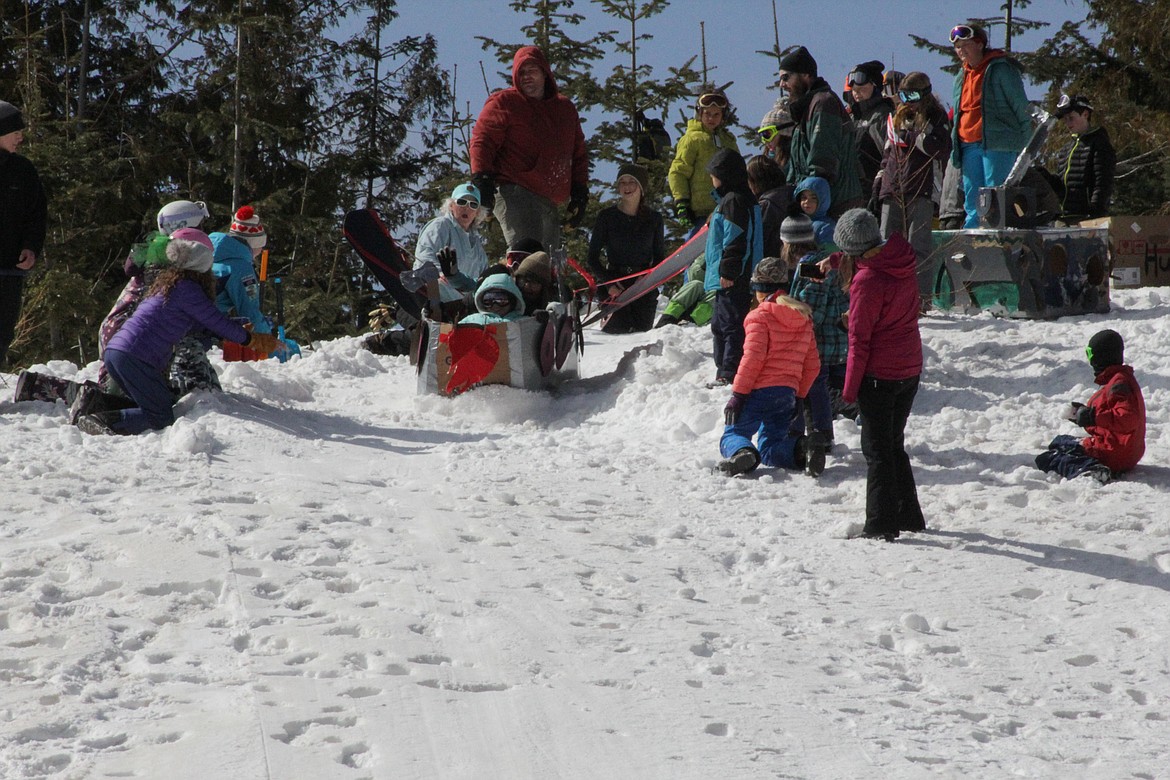 Students push off in their toboggan Tuesday morning at Schweitzer.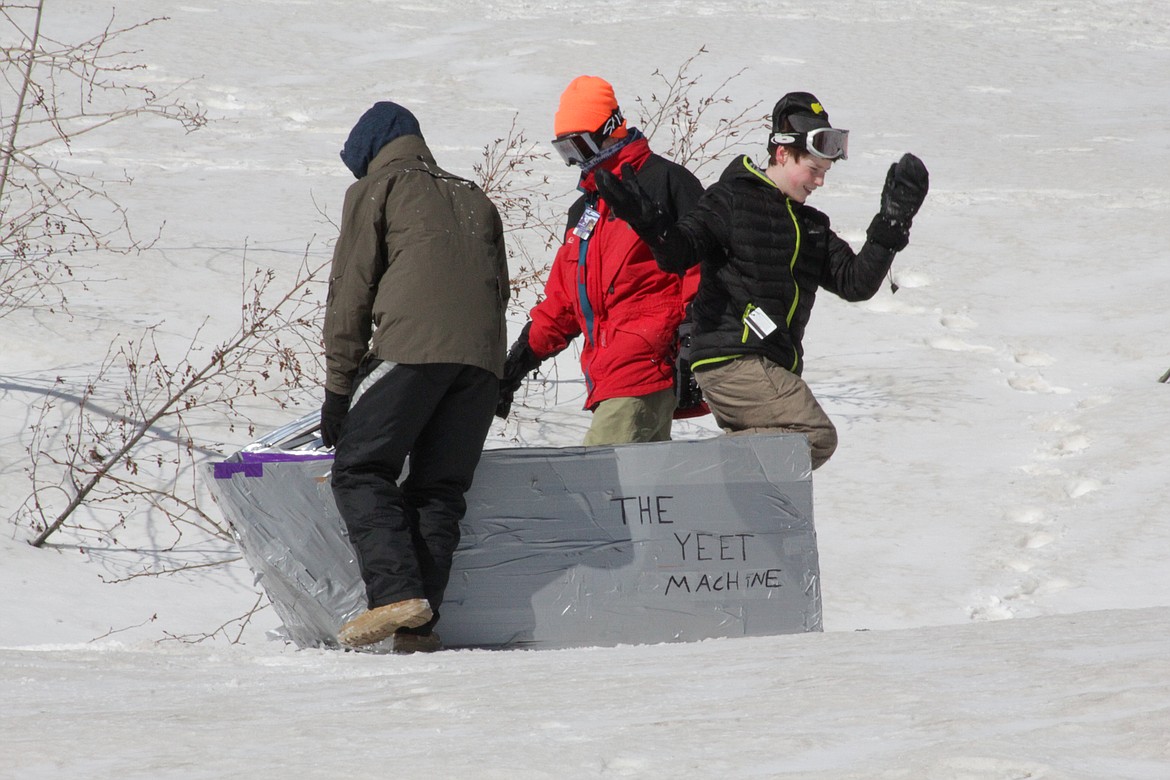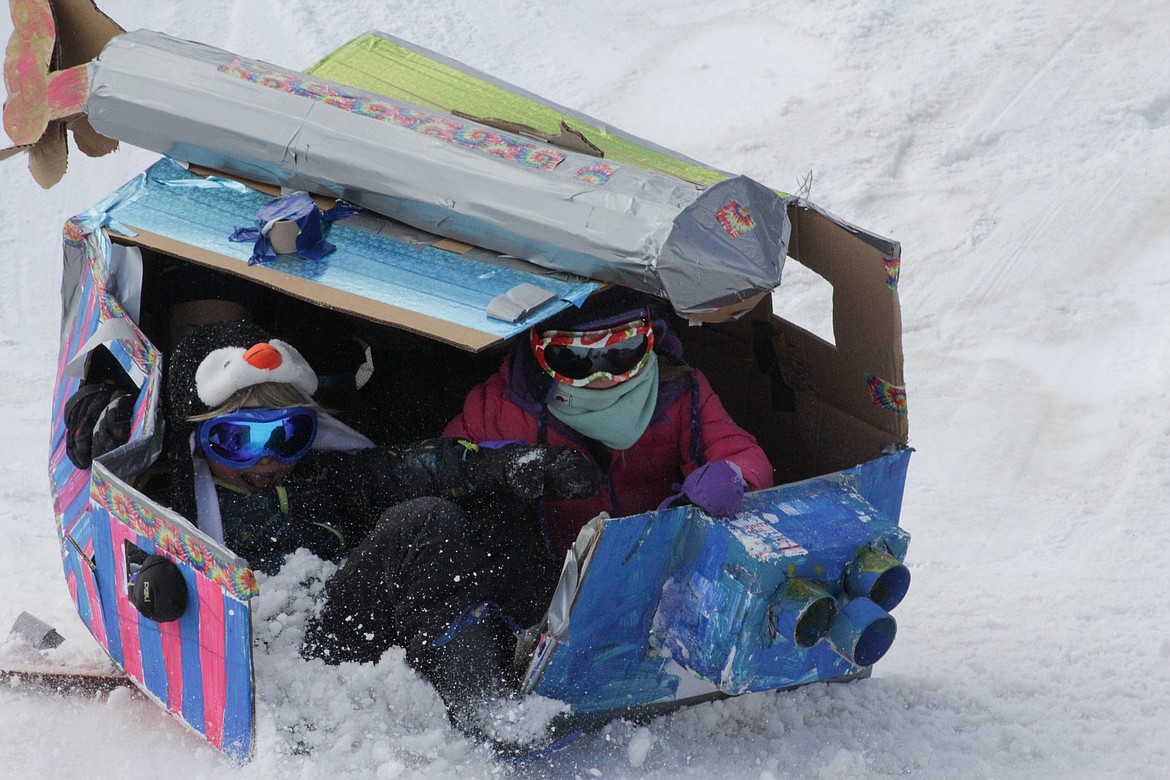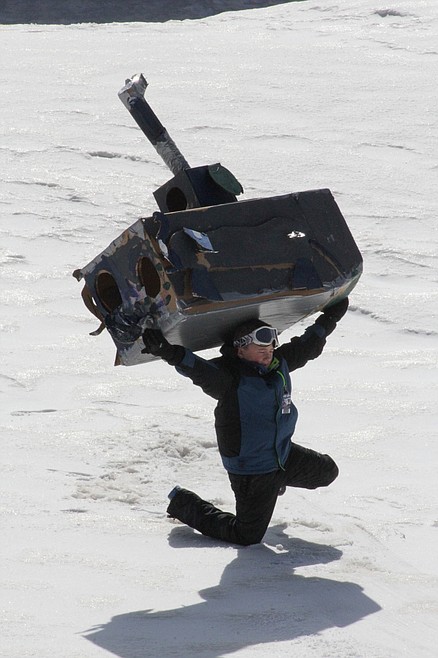 Slate picks up his toboggan after a successful ride down the hill Tuesday morning.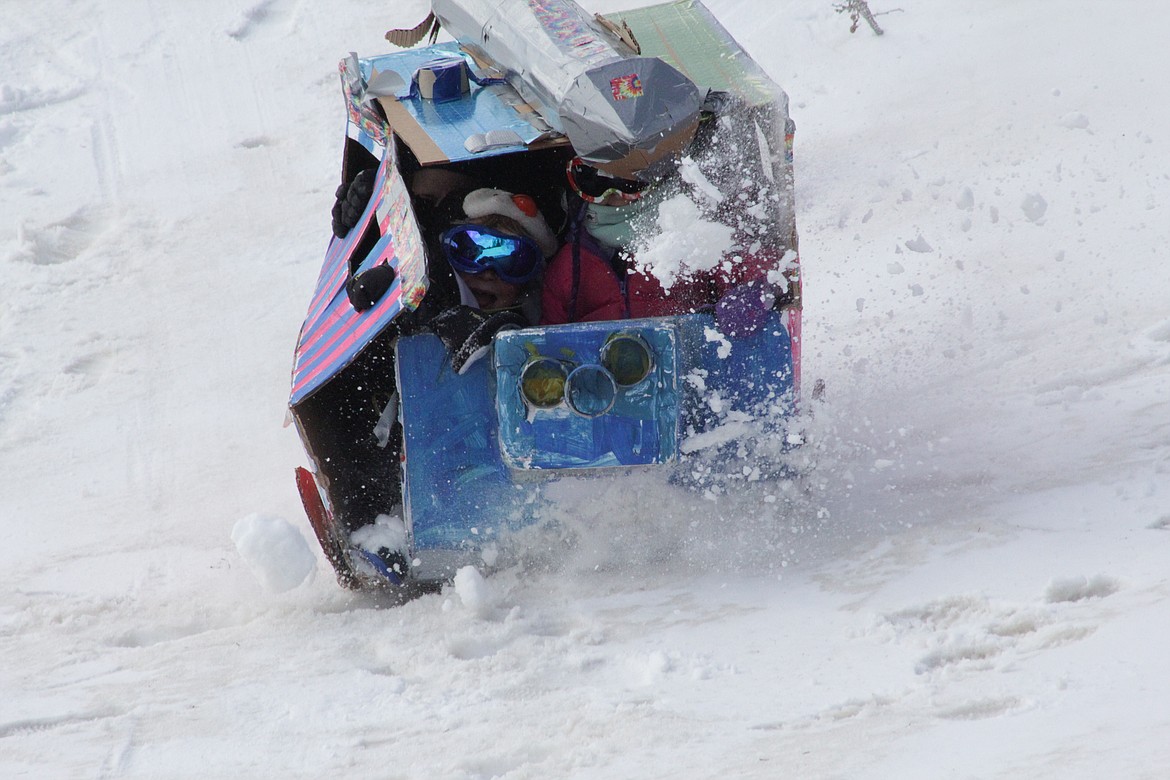 Toboggans are slowly demolished with each run as students at the Homeschool Academy slide down the hill at Schweitzer Tuesday morning.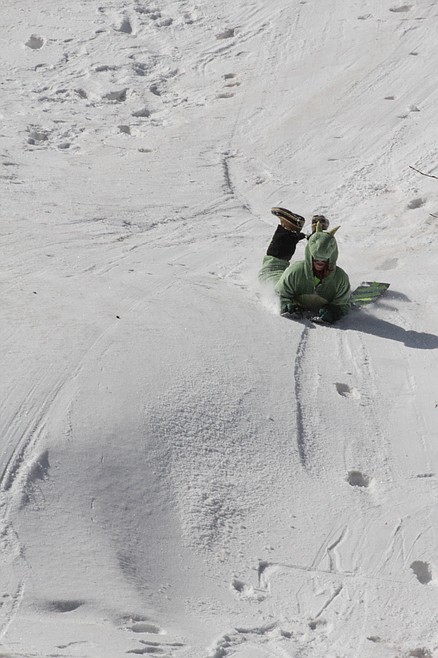 Logan slides down the hill at Schweitzer Tuesday morning.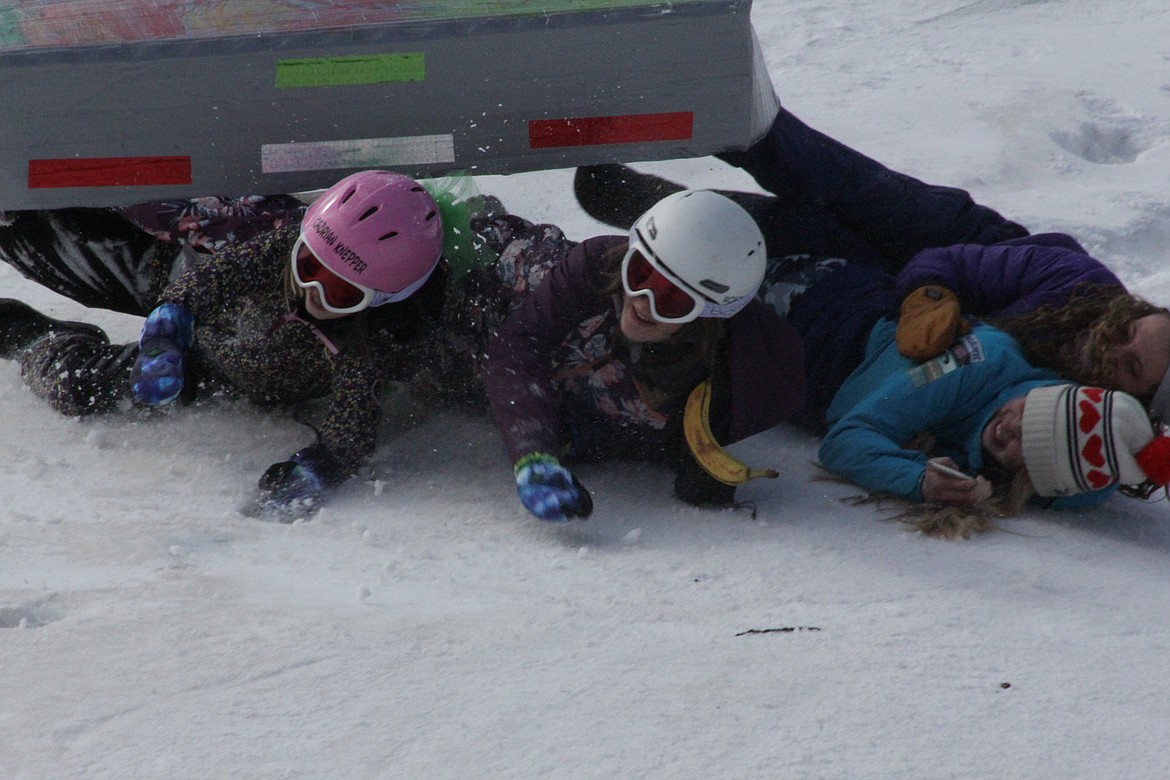 Joecy, Makia, Xadrian and Annemarie wipe out during a toboggan ride Tuesday morning at Schweitzer.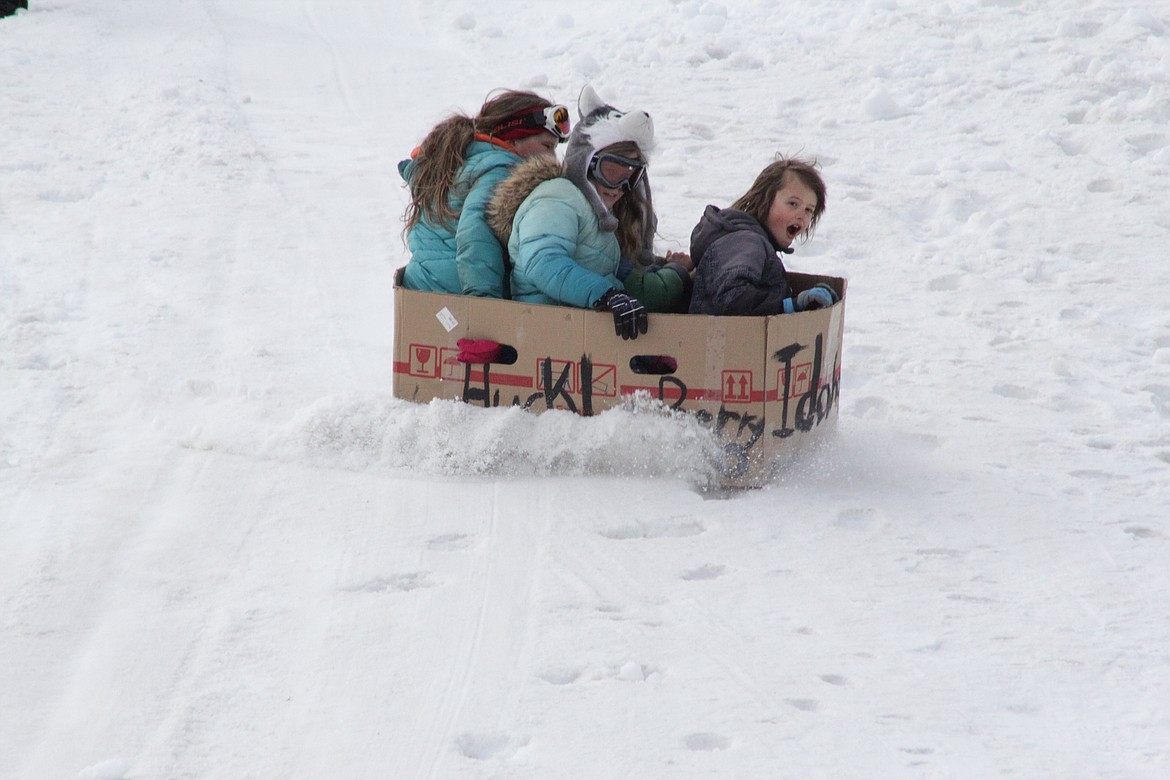 Morrison, Shawnee and Caylee slide down the hill Tuesday morning at Schweitzer.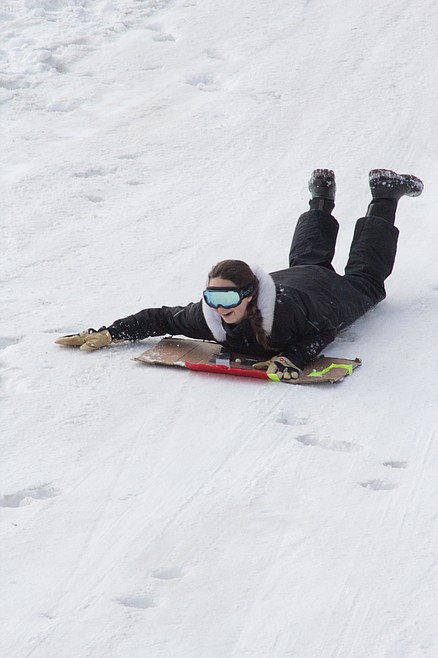 Jubilant slides down the hill on a spare piece of cardboard Tuesday morning.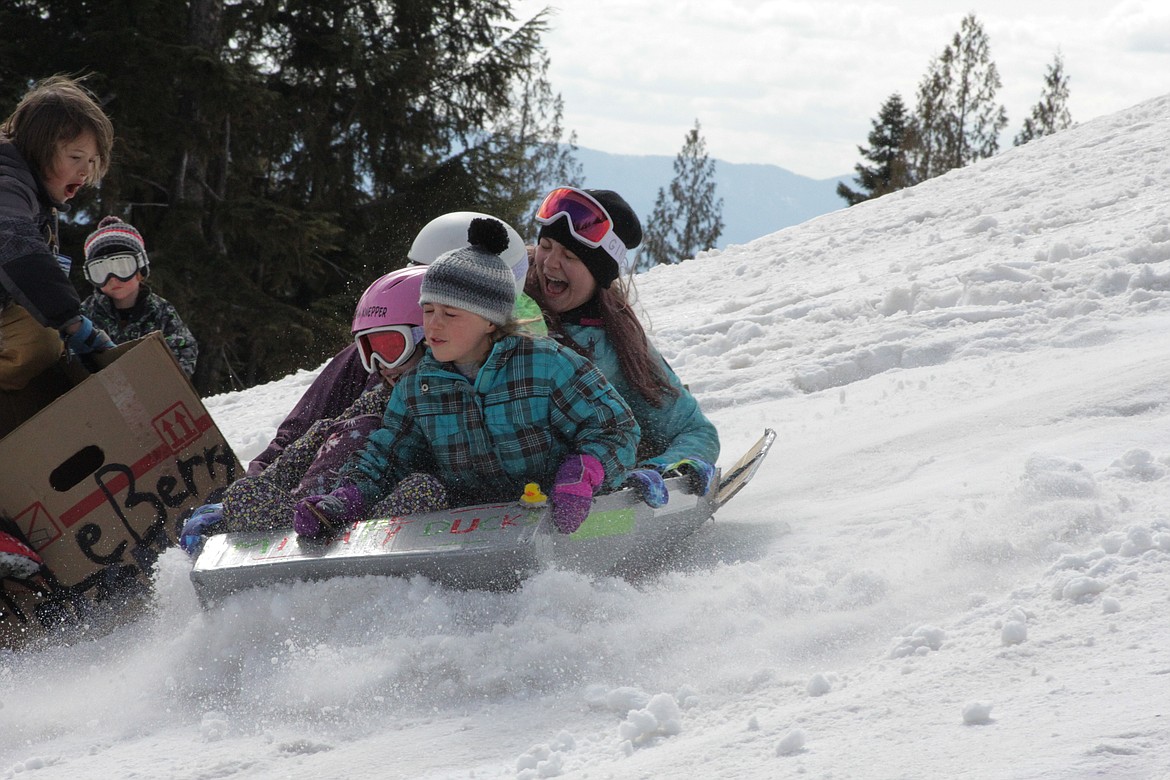 Annemarie, Morrison, Mikaia and Halo sled at Schweitzer mountain Tuesday morning.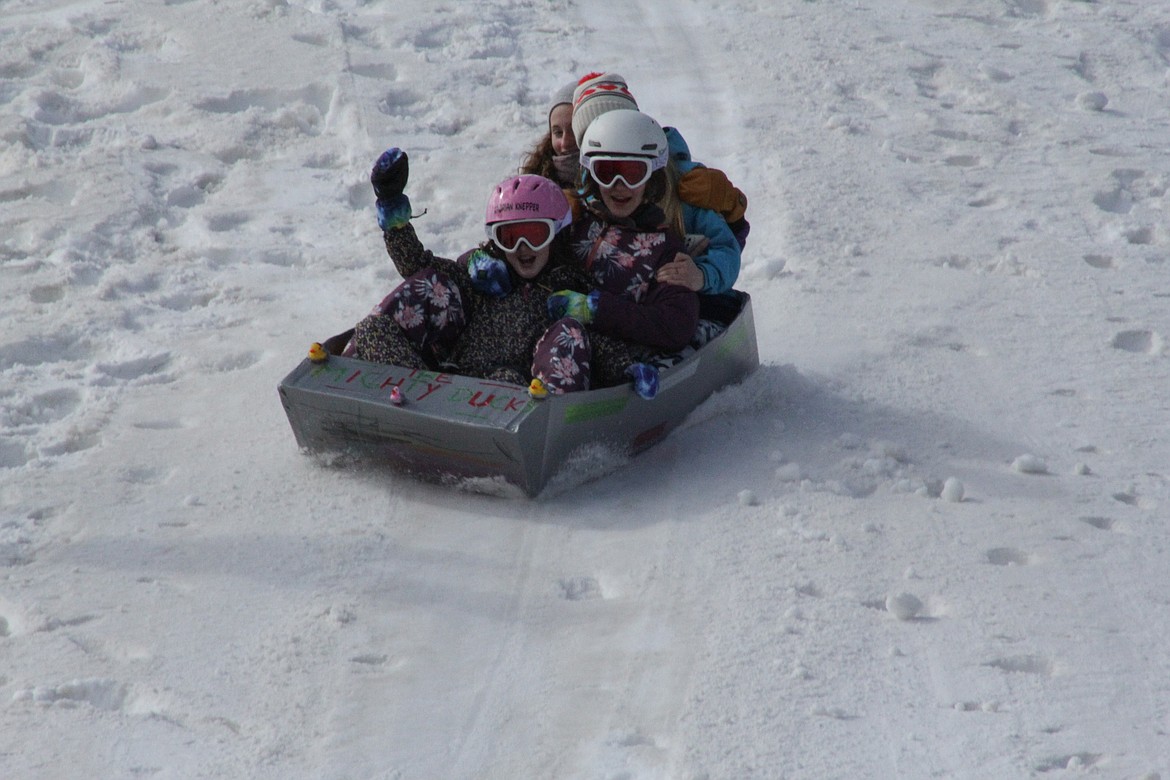 Brooklyn, Makia and Xadrian slide down the hill at Schweitzer Tuesday morning.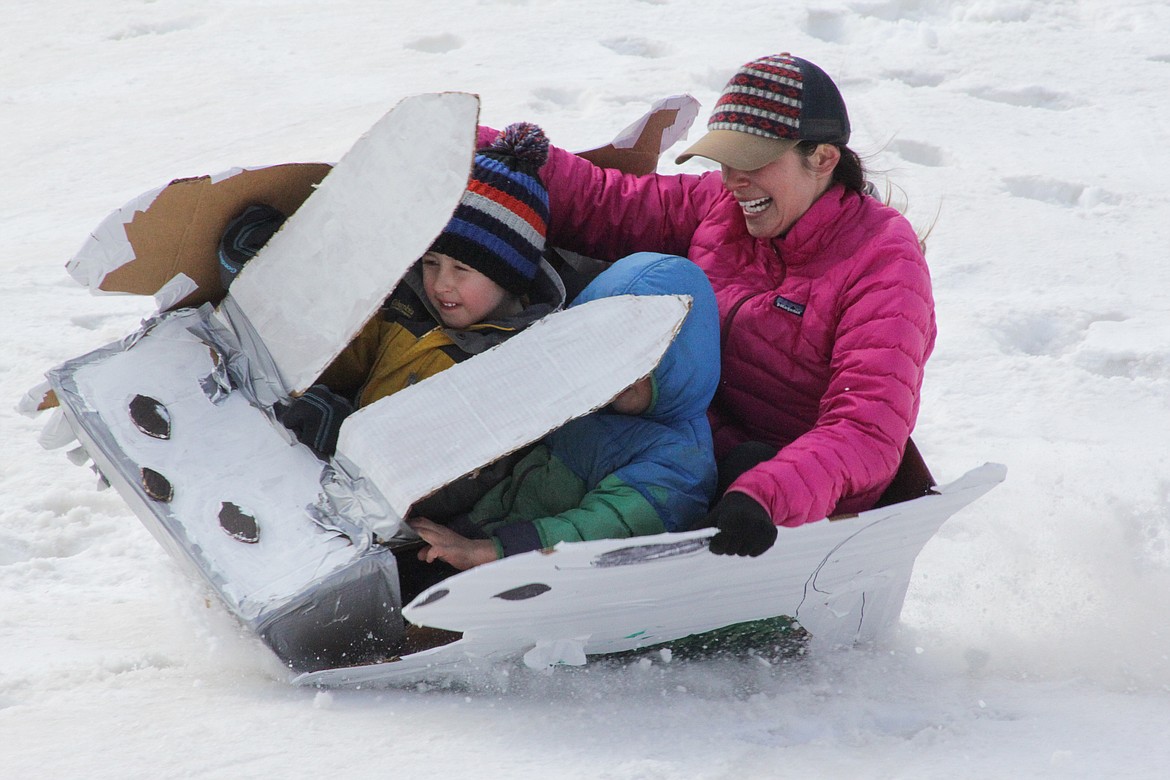 Tawny, Manny and Maxin ride their rabbit-themed toboggan.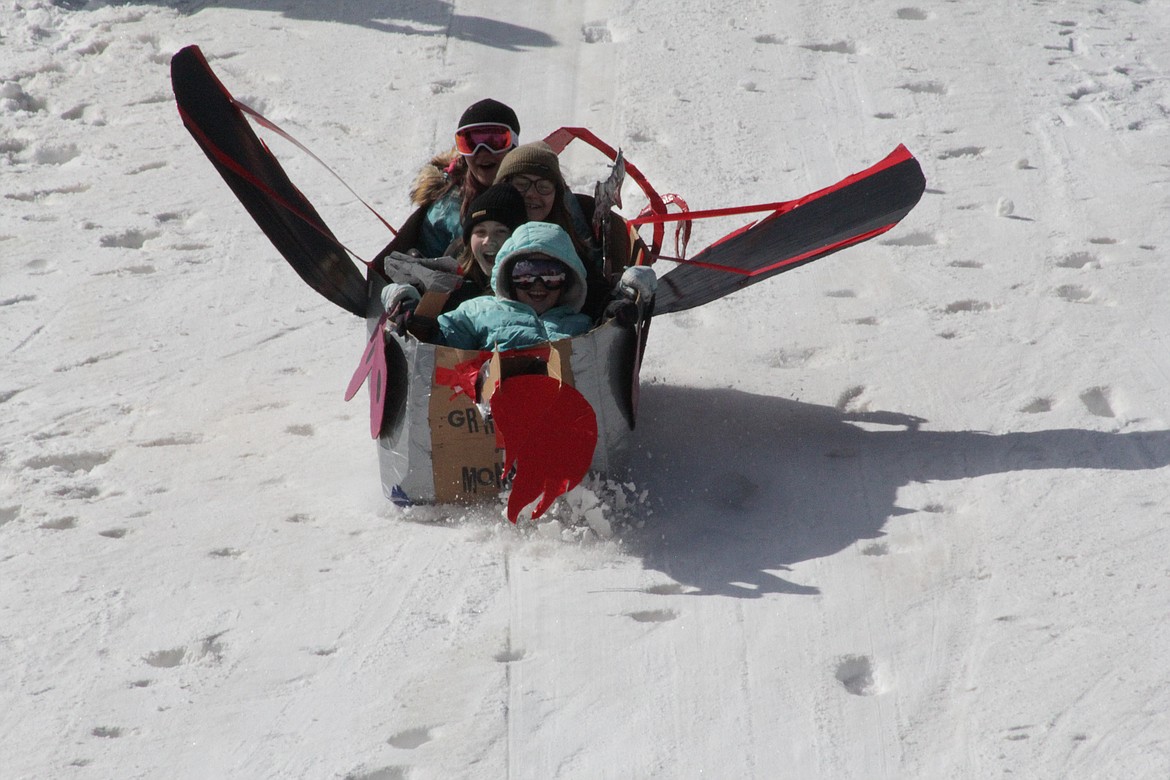 Elka, Rowin and Lia and another student at the Homeschool Academy slide down the hill in their "monster"-themed toboggan.
Previous
Next
by
RACHEL SUN
Staff Writer
|
March 31, 2021 1:00 AM
On a sunny Tuesday morning, a duct-taped cardboard toboggan with rainbow M&M-themed decorations and eight children in tow whizzed down the hill at one of the last remaining snowy peaks at Schweitzer Mountain.
The toboggan slid down one peak, throwing puffs of snow to its side, before climbing and descending a second to reach a group of waiting parents.
The sled was one of 12 sleds taking part in the Homeschool Academy's annual cardboard derby, a tradition that started five years ago. One group at a time, 48 children slid down the hill in brightly decorated cardboard toboggans. If not in the makeshift sleds, then sliding on their bellies, or rolling down the hill as they await their turn.
The children are students at Sandpoint's Homeschool Academy, and the tradition is a way the school fills its final days of the winter session while allowing students to exercise and play, said Melinda Rossman, principal and lead teacher.
"We do a ski and ride program in relationship with Schweitzer. And we do winter science classes. And so at the end of winter, it's just fun to get together and have the kids collaborate and design their own cardboard toboggan," Rossman said.
Traditionally, the cardboard toboggan derbies were part of an end-of-the-year ski area festival, Rossman said. Last year the group had to cancel, but Tuesday the children, along with some of their parents, were back in force.
The students split off into teams, she said, and collaborate to design the toboggans. Crafters are limited to cardboard, duct tape and paint in constructing their toboggan.
The whole process takes them about 10 hours total to complete in their last couple days of winter session, plus a few students who made their cardboard toboggans at home. Students at the academy worked on their toboggans on two separate days.
Among the designs was a bright yellow "Banana Truck" (whose riders carried bananas with them), "The Mighty Duck," a pink-and-blue rocketship-inspired toboggan, a rabbit-themed toboggan, a monster toboggan with flames, wings and a tail and an M&M candy-inspired toboggan.
There was also a "Yeet Machine" — "yeet" a common slang term used as an exclamation of excitement, or to throw or discard an item at a high velocity. A howtogeek.com article from 2020 described it as, "to forcefully throw an object with the confidence and authority of a god."
In total, the Homeschool Academy had nine teams and three families tobogganing Tuesday morning. Children ranged from 6 to 14 years old, Rossman said.
"The cardboard derby was a perfect segue into finishing off the winter season," Rossman said.
In the past, the academy had as many as 15 toboggans running, she said. This year was fewer, but after a year of cancellations, she's feeling hopeful.
"Everybody's starting to feel a little more comfortable and back out there celebrating community," she said.
After the toboggan sledding, the students dug out a safety wall and stockpiled snowballs for the annual snowball fight, with some parents joining into the fray.
"It's the only snowball fight I allow all year because everybody has to wear gloves and goggles," Rossman said.
The children like to maintain a playful competition about whose toboggan is going to go the furthest or the fastest, she said, but the main goal of the event is to "let kids be kids" and allow them to have "good, clean fun" outdoors.
"Kids always get excited because I have limited capacity at the school. I could only have 36 kids a day in the building," she said. "They were so excited, you know. You can hear in their rooms because they all had a room in the school building where they were working with the making of their toboggan they're all speculating that they were going to go the furthest. It was just fun to hear them."
---