MCS motto: Innovation and adaptation creates resilience
by
KATHY HUBBARD Contributing Writer
|
March 31, 2021 1:00 AM
Call it a premonition. Call it insightfulness. Call it creative. It doesn't matter the label but what does matter is that Karin Wedemeyer, executive director of Music Conservatory of Sandpoint began training her staff to teach remotely before the pandemic lockdown was announced.
"I've always said that innovation and adaptation creates resilience," Wedemeyer said. "So we adapted." At the onset of the pandemic and before it came to Sandpoint, Wedemeyer trained her instructors on using Zoom as a method for teaching remote classes.
"Karin is able to see things before they happen," board president, Kathi Samuels said. "Instructors didn't have to think about what to do, they had already been trained."
Wedemeyer made sure that policies were in place when COVID did arrive. Weather permitting, classes were held outdoors. Class sizes were reduced to accommodate social distancing. Parents were asked to drop children off outside of the building. And, all visitors to the building were required to wear masks and use the provided sanitizing products.
"We didn't want to say, 'come in we're open,'" Samuels said, "but, we didn't want to say 'were closed' either."
Snack time, most likely the most popular part of music classes was changed from a communal treat to bananas which instructors creatively spaced out to remind students to keep apart. And, despite all the rules, over 85 percent of students were retained.
"We realized that staff hours might need to be decreased, so we retooled and taught instructors how to write grants," Wedemeyer said. "No one was laid off. Now we have a super team of grant writers. Instructors learned to articulate what they are passionate about. Some of them are very gifted."
The Music Conservatory continued all of their programs, not just the ones they conduct at the facility, but also those they facilitate in the Lake Pend Oreille School District.
"Out of COVID the Chime Choir was birthed," Samuels said, "We started the Chime Choir as part of our Music Matters program at Kootenai and Farmin-Stidwell Elementary schools because parents didn't want their children to sing."
A chime choir instrument is hand held. Each instrument is a different note that is struck with mallet when the musician shakes his or her hand. A Chime Choir teaches students to be part of an ensemble that works together to make beautiful (one hopes) music.
Between one-on-one private lessons which some people prefer for safety sake, the programs in the school district and on-going classes held at the conservatory, MCS has seen a 30 percent increase in participation year-over-year. Their Summer Academy was a huge success despite the fact they couldn't enjoy a public recital. Recitals, like some lessons, have been virtual this year.
Samuels said that people are missing the arts and are eager to see what will come next. Wedemeyer agreed. She said that there is about to be a "true renaissance" in the arts and humanities. She expects a positive effect on people's mental health.
"Self-expression is the antidote of self-destruction," Wedemeyer said. "It's critical in order to avoid mental health issues to redirect energy to creativity."
And, creativity is at the forefront at MCS' programs. Wedemeyer talked about the Instrument Art Factory. This program allows students to make public art out of retired instruments. A walk by the MCS building at the corner of Main Street and Second Avenue features two pianos that have not only been painted bright cheerful colors, but are accessible for the public to play. She also said that students would have access to an "abundance" of no longer needed sheet music to use along with other no longer usable instruments for craft-like projects.
Another unique project is in partnership with the East Bonner County Library. This program would allow participants to check-out instruments and sheet music as you would a book. The launch is planned for this summer. And, in another capacity, MCS is mentoring the conservatory in Coeur d'Alene.
"We've been working in partnership with more organizations in the last eight months than we have in the last eight years," Samuels said. "We intend to keep that going."
As for changes in the next year, Wedemeyer said that they will have a new Music Director taking over from John Fitzgerald who is leaving to pursue his doctorate degree. Matt Goodrich has been working side-by-side with Fitzgerald and will take the helm in June.
Goodrich comes to MCS from Oregon State University with a doctorate in piano. "He has collaborative and performance skills. We know he will fit in very well," Wedemeyer said. She also explained that Goodrich is knowledgeable in whole body movement techniques that are vital to a musician's posture and muscle tone.
Wedemeyer emphasized that MCS' is keen for everyone who wants to learn to play a musical instrument or learn to sing to have the opportunity to do so. She said that scholarships and instruments-on-loan are available to students who typically wouldn't be able to afford to take music lessons.
"Dollars are not our driving force," she said. "Dollars are not an inspiration. I find joy in working with the students and with a staff who are valued for their skills. Giving the highest level of support is what's really important."
For more information about Music Conservatory of Sandpoint and their programs, go to www.sandpointconservatory.org or call the office at 208-265-4444.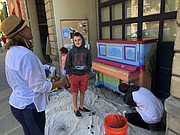 ---