Donations needed for downtown flower baskets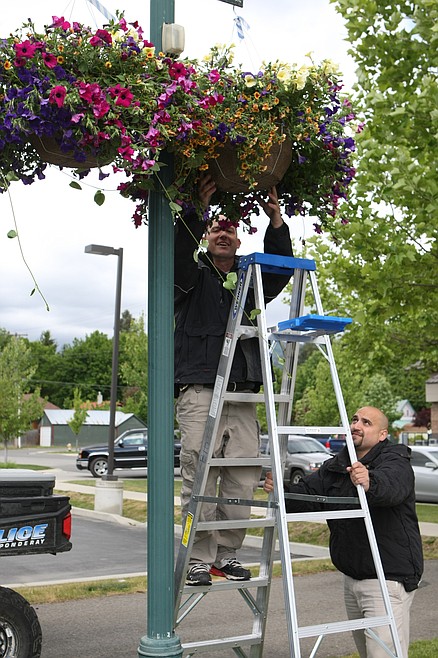 (Daily Bee file photo/JIM McKIERNAN) Sandpoint Police Chief Corey Coon, on the ladder and Police Detective Eric Ryan place baskets along Fifth Avenue in 2016 as part of the popular downtown flower basket program.
SANDPOINT – The downtown flower basket program needs the community's help.
The Downtown Shopping District, Greater Sandpoint Chamber of Commerce, and city of Sandpoint, are seeking donations to bring the vibrant flower baskets to the downtown core for the summer. City crews will once again water and maintain the baskets, however it is up to the community to purchase them, said Kate McAlister, executive director of the Greater Sandpoint Chamber.
McAlister said the goal is to purchase 109 baskets to be dispersed throughout the downtown Sandpoint corridor at $75 per basket.
"We are asking for your support and donations to help us reach our goal for 2021," McAlister said.
Please make checks payable to: Greater Sandpoint Chamber of Commerce, on the 'memo' line please put 'For 2021 Flower Baskets'. You can mail your donation to PO Box 928, Sandpoint, ID 83864, or come by the Visitor Center, 1202 N. Fifth Ave., and drop off your donation.
The plan is to hang the baskets mid-May and enjoy them throughout the summer.
---