Elmore, Quigley maintain derby spots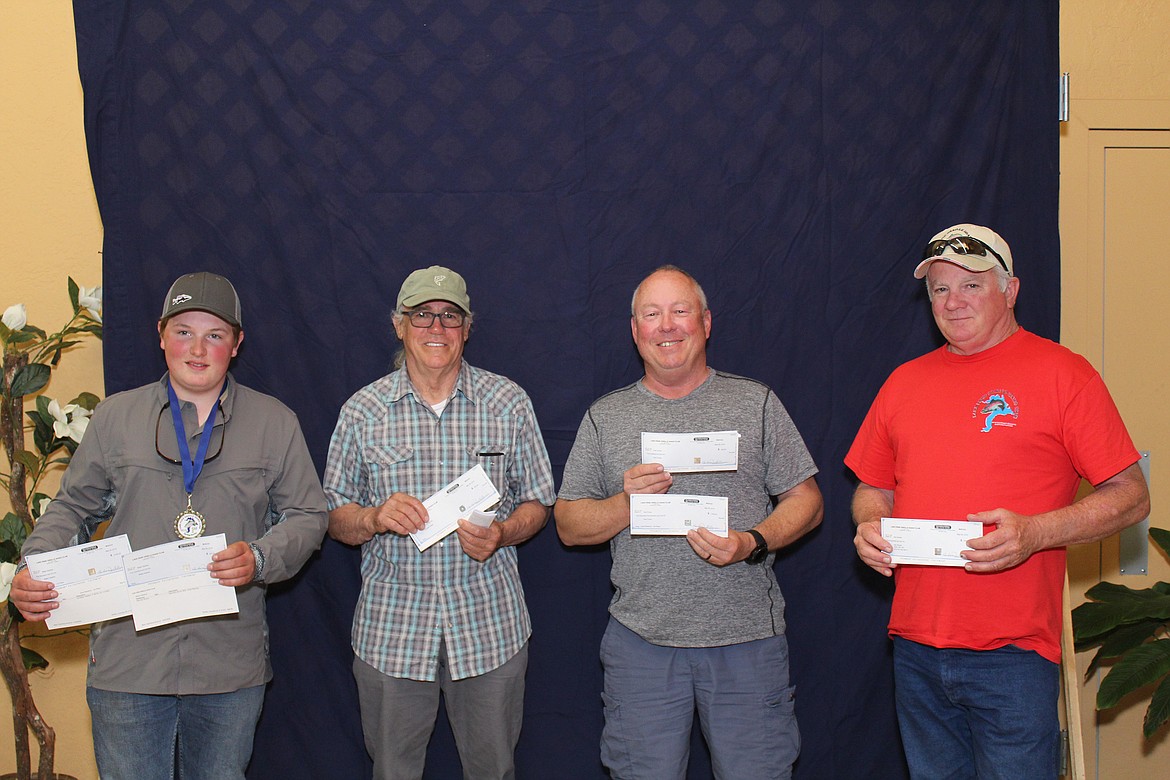 Rainbow division winners from Lake Pend Oreille Idaho Club's 2019 Spring Derby pose for a photo at the awards ceremony, something which won't take place this year. Pictured, from left, are Blake Heather, Donald Salter, Dan Covey, and Dan Harder.
(Photo courtesy KEVIN ELMORE)
by
CAROLINE LOBSINGER
Staff Writer
|
May 2, 2021 1:00 AM
SANDPOINT — With just one day left in Lake Pend Oreille Idaho Club's Spring Derby, some nice fish are helping anglers make their way onto the leaderboard.
Friday's action saw Brad Sturgis land a 25-pound, 35-inch rainbow to vault him into second place — just a hair behind leader Pete Quigley's 25.30-pound, 25-inch fish. Sturgis opted to release his fish, LPOIC officials said.
Kevin Elmore is maintaining his spot atop the adult Mackinaw division with a 16.15-pound, 35-inch Mack he caught on the third day of the derby.
Rounding on the rainbow leaderboard are Doug Sheldon, with a 23.5-pound fish; Mary Marienau, with a 22.5-pound fish; and Susan Houk, with a 20-pound rainbow. Marineau and Houk also opted to release their fish.
On the Mackinaw side, Elmore is followed by Steve Wolfe with a 14.96-pound fish, Scott Plue with a 12.86-pound fish, Patrick Raynor with a 10.77-pound fish, Donny Endicott, who caught 10.4-pound Mack, Gale Belgarde with a 10.2-pound fish, Paul Bel with a 9.9-pound fish, Marc Hull with a 9.86-pound fish, Dale Greene with a 9.65-pound Mack, and Lisa Greene finishes off the leaderboard with a 6.9-pound fish.
Ashlynn McCorkle is leading the Junior Division with an 11-pound, 29 3/4 inch fish.
In the Youth A division, Ariana DeVault, 9, caught her way to the top of the leaderboard with a 11.95-pound, 27 3/4-inch rainbow. In second is Lyla Shelton, 9, who caught a 7.3-pound, 25 1/2-inch rainbow. Both DeVault and Shelton opted to release their fish.
In the Youth B division, Kole Kramer continues to lead the way with a 32-inch rainbow caught on on opening day. In second is Owen Belgarde, 3, who caught a 29-inch rainbow for the honors; followed by Ember Shelton, 7, with a 27 1/2 inch rainbow to claim third place in the division.
Information: lpoic.org
2016 Lake Pend Oreille Idaho Club
Spring Derby
May 1 standings
Adult Rainbow Division
Pete Quigley, 25.30 pounds, 35 inches; 2. Brad Sturgis, 25, 35 (released); 3. Doug Sheldon, 23.5, 36; 4. Mary Marienau, 22.5, 34 1/2 (released); 5. Susan Houk, 20, 34.5 (released).
Adult Mackinaw Division
Kevin Elmore, 16.15 pounds, 35 inches; 2. Steve Wolfe, 14.96, 36; 3. Scott Plue, 12.86, 31; 4. Patrick Raynor, 10.77, 30; 5. Donny Endicott, 10.4, 32; 6. Gale Belgarde, 10.2, 31; 7. Paul Bel, 9.9, 31 1/2; 8. 9.86, 29 1/2; 9. Dale Greene, 9.65, 30; 10. Lisa Greene, 6.9, 27;
Junior Division (14- to 17-year-olds)
Ashlynn McCorkle
Youth A Division (9- to 13-year-olds)
Ariana DaVault, 9, 11.95 pounds, 27 3/4 inches, rainbow, (released); 2. Lyla Shelton, 9, 7.3, 25 1/2, rainbow, (released).
Youth B Division (8 and younger)
Kole Kramer, 8, 32-inch rainbow; 2. Owen Belgarde, 3, 29-inch rainbow; 3. Ember Shelton, 7, 27 1/2, rainbow.
Adult German Brown
Dale Greene, 0.93 pounds, 14 inches.
Winner of Frisky Jenny Challenge
Doug Sheldon
Mackinaw of the Day
April 24 – Steve Wolfe
April 25 — Marc Hull
April 26 – Kevin Elmore
April 27 — Paul Bel
April 28 — AnnaLeasha Rehard
April 29 — Scott Plue
April 30 — Mandy Hartz
---