39 MCS students complete adjudication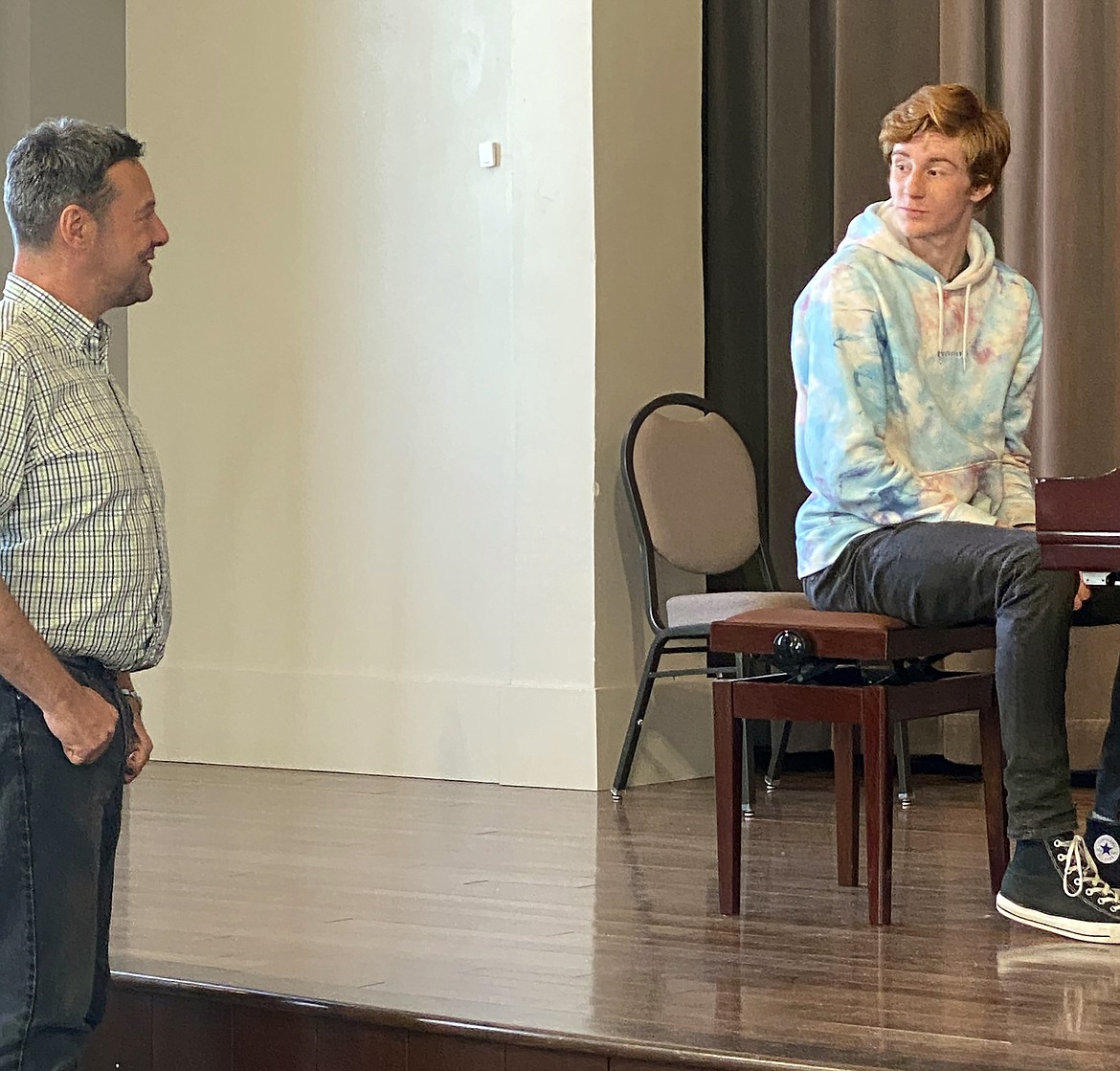 Cody Moore, an honors student at the Music Conservatory of Sandpoint, gets feedback from Matt Goodrich, the conservatory's incoming music director during the recent adjudication process.
(Photo courtesy MUSIC CONSERVATORY OF SANDPOINT)
The Oxford Dictionary describes adjudication as "a formal judgment on a disputed matter."
In the context of music adjudication, formal judgment is the high note while disputes fall flat. Recently, 39 students at the Music Conservatory of Sandpoint went through the rigorous process of adjudication.
These dedicated students, playing instruments including piano, woodwinds and strings along with those studying voice and drama, were exposed to a testing procedure that provides feedback to their performances. They are judged on their choice of music or speech, how their interpretation corresponds with what the composer intended and how well the piece is executed. The process builds sequentially over the years and is tailored to ability levels and performance goals.
"Adjudication measures progress," MCS Executive Director Karin Wedemeyer said. "It establishes standards of excellence in music performance and is often a gateway to possible scholarships for the students' music education which may result in a career."
Board president Kathi Samuels said that students often participate in other testing opportunities such as Musicfest Northwest but having the adjudication at the school is beneficial.
"MCS decided to bring testing to Sandpoint in 2016. This is our fifth year offering free in-house testing to all students. Removing the barrier of cost and a lengthy drive has allowed our students to grow up with the adjudication experience. It is simply part of their study at MCS," she said.
She also said that this year's adjudication panel included Matt Goodrich, incoming music director for MCS. Goodrich holds a DMA from the University of Washington and is an active piano performer throughout the Northwest. In a typical year, without COVID-19, guest instructors from around the region are also hosted. After hours of listening and feedback, he shared accolades on the high quality of playing by so many students.
Students participating this year included those from the MCS Honors Program. On piano, honors students Alyssa Howarth, Cody Moore, and Lark Waldrup played rehearsed pieces as well as fulfilling sight reading requirements. Voice students who performed included Alanna Dixon, Jubalent Duvall, Brittany Hagen (with a theater emphasis), and Lucinda Meshberg. Finally, Raegan Samuels participated in woodwinds on the flute.
At the end of the three-day program, Wedemeyer said, "Talent lurks in every corner. If we do not keep participation in the arts accessible, we may miss addressing those who have outrageous talent."
MCS plans adjudication annually and invites non-MCS students to participate when possible. For information, or to learn more about the classes offered at the conservatory, call MCS at 208-265-4444.
---